Pressure washer review: Why I chose to buy from a cheap Indian brand
I am more than satisfied with the performance of this Shakti S3 machine and find it to be tremendous value for money
BHPian dkaile recently shared this with other enthusiasts.
So after months of sitting on the fence, I finally bit the bullet. With multiple cars and bikes in the garage, it was high time to go for it. But I did not want to invest in the 10~15k Rs range ones, after reading various reviews. I opted for a cheap one from an Indian brand. In the end, it also seems to be manufactured in China just like the rest of the big brands like Bosch, Karcher, ResQTech etc. The best seller on Amazon at the time of my buying was a brand called Agaro which was cheaper by around 100~200 bucks from this one which I bought at Rs. 4,629/- (less 5% Prime Cashback). I ordered it on the 10th of May and received it on 15-05-2023. Today I see both of them retailing at 4,899/- and both are almost identical. The only thing that went in favour of Shakti was that I called their Whatsapp number beforehand and I received a prompt reply back they also have a separate Technical Deptt number which also sent me videos of "How to do the oil change" etc. and I was impressed. They also didn't lie anywhere when I asked them about the motor winding which is of aluminium, good enough at this price range. Thank God I had got these numbers beforehand because I almost immediately needed them after delivery, more on that later…
Received this nicely packed in double boxes.
It is specified at 1800W with a flow rate of 6L/min i.e you can easily pressure wash your car with just 2-3 buckets of water which is excellent; and 120 bar pressure. Though in reality that pressure is almost half as far as I can tell. But in actual usage, it really did blow my mind.
But on immediately opening the box, I was in for quite a rude shock. The inner box had a huge oil strain and all the nightmares of buying a local machine seems to be coming true
I took out the machine and it had oil sticking to it. You can notice pieces of thermocol packaging sticking to the oily machine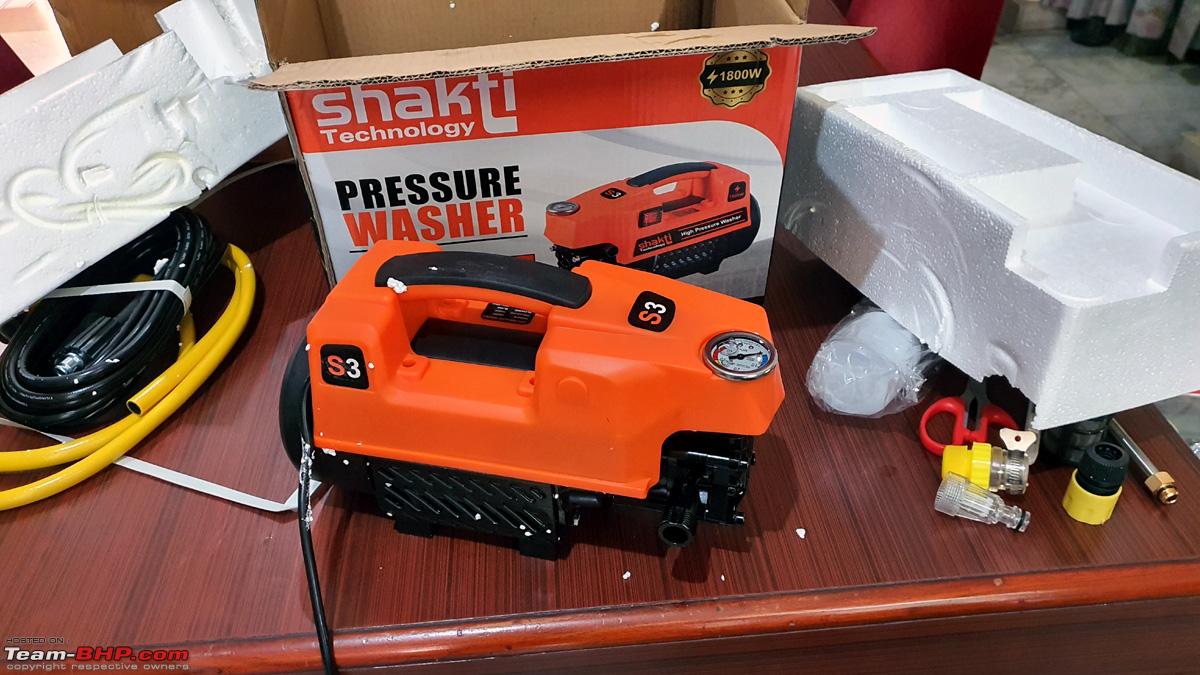 A closer look at where the oil had leaked from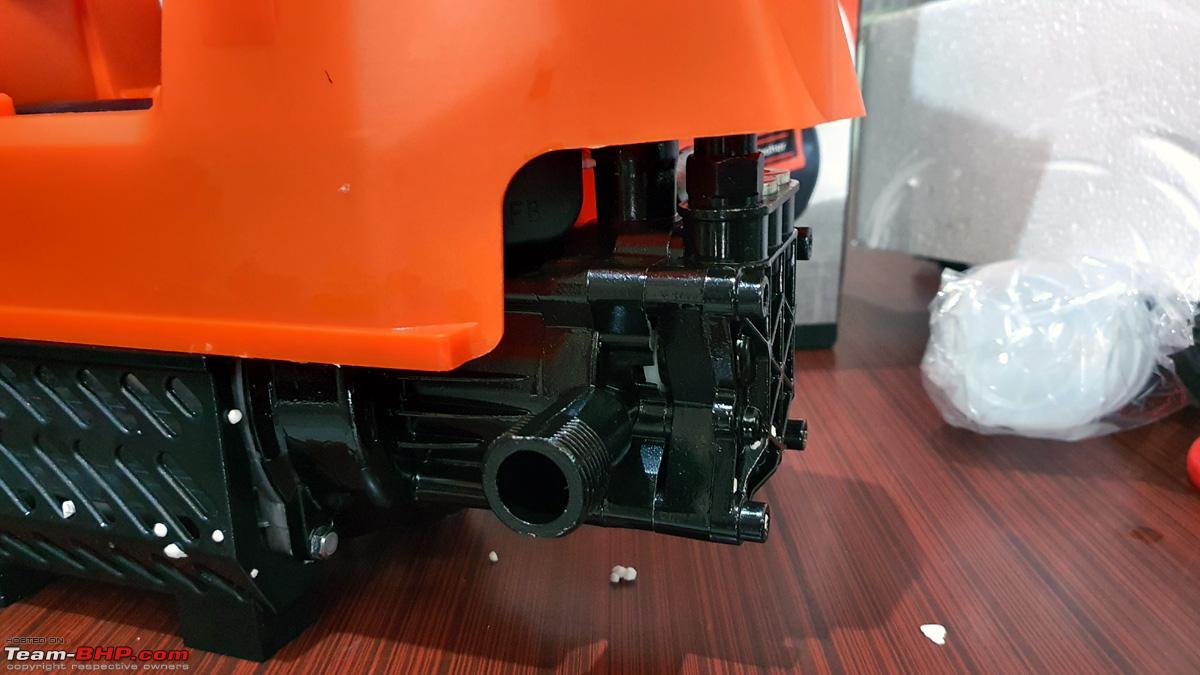 Now, as I had mentioned, I had already spoken to their technical department and they sent me 3 videos of how to do the oil change, which I have consolidated into 1
The machine was shipped by Amazon on a non-returnable basis. But it could be replaced within 10 days in special circumstances, which this qualifies for. So before thinking of returning the machine, and me being more than a little technically inclined, I thought of opening the machine and checking what the issue was. So following the above video I opened up the oil chamber, by opening the 4 hex bolts indicated in the picture below and the video above and checking the oil seal and oil inside.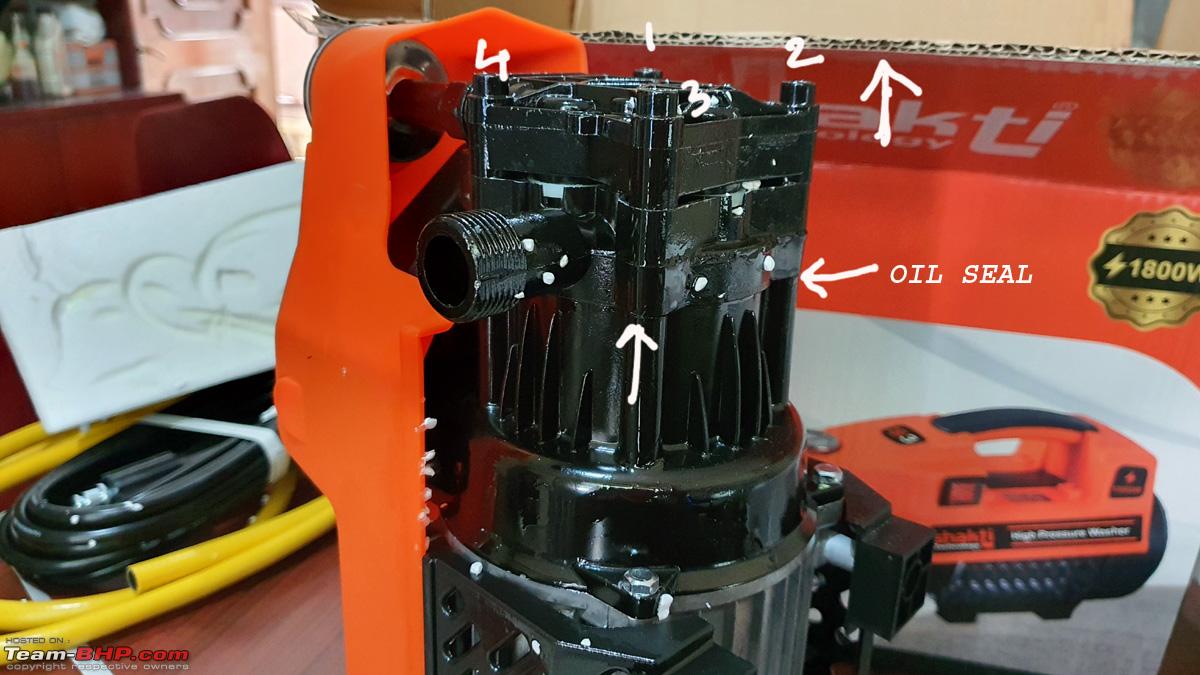 And my hunch was correct, there was no oil inside, it had all leaked from the Oil Seal (O-Ring) which had dropped inside intact, most probably due to wrong fitment at the time of assembly. All other parts inside looked in pristine condition. So I filled it up with 60-70 ml of 15W50 semi-synthetic oil (the manual mentioned 60-70 ml of 15W40 for each oil change) of Royal Enfield Himalayan Oil that was lying around with me and fitted the O-Ring oil seal back properly and started the machine. And Voila! it worked perfectly as brand new. Thank God, I didn't start it up in the condition that I had received it in because that would have seized up the 3 pistons inside. So much for not returning the machine.
But I ran into further issues when I found out that 1 O-Ring of the outlet pressure pipe was also missing and that pipe would leak if installed as it is.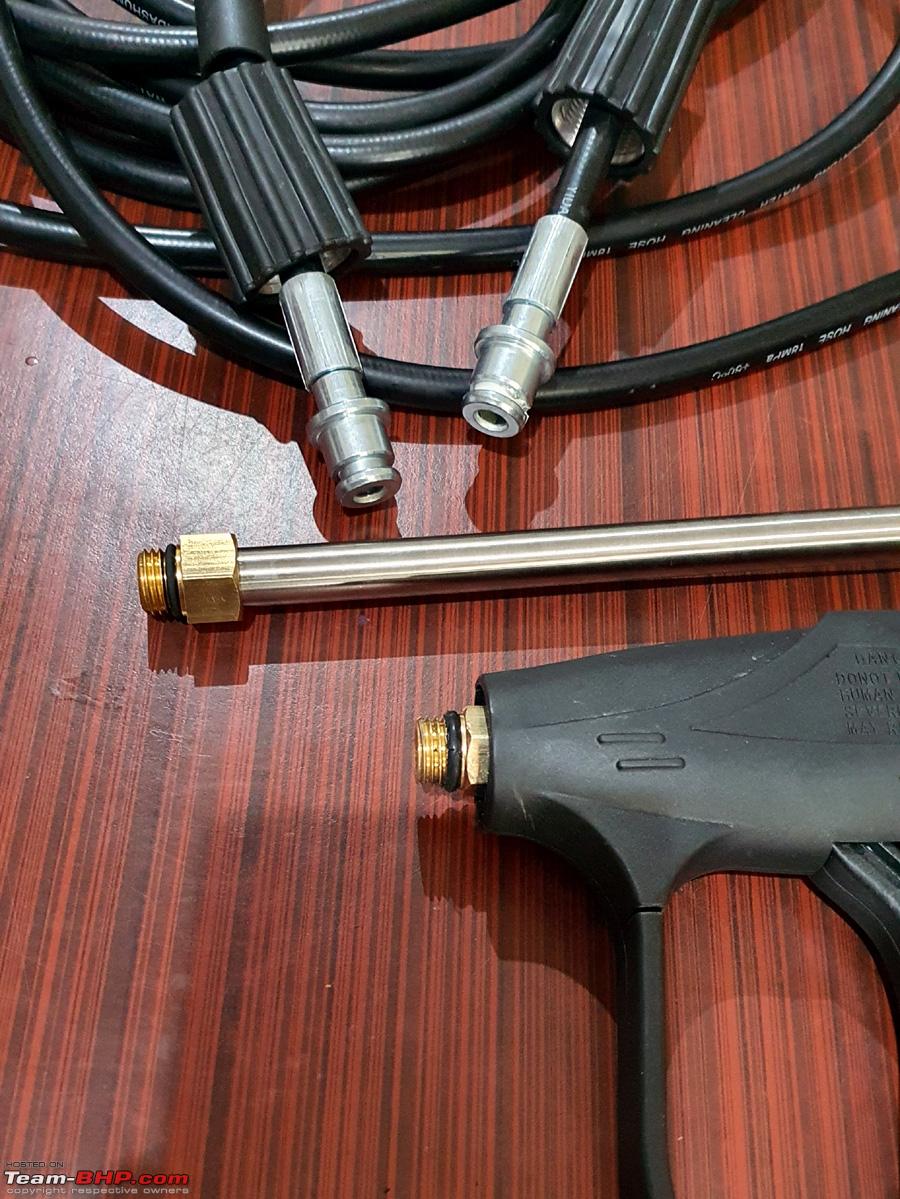 All fixed and with all the accessories in the box. It comes with a good length of 8m for the outlet pressure pipe and 2~3m length for the inlet pipe and power cable. Though I use my own garden pipe for the inlet feed.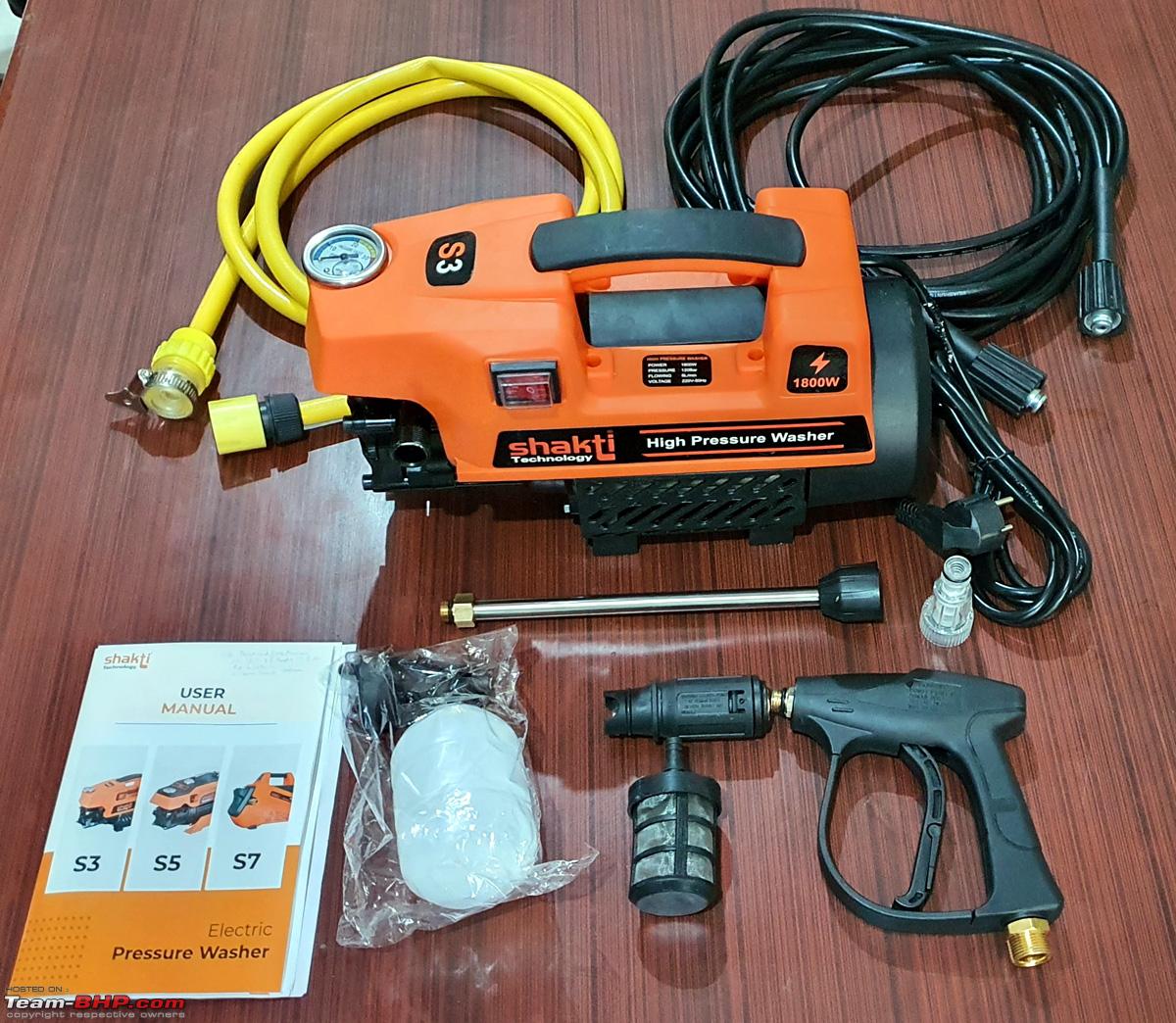 Here is a video from a YouTuber as to how this machine works and is a little biased but it has not disappointed in its performance in actual usage
I also bought this Foam Gun from Amazon for Rs 1091/- with a brass quick connector included, as the one supplied with the machine is almost useless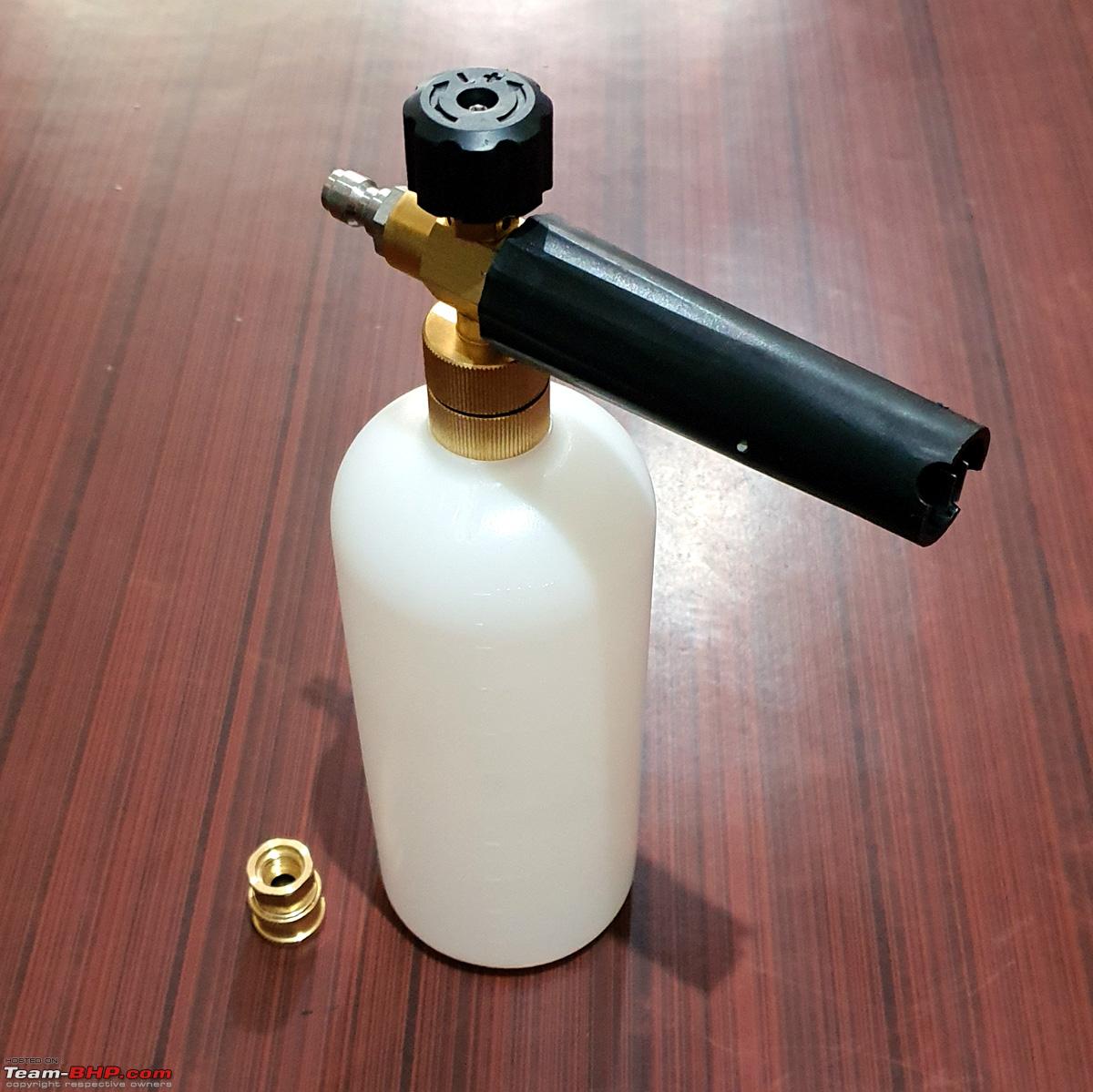 The machine has some heft and builds quality is also quite good and more than acceptable and is nearly 10 kg in weight.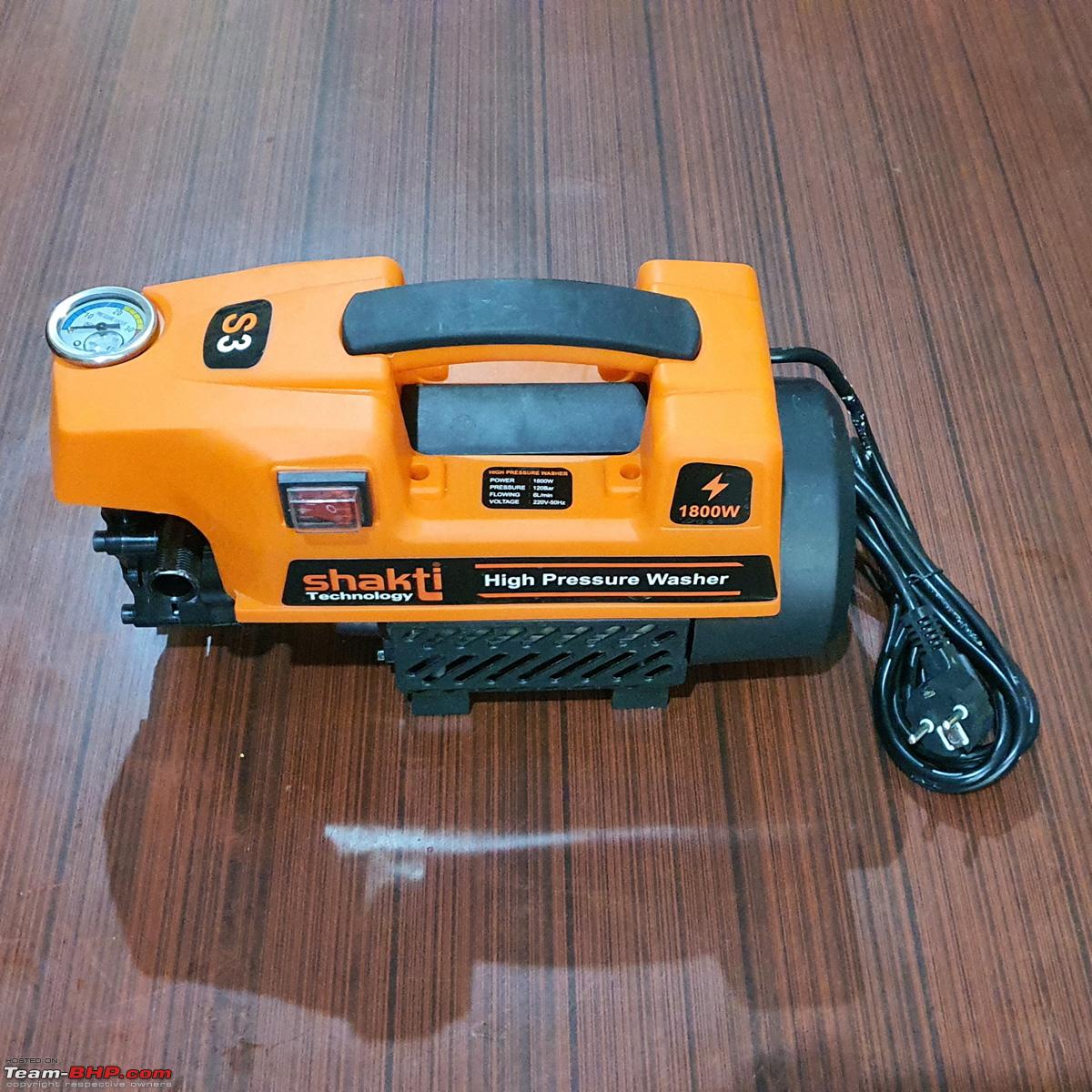 A close-up look at the machine, and notice the well-covered power button. The machine had got covered with complete foam on my initial usage and I am happy to report that it is quite water resistant. Just a quick wipe down and it was back to looking new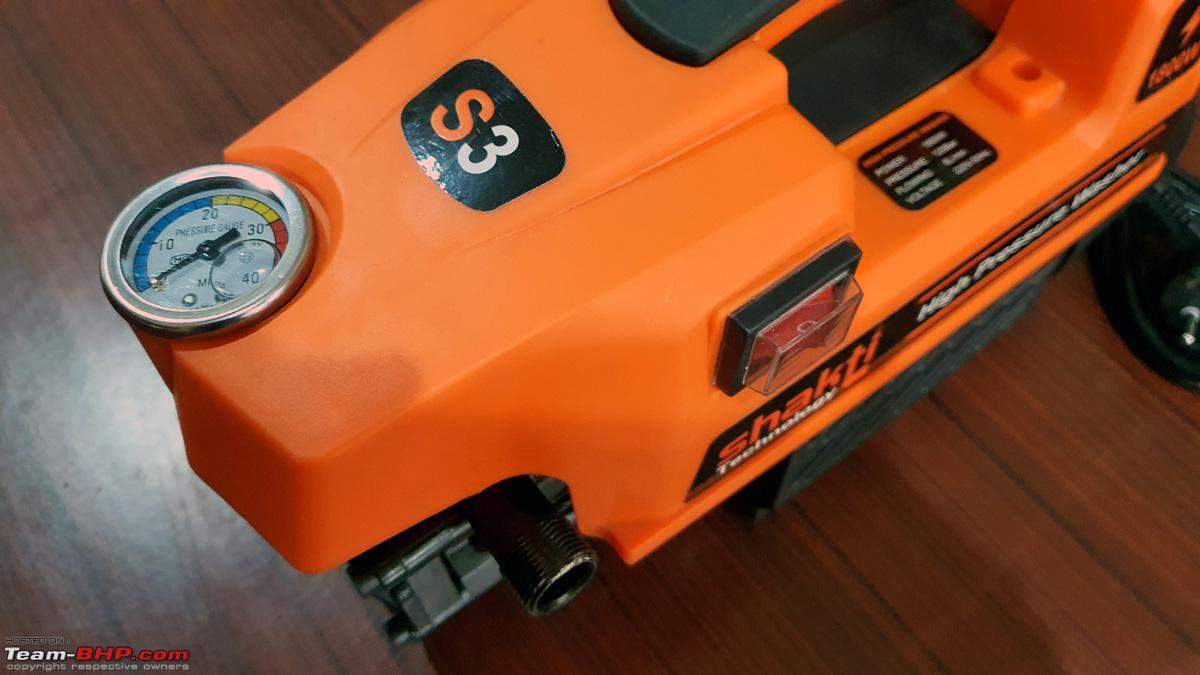 Tried my hands on my 1st pressure wash on my Baleno and used the Foam Gun with 3M car shampoo that was lying around with me. The foam quality was not very thick with 3M and here are the results
But the results post-wipe-down are excellent and I can visibly feel the difference between a normal wash and a pressure wash. Here's a look at my 3-and-a-half-year-old Baleno post-wash, looks as good as the day it arrived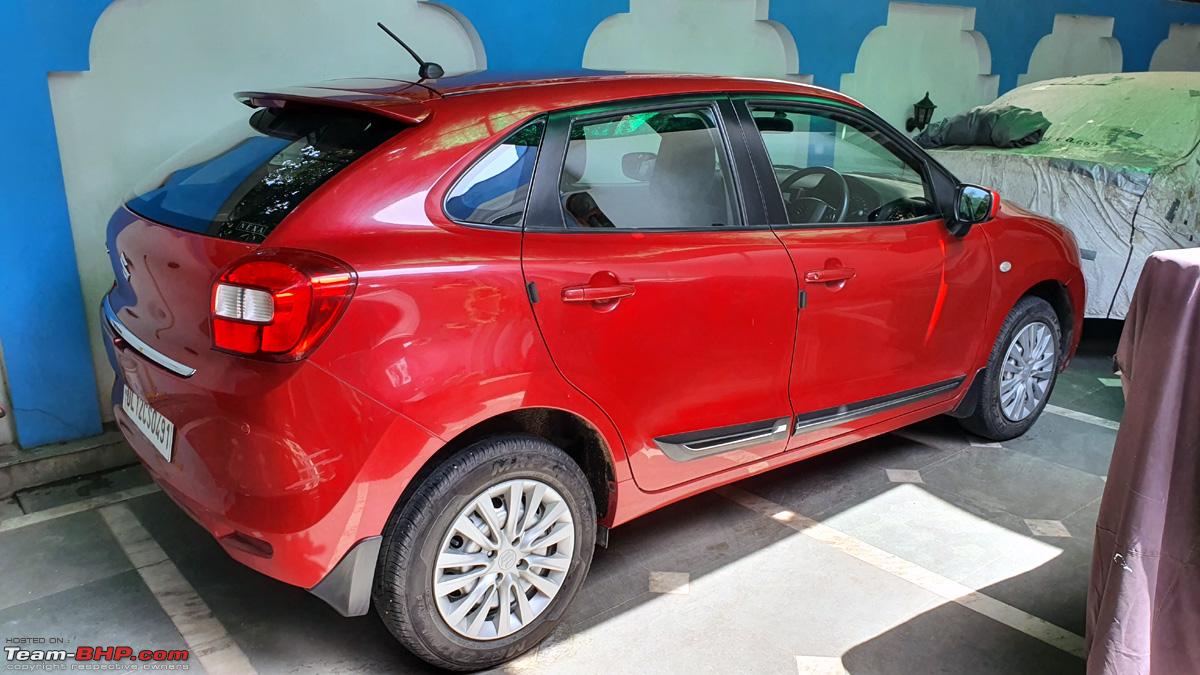 Since the foam quality of 3M Car Shampoo is not very thick as it is primarily meant for bucket wash, I ordered this best seller from Amazon – Waxpol Ecosaver Car Shampoo which has neutral pH (7), makes thick snow foam and costs just 699/- for a 5L pack. Going by 100 ml in 1L Foam Wash bottle, which can incidentally wash 3 cars, this 5L pack is good for washing nearly 150 cars which works out to approx. 5 bucks per snow foam wash. Good deal, I suppose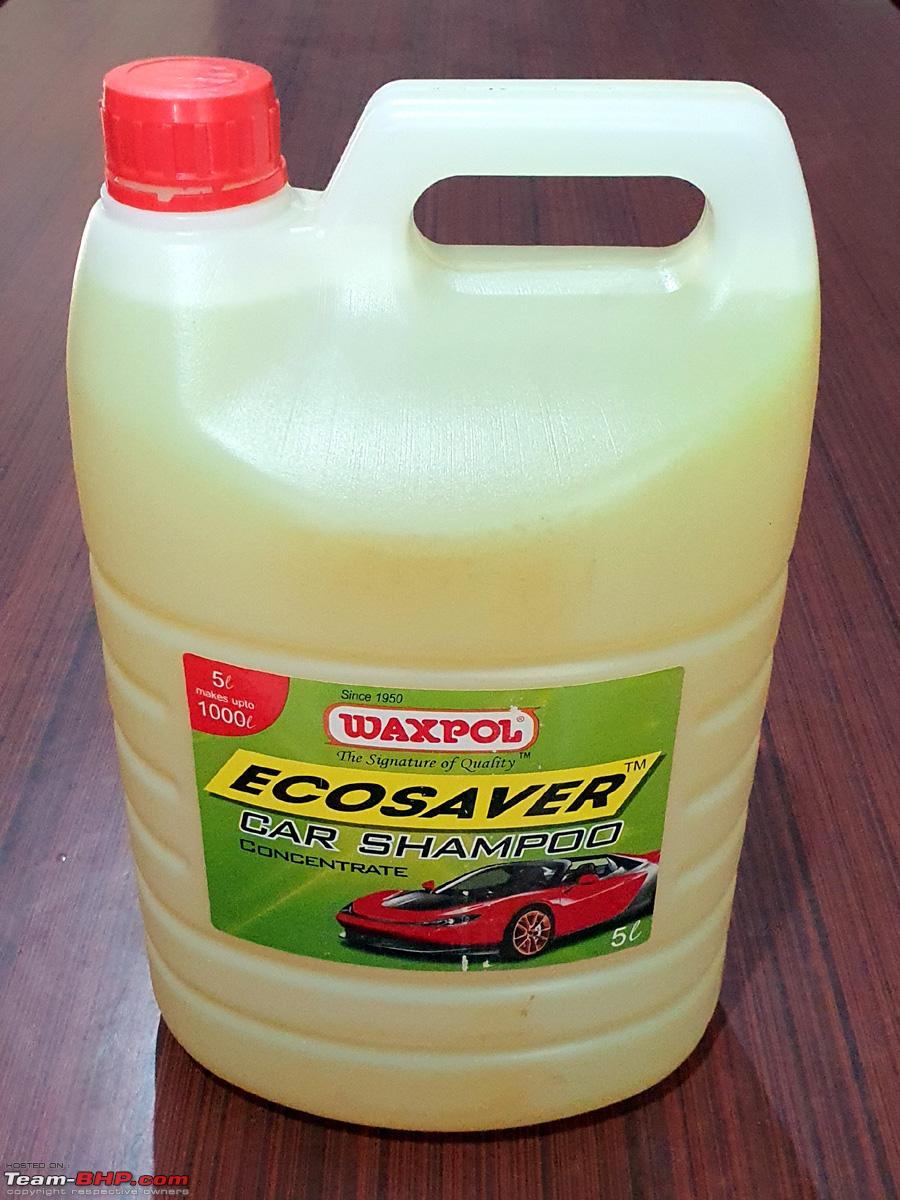 In conclusion: I am more than satisfied with the performance of this Shakti S3 machine and find it to be tremendous value for money (at sub 5k) for what-if offers. I have also used it in the last 2 days for cleaning my floor, main house gates, interior gardens etc. and have been more than satisfied. The greatest plus point is the immediate response from the manufacturer in case of any issues. This machine comes with a 6 months warranty from them and they have assured me an endless supply of any spare parts as and when needed even outside the warranty period.
Disclaimer – I have no commercial interest in this product and all my views are personal.
Check out BHPian comments for more insights and information.
Source: Read Full Article