Prepping my BMW 320d for a drive: New brake pads, discs & a car wash
On average, I am getting about 24,666 km per set of rear brake pads, and about 22,333 km per set of front brake pads.
BHPian Dr.AD recently shared this with other enthusiasts.
New Brakes, Car Wash, and another Drive!
In all the tyre discussion above, I forgot to mention anything about a few other things. I think it is time to move on from the tyre discussion, and let me share some other updates.
Just about three months ago, I replaced the front brake pads and the front brake discs. At that time, CBS was showing about 5000km life still left in the read brake pads.
At the start of last weekend's Karwar drive, the rear brake pads life was down to 1800km. I assumed I would need new brake pads immediately after that drive which was about 1200 km total (in the last 1500km or so the brake pad life decreases nonlinearly). However, thanks to the slow and careful return drive after the tyre drama, the brake pad life did not decrease much, and I still had 1200km of life left when I returned home. However, in preparation for the upcoming drives, I decided to change the brake pads anyways and not wait for it to go under 1000km of life.
With some short city runs, the brake pads life was down to 1100km when I went to Navnit BMW for new brake pads and brake discs:

Brand new discs (in addition to new pads) installed at the rear:
By the way, this was the third set of rear brake pads that I consumed in about 74,000km of driving (now installed the fourth new set). For the front pads, I had consumed the third set and installed the fourth set at about the 67,000 km mark. Thus, on average, I am getting about 24,666 km per set of rear brake pads, and about 22,333 km per set of front brake pads. I think this is quite a par for the course for a 320d.
In addition to the new brake pads and brake discs at the rear, I also got the car thoroughly inspected (by opting in for some kind of vehicle inspection package) and also got all the suspensions inspected after driving on the space saver tyre. There was also some "pre-monsoon vehicle check" campaign going on at the BMW service centre, and Navnit BMW offered me this check free of cost. Thankfully, the car passed all the vehicle checks quite well and everything was totally fine after the eventful Karwar drive. Overall, a great service experience at Navnit BMW. They did the job quite well and quite fast.
Although the brake pads under "CBS Service Requirements" were taken care of, now the next service requirement due is an oil change in another 4700 km:
This means that in about two months' time I will be back at the service centre for an oil change. My previous oil change was done on 05/2022, and therefore, the time limit for the next oil change is 05/2023 as you can see above. However, I have already driven more than 6000 km after the oil change in 05/2022, and thus, have only 4700 km left on this oil which I will have to change in just about 2 months' time now.
Now my car had new tyres, new brake pads, everything was inspected and passed the tests, and now I was eagerly looking forward to the next drive. However, the car was very dirty after the recent "monsoon drive" to Karwar, and in all the drama of tyre change, brake pads change etc, I had not got time for a proper car wash. So now I decided to give the car a thorough wash before the next weekend's drive.
I went to a new car detailing/wash place opened in HSR Layout, called "Next Level Detailing":
The car was very dirty and desperately needed a proper wash:
The car was properly washed with high-pressure water first:
Followed by a foam wash and another round of high-pressure wash:
The car looking clean finally (this place did a good job and is certainly a nice place for a car wash; I will go here again for car washes for sure):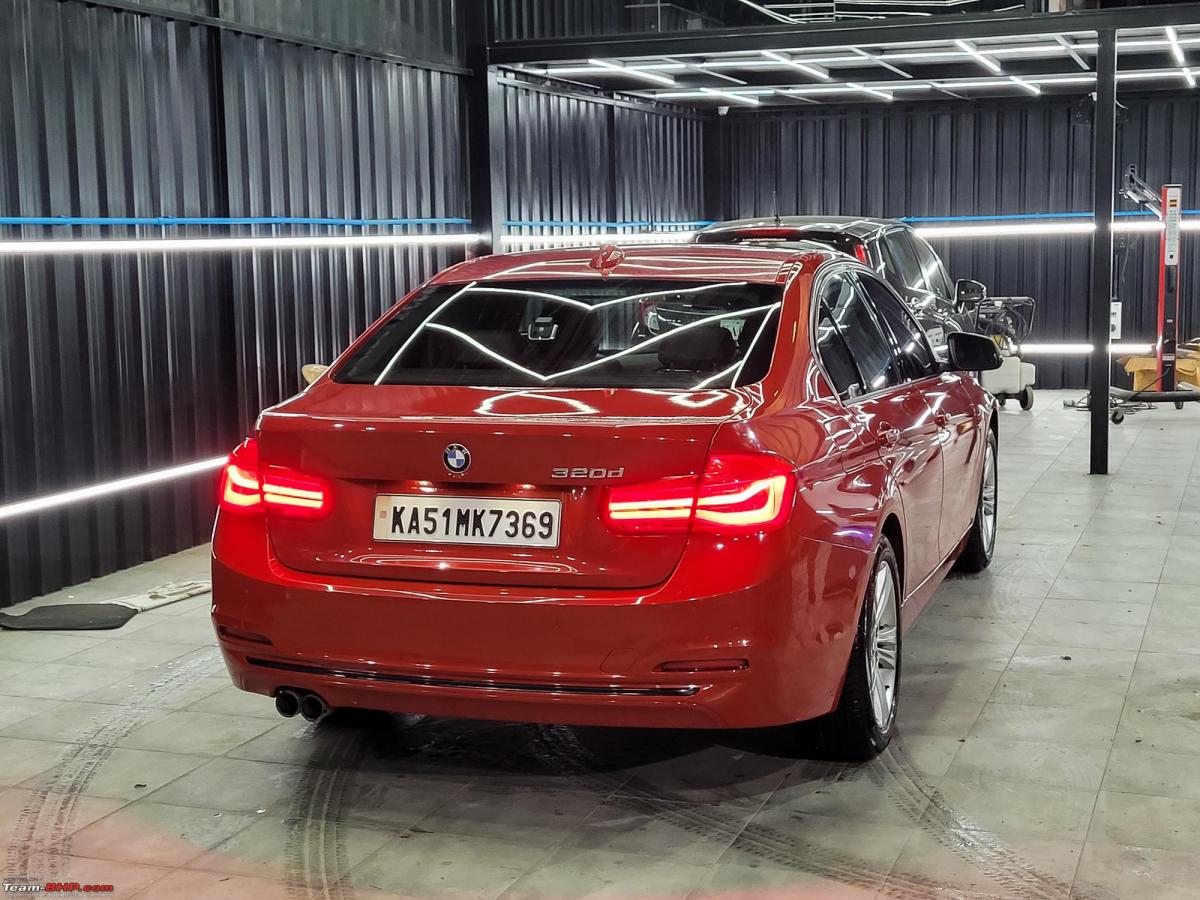 With brand new tyres, new brakes at the rear, almost new brakes at the front, and a nicely washed clean car, it felt lovely to drive the car! With this, I went for another weekend drive on the very next weekend since the eventful Karwar drive.
Drive to Wayanad, Kerala
This was a drive together with my close friend BHPian @robimahanta driving his BMW M340i. This was actually a family drive, with our respective better halves with us.
Unfortunately, this time Robi suffered a tyre scare, which he has described here. Quite strange that we had two cases of tyre troubles on two consecutive weekends after years of driving together without any trouble. Just some bad luck I assume.
Anyways, apart from this minor issue, in general, we had a great drive and a great weekend trip. Roads to and within Wayanad are lovely, the locations and landscapes were beautiful, and the weather was quite perfect! We loved our weekend experience in Wayanad.
We stayed in LakeRose Resort and it turned out to be quite a nice place. Thanks to our friend BHPian @KarthikK for discovering and recommending this resort to us from his previous trip there.
Our cars at the parking lot of this resort, with a lake in the background:
Although we drove there in our BMWs, My Jeep Wrangler Rubicon (1:32 scale) was with me, packed somewhere in my backpack, and I could not resist taking a few photos of my Jeep there while we chilled and relaxed in the resort the next day.
My Jeep in the resort:
Finally, a parting shot of our cars before the return drive:
Overall a fun weekend with another memorable drive. Hopefully, some more drives will happen soon.
That is all for now. Thanks for reading!
Check out BHPian comments for more insights and information.
Source: Read Full Article