Pics: A 4X4 beach offroading trip in Australia with my Pajero
The sky was overcast and cloudy, almost stormy. Still, the ocean and golden sands beckoned.
BHPian benbsb29 recently shared this with other enthusiasts.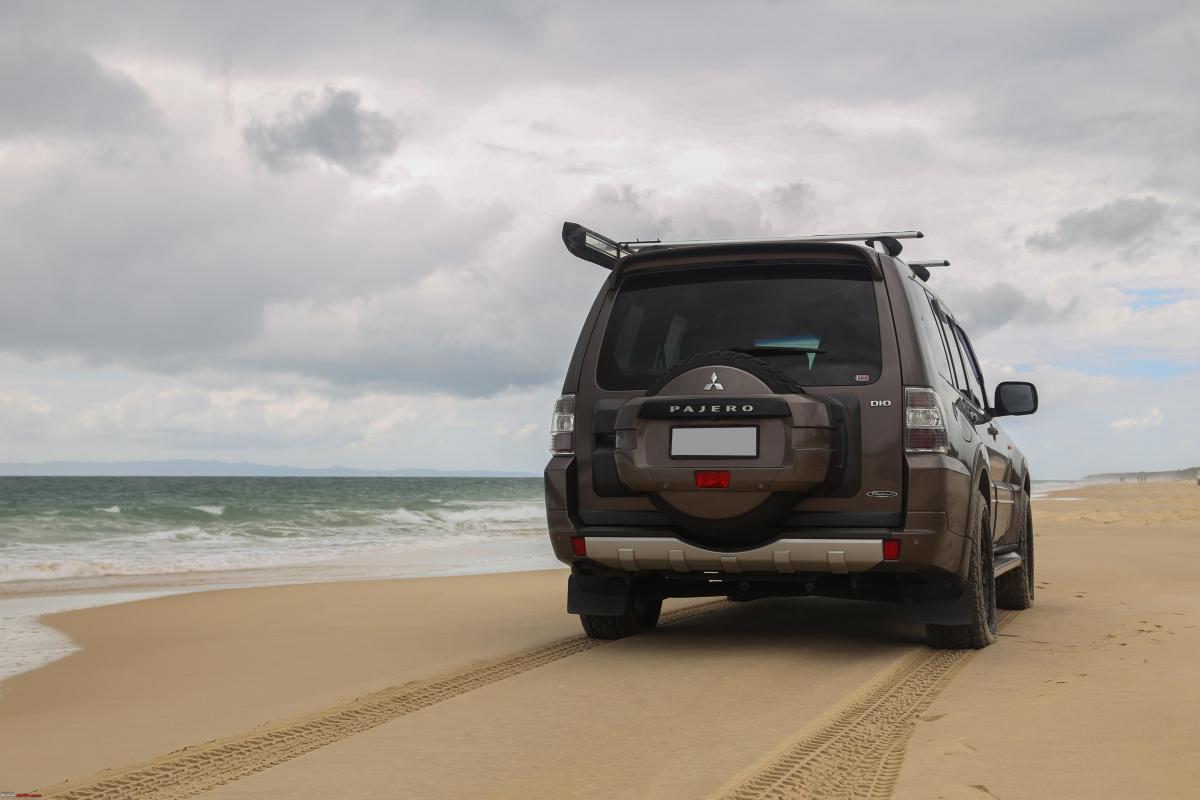 Another weekend, and another trip to our favourite backyard hunting spot – Bribie Island. I realised it has been a long time since we last came here. For those who forgot, that was the time i lost my record of never being bogged – getting bogged twice in the same day!
Taking my learnings from that episode, they really helped in our trip to Moreton Island which was remote in quite a few places, and had an enjoyable trip without getting stuck. Read here.
My annual permit to use the 4×4 track at Bribie Island had expired, and so i had to renew it, which can be done online at the Queensland Parks website.
This time round, I didn't opt for an annual pass (A$167 approx.), preferring instead to opt for a weekly pass at A$57 approx. Pass sorted, I ensured I had my recovery gear and compressor ready, and eagerly awaited the drive the following morning.
We had planned an early morning trip, hoping to be there before the weekend crowds, as well as possibly a glint of the early morning sun. Being summer in Queensland, the sun is up and bright as early as 5:15AM, so the question was always how early is early?!
We left home at around 5:10AM, and first stop was the servo to fuel both the car as well as some snacks for us at the beach. The drive to Bribie Island itself was quick being early morning and we made a quick stop at the neighborhood Maccas (McDonalds) at Bribie Island to buy some brekkie. We really enjoy the brekkie menu at Maccas, which made this a rather obvious choice for us. Soon, we'd hit the beach, find a spot of our liking, park, put up the awning and enjoy brekkie with the view of the sea/lagoon as we choose. Or so we thought.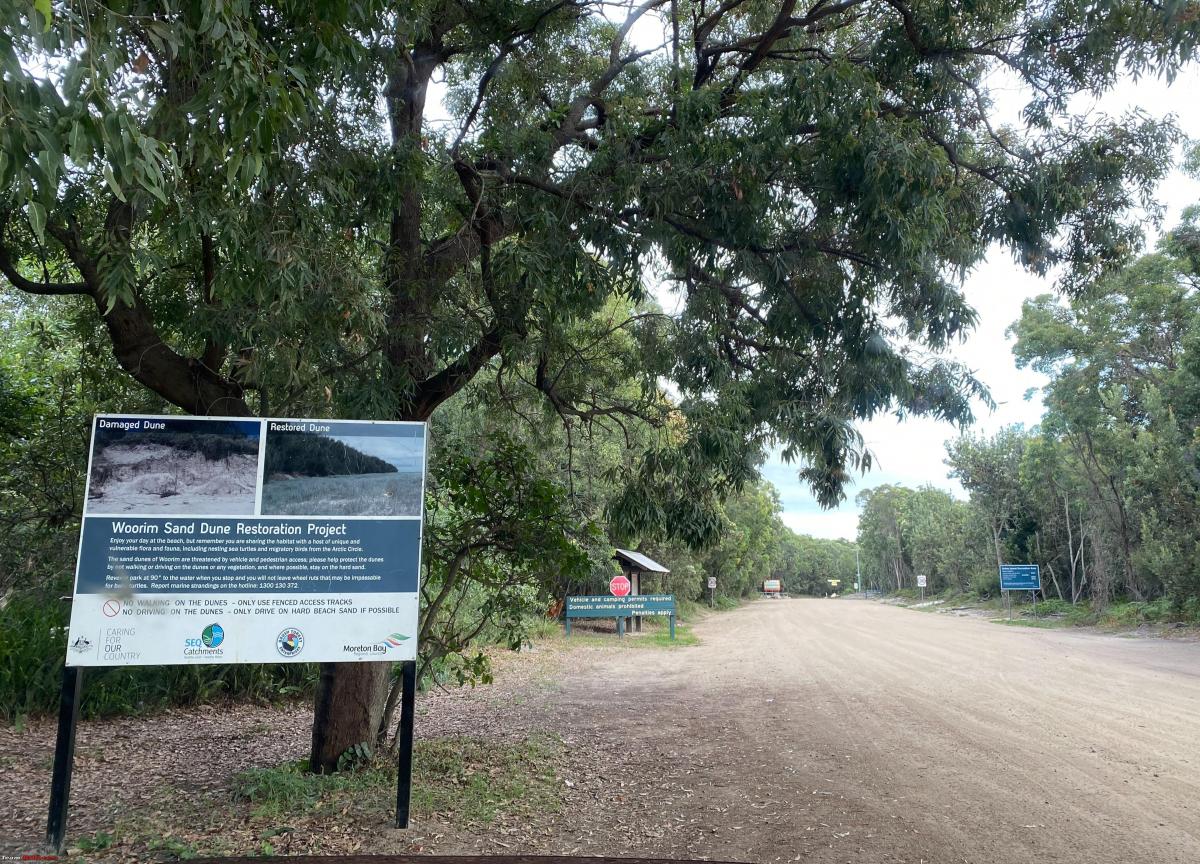 We get to the spot to air down the tyres, job done quickly and we were off. Do note the presence of Number plate recognition cameras at the track entry, which check your rego against the permits purchased.
The sand was soft and powdery, a sight that by now was familiar to us. I had tyre pressures down to about 15-18 PSI and 4H with center diff locked. The Mitsubishi Super Select 4Wd system also allows to drive with the diff open, akin to an AWD. I have used this on sand in the past, but was taking no chances this time.
We continued to make easy progress along the sand tracks, some sections being more bouncy and softer than the others. As we were about 3/4th of the way to the beach entrance, we came across a couple in a Nissan Navara who were bogged. As is the unwritten rule of off-roading, we stopped to ask if they needed assistance, to which they answered in the affirmative.
I pulled up a bit ahead to the side, so as not to block others and brought out the recovery boards to try and help. The Navara was bogged down to its belly, and the wheels had absolutely no traction, just spinning away.
I realised the person was unprepared with recovery gear, and it looked like their maiden trip to these tracks. The sense of Deja Vu for me was oh-so-evident, having been there, done exactly that many years ago.
First thing i did was check tyre pressures on the Navara, which was sitting around 26 PSI or so. Brought this down to 18 PSI all around. We then scooped away sand around the tyres, and propped the recovery boards at the rear wheels, and got the guy to give it a go. The wheels just refused to grab onto the tracks, as it really was sitting flat on its belly.
A person in a Jeep Grand Cherokee who was returning from the beach passed us, and stopped to enquire if we needed help. Soon enough, he had brought along his recovery boards too, and now we had 6 boards to try and get the Navara to latch onto. However, the same story continued and the car just refused to make its way out. May i also mention here that the inexperience of the person at the wheel possibly had a role too.
After some discussion, the person in the Grand Cherokee offerred to snatch out the Navara, as he had a rated recovery point on his car.
Soon the snatch straps and D-shackles were out, and the recovery process was underway. The sand around this area was so soft that just the process of the Grand Cherokee (GC) lining up ahead of the Navara resulted in him almost getting bogged himself.
At one point it did look like he was bogged, and then we ended up laying out the recovery boards just to help it get itself out of trouble. Soon with 6 boards at our disposal, we used it to lay down a path for the GC to drive on, and avoid getting bogged again.
This time round, the GC was able to snatch the Navara out of its predicament, and help them get going on their way.
We all bade bye to each other, and headed out. We didn't realise it had been close to an hour and a quarter since we stopped to help!
We made our way to the beach without much incident and realised the tide was on its way up. At Bribie island a high tide means you end up driving on soft sand along the beach, which is a bit of a bother but on the bright side it is not a situation where there is no usable surface to drive on, putting you at high risk with an incoming tide.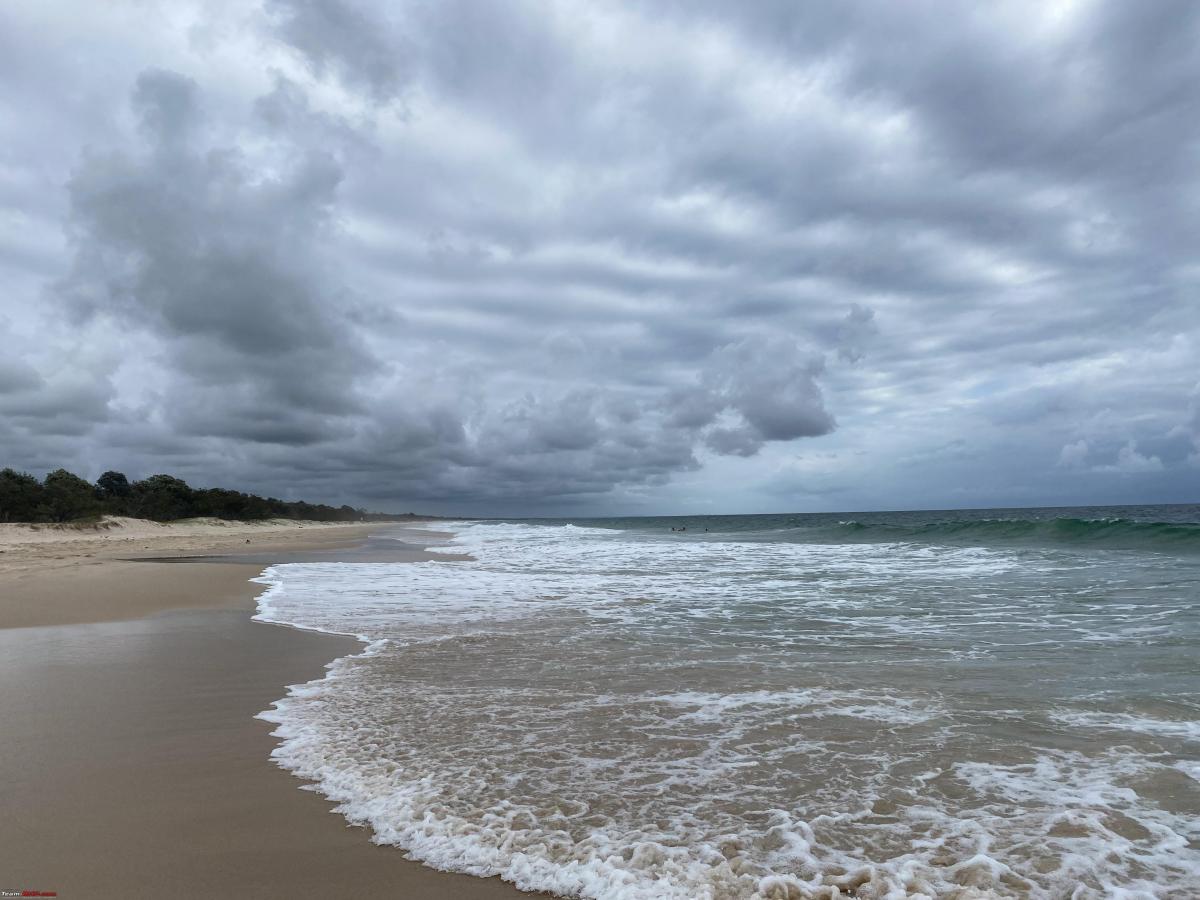 We drove on a bit to get to our usual spot, ie the first lagoon. Being relatively early, we had the luxury to chose a spot of our liking, but as is the norm in Australia, most folks are early risers which meant there still was a good number of people already at the lagoon.
We parked, put up the awning, table and chairs and set about to have brekkie, which at this point wasn't exactly hot as we hoped it would be.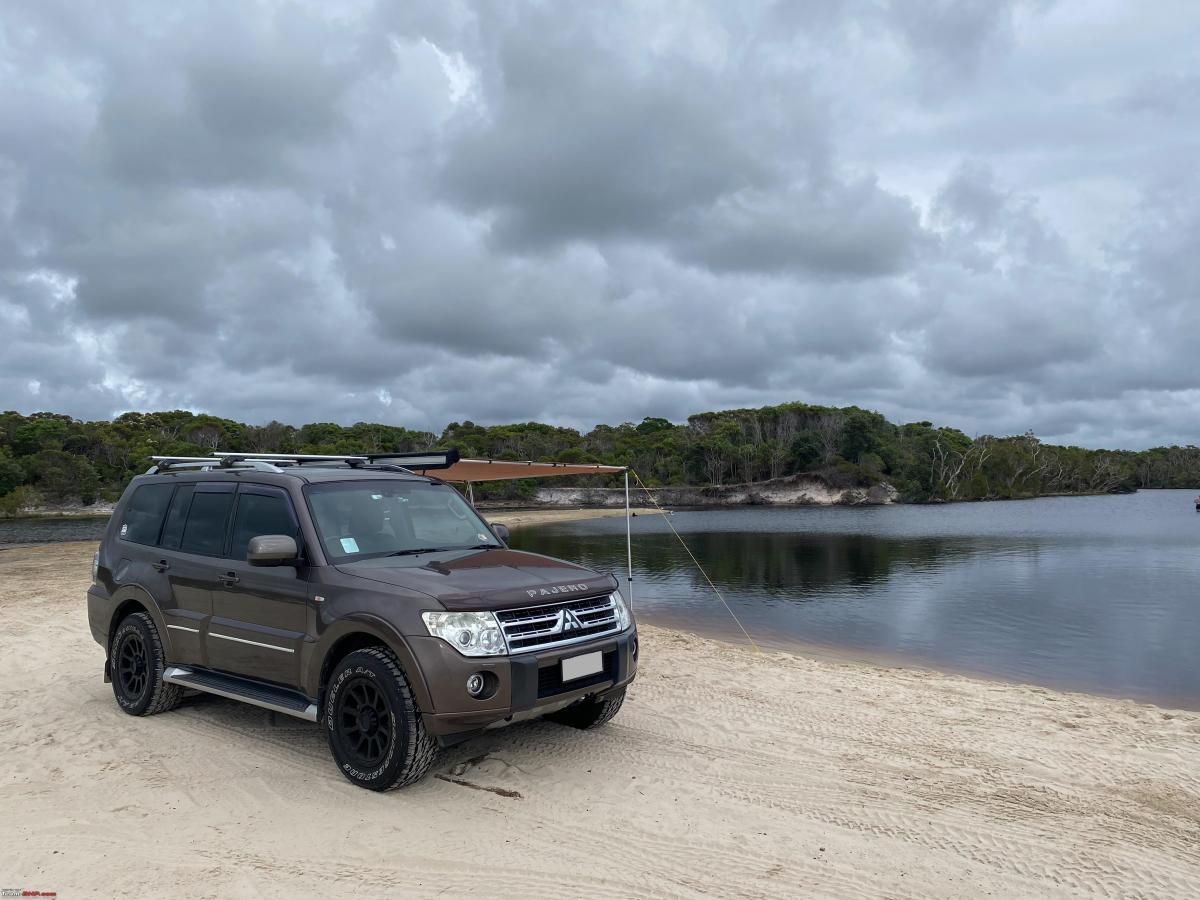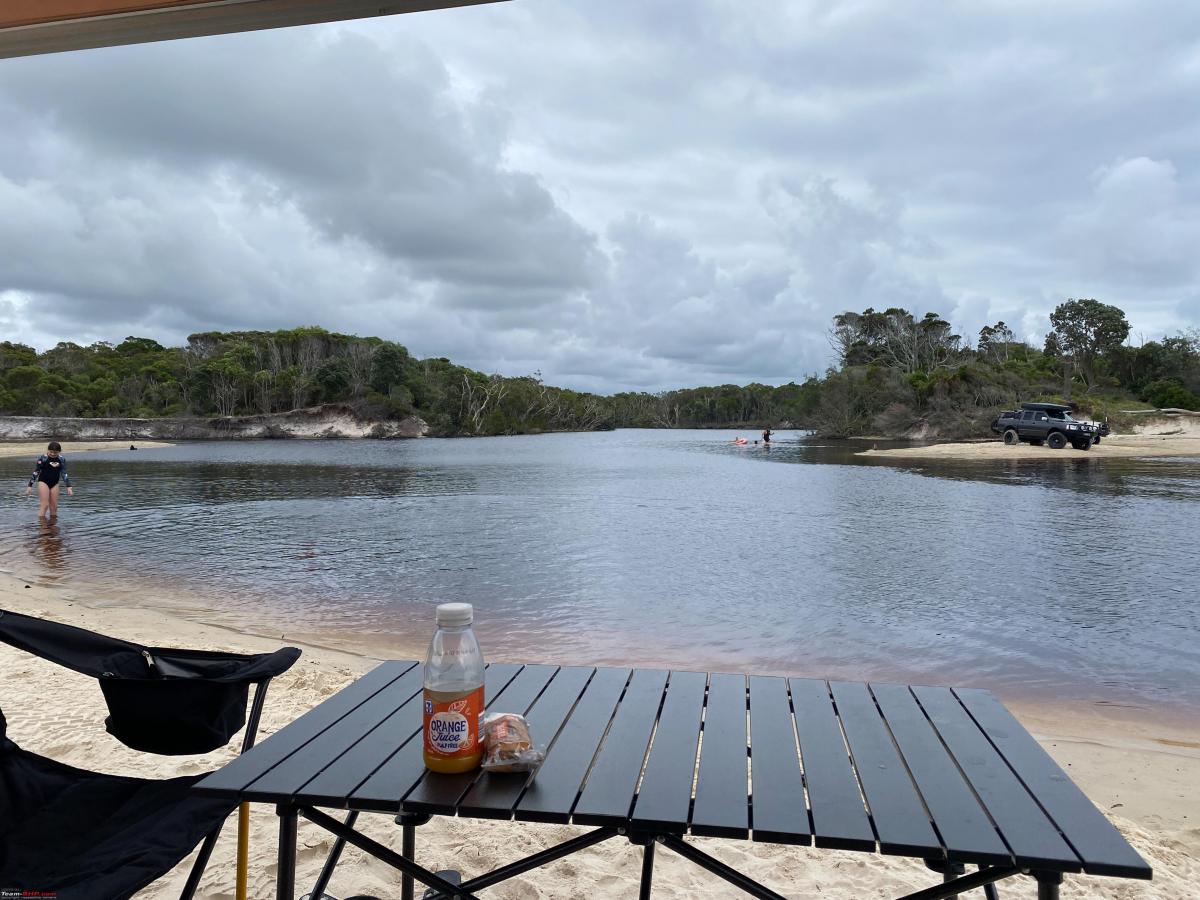 The sky was overcast and cloudy, almost stormy. Still, the ocean and golden sands beckoned.
Continue reading BHPian benbsb29's travelogue for more insights and information.
Source: Read Full Article