PDI check proves useful: Rejected my Nexon & bought a Kia Sonet instead
The first time I heard about Nexon was when it became the first vehicle with 5-star GNCAP ratings.
BHPian vamship recently shared this with other enthusiasts.
Hello BHPians,
Hope all of you are doing well.
This is my first post on TeamBHP and I have been reading this forum for the last 4 years. I will try to cover my decision-making process and buying experience.
Love with Tata Nexon:
The first time I heard about Nexon was when it became the first vehicle with 5-star GNCAP ratings. From that point, I always thought this would be my first car and was waiting to buy it until I get a better-paying Job.
I have read the Nexon Official Review thread and all the comments a couple of times and watched umpteen videos related to Nexon's build quality and ownership experiences.
Although I saw many negative experiences related to dealership experience but never thought It would happen to me.
3rd May 2022
I reached out to the nearest dealer and the reception put me in contact with a Sales advisor. I went to the showroom for a test drive of Nexon on 3rd March, and it was very busy and bustling with customers. SA had advised me that Nexon is not available and provided the Altroz test drive. He did promise me to get Nexon to my office for a long test drive in the next two days.
As the waiting period was massive, I have made my booking in Nexon XZ+ Petrol Royal Blue colour. After some days SA informed me that the Royal Blue was not available in XZ+, and I will have to with XZ+HS or XZ+P for the colour. I didn't require the extra features and changed the booking to White.
5th May
As promised, SA brought Nexon to my office for a test drive at the agreed time. I have stalled the car a lot of times in traffic, and it took a couple of tries to get the car moving ahead. The test drive vehicle was very neatly maintained and the ODO was at around 12k I was very happy with the test drive.
Just do not consider other options, I took a test drive of Sonet IMT GTX+ on the same day. I liked the frontal visibility, as Nexon blocks a lot of it and IMT was a hoot to drive. I informed SA about my decision of going with Nexon, and she thanked me and left.
6th June
I received an email with allocation details, and I was overjoyed about getting my dream car much earlier than expected. I decoded the VIN using Team-BHP, and it was manufactured in May 2022.
I along with my colleague who is much more experience with cars went to PDI the next day, and this is where my disappointing experience starts
The moment that SA brought the vehicle out, I saw a huge gash near the rear-left tire. ( In real it looked much bigger and I think the angle of the pic makes it look smaller)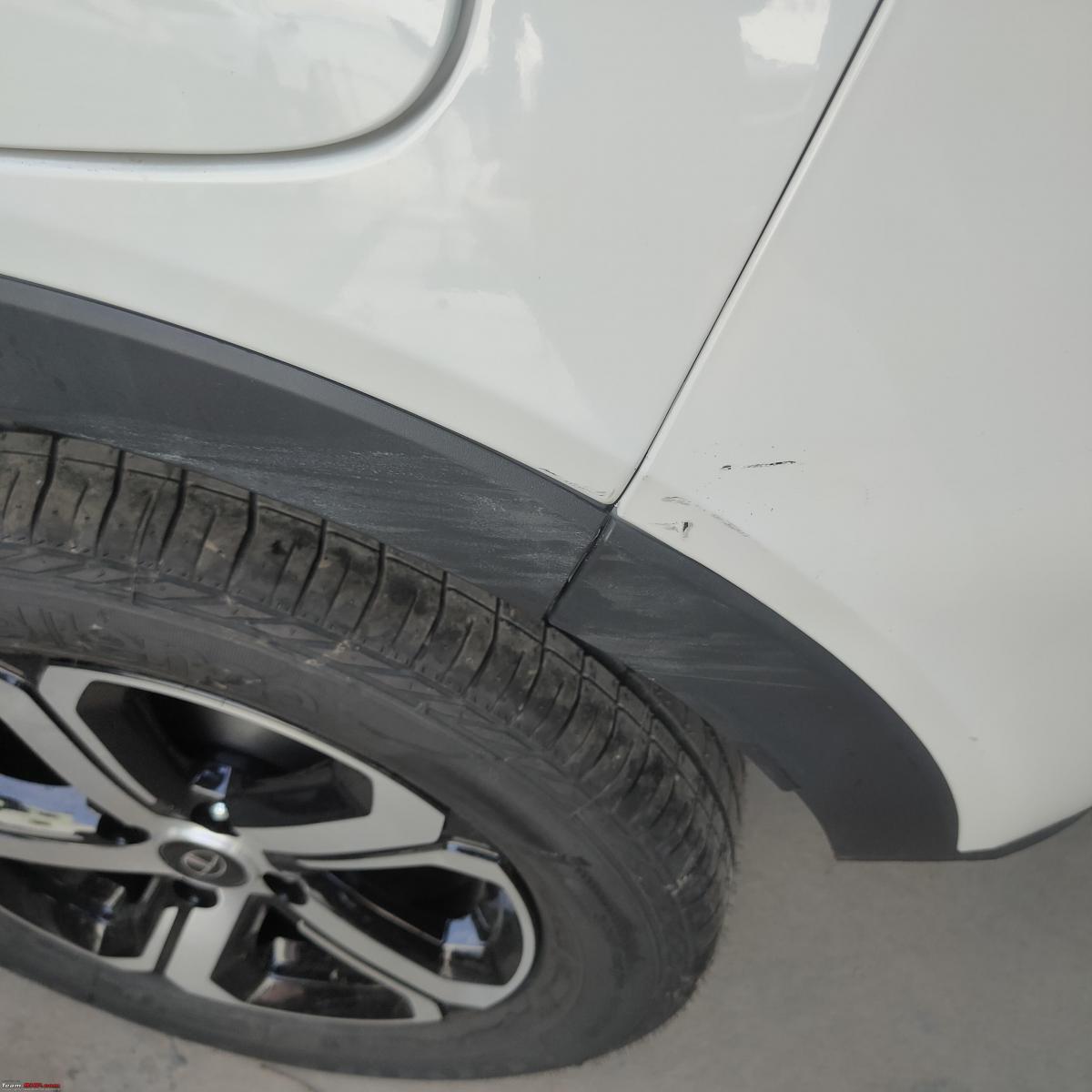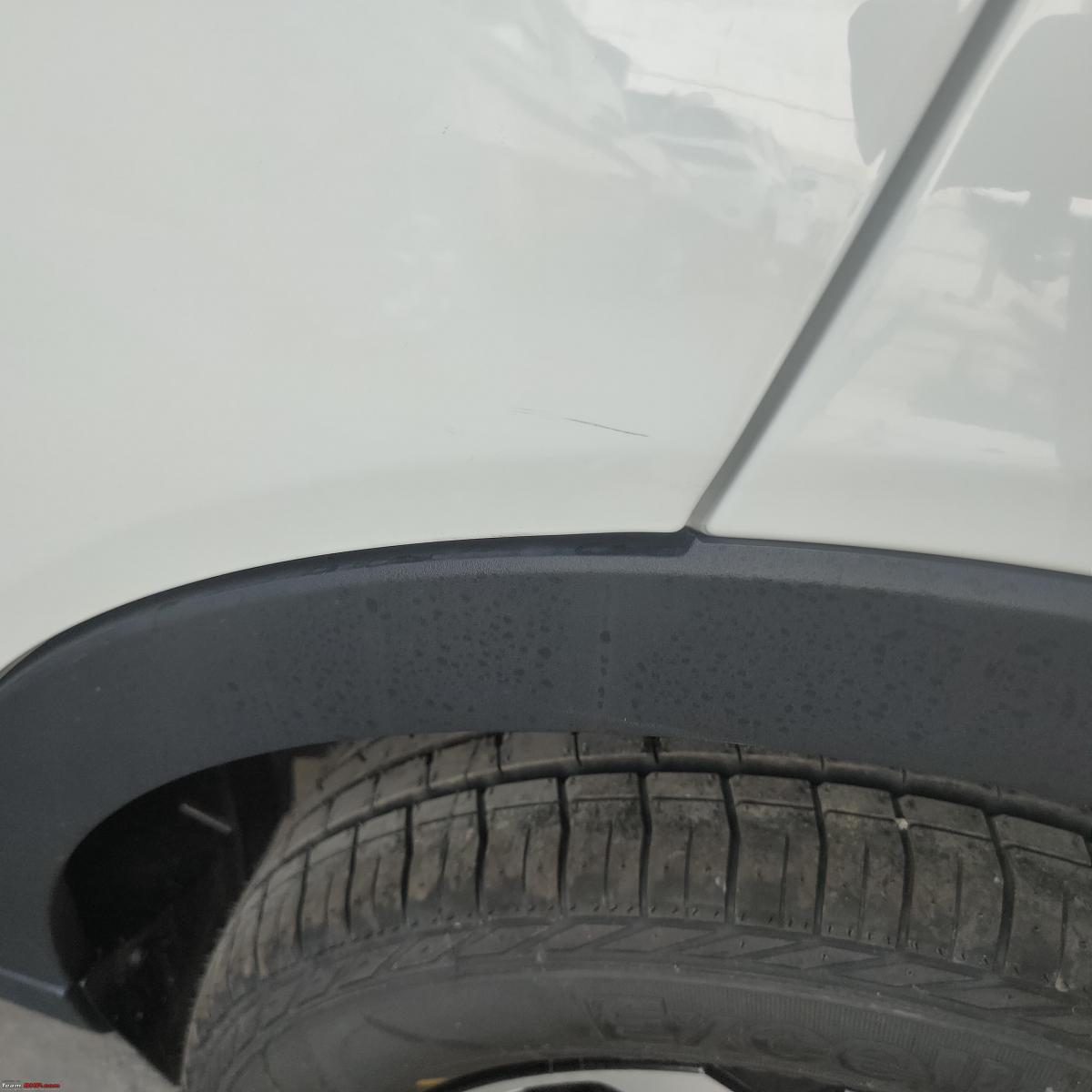 I still went ahead with PDI just to go ahead with the process. My colleague caught this minor paint discrepancy near the front bumper.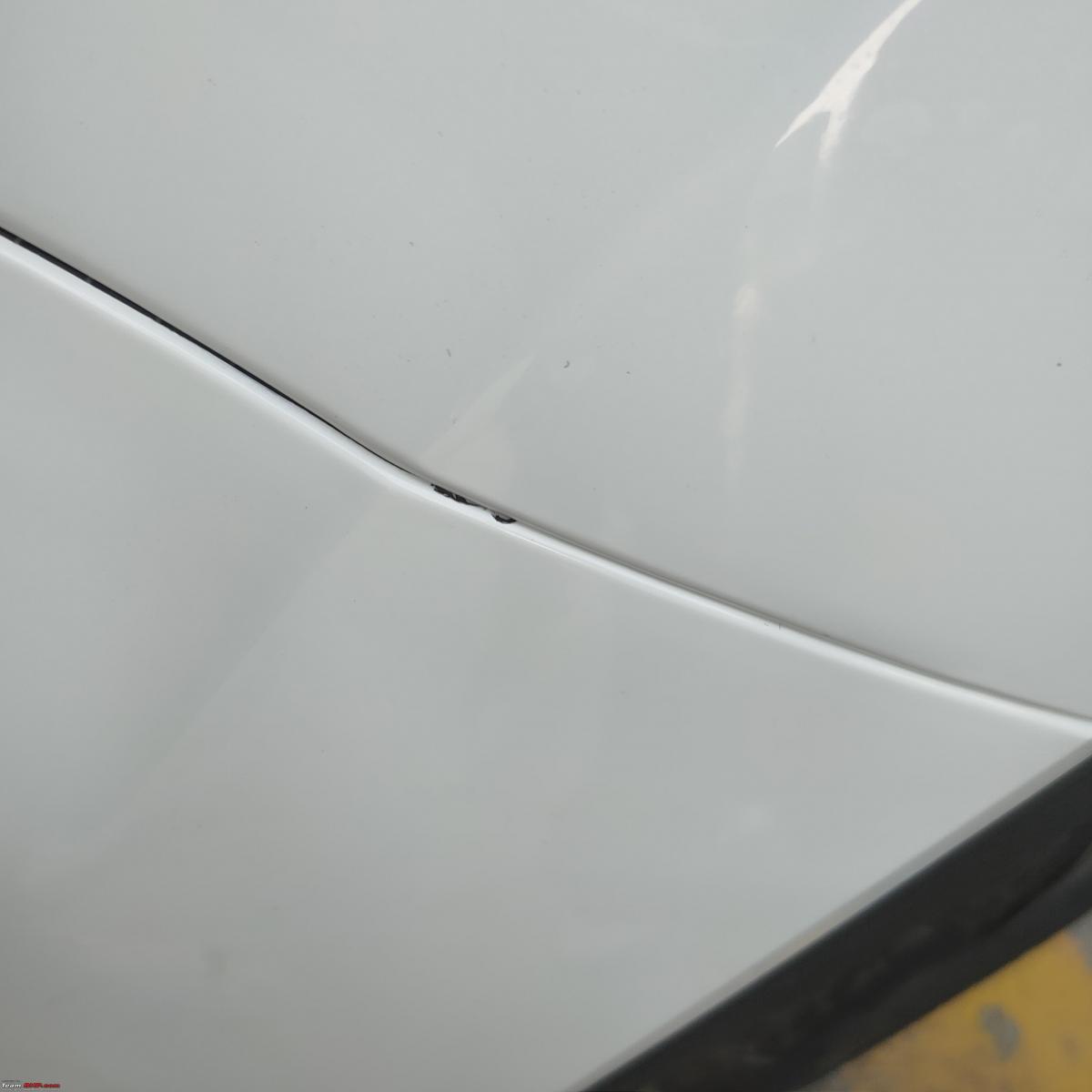 After close inspection, he found the whole front bumper to have been re-painted. You can see the layers of thick paint clearly visible in this PIC.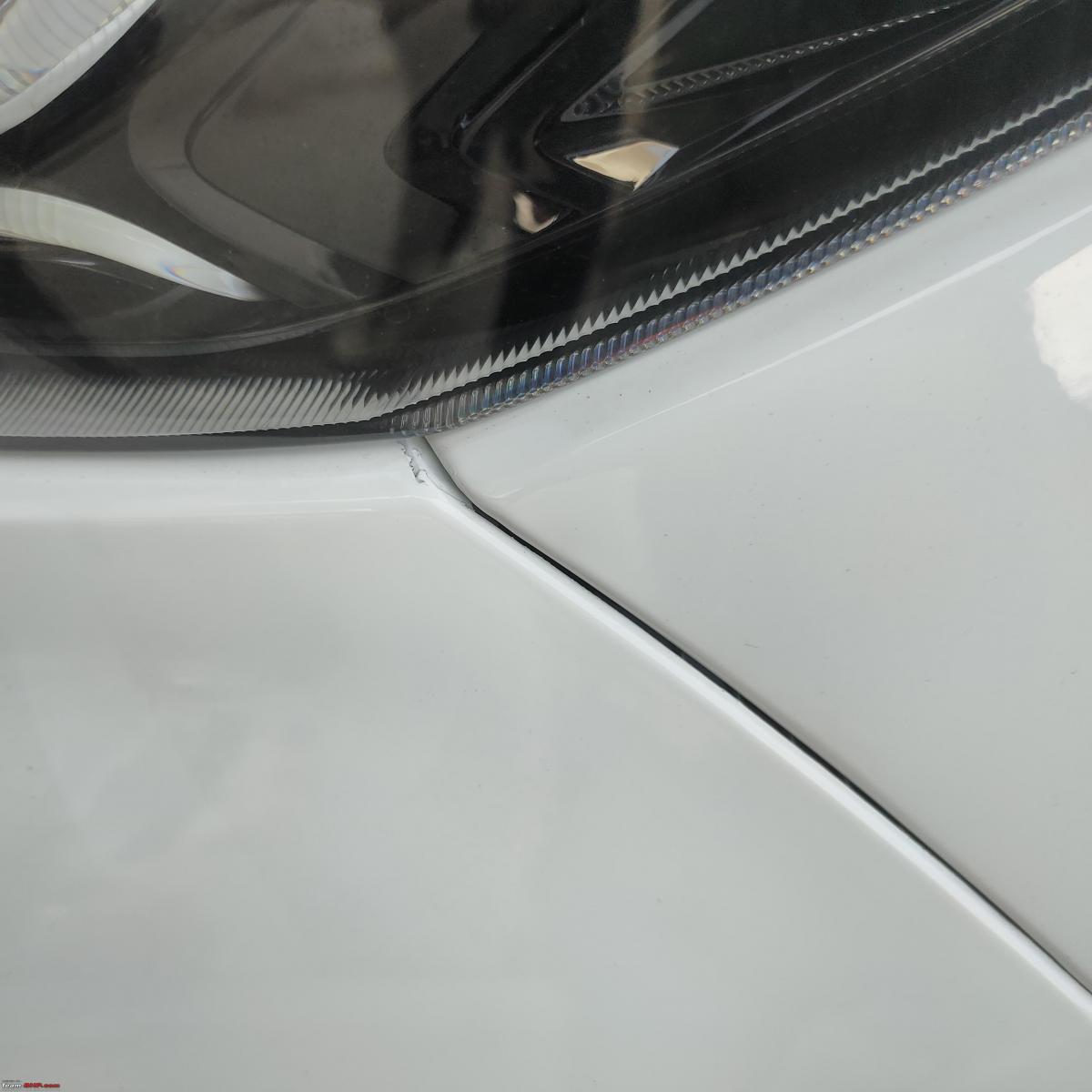 And the final Nail in the coffin, this looks like multiple places near the bonnet too got repainted. Look at the two circled parts in the pic, that look like paint overspray.
My whole excitement got crushed, and I rejected the vehicle. The SA and his manager came up with a whole host of reasons, which were conflicting with each other.
Their intentions clearly showed malice and they came up with reasons like your waiting period will start again from now, still, I stood my ground and rejected the vehicle.
Here's what GTO had to say on the matter:
Never rejected a car in the PDI because I have generally been allotted clean cars. Guess when the dealership knows you are a petrol-head and will do a detailed pre-delivery inspection, they will allocate a good car to you. Plus, when I'm buying a car, the OEM generally gets involved in some way or the other, and that does ensure a smooth experience.

I think 1 in 100 cars might be rejected in PDIs, but that effort is well worth it. If I'm going to live with a car for 10 years, I sure as hell don't want to bring a damaged piece home. That 2 – 3 hours of work pays rich dividends.

No new car without PDI & no used car without PPI. That's the golden rule.
Here's what BHPian Jeroen had to say on the matter:
Here in Europe, people don't really do a PDI. You would probably walk around the car a bit, the sales rep will be there and walk you through the various options/features in the car. It is very rare for anything to be wrong with a brand new car.

However, I once, many years ago, rejected a car straight off the bat! Somehow they managed to mess up the colour I had ordered. It was a company car, which involved me filling in a company form, that form is then submitted to the lease company and the lease company submits the order to a dealer. We could follow the paper trail very easily. The dealer had ordered the wrong colour!

So I rejected the car and the dealer offered a discount. But this is a lease car, discounts are not for me. More importantly, I would have to live with the wrong colour for 2-3 years. So I declined and told them to order the correct colour.
Check out BHPian comments for more insights and information.
Source: Read Full Article