NASCAR Legend Jimmie Johnson Could Become Cycling's Biggest Advocate
It's a beautiful, sunny Thursday morning at the Daytona International Speedway, and in victory lane Jimmie Johnson is all smiles. The 2020 Daytona 500 is three days away, but today, the seven-time NASCAR champion is about to take to the 2.5-mile circuit on two wheels.
This is a big weekend for Johnson. At the end of 2019, Johnson announced that he plans on retiring at the end of the 2020 season, putting a cap on a NASCAR career that rivals that of Dale Earnhardt and Richard Petty. After 18 years behind the wheel of a stock car, the 2020 Daytona 500 marks the beginning of the end for Johnson.
And it starts, as Johnson prefers, with a group ride.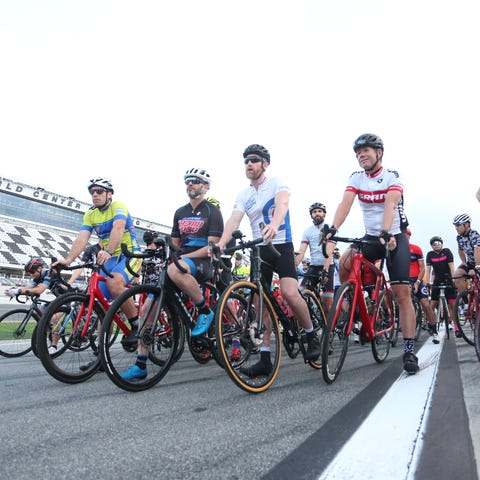 Kitted up and resting on the top tube of his Trek Emonda, Johnson about to pedal the annual Champions Ride for Bicycle Safety. Put on by his friend and fellow driver Scott Lagasse Jr., it's become a pre-race tradition over the. last six years. Ride on Thursday morning, qualify in the evening, race on Sunday.
In fact, Johnson liked the idea of a pre-race ride so much that a few years ago, he just started doing it for every race weekend. Johnson has said in the past that riding bikes has helped him get a better handle on nutrition and fatigue in the car, and has even found that he's feels sharper in the car the day after a big ride.
His relatively newfound passion for the bicycle has led him to become a sort of cycling evangelist within NASCAR—getting a number of fellow drivers and mechanics, including a reluctant Dale Earnhardt Jr., to join him for rides on race weekends. For Johnson, the bike has been less about competition, and more about building community and camaraderie over the course of the 40-week traveling circus that is the NASCAR season.
"It's really about the experience for me," Johnson tells me. "The places the bike takes me, the people that I meet and hang out with. That's just the beauty of the bike."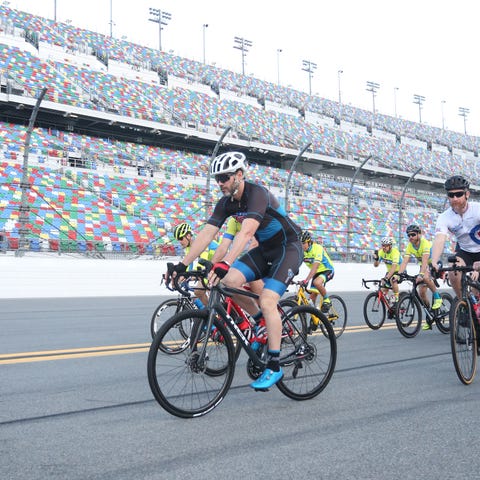 Johnson's influence and status is self-evident on this year's Champion's ride. Eighty riders join him for a 45-mile loop and chance to chat with Johnson on his final ride through Daytona Beach as a NASCAR driver. Even though the pace was conversational, you almost had to fight for position just to get a chance to ride alongside him.
If Johnson is feeling sentimental, he certainly doesn't show it. At rest stops he's cracking jokes, happily taking selfies with fans, and talking shop with some riders from the CWA Racing p/b Trek professional team based out of nearby Tampa. As we approach a final overpass leading back to Daytona International Speedway, Johnson jokes, "Watch out, big climb up ahead!"
Since announcing his retirement last November, Johnson has started talking about his post-NASCAR "bucket list." Some of those items involve potentially racing IndyCar or the World Endurance Championship. But he also plans to make cycling a bigger part of his life.
If there's one man who might bridge the gap between two wheels and four, it's Jimmie Johnson.
With the prospect of not having to race every weekend for most of the year, Johnson is looking forward to finally experiencing the world's biggest cycling events. He's always wanted to race Leadville, ride in his friend George Hincapie's gran fondo, or even just have a weekend to escape to nearby Bentonville, Arkansas where he recently had his "mind blown on the mountain bike." Or maybe he'll finally get a chance to follow the Tour de France with his wife—they've always wanted to travel the world—and ride a few of the stages along the way. He sure would like to improve his time up North Carolina's legendary 24-mile climb, Mount Mitchell.
Johnson hasn't even retired yet and already it seems like his schedule post-NASCAR is already fully booked.
Back in the present, however, Johnson admits that this final season is going to impact his riding. "This year's gonna be a little different with me coming to each track for the final time," he says. "I feel like my window to ride is gonna be compromised."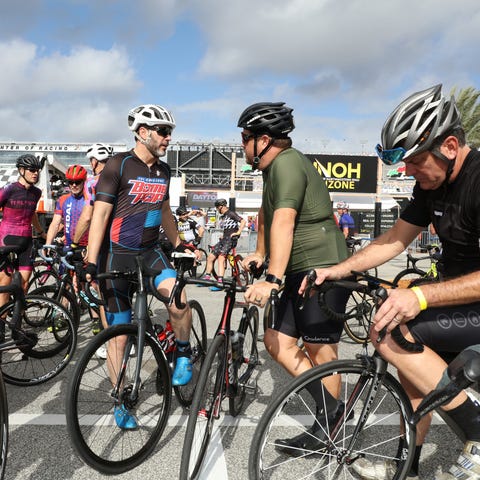 Johnson, like anyone else trying to squeeze in a ride around their day job, is a little anxious about not being able to ride as much as he's used to. "It weighs on you on mentally," he says. "You see a couple good weeks in Strava and then you get slow and you're like, 'Oh, I'm useless!'"
But Johnson has a plan. "I'm trying to get my head programmed on some shorter, more intense, rides," he says. "Maybe use it as a year to push up my FTP, just use my smaller window of time more efficiently."
Even though Johnson is stepping away from NASCAR, he isn't planning on stepping away from all that his built through his advocacy work both on-track and on the bike. In fact, he plans getting even more people on bikes.
"I think some of the events that I want to ride, like my retired pro cycling friends and their fondos, that would open up some new opportunities for me," he says. "I'm always trying to get people on a bike and ride."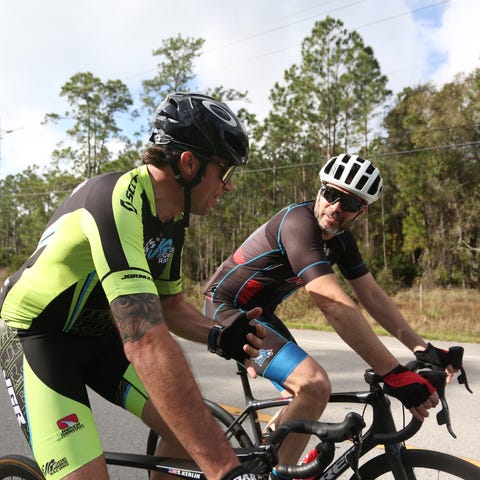 In some ways, that Johnson comes from NASCAR makes him an ideal cycling advocate. While part of being a driver means turning left and going 200 MPH for three to four hours every Sunday, it also demands an incredible amount of social interaction. NASCAR drivers are constantly talking to people—to fans, to the media, to sponsors—over the course of a race weekend. Even on race day, most drivers will be chatting and glad handing with folks from the moment they wake up, right up until they have to jump into the car, start their engines and get racing.
If there's one man who might bridge the gap between two wheels and four—potentially fostering some mutual respect and goodwill between motorsport fans and the cyclists they share the road with—it's Jimmie Johnson, the most decorated driver in NASCAR's modern era.
"I think a couple years from now when the dust settles and I've been to whatever that new normal is, bikes are still going to be a very, very big part of my life," says Johnson.
From: Bicycling US
Source: Read Full Article