My Tata Punch MT: Observations after clocking 10000 kms in 6 months
I haven't sat in the back seat yet, but my 60+ year-old parents joined me on a road trip to Lucknow and they were amazed by the comfort.
BHPian techmaharaj recently shared this with other enthusiasts.
A few years ago, I didn't feel the need for a car. That was mainly because I didn't have a place to park. However, I moved to a different part of Hyderabad which is quite far from the city. That meant that I now had to travel almost 60 km to visit the city. Not only did it take time, but riding on an Activa was way too tiring, plus the rains were a big deterrent. Further, cabs to anywhere in Hyderabad cost close to Rs 1000 on one side, which is way too expensive. That also hampered us as a family traveling around.
That's when I thought it was time that I need a car. I did some thorough research, and test drives and eventually got the Tata Punch, my first car. It's the Adventure Rhythm with manual transmission. Our first car was a Maruti 800 DX, followed by the Tata Indigo that we drive for 1,50,000 kms. Both we let go as we moved cities and dad changed jobs. So the Punch came in after a long long gap!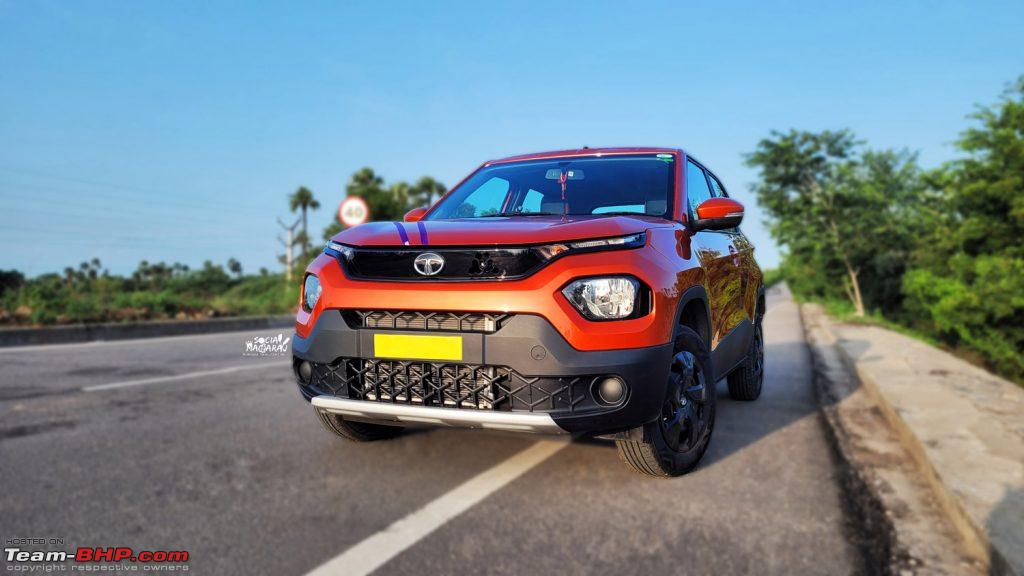 I also wrote two blog posts (9000 words) sharing my experience of buying a car in India.
Clocking 10,000 kms in 6 months:
Jan 26th is when the Punch completed 6 months and it was also when it crossed 10,000 kms! I knew that after I get the car, I'd be driving around. But never thought it would be this much. It has already undergone two free services, and there was nothing major in them. Both were free services and I didn't pay a penny.
In case you're wondering how and where I clocked 10,000, here are some details of my road trips:
Hyderabad To Nagarjuna Sagar
Hyderabad to Sri Sailam Dam
Hyderabad to Pune/Panchgani
Hyderabad to Bidar
Hyderabad to Ramappa Temple (Warangal)
Hyderabad to Medak
Hyderabad to Lucknow – Team BHP Post
Hyderabad to Bijapur, Aihole Pattadakal
All these road trips were to and fro, meaning I drove from Hyderabad and came back too. If you're interested, you can read more about each trip on my blog.
Though this is my first car, I've driven Hexa, Nexon, Tiago (Thanks to Tata Motors for inviting me to experience them), Brezza, Celerio, Sunny and Endeavour.
Having done 10,000 kms, I thought it was the best time to talk about the Punch, and things I like and dislike about it.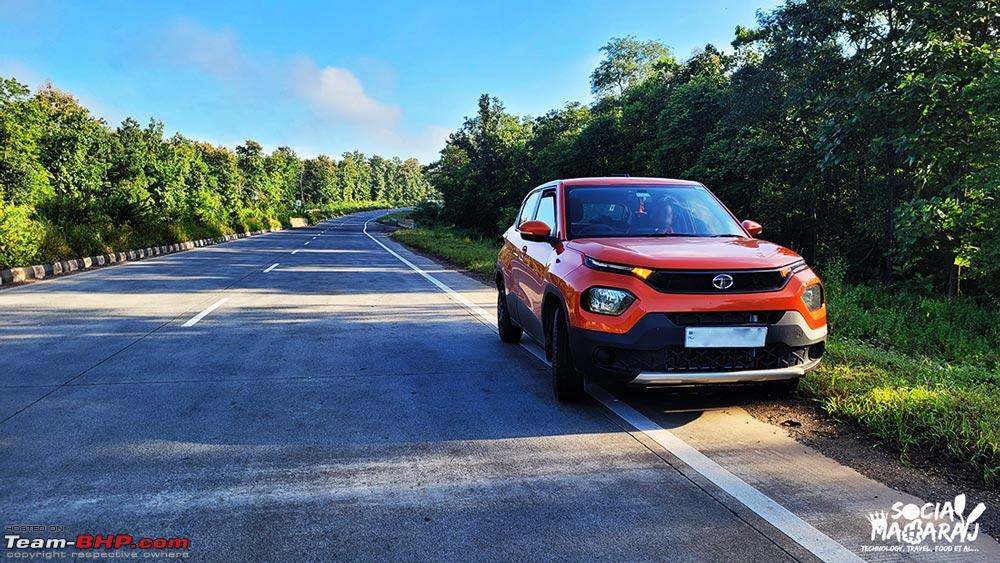 Things I like:
Smooth ride quality:
One of the best things about my Tata Punch is its amazing ride quality. The light steering at low speeds makes it effortless to maneuver in traffic and make quick turns. Plus, the small turning radius makes U-turns a breeze. At higher speeds, the steering becomes rock solid for better control and confidence. At 80-90 kmph, the ride is just fantastic.
The suspension is also perfectly tuned, smoothing out bumps and potholes with ease. Its higher ground clearance than other hatchbacks in the segment gives you peace of mind that you won't hit the bottom. The Punch handles off-roading and rough roads exceptionally well.
Comfortable seating:
The seats on my Tata Punch are incredibly comfortable. They're shaped for good back support and the under-thigh support is great for long drives without fatigue. The presence of a dead pedal makes it even more relaxing on highways.
I haven't sat in the back seat yet, but my 60+ year-old parents joined me on a road trip to Lucknow and they were amazed by the comfort. The car's height and 90-degree doors make it easy to get in and out, and the inclined seat angle made it comfortable for them. I give full marks for seating and comfort.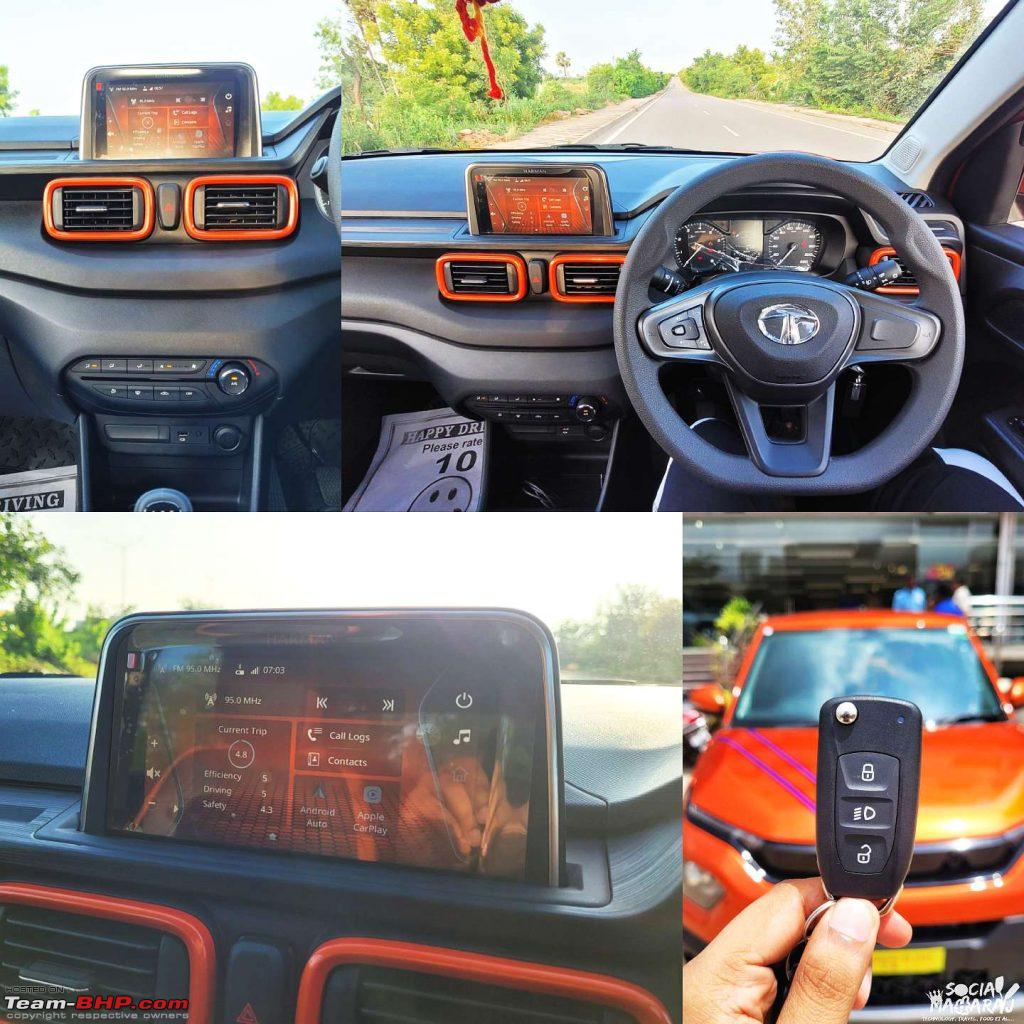 Good fuel efficiency:
Most of my driving is on the highways. I've seen an average mileage of 21-23 kmpl, based on the car's MID and my own calculations. I mostly drive in Eco mode barring when in cities and leaving highways. My long trips usually get me 22-23 kmpl (over 1000 km), which is very satisfying. My 120 km trip to Hyderabad (including 100 km of highway) gets me 24-25 kmpl. The highest I've gotten is 26.9 kmpl on ORR for a 60 km distance.
I'm not a speed fanatic and rarely go over 100. I like to cruise at 70-80 and don't like to accelerate hard, overtake, or cut lanes. That's just not my style.
Infotainment and AC:
The Harman sound system in the Tata Punch is fantastic, especially when using music apps like Spotify. The thump at volume 9 is impressive and the equalizer is great for fine-tuning the audio.
The call quality during calls is also great, with the other person not even realizing you're in the car. The air conditioner is also a highlight, being quick and powerful with a cooled cabin in just 5 minutes at full speed and low-temperature setting.
These were a few things I absolutely like about my Punch. However, there are a few things that surely can be improved or should have been better.
Things I dislike:
Lacks punch at higher speeds:
The Tata Punch has decent power at lower speeds but lacks acceleration at higher speeds and RPMs. Driving it in the city mode is fine, but when you reach speeds around 80-90 kmph in 5th gear, you'll notice a lack of power. Overtaking at this speed requires downshifting to 4th gear for extra power.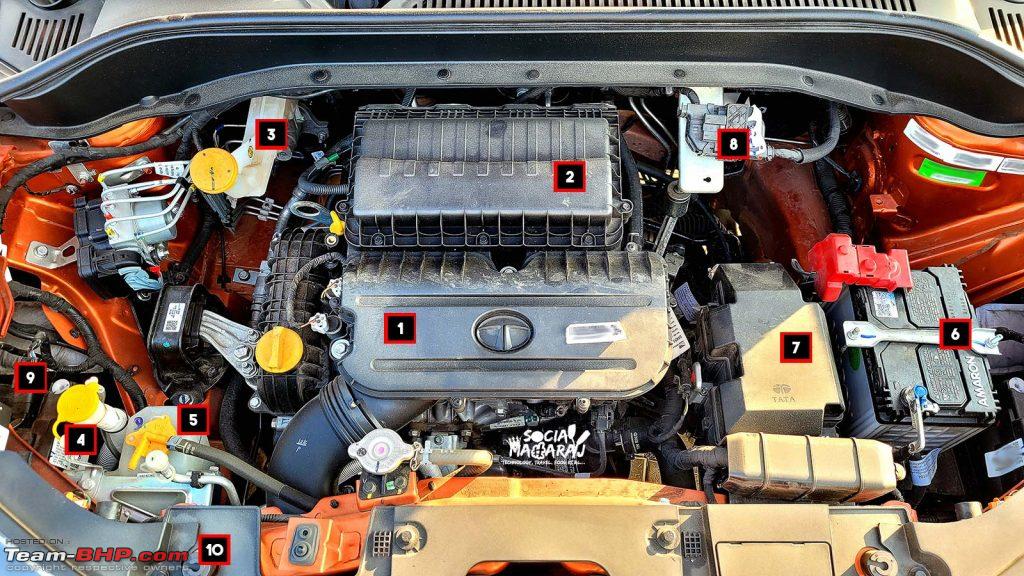 Adding a turbocharger may have improved performance, but it would have also increased the price. If you're a conservative driver who prioritizes comfort, the Punch may suit your needs. However, if you want a car with the race-like performance and quick overtaking abilities, the Punch may not be the right fit. Ultimately, the best way to know is to try it out yourself with a test drive.
Average braking:
The Punch provides a confident driving experience at high speeds due to its steering, suspension, and visibility, but its brakes are a letdown. Despite being a heavy vehicle, the brakes are soft and result in a longer stopping distance.
There have been instances where it took longer to come to a stop, causing a scare on the highways, especially in MP & UP where there are cow-meetings happening on the highways!
Noisy cabin:
Despite having some insulation under the hood, the Punch still allows engine noise to enter the cabin. When shifting gears to 4th or 5th, the revving engine can be heard inside. The engine's pickups also make some noise at times.
The noise level is reduced when the AC is turned on and music is playing, but it's still noticeable. Although the vibrations have been reduced, the cabin can still get quite noisy. You can try to not notice it, but it just gets your attention at times.
Poor finish/paint job:
Lastly, the poor fit and finish of the Tata Punch is a major drawback. The large panel gaps easily collect dust, leading to dirty door panels, boot, and bonnet. After long drives, it's noticeable how much dust has accumulated in these gaps.
The overall finish is subpar, with poorly cut and misaligned metal sheets and fiber components detracting from the look and feel of the car. Some areas have a white waxy substance that is difficult to remove.
The paint job is also below average. After parking the car in the sun, minor ghost lines were noticed on the bonnet.
Here's to another 10,000 kms!
In conclusion, after driving the Tata Punch for 10,000 km, I have found it to be a car that offers a great blend of comfort and performance. The Harman sound system is simply amazing and so is the call quality. The air conditioner is also quick and powerful, making it easy to have a chilled cabin in under 5 minutes. The seating is comfortable for long trips with good back and under-thigh support, also the dead pedal makes it a breeze.
However, the Punch does have some limitations when it comes to performance. At higher speeds and revs, the car lacks power and you can feel it when in 5th gear and higher speeds. The brakes also could have been better and the cabin can be noisy. The fit and finish of the car also leaves much to be desired, with huge panel gaps that accumulate dust and poor paint jobs.
In conclusion, if you're a conservative, comfort driver, the Tata Punch may be a great choice. However, if you're looking for a car that can perform like a race car and quickly overtake at higher speeds, I don't know if you'll like it.
Ultimately, it's best to do a test drive and experience it for yourself.
Check out BHPian comments for more insights and information.
Source: Read Full Article