My Seltos gets damaged during service: How I got the matter resolved
I have the habit of always taking pictures and videos of cars before I send them off to service. I apply this practice when renting cars as well.
BHPian AnkitHJain recently shared this with other enthusiasts.
Last year in August I bought a used 2020 Kia Seltos HTX IVT and I posted a detailed story of how I decided to buy this car and what considerations went into this purchase. I have been meaning to update this thread with my review and my experience over the last year, but just never found the mental headspace and time to write it all down. I'll start at first with my experience servicing the car and will later write down a review of it from my perspective as well.
So a few months ago (end of May to be exact) the car sent up the service due reminder on the MID. The car was roughly at 29K kms. So I decided to send the car in for its 30k/3 year service during the first week of June.
I was a bit nervous with this aspect of the ownership experience. I have never had the best luck with ASC's in India. They always seem to miss something, don't fix the problems mentioned, and sometimes cause damage that I then have to deal with after the fact.
Initially the experience was smooth. Sent the car off to Kia service in Ambattur. They sent a driver to pick up the car. The SA was prompt and kept me updated with pictures of the car and details of the jobs being carried out. There were no issues whatsoever in terms of communication throughout the whole experience.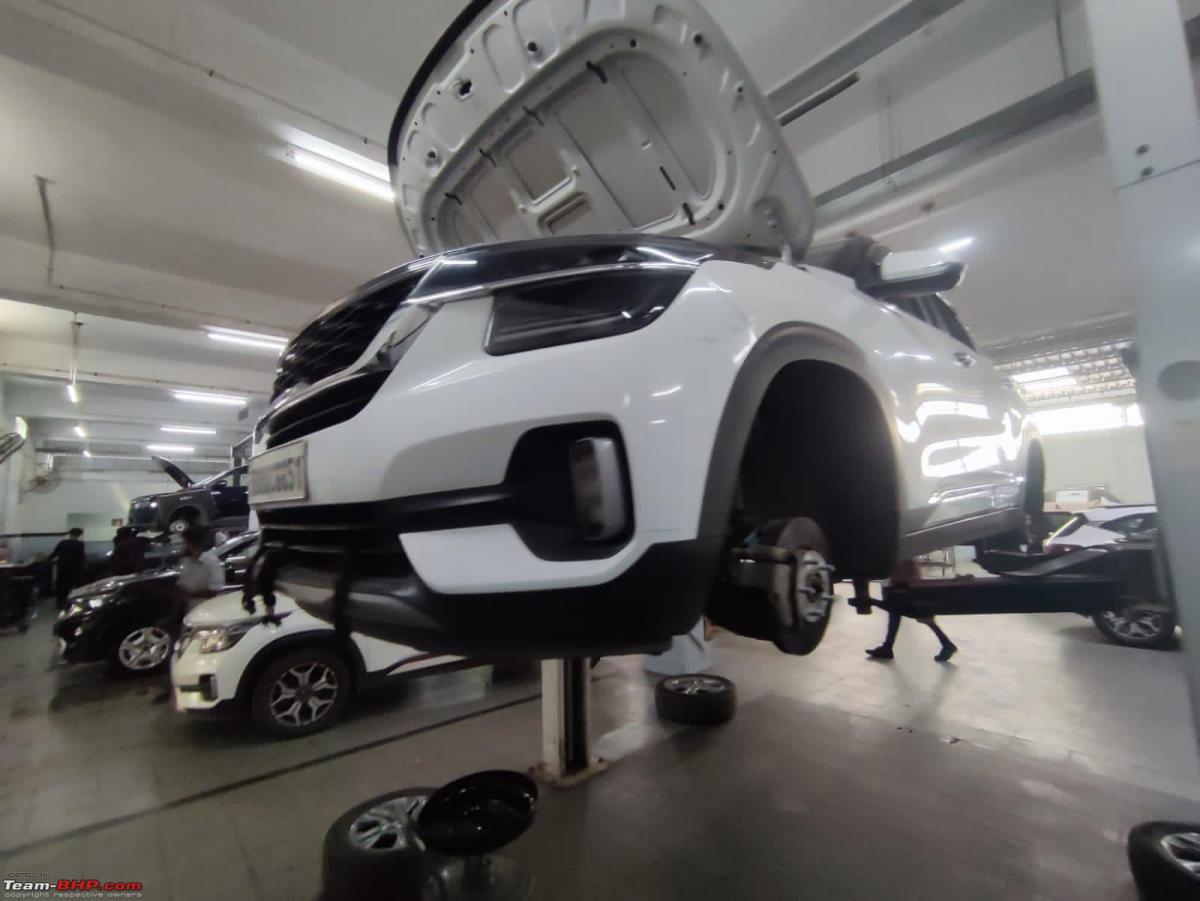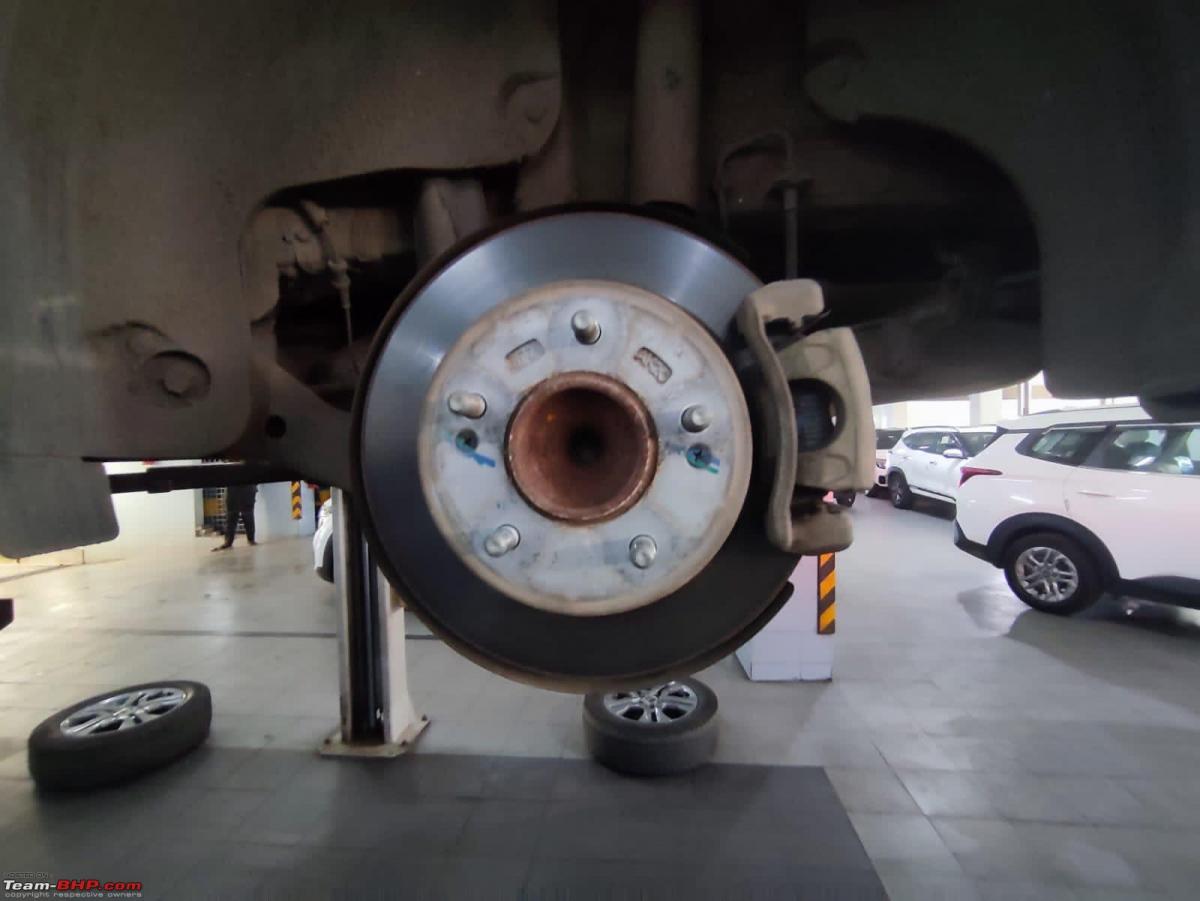 For this service I only had two things I needed addressed, first was the 30k service and the other was the non-working fog lights.
There were no major issues in the car, and after the car reached the service center I was informed about rust on the underbody and exhaust. My SA sent pictures of my exhaust and with surface rust, from my experience I didn't feel like it was anything major or alarming. They recommended that I get an underbody coating done to prevent any long term rust issues. I didn't want any future issues with rust and decided that a cleaning and coating would be a good way to ensure peace of mind.
Before the cleaning & coating
After The Cleaning & Coating.
They also found that the issue with the fog lights was cut wires, which they suspected was some sort of rodent/animal damage. They said the lights were fine and only needed to fix the wires, which would cost me 1000 rupees. So overall I found that nothing was too egregious with the fixes and service items.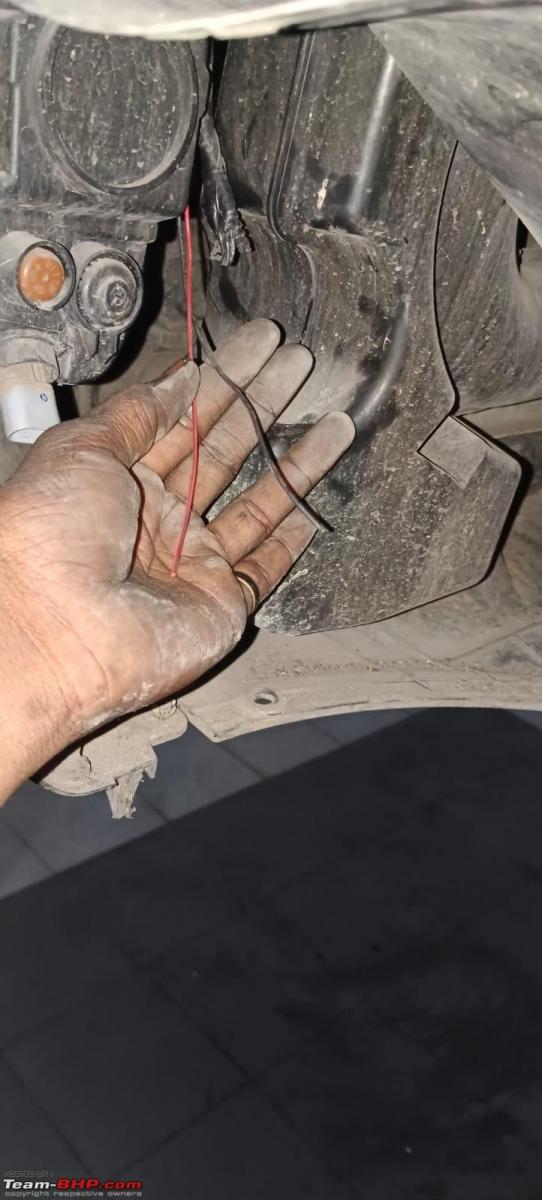 Pictures of the wiring issue was sent to show the exact issue with the fog lights.
I have to say I was very impressed with the level of professionalism and attention to detail. They sent multiple pictures of everything being done along the way. I probably received 30 pictures in total from the service advisor of various things being carried out. I loved this as it made me feel like I was a part of the experience.
Other than that there were no issues I had, so it was just the normal wheel balancing/alignment, oil change, brake fluid check, etc. I told them to give the car a good once over and check all fluid levels too. They said everything looked good and the only things needed were the oil change and brake oil flush.
Other than that they did sneakily tack on a "interior enrichment" charge for almost 1800. What happened was that they asked if they could clean the interior, and I misinterpreted that as an offer for a quick free cleaning. They never mentioned it was chargeable or what the price was, but I did approve it without asking questions. Which looking back was something I should have definitely done. It did leave a sour taste in my mouth, but I let it slide this time because I did consent to it without enquiring further. That was on me. I will be more eagle eyed the next time it goes for service and ask them not to add this service if they ask.
The total cost of the service ended up being 16230. If I had not gotten the undercoating and interior cleaning I could have saved 5138.
At the end they offered to extend the RSA coverage for 1349 for another year, to which I agreed. I don't think I'll ever use it, however it's just one of those peace of mind things. So in total the bill was 17579. I found the cost of the service to be acceptable, and was honestly expecting it to cost around 15-20K beforehand anyways.
The job was done in a day and the car was sent back to me on the following day, as promised. My experience so far had been excellent. The appointment was easy to set, the driver was on time to pick up the car. The SA was responsive, shared progress with images, and up to this point was accurate with his estimates of time/costs. So there was nothing of worry until this point.
Sadly, my unusual bad luck of dealing with service centers continued. When the driver arrived to deliver my car, I noticed a new dent on my tailgate and a bunch of new scuffs on the front left of the car. The driver who was dropping the car off said he had no idea how they happened.
At The Time Of Pickup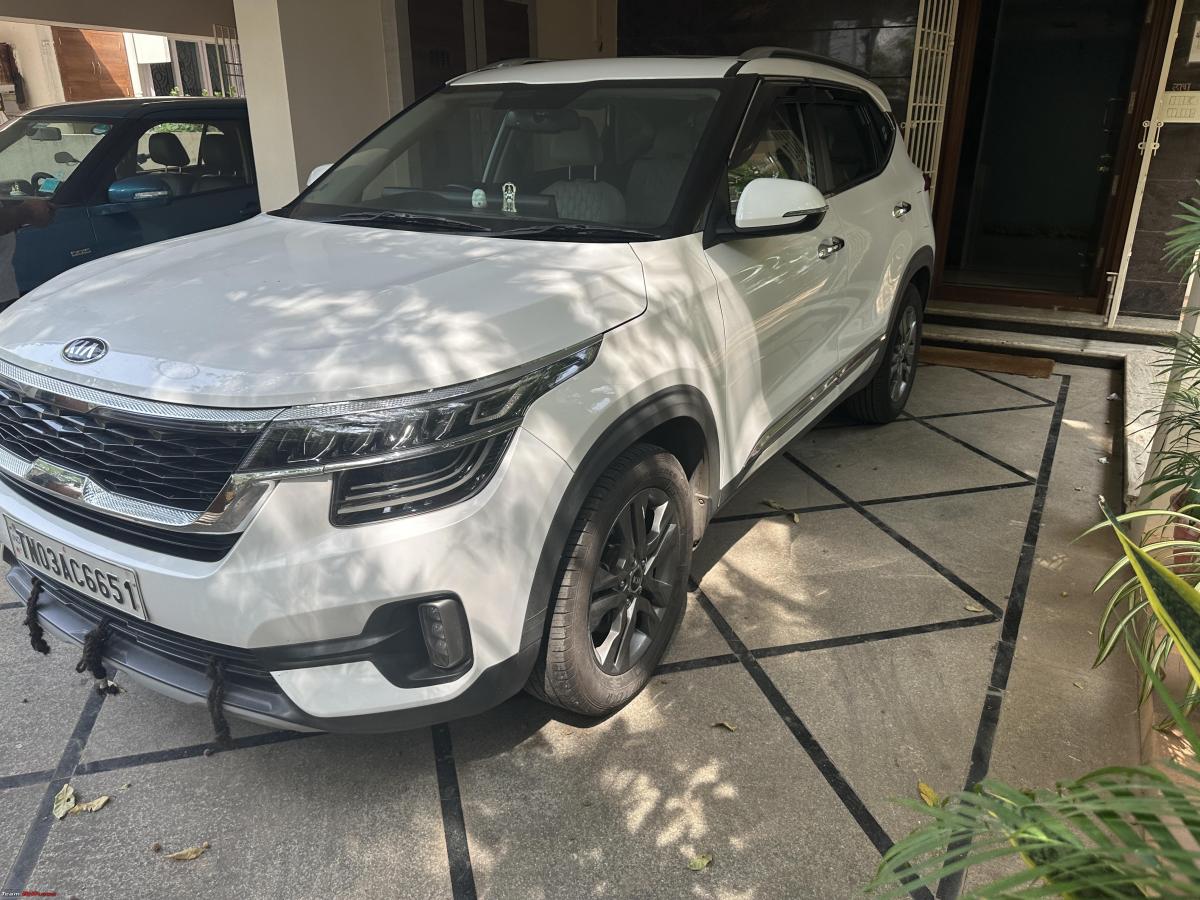 At the time of drop off:
I have the habit of always taking pictures and videos of cars before I send them off to service. I apply this practice when renting cars as well. I have so many pictures like this of cars over the years. So I was able to immediately check and confirm that these two points of damage were new, and definitely not there when I handed over the car.
I called the SA who was handling the car and he was surprised and said he didn't notice any issues. I told him about the pictures I had taken, and he asked me to send him the photos which I promptly did. In the meanwhile, I made the driver wait and didn't pay the bill.
I told my SA I will not be paying the bill until the issue was resolved. He was adamant that he couldn't release the vehicle without payment of the bill. He offered for the driver to bring the car back to them, they can do an investigation and look into their CCTV footage. If they find that it was their negligence, they will fix the damage and return it. He said I can pay the bill after that point.
This was on a Saturday evening, and frankly at that moment I didn't feel comfortable letting them take the car back and having it sit there for god knows how many days until an "investigation" was done. I also didn't want the car to leave without having a chance to review the dashcam footage and having a bit of time to collect my thoughts and thoroughly review the damage.
Against my better judgment and self set rule to never pay for a service until it is fully completed, I paid the bill in full. I got multiple verbal assurances from the SA who offered to send a driver first thing on Monday morning to pick up the car and get the matter sorted out ASAP. So I paid the bill, with repeated assurance from the SA that the matter will be resolved.
After that I checked the dashcam and scrubbed through the footage and found exactly what happened. The service center is very crowded with cars scattered everywhere. All the cars were parked very tightly next to each other. In fact there is very limited space in the Kia lot, so they had my car parked in an overflow lot across the road behind their BYD showroom.
A seemingly inexperienced driver working in the service center backed out the car and clipped a Black Seltos parked to the left of my car. He almost backed into another Carens driving past him first, but a honk from the other driver forced him to smash the brake. He then without realizing how close he was continued to back up and the car didn't move because it already made contact. He was inexperienced and seemed to struggle to understand the car wasn't moving because it was stuck. He then managed to pull it out but in the process leave a few scuffs on my bumper.
The worst part of the whole ordeal however was that another employee saw this and checked out the car and inspected the damage on both cars. Afterwards that other employee got in to drive the car after the impact. He seemed to be a more experienced driver. The original driver and this other employee had a full conversation that was caught on my dashcam.
The guy who hit the car complained about the seat being too low and not being able to see properly. (I was just dumbfounded as to why he didn't adjust the seat, which would have taken 15 seconds) He then proceeded to say that when they check who took the car out, he'll be found responsible. He then suggested putting down someone else's name to pass the blame to them.
He seemed to be concerned because there was a watchman who keeps a log of which driver takes out which vehicle. He knew when the complaint was raised he'll be found out.
What happened next was that when the car came to the exit gate, the experienced mechanic/employee told the watchman not to note this exit. The watchman seemingly obliged and let him pass without noting anything down. The experienced employee then told the guy who hit my car, "avloo dhan" in tamil, which means "that's it". The guy responded by saying thanks.
I was surprised to see so many systems in place being easily subverted by employees. I won't lie I wasn't really that upset with the damage, I just wanted it fixed. However, after watching this clip I was very upset. I didn't like how the driver who hit the car was trying to skirt responsibility and was abetted by another employee. They were more than happy to pass the blame onto someone else.
After watching this video, I decided to go to the service center myself with the car on Monday morning. I told my dad about this incident and he told me that one of our distant relatives works for the KUN Automotive Group, and I should reach out to him. I promptly gave him a call and let him know what happened. He seemed a bit apathetic and didn't seem interested in solving my issue or giving me much in terms of guidance either. He did share the service managers phone number though, and since it was late on a Saturday evening by this point I didn't call the manager.
I decided that I needed to go to the service center in person to talk to them about this. At 8:30 AM on Monday, I called the SA and told him that I'll be coming myself to the service center. He was welcoming and didn't seem hesitant in the slightest. I then asked him when the manager will be available and he said he'll be in the workshop from 10:30 AM. Just for good measure I also called the manager and explained the situation briefly, and he also said I was welcome to come and he'd be there to help. On my way there I was fully prepared to sit down and show them everything that I had seen. I was still fuming and wanted to grill them about the way they were running things. However when I arrived things took a weird turn.
The SA and Service Manager were immediately so apologetic and were ready to fix the issue with no questions asked. This is before I even had a chance to mention the dashcam. I don't know if they had already done their investigation and checked the cameras. I don't know if the relative I called them had asked them to help me. (I think the likeliness of this is low given his demeanor when I spoke to him) All I know is they admitted fault and were offering to make things right.
They asked for 2 days time to repaint and make the necessary fixes. I told them I have video of the incident and could identify who was at fault, and they basically ignored that. It was surprising they didn't want anything to do with this. I also stopped pressing them on it because they were being so helpful and taking care of the issue. In that moment my mind shifted focus and wanted to ensure they would be fixing the issue properly.
Looking back at this incident 3 months after the fact, I realized that I was just so flabbergasted in that moment. I went from being in a confrontational mood to being confused in a funny way. I wasn't sure how to even react at that moment. I am a firm believer that mistakes happen. As long as people are willing to acknowledge them and take corrective measures, there is no need to make a big deal out of it. Not everyone and everything is perfect, but the willingness to accept that and try to improve is the most important thing for me.
So given they were trying to fix their mistake, I had lost all my anger and frustration at this point. I agreed to give them the time they needed. I asked them to give me a loaner car, since I'm being inconvenienced because of them. They politely refused saying they don't have any such service available. I then asked to be dropped off back home at least. That also wasn't possible for a while according to them, because all of their drivers had already left on their assignments for the morning. It would take a while for someone to be free. I expected as much, but I just thought there's no harm in asking.
I then left the service center and the SA continued to keep me updated and sent pictures once the job was done. As promised they delivered the car 2 days later in the early afternoon and the job was pretty decent. There was one spot where I wasn't satisfied with the work. The bumper was touched up but they missed a small scuff on the quarter panel. The SA said he'd be happy to take it back and re-do the work. However, he requested I sign a document he sent with the driver that stated that the dealer has repaired the damage and I'm satisfied.
I was hesitant to sign until that last bit was done, but I also didn't feel like sending the car back all the way to Ambattur for this one little thing.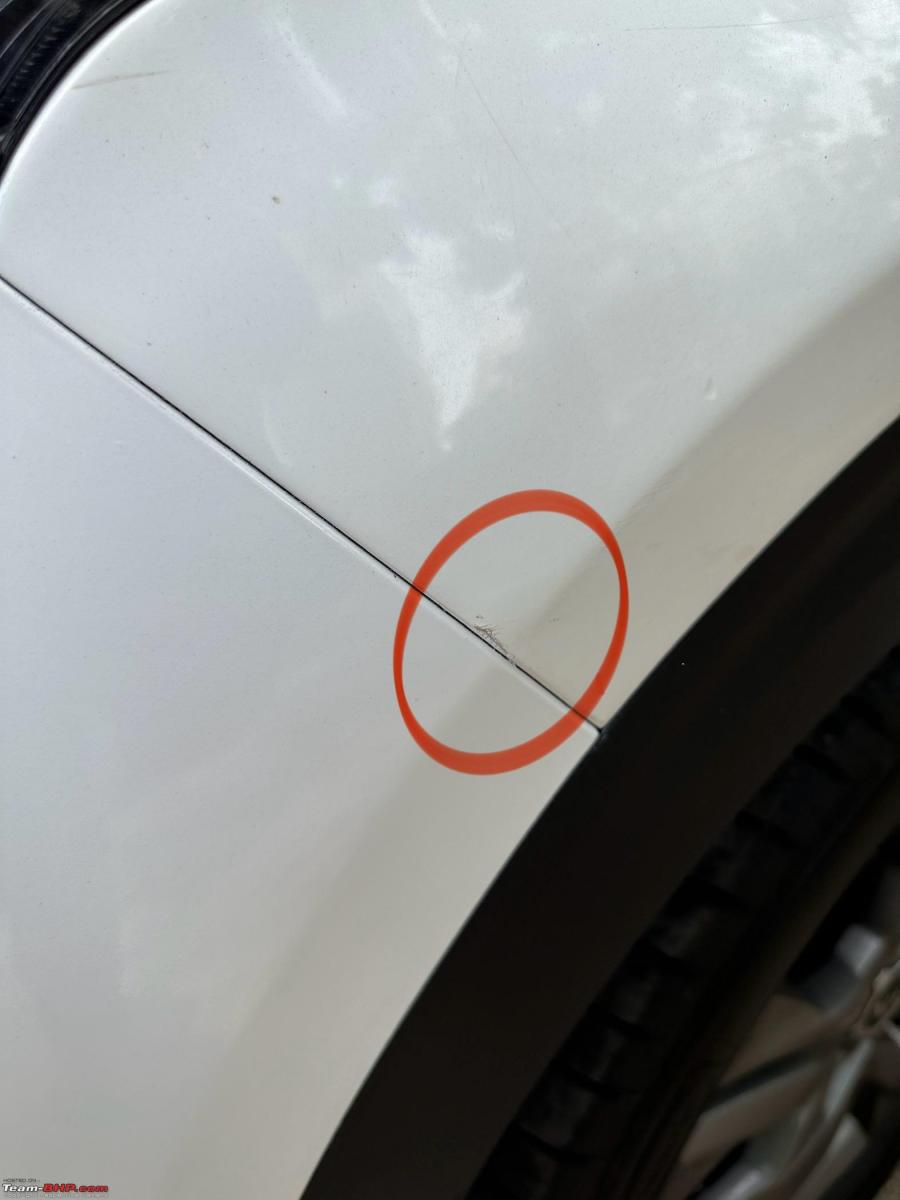 I told the SA to hold the document and that I'll visit the service center next time and get it fixed when I have some free time. The SA requested that I sign the document because they can't close the case without it. I told him that I need some assurance from your end that you'll take care of this damage the next time I visit. I told him I feel uncomfortable signing a document that I don't agree with. He seemed a bit lost and unable to figure out how to solve this matter. I then suggested that I'll send him a picture and details on WhatsApp of the blemish, and if he acknowledges the issue and states in writing he'll service it the next time the car is sent to them I'll consider the matter closed.
He agreed, and after I sent him the photos and statement, he sent me the written confirmation on WhatsApp. I then signed the document and took delivery of the car. To their credit I'll say that they also buffed out another scratch and scuff I had on the rear bumper for free without asking. It wasn't repainted but they made it look a lot better, without me even asking. This does show me that they were not just doing the bare minimum to make things right. They were putting in some effort to keep me as a customer happy.
Looking back a few months after the fact I realized the SA and manager were both very cordial, never combative, and didn't cause too much anguish throughout the process. They were absolutely professional and I absolutely appreciated their forwardness to fix the matter. However, the attitude of the lower level employees, in particular the two drivers who damaged and then tried to cover it up, just stuck with me. Making a mistake isn't something I would have been very upset about. However, I don't like when people try to pass off blame to others. The fact that the SA & Manager seemingly wanted nothing to do with the video/story makes this all the more confusing.
When thinking about the whole experience and whether or not I'll be using their services again, I'm conflicted.
Check out BHPian comments for more insights and information.
Source: Read Full Article