My experience bringing home a Tata Nexon EV Max
I am getting a range of 330-340 Km with conscious driving & might get 270-280 Km with aggressive driving.
BHPian Sak8 recently shared this with other enthusiasts.
Hello fellow enthusiasts, i have been a long-time reader of Team-BHP forum for years. Finally penning my experience here.
Got delivery of my White Nexon EV MAX XZ+ (7.2 kW AC Charger) Last week and have clocked some 600 KMS till now. Here is my experience
Let's start from the beginning:
I live in Indore, Madhya Pradesh. Booked Nexon EV 1.0 in April (given a waiting time of 2 Months) and switched my booking to EV Max XZ+ with a 3.3 kW charger option on 11 May. The dealership gave an estimated delivery time of 22 Weeks. I went ahead and did a booking for Max at another dealership as well later in the month of May. The second dealership didn't exactly give an estimated date but the Sales rep there assured me that the first car from his showroom would be mine I didn't believe it but went with it. The booking amount for the first booking was 50k & for the second 20k.
The Booking
The booking procedure was not very transparent at either of the dealerships, Max launched on 11 May at 11:30, and I immediately called the sales rep to shift my booking to Max pronto. There was ambiguity regarding delivery, Dealerships were giving an estimated delivery timeline of up to 22 weeks but Tata's Head of marketing, sales & service strategy- Mr. Vivek B Srivatsa who launched the car online was, in a video said if you book early you can get delivery by end of month. Go to 01:10
Video
Even after booking, there was no official confirmation from Tata about the booking for either of my booking. The first dealer only shot a SMS from one of the sales rep's numbers and an email from the dealership email id that they have received a booking. I called & asked for a booking ID so that I can mail Tata to know about the delivery status clearly. Booking ID was not provided.
After 15-20 Days I shot a mail to Tata about the situation. The first working day after the mail was sent, I got a call from the Sales rep "Arey sir aapne to complaint kardi" I replied "complaint aapki nahi ki hai aapke system kee ki hai. I am asking continuously you for days to tell me my booking id or at least tell my number in your booking queue so that I can plan accordingly but you are not providing it & there is no official confirmation from TATA about my booking, why is it being kept secret?" He said "humne SMS kia hai aapko confirmation ka". SMS was booking received by us but no booking id was there. I gently tried to explain to him that I don't want an SMS from him or the dealership person's personal number but any kind of communication from TATA that proves my booking is made. A Long conversation ensued with multiple personnel at the showroom but they failed to understand my point.
I got a call from Tata's Regional GM multiple times after mail but due to some situations I couldn't take his call and when I called, his phone was busy. He left a WhatsApp telling me to contact him directly regarding my issue, I appreciate his efforts to try to reach me. I had to go out of the city urgently for a professional commitment and decided to let things take their course.
On 2nd June I received a call from the dealership that I booked max first with. Sales rep says "Sir ek car allot hui hai hume jo color aapko chahiye vahi hai White Nexon EV Max Xz+ par variant 7.2 kW charger wala hai 50k ka difference hai, aap bolo to do din me gaadi mil jaegi aapko" "We've been allotted a car that you wanted, color & variant is same but it has 7.2 kW charger, if you upgrade to it we can deliver the car in two days. Difference of 50k rs." I asked for 2 hours' time from him as I was just entering an important meeting and I had to ensure proper load connection for 7.2kW charger installation at my residence. By evening I gave him a nod to proceed and I took up on his offer.
He asked for full margin money so that invoicing can be done. But I asked for PDI to which he replied the car is in transit and it will take 2 days to reach the city. He again insisted to make full payment of margin money as a commitment from my side.  wasn't the booking amount sufficient? Hesitantly, I paid 2 Lakh on top of the booking amount without PDI (that was a mistake which you will understand why shortly). I was told again & again that delivery will only be made 2 days after 100% payment from me & the bank.
Forget 2 days, after 9 days of continuous hassle with him for PDI he finally says "aap kal aajana PDI ke liye", "come tomorrow for PDI". By this time, I already got my sanctioned load increased from MPEB and got a separate commercial meter installed as well. Tata power personnel also did the survey for installation. So the next day I went for PDI. There the car was parked at the yard & I started with inspection thinking now it's a smooth sail towards delivery. To my surprise, a battery terminal from the auxiliary battery was removed & none of the electronics worked, had to unlock the car with the mechanical key. The rep said, "Sir aap sirf body inspect karlo electricals aapko delivery ke din hi karaunga, aadhe ghanta pehle aajana bus", "inspect the body only, i'll let you inspect electricals on the day of delivery, just come half an hour prior". I swear my patience was running thin , took a deep breath and left everything in the Almighty's hands and thought 'Ab jo Hoga vo hoga'. Inspected the body, negotiated on insurance amount, and transferred the amount to the dealership account also asked the bank to disburse the amount as well
Prior, I was told that the car would be delivered 2 days after full payment is made. But to my surprise, I was called for delivery just the next day because of my request to the sales rep.
Finally, The Day of Delivery.
I was asked to come by 2 PM for delivery procedures. Everything was set, at 12PM I got a call from Sales rep about the increase in the insurance amount by 2-3k because their system was not accepting the Max model for the insurance company decided because the model was new. I was told a 2-3k amount won't make a big difference, but I denied paying anything else. The Sales rep managed it somehow.
Everything was going smooth, Muhurt for delivery was set. I went through the final inspection & was given a full demo of modes, infotainment etc… in detail. While checking all levers & switch I found out that the rear wiper was not working. The sales rep tried it himself but couldn't get it to work, my dad & a couple of other people at the showroom tried they couldn't either. The sales rep called his senior & when he tried, it started working & is working now as well. I wonder what happened. I was shown overly priced accessories from which I chose 7d foot mats & mud flaps. Standard Nexon foot mats were not a proper fit for Max & the guy who was installing them was trying to just squeeze it creating wrinkles across the base of matt. I dropped the idea of taking those mats and only mud flaps were installed. I was also informed that their system is not registering the extended warranty due to some technical issues so they will refund me the 25k within a week. (haven't received the refund yet)
Just as we approached Muhurt, I saw the fuel lid (charging cover flap) and it was not closing properly, gap in the panel was so huge that I could pry it out open along with the lock housing with my fingers. This was a problem. Suddenly, to add to that, I saw a small dent just a little north of the charging cover flap. BOOM, all of my enthusiasm and happiness vanished. Dent was not there on the day of PDI. Showroom manager was called, he saw this, not seeing us in eyes said "Ye esa hi aata hai, normal hai", I took him to other Nexons in the showroom and a demo Max, their flap was properly opening, closing & fitting. Only this car was one with the defect. Actually, the dent above somehow misaligned it. The manager opened the flap twisted it with his both hands and confidently closed it as it is repaired but it was not. This was an issue. But the dent was minor one could not see it causally. The vehicle was invoiced, payment was done & I was no longer a pre-sales prospect. I was an after-sales case. I was asked to leave the car then & there post Muhurt and they will deliver it at my residence by evening or I can pick it up whichever I like.
After introspection, I thought this was bound to happen, I took it as a chance, made the payment in advance and I lost. Even if I refuse the delivery when I'll get the car God knows. The dent, I could live with but if leave the vehicle with them God knows what would happen after we leave. So, I took the car and they assured me of free cost repair of dent & fuel cap issues whenever I drop by the workshop. I was given a single keyfob with a commitment of a second one by next month and took some photographs as well. I was asked for video feedback but I said will give it when I come back for repairs.
I must also mention that the sales rep was thoroughly respectful & courteous throughout the delivery process. But the damage was already done & i was on the receiving end.
THE CAR
I took it out for a spin in the night and boy I grinned. The car is just amazing. Smooth, silent & powerful. I have clocked some 600 km by now and am continuously impressed with it. I got a range of 320-340 with mixed driving in city & highways with 'conscious driving' & ac on. Joyride should give me around 280-290. Sports mode is super addictive. Eco mode is also decent & city mode is more than sufficient for day-to-day traffic overtakes. In my use case of the car being a daily driver with 90% city driving, I am happy with it. After of a couple of days of delivery, a minor issue did pop up. Whenever I leave the accelerator and regen kicks in (at all 3 levels), I hear a strange crackling sound in the cabin coming from the front left-hand side wheel. This is more evident when the co-passenger is not present in the car. I'll get it checked out this Sunday when I go to the workshop for dent repair (I am having second thoughts about getting that repaired, what if they make it worse? Or if they chip the paint in the process, it is not that visible now, what if they make it more visible?)
Opting for the 7.2 kW fast charger was also a good decision, it takes around 2-2.5 hours to charge from 60 to 100%. Z connect app was activated after tiring 7-8 days and doesn't work most of the times courtesy of network error.
After 5 days of delivery I got a call from the second dealer I made the booking to (remember the one who said, i'll get the first car from his showroom?) he says "Sir ek car allot hui hai hume jo color aapko chahiye vahi hai White Nexon EV Max Xz+ par variant 7.2 kW charger wala hai 50k ka difference hai, aap bolo to do din me gaadi mil jaegi aapko" his pitch was exactly the same as the one I bought my car from, I even copy-pasted this from above. I wonder if this is some sort of profit-making scheme of dealerships or White EV Max XZ+ with the 7.2kW charger variant being rolled out in priority. I declined respectfully citing the delivery from other showroom and asked for the booking amount refund, what happened to this refund & refund for the extended warranty is a story for another time…
Fit & finish inside the cabin could be more premium considering the price point. Tata's signature door thud is a big turnoff, I wish I could do something about it. My 2016 Hyundai elite i20 has a better feel of buttons & door thuds than this. But the refinement of EV is another experience. I have charged the car only twice till now and haven't got the time to check the slow charger that came with the car. Pretty much i am happy with the car & do not regret the decision of buying this piece of technology. Yet.
So, that was my experience.
BOOKING: Ambiguous booking mechanism (actually no mechanism at all), give them money they will decide if they want to give you vehicle or not. Upper management of TATA seemed to be proactive though. Dealer pushed me to have 100% advance even before PDI.
DELIVERY: Chaos ensued the day of delivery, vehicle got a dent & I took the delivery knowing this fact, extended warranty was not provided despite of me paying for it, I am promised a refund.
The Car: Car is wonderful. Smooth, silent & powerful. It's a conversation starter wherever it goes. Around 4 people in acquittance are seriously considering the purchase after watching me take the leap. Minor issues are there which are not deal-breakers for me. I am getting a range of 330-340 with conscious driving & might get 270-280 with joyous driving (yet to test that).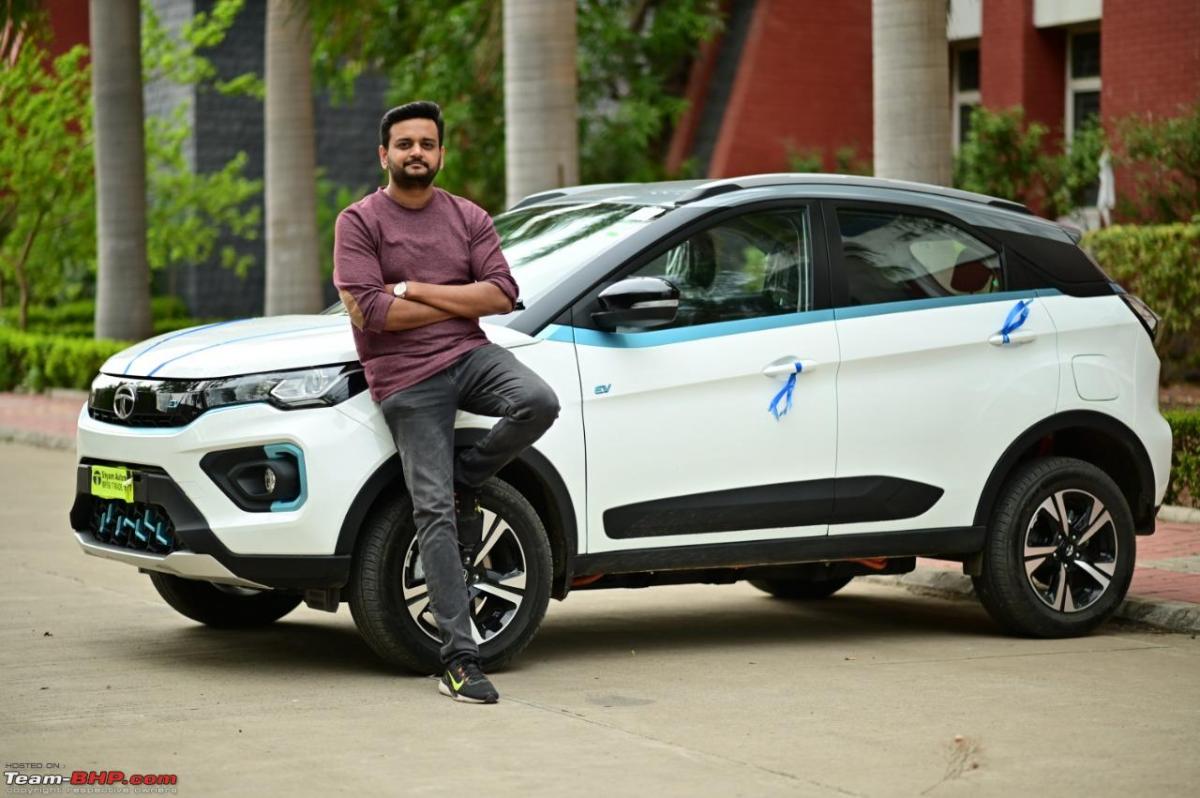 Read BHPian comments for more insights and information.
Source: Read Full Article