My dreadful experience buying a brand new Toyota Glanza
The 3M package I had declined had been billed to my car and they definitely got the amount claimed from Toyota Kirloskar.
BHPian yogiii recently shared this with other enthusiasts.
Reading about delivery mishaps is one thing like the Seltos damaged with glass and then it happening with you is totally another experience all together. Caution long and detailed post ahead. Read below to know how the events unfolded. If you have decided to read it, please do not comment "this could have happened after the delivery as well" thank you!
I am posting this here to apprise people that how simple things which dealerships take for granted can make a delightful experience of purchasing a new car can turn abhor and to make dealership owners and employees cognizant that their mistakes don't go unreported, this era is not what it used to be back in the day when things could be easily brushed under the carpet and forgotten. I have been following the Skoda Slavia thread and another thread by the gent who owns a dealership asking for views in such cases and after my first hand experience, I truly believe customers like the one who owned the blue Slavia should fight back to keep the malpractices of dealers in check from time to time and issues be reported in platforms such as Team BHP. I do not intent to gain anything out of posting this, because in my mind that memory is past.
I would like to share my absolutely horrid experience of delivery of my Toyota Glanza CNG from Espirit Toyota Noida Sector 8, Uttar Pradesh. My experience with them went downhill pretty quickly after making the complete payment. The whole sales and delivery team was full of malice and had early intention of cheat, scam and wash their hands off the prime responsibility of delivering a car without damage. I could really sense from all those present in the delivery area that day, representing primarily Esprit Toyota and then Toyota Kirloskar at large that this was a common practice at their showroom, happening every other day. No regret, no apology, no customer delight just plain shoddy services.
It was mid December 2022, I was looking to purchase Toyota Glanza CNG as Toyota was publishing ads with ready delivery in newspapers. I called all 3 dealers in Delhi for availability of required model and color choices. Other 2 dealers mentioned no cars are expected in December but booking can be made and car can be delivered early January. Espirit Toyta had an Insta Blue Glanza G CNG incoming towards end of December, with so called loan not approved tactic of a customer it was allotted to. We made the booking by paying ₹ 11,000, I had not visited the dealership at this instance. They insisted on getting the insurance and loan through them only. I received the call from Sales Advisor that car is expected in few days, few days went by I received the call that car has arrived you can come for formalities and payment.
24th December 2022, we reached the dealership Espirit Toyota Noida, met the Sales Associate, Sales Head and spoke about ₹ 10,000 benefits mentioned in newspaper for Toyota Glanza and Maruti Suzuki's offers on Baleno CNG providing ₹ 10,000 cash discount and ₹ 10,000 exchange bonus. I was not offered anything at that point and my information of ₹ 10,000 cash discount was shrugged off by both. I ignored the callous attitude as ₹ 10,000 wouldn't make much difference since I was getting the car without a waiting period (luxury these days). In some time the Sales Head offered me a 3M package which includes New Car Paint Protection, Under Body Protection, and Internal Panel Protection for ₹ 14,301 which I politely refused as these were not required by me. The attitude of Sales Head was impudent with a take it or leave it attitude, which I ignored. (More revelations about this on first service)
Next was insurance, which again I mentioned to them was pretty high of ₹ 45,000 for a Glanza, they informed me we offer exceptional facilities linked with insurance and I obliged. Before making the down payment and signing loan documents we asked to check the car, did pre-delivery inspection of the car on the floor above which was the storage facility and everything with the car felt in order, I had carried Team BHP PDI check list. After checks down payment was made and loan documents signed.
They offered 'generous' ₹ 5,000 worth of accessories, my original choice was just to go for auto dimming IRVM which is the only accessory I felt missing in the otherwise loaded G variant. If they would have quoted higher amount for it exceeding ₹ 5,000 I was ready to pay the remaining amount from my pocket. I was informed that Auto Dimming IRVM is out of stock, I informed I can get it fixed later in subsequent service. I was then informed Auto Dimming IRVM has technical issues and can't be provided. Maruti Suzuki which has been providing the very same product for ages without even changing its shape and design for years on all top models has defect when it started providing it to Toyota? These are the same cheap tactics that I detest at dealerships. They think all customer are unaware just tell them any unfounded story and they will believe it. I ignored this as well and decided that I can get it later from 100s of shops in Delhi selling MGP products without fuss. Since now I had to choose some accessories I could only pick mud flaps, car cover, rear window sunshade and all 4 window sunshades out of the sea of chrome accessories flooding the accessories brochure. The total amount of these 4 items was less than ₹ 5,000 at around ₹ 4,000. I was then informed 4 window sunshades and car cover was out of stock, I asked them to make a formal note of these and provide me later at scheduled service. (Obviously they did not provide it in written)
Delivery was scheduled for next day, 25th December 2022, Christmas!
Following day, as soon as we reached the showroom we were quickly seated given all the papers to sign, car was covered under car revealing cover in the delivery area, big mistake we signed before checking the car again! (Key events marked as A,B,C,D,E,F)
A. Dent on driver door before delivery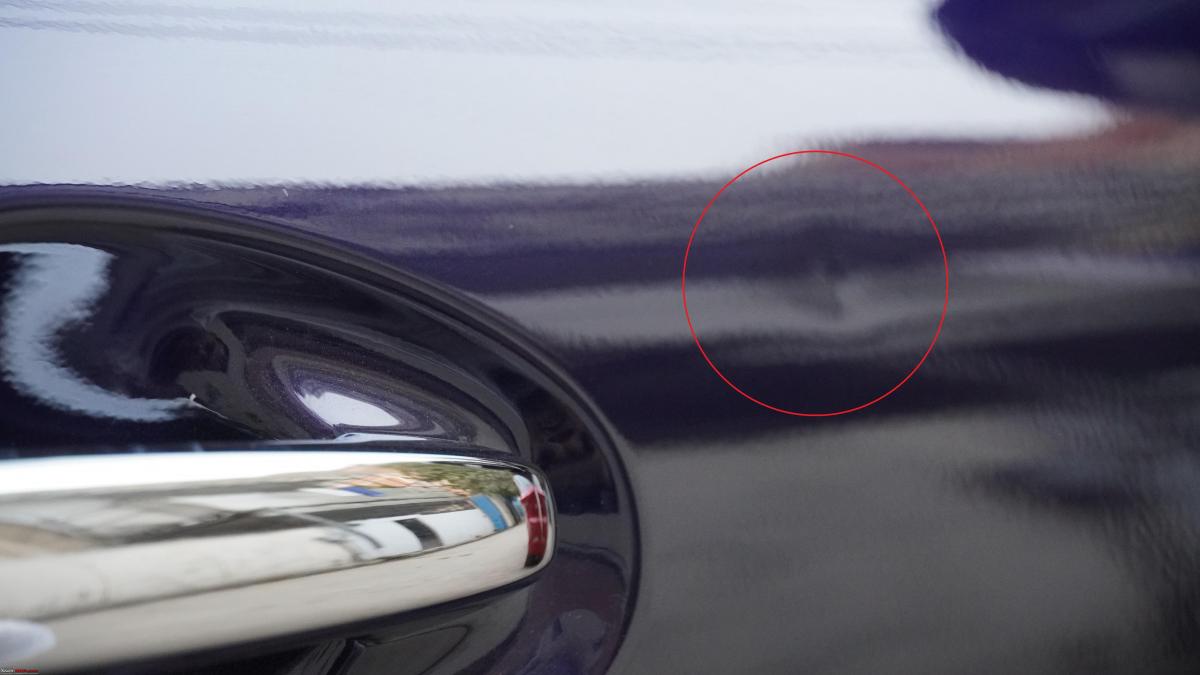 We went to check the car in delivery area before the formal delivery procedure; as soon as the revealing cover was removed we saw there was a dent on driver door. I asked the people present there for SA to come to the delivery area, before he reached the sales head arrived and started to check the door. When the SA arrived I could read his face that he knew about it before hand, it was obvious he and all sales, delivery team were aware that there was a dent on the door but they did not find it was their responsibility to tell the customer. As if the customer is unsighted (like they were) and won't notice it, I think that was their plan to deliver the car as is since it would have most likely happened the same morning and nothing much could be done in such short time. I refused to take the delivery of the car.
The primary ordeal starts here:
1. No acknowledgment, that a mistake has been made on their part
They behaved as if they don't know how, why and what happened with the car. It is your showroom, you people brought the car down from your storage area upstairs, and you don't know who nicked the door? And how it happened? No explanation was given at all. It was like a UFO came to dent the door which no one saw!
Look on the face of sales head: Why is this customer who is purchasing our cheapest car making so much fuss about a small dent? I asked him would you take a new car with a dent? The worst reply he could give, yes sir I would take this delivery, I told him I would not! After this he had the audacity to say we will make up for it when you come to service, I replied back instantly that I won't be visiting your service center after this, then his usual show of callous take it or leave it attitude again!
2. Instead of an apology, full on circus show of arrogance
Not a single person from the whole team uttered the word "Sorry" that it was our mistake. I wonder whose mistake it was. Mine to choose to get my car from them?
In comes the "Man of the Hour" Sujit Kumar Singh, his designation being Head Guest Experience – Sales
He came there and couldn't find the dent on the door, I had to point it to him the dent, all other staff was standing there like statues in disbelief how did this dent came to be. It was small but not so small that one can't see it from naked eye and on this dark blue colour it clearly stands out from various angles even from far! He was, in his behaviour, again unapologetic of the mistake and pushing his stench of attitude and showing that he will correct everything, assuring us we won't deliver you a damaged door and what not. I refused delivery of the car again, now comes the change in tone, sir car is registered in your name and you have no other choice than to accept delivery!
I would personally like to meet the person who hired him for this post and understand the parameters of the job fit. If the "Head Guest Experience" cannot see dent on door working in a car dealership I seriously doubt how can he justify his post and position. IMO he should first visit an optometrist and get his eyes checked, get the correct eye glasses and then check the cars and give his precious comments.
So continues his parrot speech we will do what we can to correct the door and calls his expert, the expert arrives in sometime, he asks this guy can what can be done, the expert with the look on this face I have told you (already before) we will have to paint this door to remove the dent. Head Guest Experience Manager spoke to me like he had paid the whole amount for my car and was getting perplexed why I'm bothering with a small dent? I paid for this car, I need a perfect car. Period. I refused the paint solution.
At this point I told the sales head, I would surely share a "very good feedback" of today's delivery experience, instead of offering his apology for messing a very simple process of getting a car down a lift he was like where will you put our review?
Then comes their "very generous" offer from the man himself Sujit Kumar Singh, bring the car back next day and they would replace my door with another Glanza's door, change locks, open the whole car and replace what not from another car that they had in Delhi showroom. They explained this offer to me as if they are doing me a favour by replacing the door, going above and beyond for customer service and satisfaction.
At this point I had enough, we went out of the delivery area, to discuss our options, as I understood from their school of thought that they won't do much good and only worsen the situation, waste my time and working days. I have relatives working in the automotive industry with mass market brands and premium German brands for more than 40 years to have enough understanding of shady practices and shoddy jobs of panel painting and door replacement at dealers end to refuse them. My family members went to discuss with them, they promised some free accessories on next visit. Point being when I only took accessories worth ₹1,340 from ₹ 5,000 that was pre offered then now what accessories would they give me that I would want to accept? Obviously I had made my mind by then to not come back there again so all these were superfluous to me.
We took the delivery and went off. The experience was horrid enough that I have not seen the photos, video from delivery till date because I don't wish to be reminded of those events, the extremely negligent people I had to deal with that day who smile before you make payment and show their true colours after payment. They were quick to give the printed picture of the delivery as laurels of the proud moment of their efforts they undertook to ruin my delivery experience.
Before we left, they put in a box gift wrapped in the backseat, it was trolley bag, what do I do with it?? Tie it to my roof as a memento that I received a dented door, another scratch that was touched up (coming up!) with subpar delivery experience from Espirit Toyota?
B. Touched up scratch on the same door
Very next morning, I reach to my detailer's place to give the car for complete PPF, since it was the Nexa blue shade (called Insta Blue in Toyota) I wanted to maintain it as far as possible. They started working on the car and one of the guys working on the cars calls us in the studio shows a scratch on the same door which was paint touched up! I was furious!!! The scratch might be there on the door when we did pre-delivery inspection which was cleverly touched up, we did use the phone torch to check up the panels but clearly not thoroughly enough. Obviously the dealership would do nothing about it if I went back and I accepted what is as is.
Only if the ordeal had ended with the delivery I would have let go, not go back there and forget I purchased it from them, not write this long a detailed review for Espirit Toyota and their fabulous team.
Saga continues…
C. No information of my pending accessories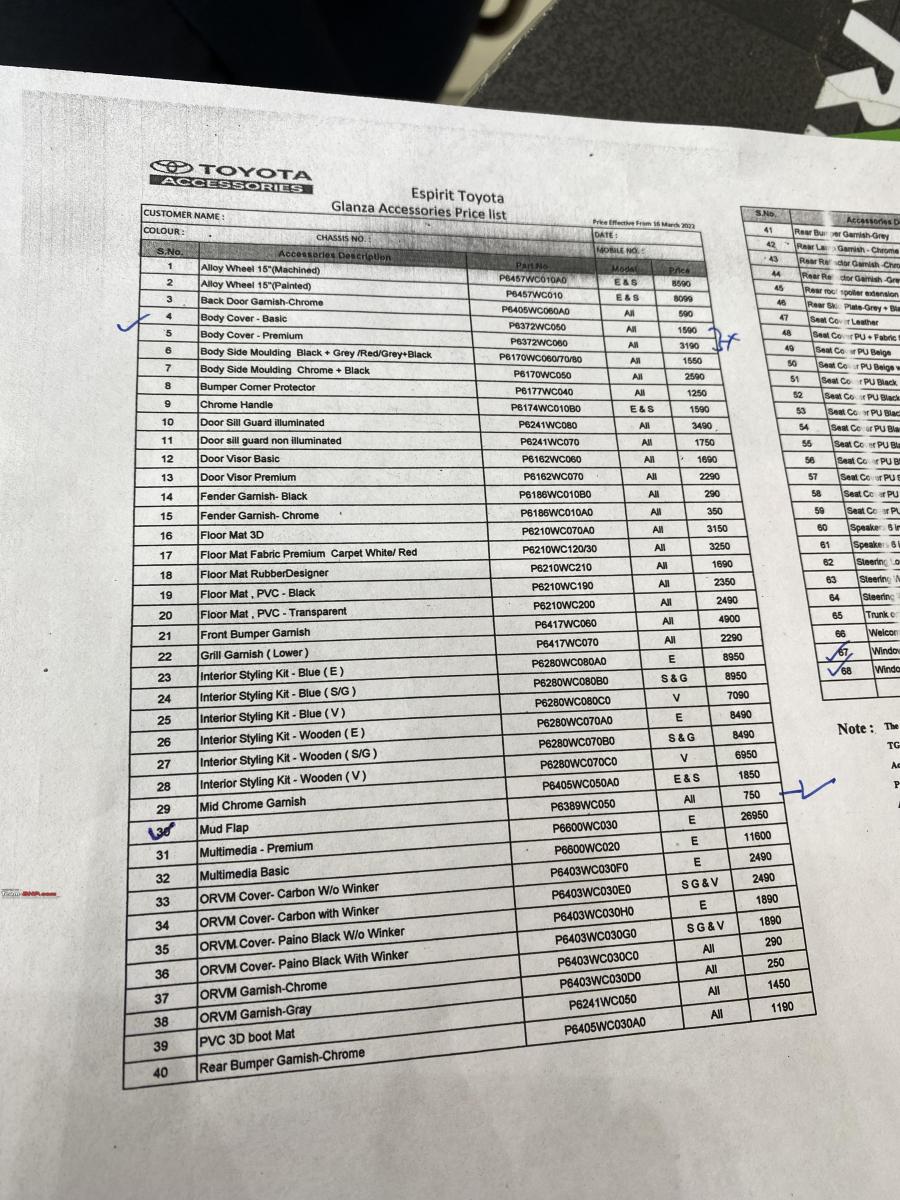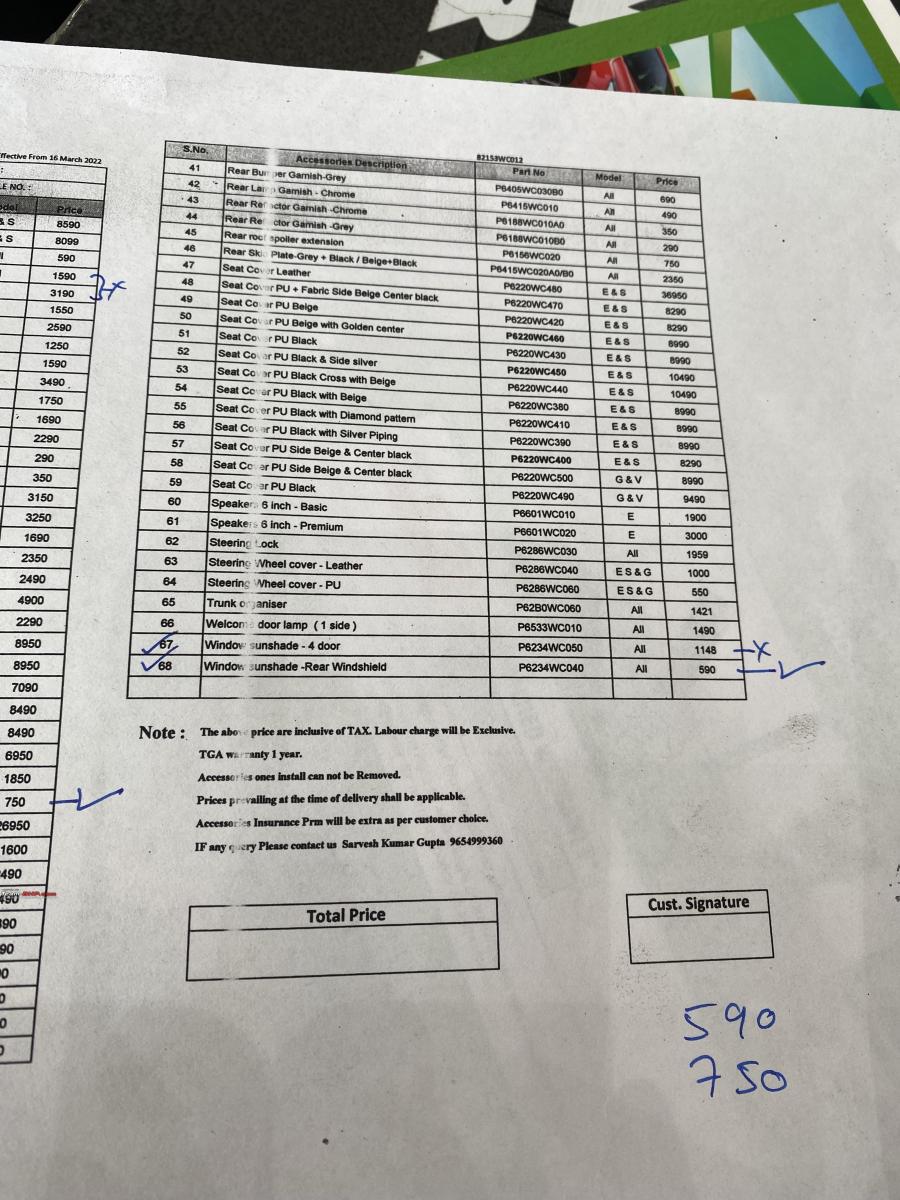 It's been more than a month post delivery; I have not heard from them about my accessories, I'm sure it does not take 30 days to source a car cover and window shades.
But again "Best customer service"
D. Number plates
Number plates are made available before RC, as soon as registration is made, in Delhi plates are delivered with the car delivery as a rule. Since I took the car from Noida showroom and it was to be registered in Delhi I was told about 7-10 days for plates to arrive. My RC arrived in 5 days which means the Governmental formalities after tax payment were done. I thought they would call and tell me about the plates as promised before delivery in 7-10 days, but obviously no calls from them. I had to follow up, called up the showroom, they gave me a person's number at showroom responsible for plates, that guy told me they don't have plates for my number and asked me to check in Delhi showroom. Which Delhi showroom should I call? Who is the person I should ask? They had created a WhatsApp group after payment which they use to provide updates to customer about the car and other relevant details till 1st service of the car. I messaged asking about the number plates? What do you expect from 16 persons on the group from Espirit Toyota? A response? No you won't get any. I reached out to the SA on WhatsApp and he informed me the plates are arriving, this was 17th day after delivery. I asked one of my family members to get the plates fixed. Post that I left that very helpful and efficient WhatsApp group.
Since there was delay I was planning to get HSRP look alike plates aftermarkets on the coming weekend since the HSRP portal does not allow me to order a new set on my own, so that I can start using my car for the purpose I bought it for, to drive it and not keep it as a show piece in the drive way. It was only driven 150kms, in first 17 days, my daily travel is 100kms. I could have very easily booked the car in December at another Delhi dealer, taken delivery in January with the number plate right at time of delivery. I even had to let go of taking the number I usually get for my cars as the delivery was immediate, now in Delhi you have to wait for a new series to open to get those semi fancy numbers as well.
While penning down this review I thought if I should publish it?
I thought about it and realized, they feel that they have a huge brand in Toyota as a dealership and people are lining up to buy their cars, which interestingly was the case that Christmas day, they had an Innova Hycross on display on their showroom (I guess for the first time) and people were flogging to have a glimpse of the car. This doesn't make this dealership above a customer. In how many years does a person buy a new car? Some buy in 4, some maybe in 8 and others in 10+ years and by ruining this once in how many years experience they are not setting any charts on fire for customer satisfaction. And above this they think all customers are same, they don't have that concept of differentiation that some customers are not your average Joe's who overlook everything you say or do, some would point out your mistake, expect you to correct them and make up for it. I paid them in full, ₹10.8 lakhs of my money, I agreed to all their terms, but in the end I got a very lukewarm experience dealing with them. I got a less than perfect car, I did not get the accessories that I wanted or even those that I had chosen from their list, I could not drive my car for as intended because they could not provide number plates to me in stipulated time. Their Google reviews are filled with fake reviews with mostly reviews seem to be made by employees and their acquaintances with just words like "good" "very good" and 5 stars.
I even thought what could they have done to save the situation?
Told me upfront about the dent and scratch, touch up and offered some discount? NO, they never had that intention to be transparent. They already had done one touch-up on the scratch and if they had time before delivery they would have done the door dent as well. They just wanted to cheat me as a customer, they were ready to replace my door with a brand new car's door but not tell me that there has been an issue. They were ready to repaint my old door and mate it to another car for another unsuspecting customer to buy from them. Clearly outlining what their intentions are: Hide your mistake, don't own up to it, if caught act like nothing happened and we don't know who did it and pass on damaged goods to some other unsuspecting customer. What is that they did for me as customer? First give a poor experience and second not make up for it in any reasonable way!
E. Before leaving out of the showroom I only asked one thing from them, business card of this man. I was expecting that they might not give this as well, considering all previous instances, but they did, surprise!
F. 1st free service, obviously did not go to Espirit Service for their fabulous customer service
Went to another dealer, there saw adverts of Toyota apps, went through it while first service was going on, lo and behold another scam by Espirit Toyota! Remember the 3M package I had declined, they billed it to my car, definitely got the amount claimed from Toyota Kirloskar.
There was nothing done to my car of the things as outlined in the bill and the package on the car on the day of delivery. When I had declined this and got the take it or leave it attitude from the sales head. I guess the 3M package would have been done on Sujit's personal car, maybe one of the reason he could not see the dent, too blinded by the 3M exterior package's performance that all dents are gone.
After my poor experience I would just like to call out, especially this guy (if he has now got spectacles to see dents/read texts or maybe he is just too blind by his sheer arrogance) and the entire team that messed up the car delivery and subsequent responsibilities a quote from a very famous movie of our time.
The internet's not written in pencil, it's written in ink
Signing off with a picture of my car post PPF and detailing, don't look too closely you will be able to see the dent!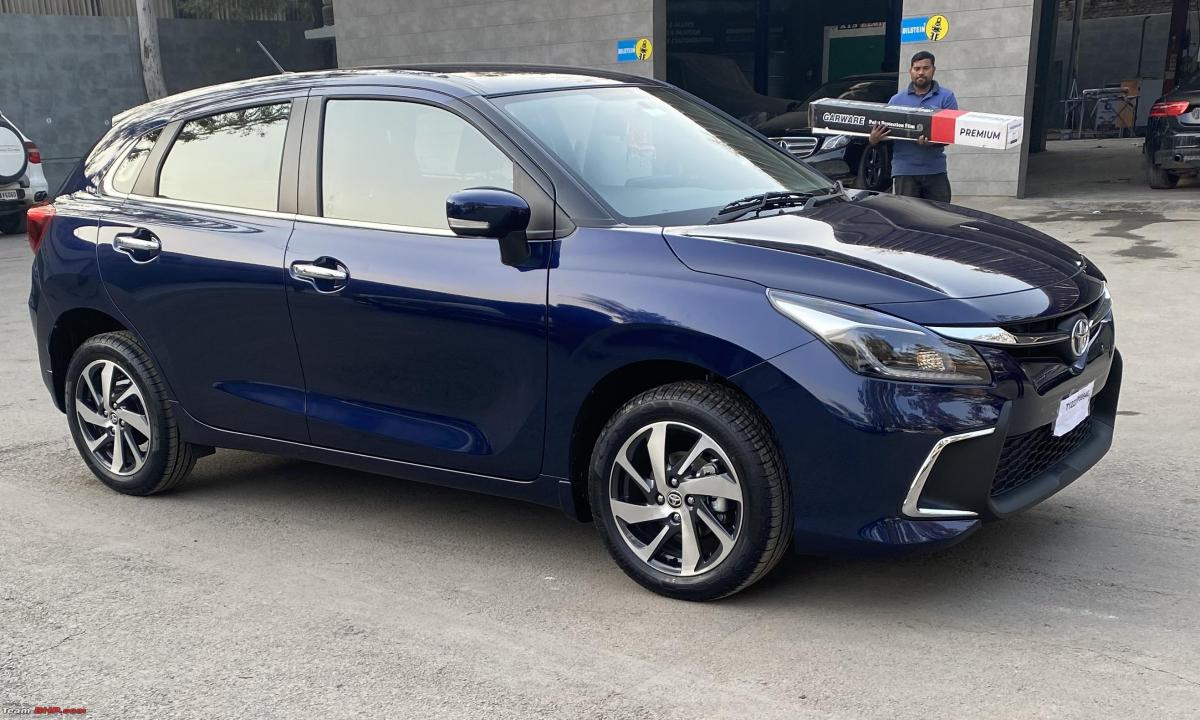 Read BHPian comments for more insights and information.
Source: Read Full Article