My 2022 Genesis GV80 in USA: Ownership experience over 18 months
I chose the base engine and the fully loaded Prestige trim. The base trim itself is very well equipped with a ton of desirable features.
BHPian jeevadeepan recently shared this with other enthusiasts.
Intro:
Hello everyone! It's been almost a year and half since I purchased my 2022 Genesis GV80 and wanted to post a short summary of my experience so far. I'm not used to writing so will be keeping the words short. Also a quick disclaimer that I have not owned any other established luxury brands, so please take any praises coming from me with a grain of salt.
Some facts about the car:
Model year – 2022
Trim – 2.5T Prestige AWD
Engine – 2.5 L Turbo (300 hp and 311 lb-ft of torque)
Color – Himalayan Gray
I chose the base engine and the fully loaded Prestige trim. The base trim itself is very well equipped with a ton of desirable features. And then there's the 'Advanced' package that adds more niceties. Above that is the top of the line 'Prestige'. Listed some of the trim level feature highlights below:
Base:
10 Airbags
Adaptive cruise with stop and go (Highway driving Assist II), Lane assist
Forward collision-avoidance assist w/ Pedestrian & Cyclist detection
Blind spot monitoring
Parking sensors (Front & rear)
19 inch alloy wheels
LED quad headlights with High beam assist
Panoramic moonroof
Leatherette seats & 12 way power adjustable driver seat
Heated and ventilated seats
Matte finish interior wood trim
Rear door shades
Ambient lighting
14.5 inch infotainment screen with Navigation, Android Auto and apple CarPlay
12 speaker audio system
Wireless charger
Advanced Trim (Base features plus):
20 inch alloy wheels instead of 19 inch
Leather seats
Lexicon premium audio with 21 speakers
Surround view monitor (360 deg camera) & Blind spot view monitor
Remote smart parking Assist
Rear parking collision-avoidance assist
Prestige Trim (Advanced features plus):
22 inch alloy wheels instead of 20
Electronically controlled suspension
Ergo motion driver seat with massaging
3-zone climate control
Heated 2nd row seats
Active road noise cancellation
12.3 inch Digital instrument cluster with Heads-up display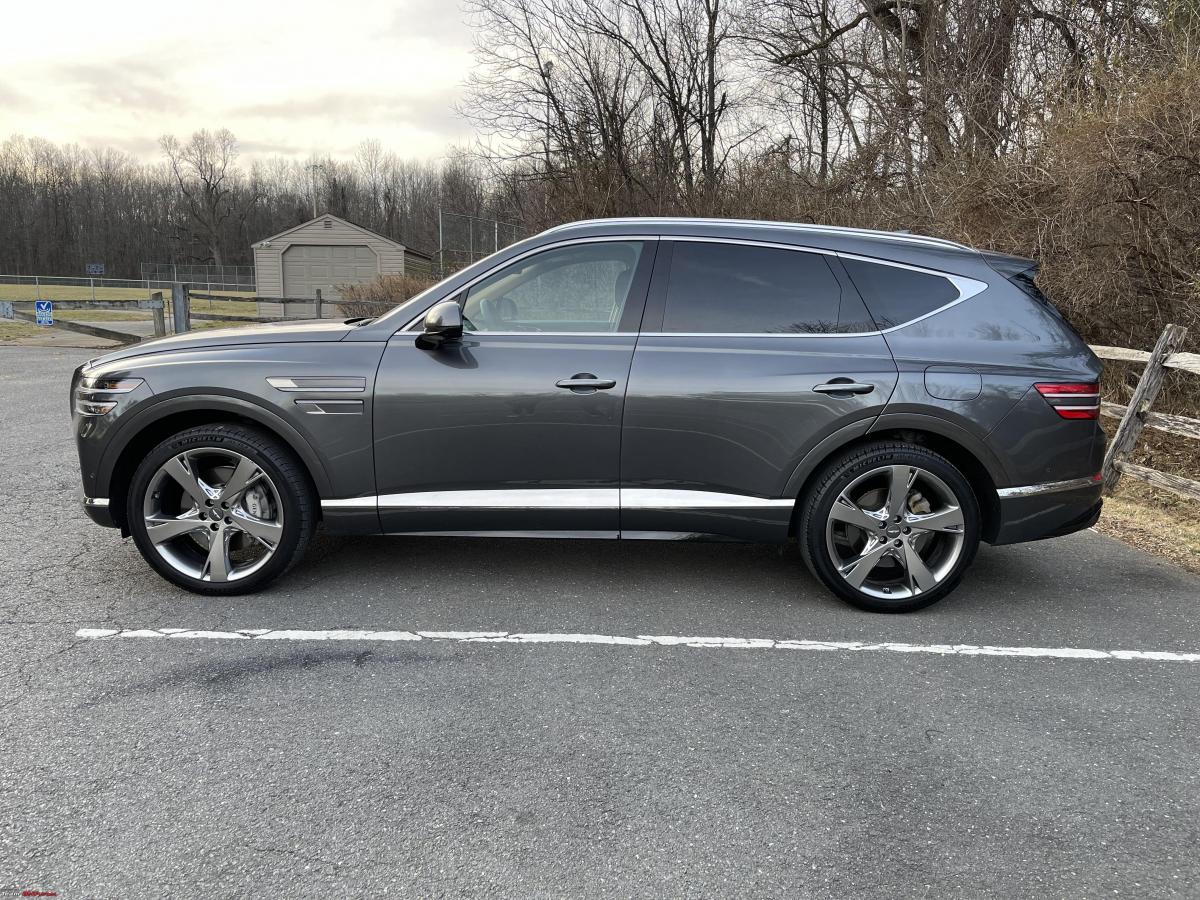 I chose the Prestige Trim mainly for the 22 inch wheels. I love the way they look and it enhances the proportions of the car the way I like it. Comparing those with the 19 or 20 inch rims, the ride quality takes a hit with thinner sidewall, I am okay with that compromise. I happened to drive a loaner GV80 with 19 inch wheels and it had a better ride. But not drastically better. Sedans ride much more smoother IMO. And I also wanted the digital instrument cluster which has a cool 3D looking gimmick.
Lets talk power: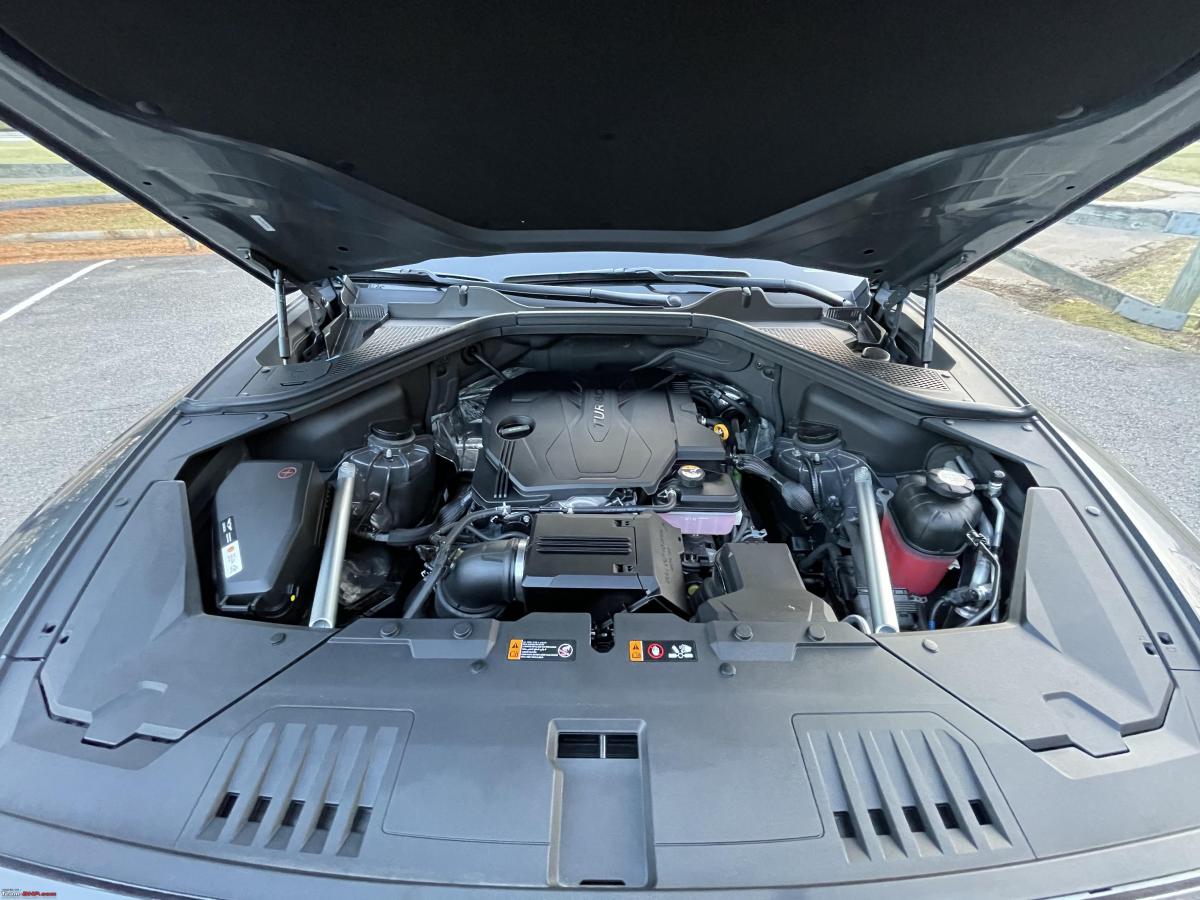 Genesis offers 2 powertrains on the GV80. A 2.5L 4 cyl Turbo that makes 300 hp (311 lb-ft of torque) and a bigger 3.5 L 6 cyl twin turbo that makes a healthy 375 hp (391 lb-ft of torque). Both engines are mated to an 8 speed torque converter automatic transmission. When I initially test drove the 2.5 L 4 cyl,  found it more than adequate for my needs. So went with the smaller engine option for a few reasons. I was able to get the fully loaded (prestige) trim with all the bells and whistles within my budget and for better fuel economy. I did not test drive the 3.5L version but I've driven other 3.3L twin turbos from the Genesis stable (in the G70) and they are a blast to drive. But since this is a big crossover and it probably won't be winning any races I made the smaller engine compromise for the added features.
Talking about my car's 2.5L turbo 8 speed setup, it is a mixed bag.
Things I like about it are:
Engine is very refined, smooth and quiet. You hardly hear it in the cabin also thanks to excellent insulation.
Excellent mid-range especially around 2500 to 4000 rpm and the passing power is great.
Feels great cruising at freeway speeds all day long.
Spirited driving is enjoyable at speeds above 40mph.
Many enthusiasts look down on the 4 cyl in a luxury car. But for the most part, Genesis has tuned it so well to suit the car's character and mask the deficiencies of a smaller engine a big luxury crossover.
Things I dislike:
Turbo lag at city speeds. The car feels very sluggish if you're scooting around the town doing 35mph or less unless you drive with a heavier foot. I really miss naturally aspirated engines during city drives.
Transmission gearing is tuned for comfort and feels slow even under mild enthusiastic driving. While there are paddles to shift manually, they are slow to respond as well. Sport mode changes the gearing a bit but not much. And it is not pleasant to listen to the 4 cyl screaming in low gears.
So so fuel economy.
Driving modes:
Four different driving modes lets you to tweak the power train, steering and suspension settings. The names are self explanatory. So, I'll just talk about what I feel about each modes and the ones I like:
Eco – Tuned for maximum fuel efficiency. Also allows you to coast in this mode if you have 'coasting' enabled in the drive mode settings. Decouples transmission from engine when you're carrying good speed and you take foot off the gas. I like to use it from time to time on roads with light stop and go traffic. The coasting mode is quite smart from what I've seen. It doesn't activate if the engine/transmission is not warmed enough. Deactivates when you start braking. Deactivates going downhill or on curves.
Comfort – This is the default mode when you start the car unless you've selected Eco before. I don't find this mode very different from Eco. Steering effort is light. Suspension in soft and power train tuning is normal in a sense that it doesn't aggressively upshift like Eco. Use this mode 90% of the times.
Sport – Mode tightens up steering a bit. Suspension is supposed to get a little firmer, though I've not noticed much difference. Holds gears longer than comfort mode. But I don't find the 4 cyl fun to hold until the redline and upshift. I like the sport mode when the car is fully loaded especially while moving things. It essentially acts like a 'Tow' mode. Helps acceleration under heavy load and provides engine braking going downhill. I do like the steering feel in this mode though.
Custom – Lets you to choose individual settings for powertrain, suspension and steering. I have set the steering to be in sport mode and others in comfort.
I mostly hover between Comfort and Eco. Occasionally using Sport.
Ride quality:
As I mentioned before ride quality takes a hit with 22 inch wheels and thinner sidewalls. The car handles smaller undulations and bumps on the road very well. And the ride is soft and cushy. But sharp drops and rough edges unsettle the car more than I like it. Especially if you're driving solo, the rear end gets a big jolt going over rough patches. I find that similar to driving a pickup truck with nothing in the bed. If the car is fully loaded the ride quality is excellent. The suspension soaks up even bigger bumps and potholes without a fuss. Also its super quiet inside the cabin even at freeway speeds. There's barely any engine or road noise and you can have quiet conversations with your co-passengers.
Handling:
Being a rear wheel drive platform based AWD, has it's pros in the handling department. And the wider grippier tires helps cornering and you can carry serious speeds. But this is a heavy 5000 lbs tall crossover and there is no hiding it's weight. Steering in sport mode is precise and provides decent feedback but it's still feels softer and over assisted for my taste. Also the suspension is softer even in it's firmest setting with lots of body roll and tuned more for comfort rather than fast cornering. You can certainly drive this fast and have some fun. But driving sedate is more enjoyable and luxurious.
Exterior looks: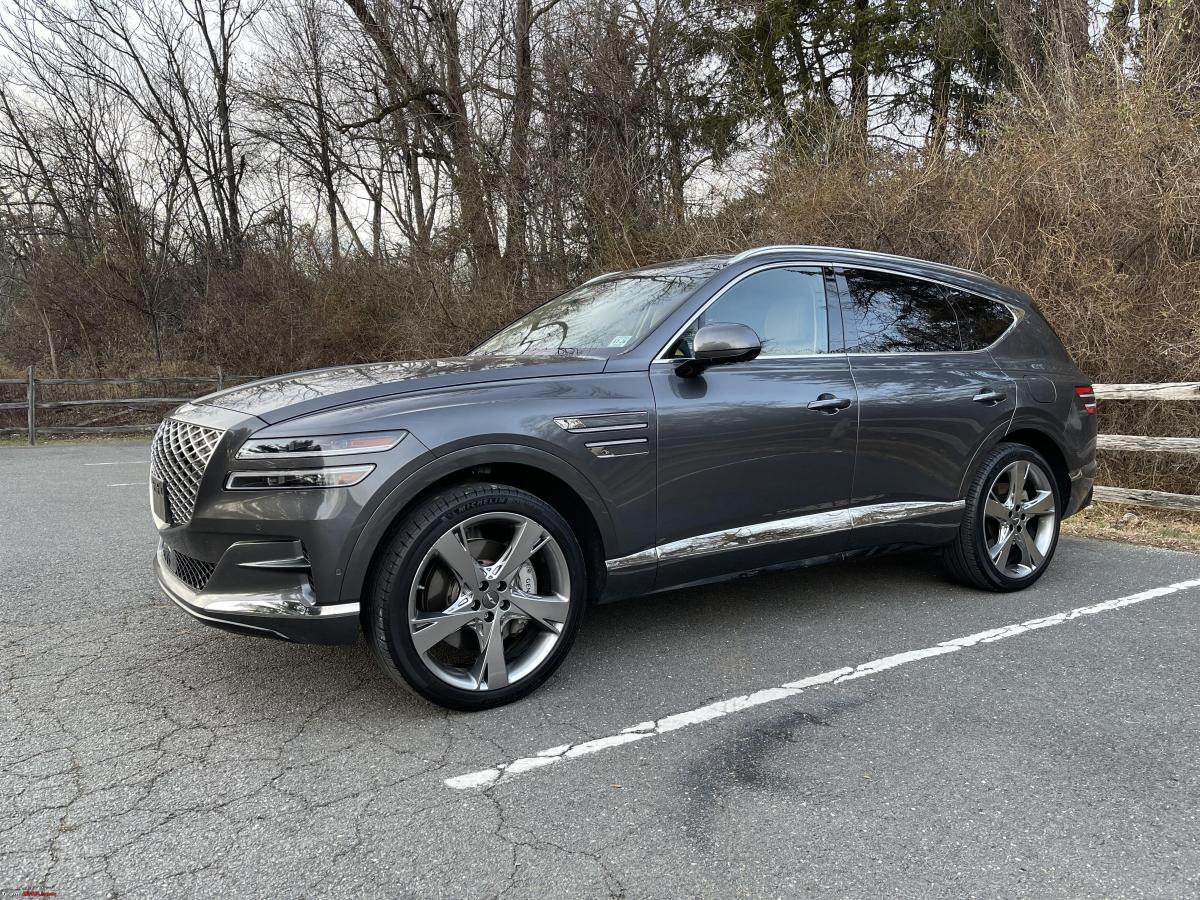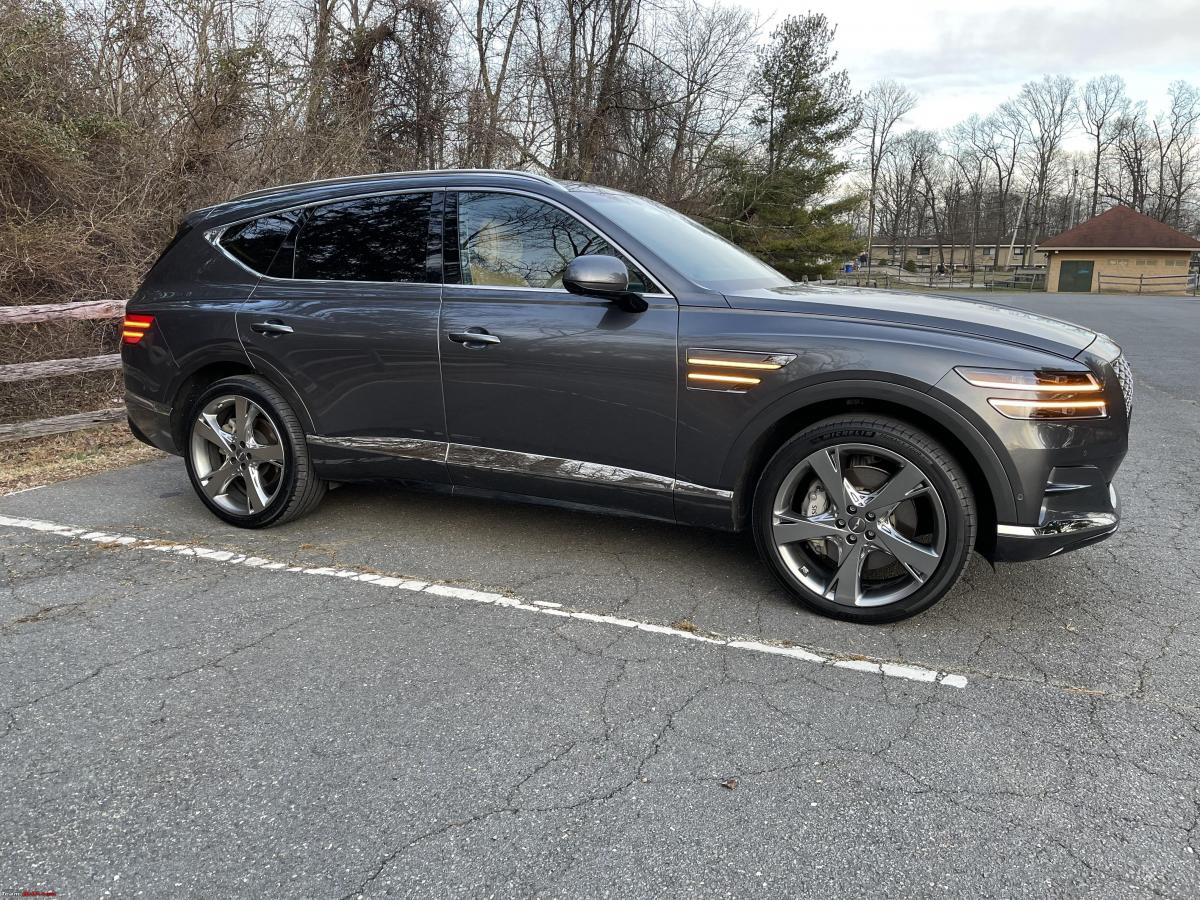 I'm not a fan of huge grills. But I find them not very offending in the GV80. It looks a bit bland and generic. I love the proportions on this car. The long dash to axle ratio gives the car a super commanding look. And I like the wagon-esque rear profile. And I love the rear LED lights. They look sharp and premium. And I love the two line design that goes all around the car. On the side they double up as turn signals and it looks classy. One thing I don't like much is the chrome overdose. I like subtle amount of chrome especially if it's darkened. But the GV80 has a ton of shiny chrome all over which I wish were less.
Interiors:
All the deficiencies in the powertrain and ride departments are made up in the interiors. GV80 has one of the truly luxurious interiors I've ever used to in a car. It's simply gorgeous all over. My car has a dark blue and brown combo. All materials feel very high quality and put together nicely. Almost every material is either soft touch, leather or wood. Plastic can be found only in hard to see areas and those don't feel cheap either. Buttons knobs and other controls have a premium aluminum/chrome type finish and they all provide nice tactile feedback when operated.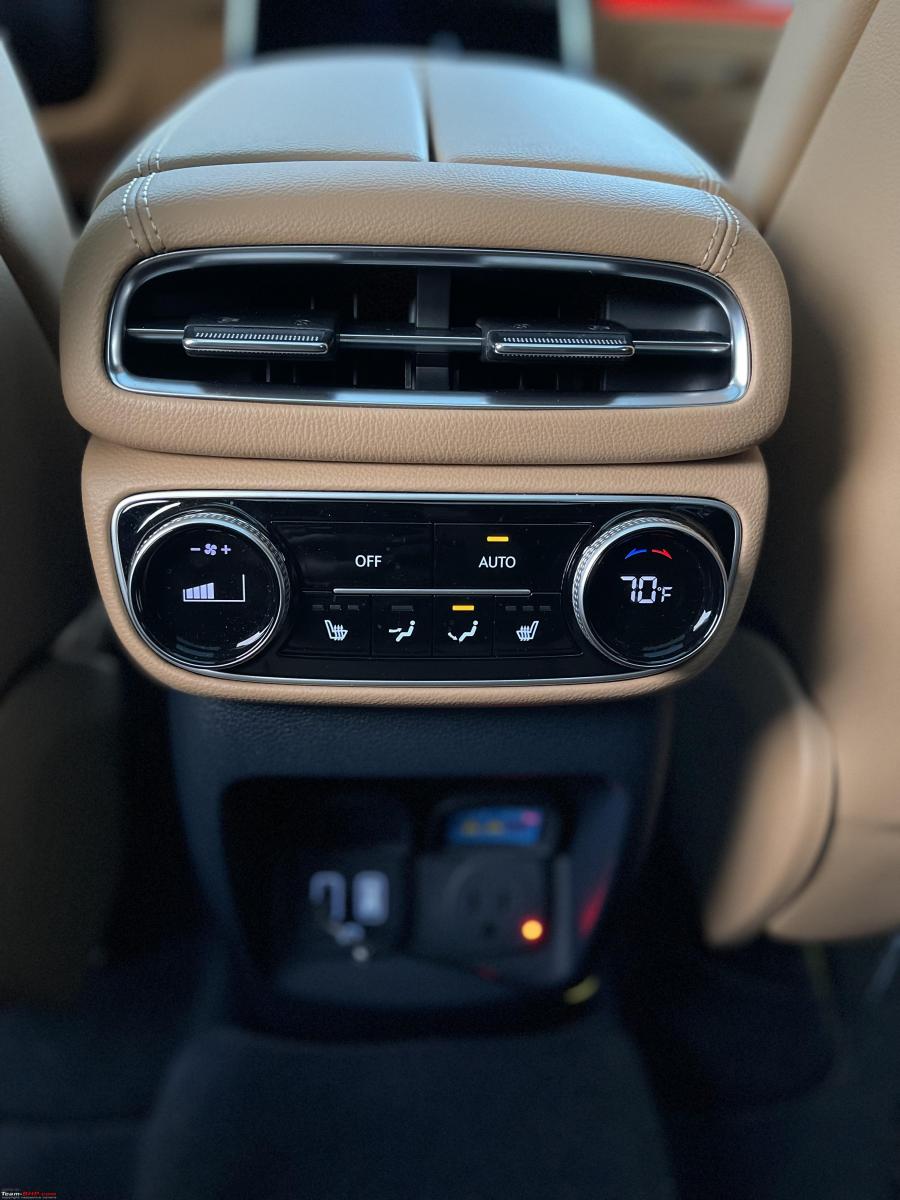 One thing I don't like about the interior materials is the piano black finish used in the climate control panel. I'm not a fan of glossy piano blacks. And also the controls to change climate airflow are capacitive touch buttons. But thankfully the actual knobs to change temperature which is mostly used is physical.
All trims come with a 14.5 inch touch screen Infotainment. It's a responsive unit with no lag and intuitive to use. Android auto and apple CarPlay is standard but they are wired. The car has a wireless charger. But I could never get my iphone to work with it well. It expects the phone to be in a certain position and it doesn't like phone cases. I gave up after trying a few times. I anyways have the phone connected via usb cable most of the time for CarPlay.
Audio quality:
My car has the lexicon premium audio with 21 speakers. Sound quality is very good but not the best I have experienced in a car. Audio is crisp without any distortion. Vocals are super clear even with bass set to higher levels. I have YouTube premium subscription and use YouTube music for most of my music streaming. YT music doesn't have hi-fidelity audio, but the audio quality is good for most of the music that I listen to. The only issue I have observed is with volume level being low. I had to keep the volume at least above 50% during normal listening. Other than that, it's a great system. There are also few presets to play with. One of them is called 'reference' that tries to reproduce the original source as close as possible. And then there is 'Audience' that imitates a concert experience. I leave it in the 'reference' mode with the bass increased a few notches to suit my taste.
Seat comfort and space: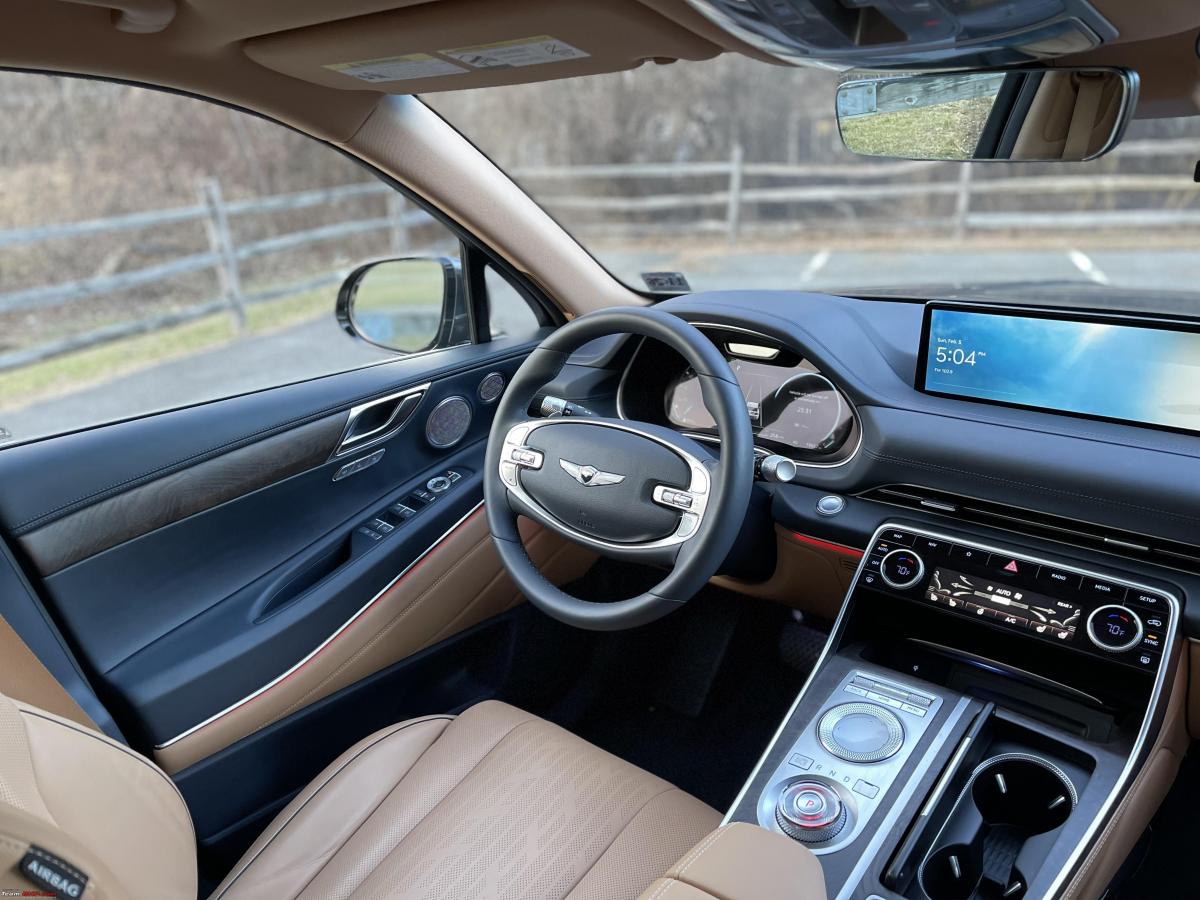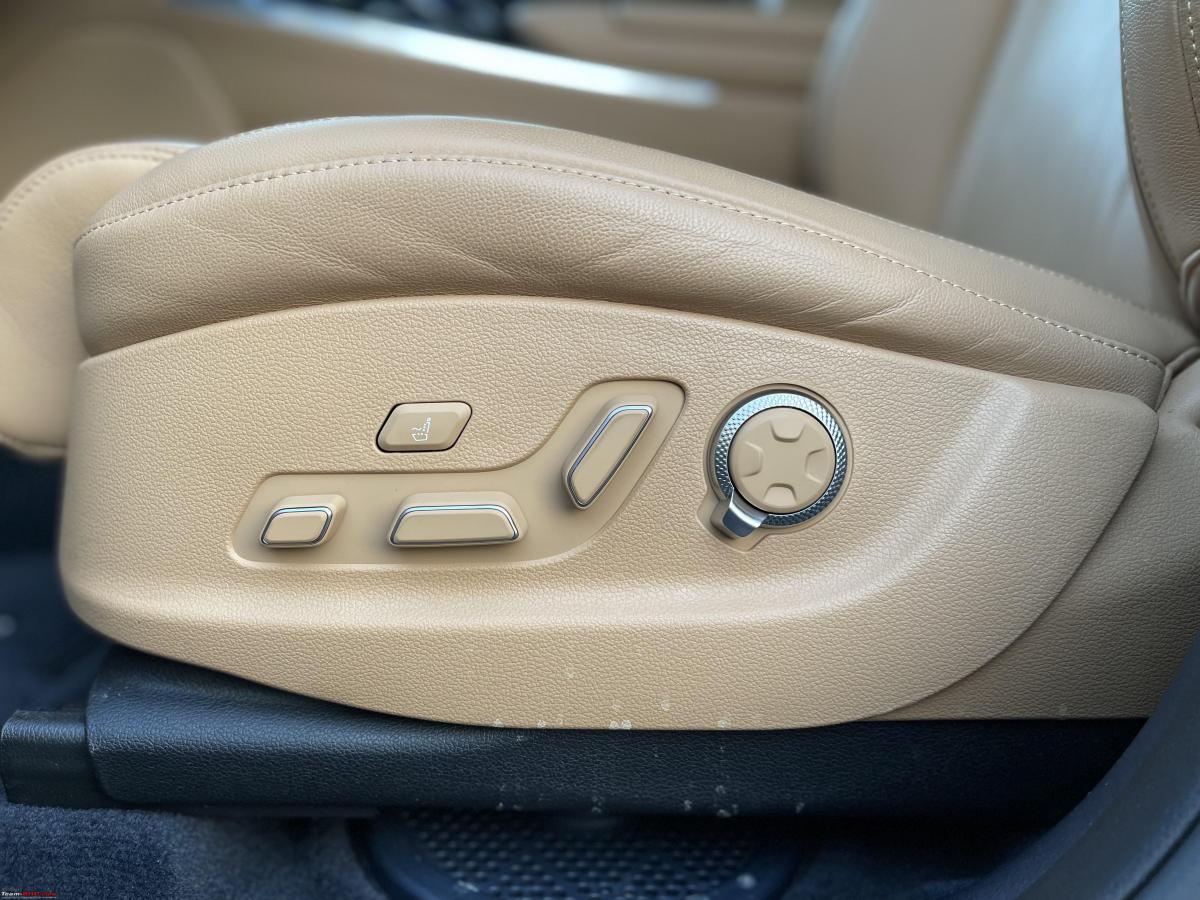 While GV80 also comes with a third row 7 seater option, I went for the 2 row 5 seating. We are a family of 3 and I would prefer the extra cargo room for the compromised 3 rd row seats that will only see occasional use. The seats are leather upholstered and very comfortable. Drivers seat is 21 way adjustable and has a plethora options for back, thigh support. Drivers seat also gets a light massaging function that uses the lumbar support to relieve pressure points reducing fatigue on long drives. Front seats are heated and ventilated. Rear seats get only heating function. Legroom is abundant on both rows. Any adult up to 6 feet tall should be comfortable in all seats. Thigh support and head room are good too.
I'm not sure if the seats needed time to break in, for the first 5000 miles, I was not very comfortable with the drivers seat. No matter how I adjusted the lumbar support there was some discomfort. But after a few months it was gone and I don't have any issues now.
Also there's a setting to change seat support based on driving mode. If it's enabled and you switch to sport mode, it tightens the side bolstering supposedly to stop you from moving sideways when cornering hard. I find it funny because you are not going to out corner anyone in this huge machine. It does that also when you accelerate above 80. If you switch back to comfort, it relaxes the bolstering and kind of massages under thigh for a few seconds.
Ergo motion seat is the Genesis's fancy name for the light massaging function. It lets you to massage upper lumbar, lower lumbar and thigh. There's also a setting called 'Smart posture assist' that lets you to enable massaging if you are driving for long. When enabled it' activates massaging every hour or so during long drives.
Highway Driving Assist:
HDA (Highway driving assist) is a smarter adaptive cruise control (ACC) system that maintains a set speed and keeps the car centered in its lane on controlled access highways. In the US it can be enabled on Interstate highways. One of the key advantages HDA has over adaptive cruise control system is a superior lane keeping assist system that helps the car centered in it's lane. On sharp curves HDA will slowdown the car to safe speeds. You can also set the system to operate with posted speed limits. If you do so, the car will slow down and speed up reading road signs without any driver intervention. I have used adaptive cruise control in many other cars and I find HDA to be one of the best systems. The main thing I like about it is, it works more naturally like how a human driver would respond in most situations. I always set the max available following distance to maintain with the vehicle in front. Consider a scenario where you've set your speed to 65mph and cruising and suddenly another vehicle cuts in front of you doing 60. With adaptive cruise control systems on other cars, I have seen most of them slamming the brakes hard in order to maintain the set 4 car length which isn't always how a human driver would react. HDA, in the same scenario handles it more gracefully by cutting off throttle input (similar to how a normal driver would lift off the gas) and let the speed gradually decrease until the desired following distance is achieved. This is more natural and intuitive. Of course you don't want to rely on throttle input to slow down if the traffic ahead is really slowing down. I have seen the HDA handle this too when applying brakes is necessary. I drive more than 90% of my highway miles using HDA and I trust this system a lot. Of course I don't trust it blindly. My eyes are always on the road and my hands on the wheel to take control anytime. But HDA drastically reduces the steering inputs I have to make to stay centered in the lane. And you almost never have to touch throttle or brake even when others are cutting you off. I take control of throttle at times when I'm on the passing lane and I see an impatient driver approaching behind to move out of their way. Other than that, the car handles 90% of the scenarios even when the traffic is heavy.
My car has the second generation of the HDA system. It comes with a 'Lane change assist' function. That helps in changing lanes while driving on HDA. It's still a hands on system and expects you to keep the hands on steering wheel at all times. But the system takes care of steering control while changing lanes. To use this function, while driving on HDA, hold the turn signals on the direction where you want to initiate a lane change for a couple of seconds. If the adjacent lane is free the car will perform the maneuver and control steering inputs to move to the next lane.
HDA is available in a lot of other vehicles from Hyundai/Kia/Genesis and it's nice to see the technology being adapted into mass market vehicles.
Fuel economy:
Fuel economy is not Genesis's stronghold and the GV80 is no exception. With a lighter foot I usually get around 22mpg in the city and 26mpg on the highways. The economy drops drastically if you're driving fast with the lowest I have seen at 18mpg which is a shame because some big American V8s do better than that. And I know a lot of other competitors in the same segment with 4 cyl turbos are much more efiicient. Cold weather affects fuel economy too, dropping it by 1 – 2 mpg than normal. Also genesis recommends premium fuel for best performance. I used to use 93 octane initially and recently switched to regular 87. I did not find any difference in fuel economy numbers between regular and premium. Even the power loss was hardly noticeable.
Reliability / Issues so far:
The car has racked up close to 20,000 miles so far at the time of this writing. Ownership has been trouble-free for the most part with the exception of one incident. This happened when I was about 6 months in the ownership and the car had about 10,000 miles. It was a cold morning when we had a sudden temperature drop from 60s to lower 40s. I had to leave early that morning. I used to warm up the engine during cold mornings. But I was in a hurry that day and left home right after starting the car. As soon as I backed up from the driveway and started moving, I noticed something's wrong with engine/transmission. Power was way less and the transmission didn't seem to shift above 2nd or 3rd gear. It was in a city street with speeds around 25mph. But as soon as I merged on to an artillery road with 50mph speed limit and I tried to accelerate, I felt complete loss of power and I saw 'Auto start/stop system' warning light come up in the instrument panel. I immediately pulled over to the shoulder. Turned the ignition off and restarted the car. And then, everything was back to normal like nothing happened. I got worried and took the car to dealership. They checked the car and couldn't find any error/trouble codes. To be sure, the had the car for a day drove it with diagnostic tools plugged in and got nothing. I'm still not sure if the sudden temperature drop caused it or why that happened. Fingers crossed it never happened again.
We recently took the car on a 4000 mile road trip spanning 11 states. We drove through a snowstorm and saw temperatures varying from 5 deg F to 70 deg F and the car took them all and performed flawlessly. Towards the end of the trip while traveling back home, I hit a pothole near a travel stop. Blame the 22inch wheels and low profile tires, we had a tire blowout. It was a sidewall damage which couldn't be repaired. Like many modern cars, my GV80 did not come with a spare tire (not even a space saver). And the car had to be towed to the nearest dealership to get the tire changed.
Apart from that, the car just had regular oil changes and recommended maintenance. All Genesis cars come with 3 years prepaid maintenance. So, the only cost I had to pay was for a wheel alignment service done during a recent service at 19000 miles.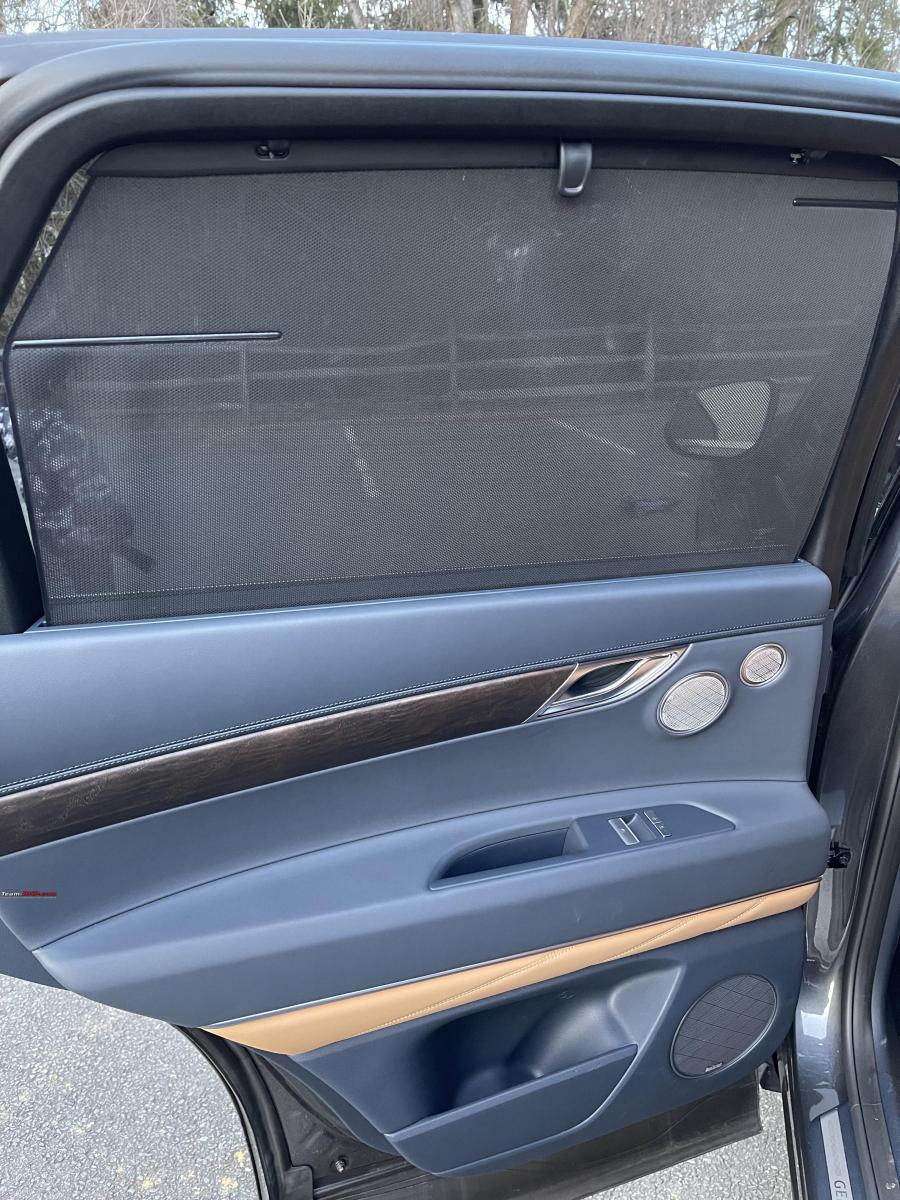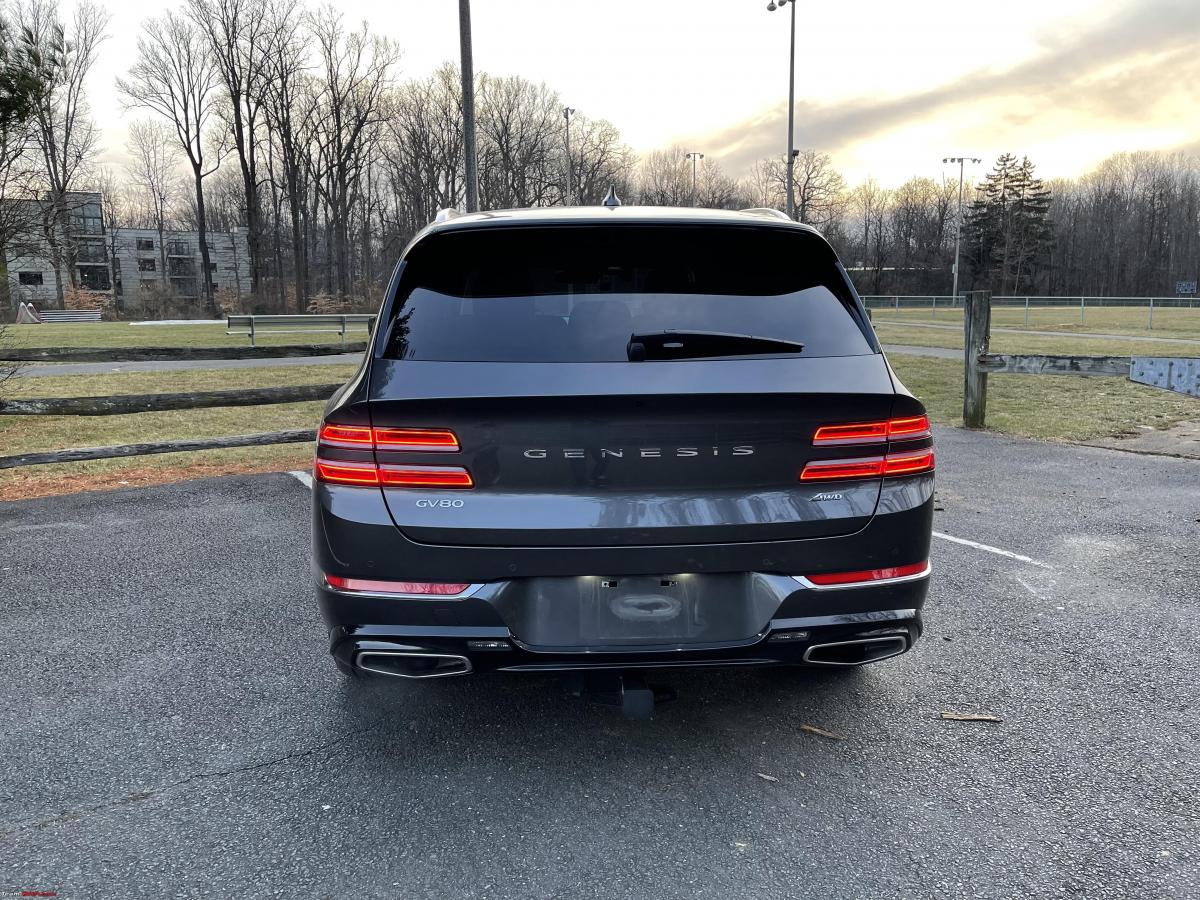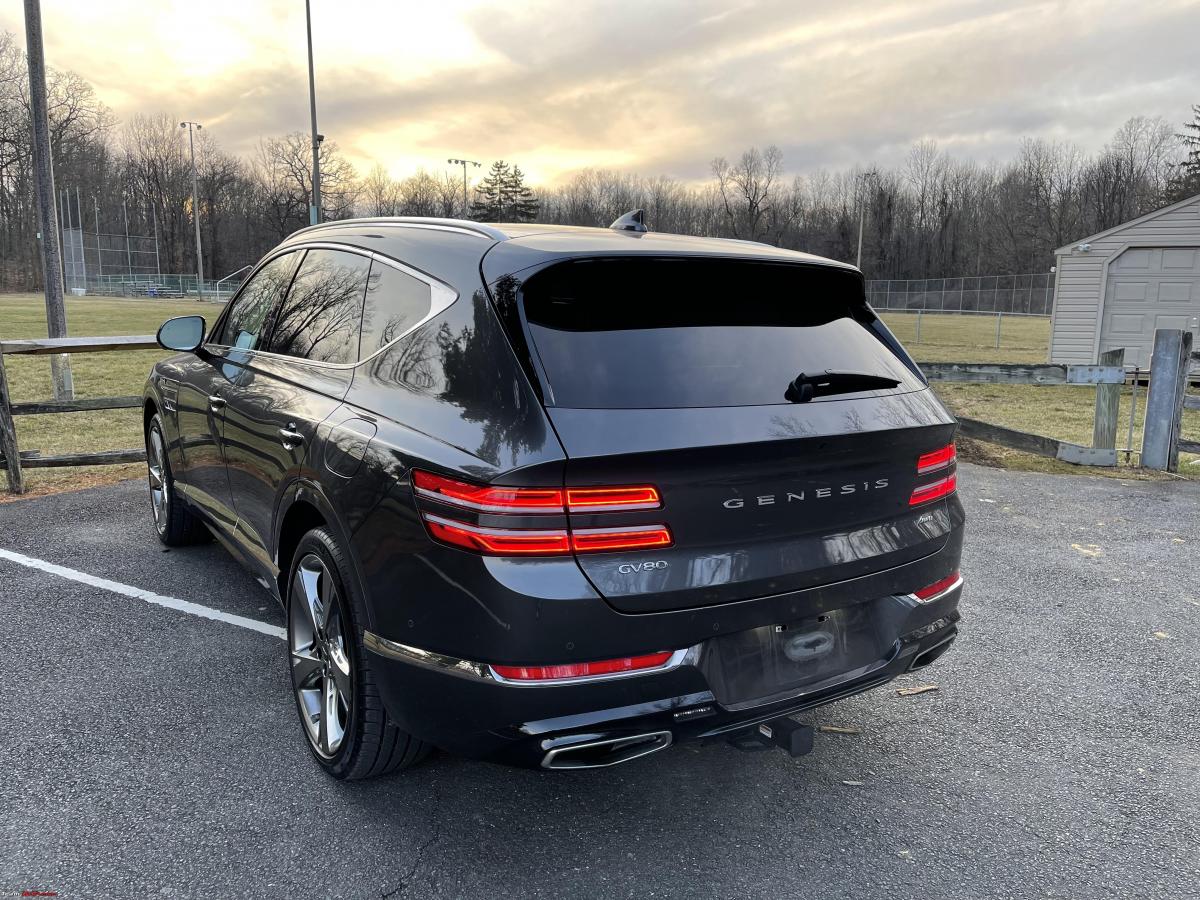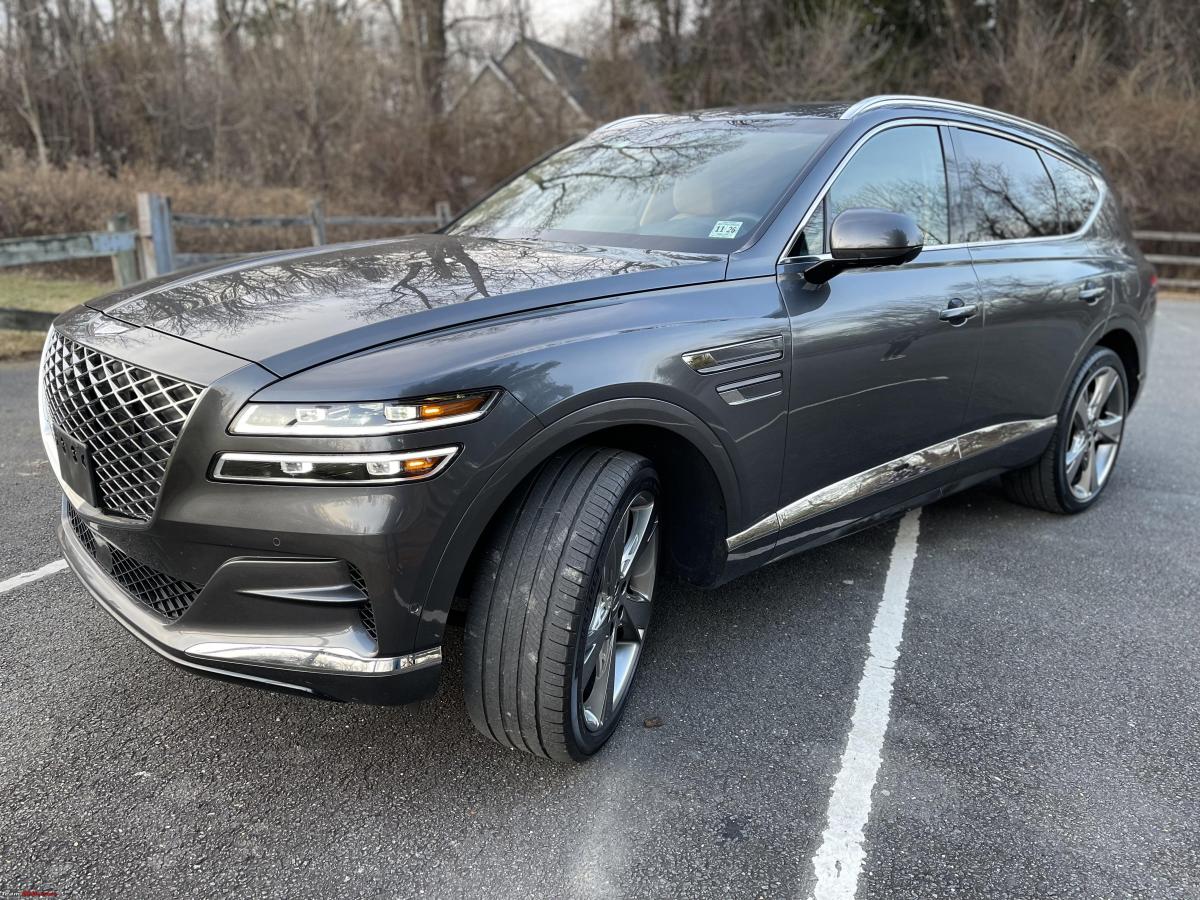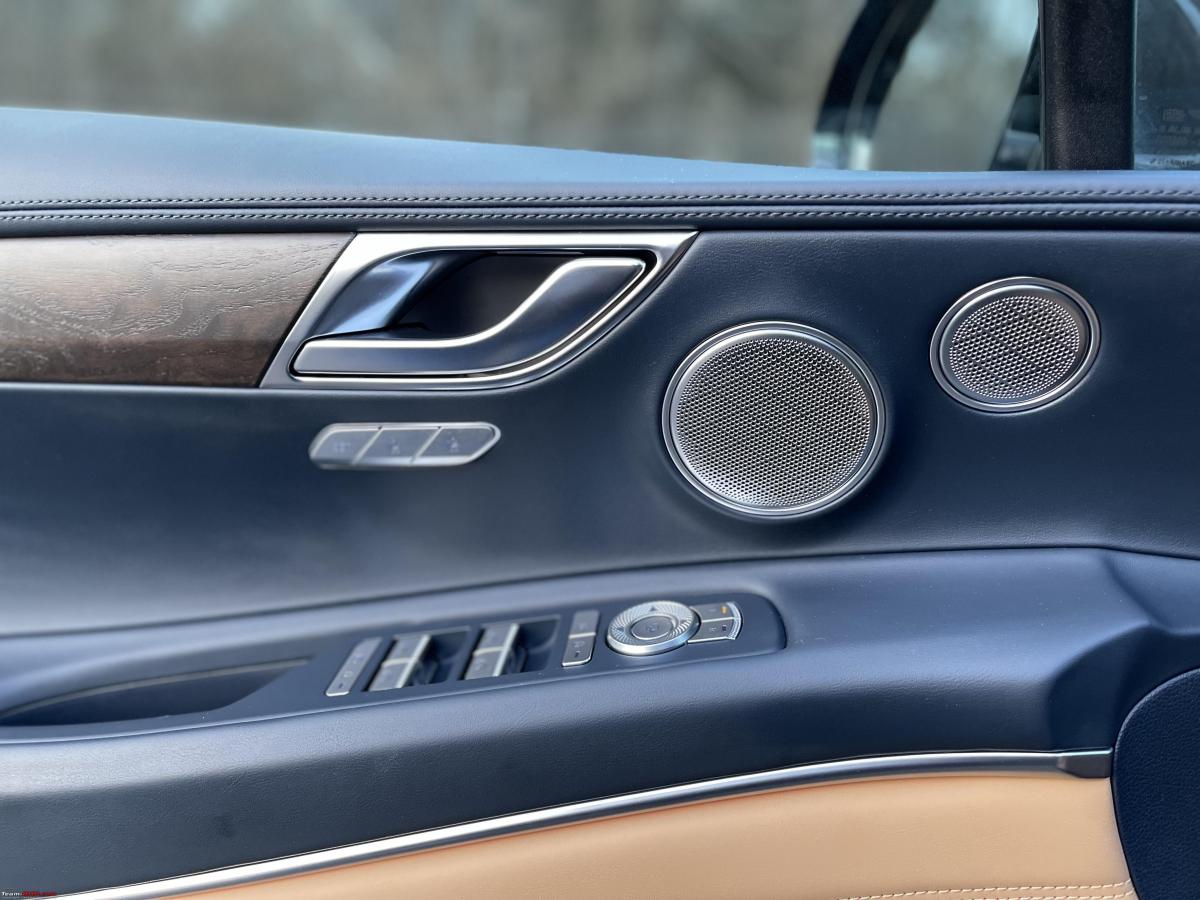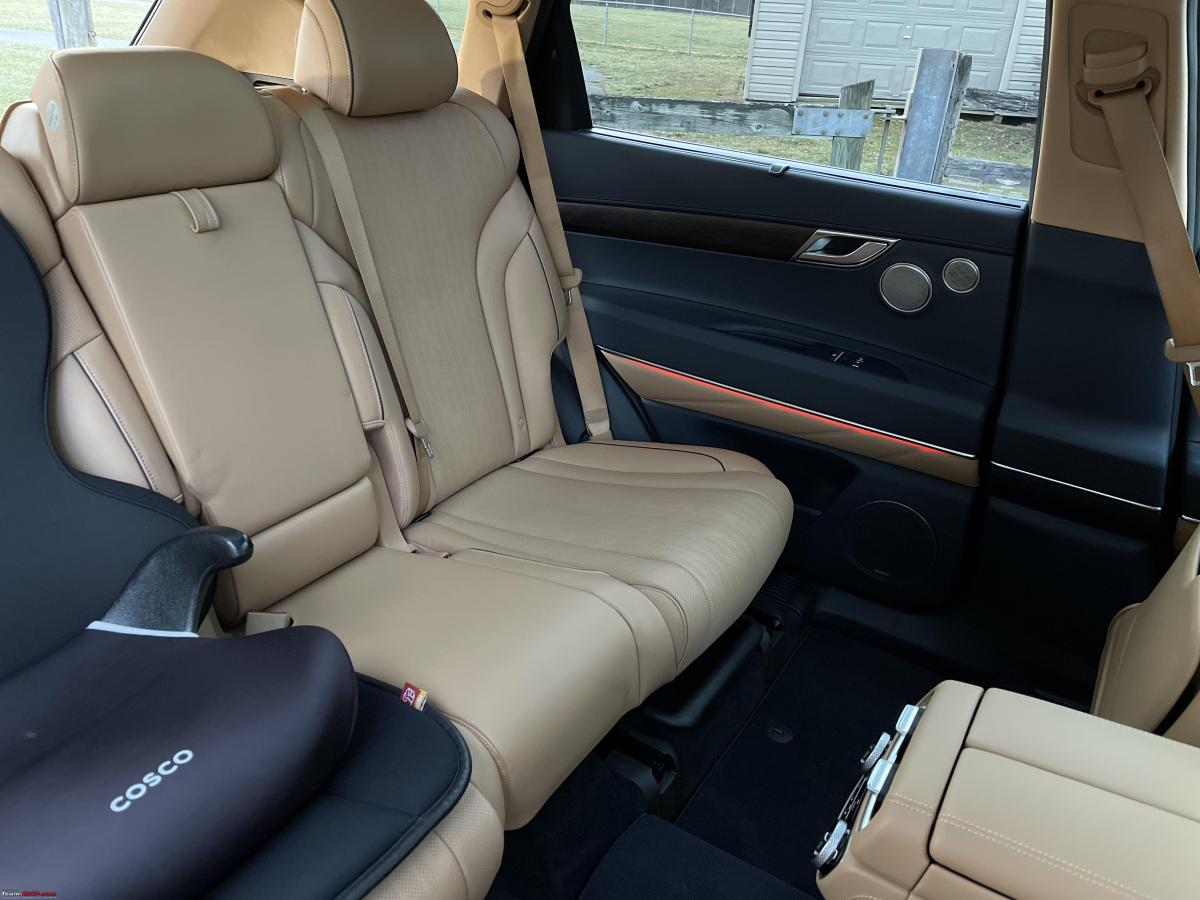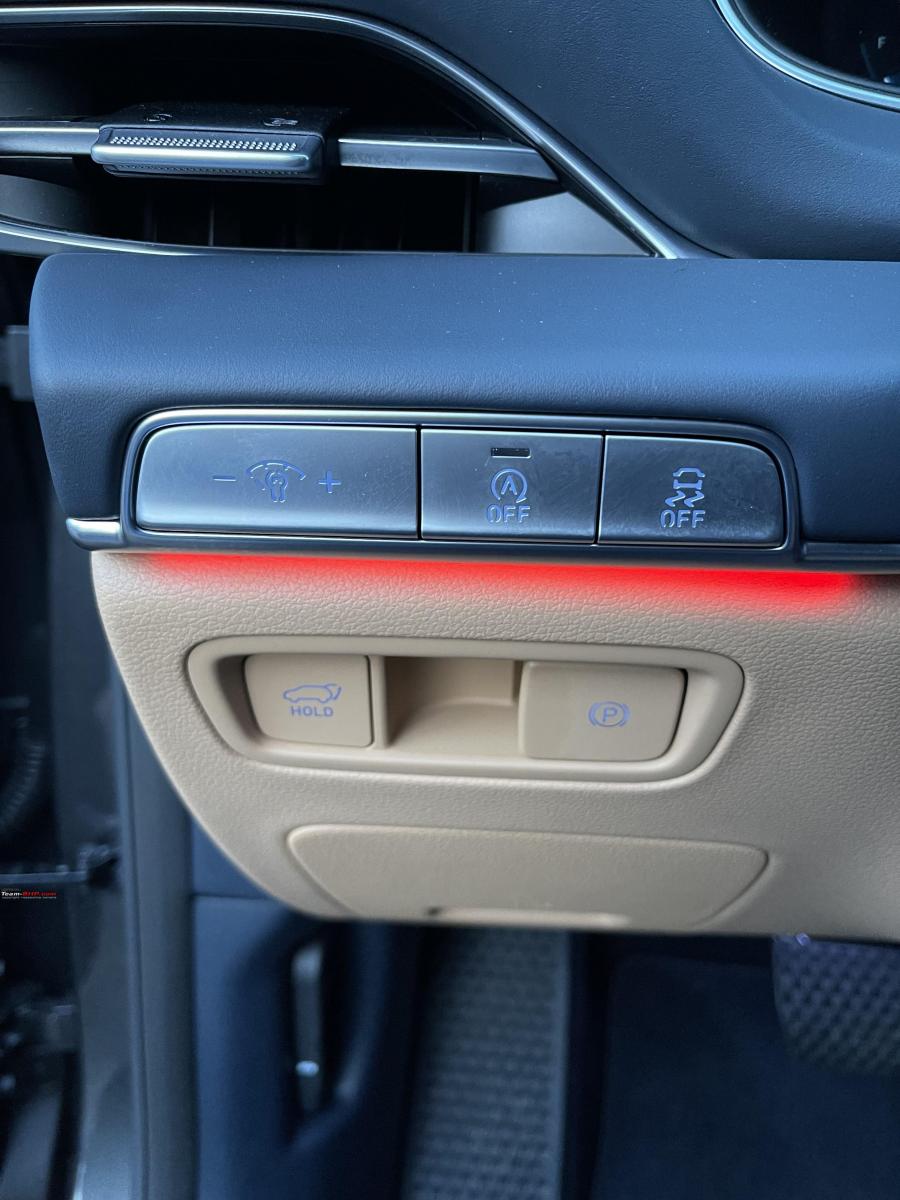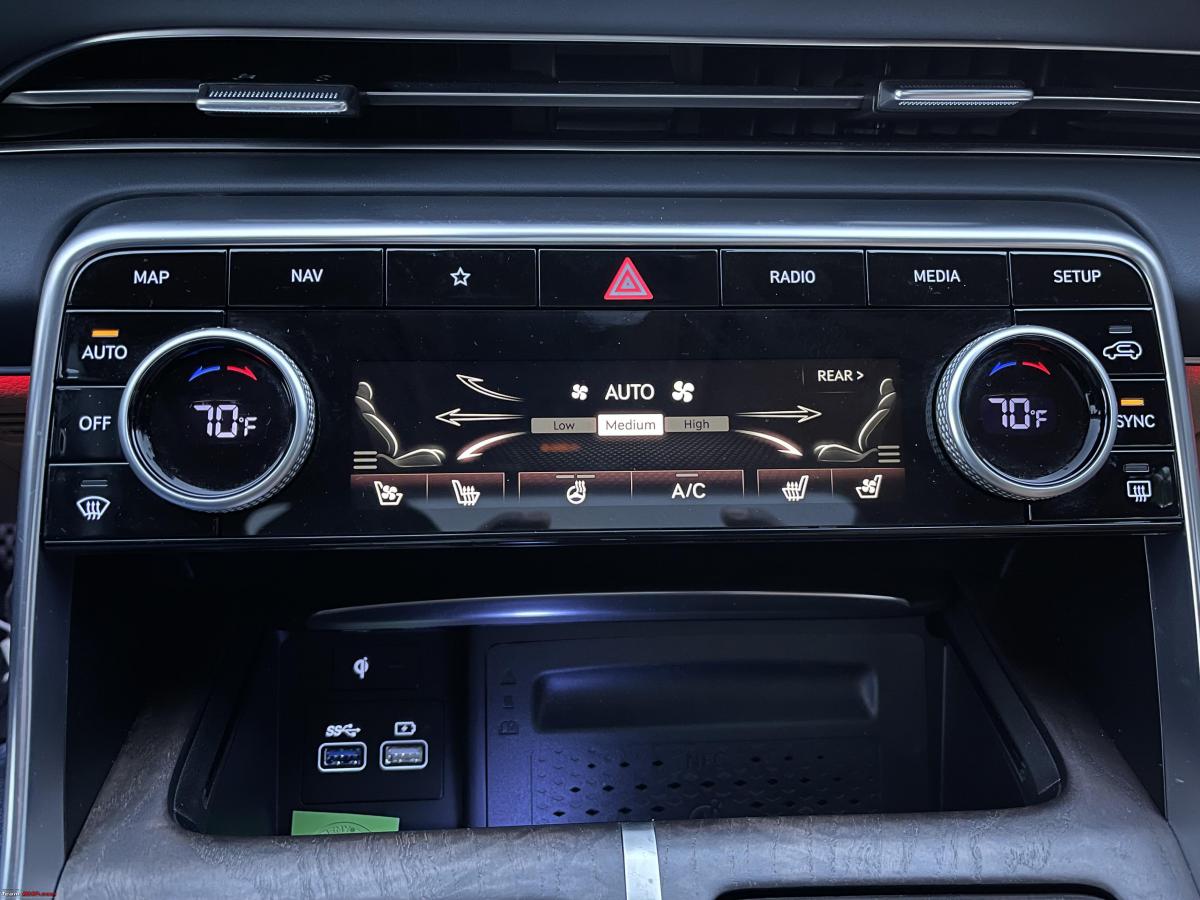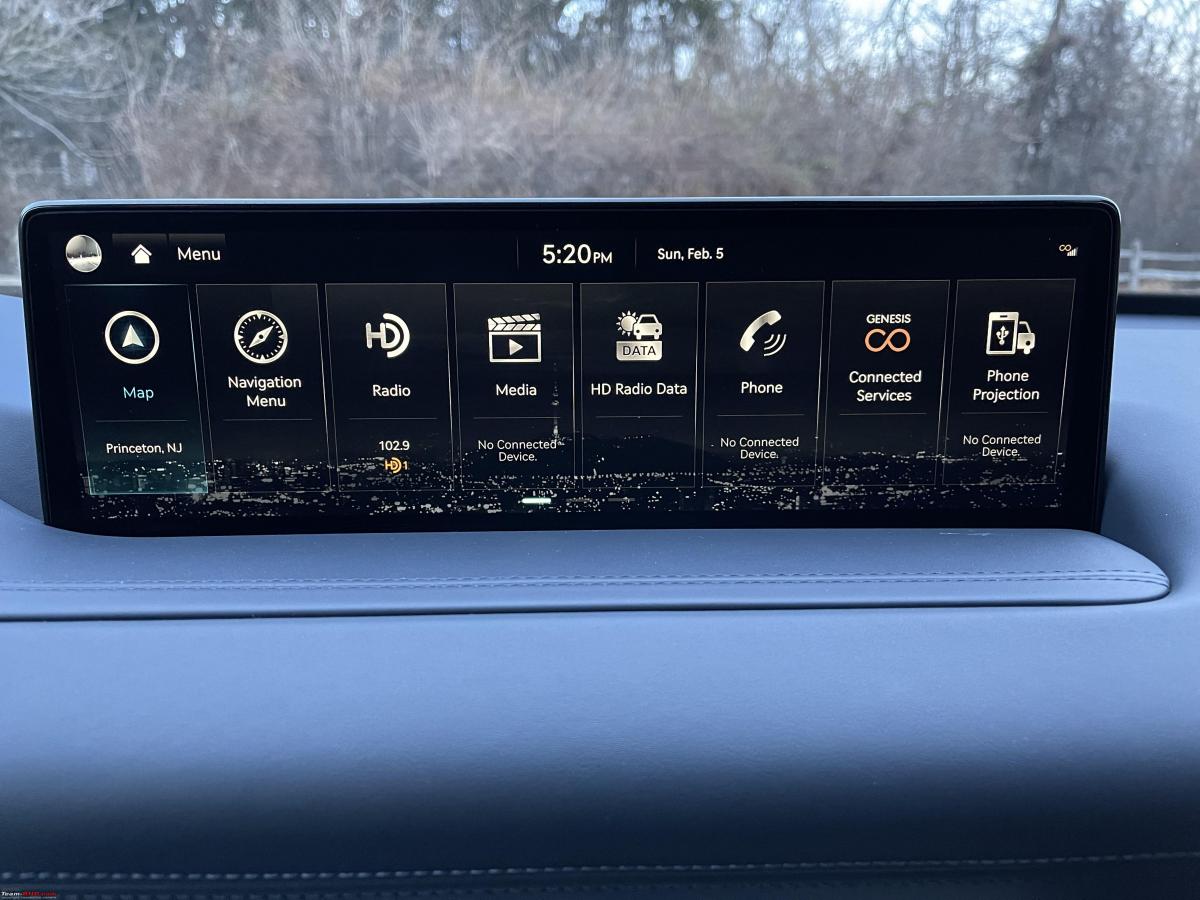 Continue reading on BHPian jeevadeepan's Genesis GV80 for BHPian comments, insights and more information.
Source: Read Full Article