My 2.5 lakh km run Innova: Usage pattern, DIY & other key observations
Comfort has never been an issue for me: be it city slow moving traffic or quick empty road commute, Innova handles like butter.
BHPian sasta_rider recently shared this with other enthusiasts.
Hello BHPians!
In this post, I will cover about following aspects of Innova in addition to the ownership experience already posted before:
City Usage
Long Drive Usage
Do It Yourself (DIY)
Interiors
Number Plate Change
City Usage:
As mentioned earlier, I have been using Innova at Bengaluru for office commute, meet-up with friends and get to relative's place on weekends from Sep-2023. Before this, I had taken Innova to Bengaluru for temporary work twice: once back in Mar-2022 and then again in Jun-2023. Both the times, it was good overall.
Usage:
The distance between my location and my office's location is 6.3 km via HAL Old Airport Road. Then there is alternate roads connecting Indiranagar 100 ft. and 80 ft. road but I usually avoid this route because I will have to wait in a long queue for a U-Turn near Manipal Hospital, Old Airport Road. When I cold start the engine in the morning, I avoid sudden accelaration for initial 2 km. By mid-way of my journey, the engine temperature reaches the optimal temperature (exactly between 'C' and 'H' indicators). Evening, while coming back, I might either go to BTM layout to meet friends and have some good time with them or directly head back to my place. I have not felt any regret commuting in an Innova in a city where it is advised to prefer public transport (end-to-end connectivity is a challenge though). In addition, due to my health conditions currently, I try to avoid crowded public transport and even two wheeler for some time. Hence, Innova has come handy to my help!
Comfort has never been an issue for me: be it city slow moving traffic or quick empty road commute, Innova handles like butter. No complaints whatsoever. With my personal opinion, even parking or maneuvering Innova in the city has never been a challenge for me unlike Dad / Uncle who prefer to stick onto their 2021 WR-V or 2012 Renault Pulse respectively for any city commute.
I always have this fear of fellow commuters when stuck in back-to-back traffic: Will a two-wheeler hit? Will any autodriver scrape? Will any truck / bus from behind lose their brake? All these are unavoidable, but I make sure to keep minimum distance ahead of me for safety!
Long Drive Usage:
Whenever I get WFH (which is not pre-planned by my company), I make sudden plans and exit Bengaluru via Kengeri > Bengaluru-Mysuru Expressway > Madikeri (Coorg) > Sullia > Kasaragod. This is the nearest and less time consuming option for me. The total distance comes out to be 375 km from my location at Bengaluru if taken this route. However, there are other routes as well: Old Madras Road > Goraguntepalya > Nelamangala > Hassan > Shiradi Ghat > Nelyadi > Puthur > Kasaragod but since the condition of highway near Hassan is not acceptable since years, I never wished to opt for this route but planning to try some day.
Apart from this 'work-hometown-work' long drive, long drive trips with friends, colleagues or even cousins has happened before. In the past one month, I have done Bengaluru-Nandi Hills commute twice, only to enjoy the weekend drive as I was lazy to stay inside home. Enjoyed every bit of such short highway (long?) drives: maintain 2500-2600 RPM crusing at 90-100 kmph with the growl of D-4D diesel engine unless some reckless driver decides to cut me in between!
Yesterday (24-Oct-2023), I had this sudden plan to travel to Kasaragod due to WFH plans. Left Bengaluru at around 03:30 PM via Kengeri. It took 50 minutes for me from Indiranagar to Kengeri. From here, for the first time, I controlled my inner monster from revving the engine to all its glory only to check how much fuel economy this 2498 cc diesel engine can provide after 12 years and 222000 km. However, at times in between, I got this urge to hit the pedal and enjoy the cruise! When the Mysuru-Hunsur junction arrived, I realised that today will be a hectic day with traffic due to the Dussehra celebration that was in place.
I exit Mysuru and headed towards Madikeri, not knowing about the situation there. Everything was going good: sun already had set and it had become dark already by the time I exit Mysuru. All thanks to the recent upgrade to the headlight wiring kit which was done at a nearby FNG mechanic who used to work in Toyota, Kasaragod. Before reaching Madikeri City Junction, I could witness some queue of vehicles which I assumed to be due to accident. But I was wrong: my poor brain realised late that it was Dussehra. Upon checking with a nearby police constable, he said that it will not be possible to proceed ahead towards Sullia, due to the procession and celebration. I was advised to take the same route back towards Mysuru till Suntikoppa, from where I should connect to Chettalli and this route will drop me outside Madikeri City without touching the main city center. Upon reaching Sullia at around 11:45 PM, I filled my tank up-to auto cut-off from a Nayara Fuels. I have this mental affinity towards their fuel due to the reason that I get 'better' fuel economy compared to other outlet diesel fuel! I have started to include the fuel logs into the 'Fuelio' app, and to my surprise, I got a 'good' fuel economy of 11.50 kmpl which is quite decent for this aged and old Innova!
So, highway drives are always welcomed by myself: be it planned or sudden get-aways!
Do It Yourself (DIY):
In Short: Painting the Drum Brake Covers
Last month I was at hometown, and was feeling bored one fine Sunday. At Kasaragod (any coastal region for that matter), the time it takes for rust and fungus to form is minimal. I had this guilty trip to Muzhappilangad (Drive-In) Beach, Kannur back in 2019 which I regret today. I was not aware that the biggest enemy of any metal, rust, can cause expensive damage(s)! Due to my 'enthusiastic' drive, drifts and water-splash moments, rust had started to appear inside the bonnet area, near to windshields, parts around engine which are mainly made of metal and obviously, the lower body of the vehicle after one week. Another mistake I did was, not wash the vehicle well after coming back to home. I should have done that, and the chances of excessive rust could have been avoided. Now, coming back to the DIY.
The wheel alignment was on due, so I removed rear right wheel using the stock stepney jack kit. I had two sets of automobile spray paints (one set white which will be my base coat, followed by one set jet black, which will be my final coat). I have a hand-held drilling machine as well. Now, one missing part was the metal brush, which was somehow arranged on a Sunday from nearby tools shop whom I know.
The metal brush was inserted inside the drilling machine where we usually keep the drill bit tightened, as shown below: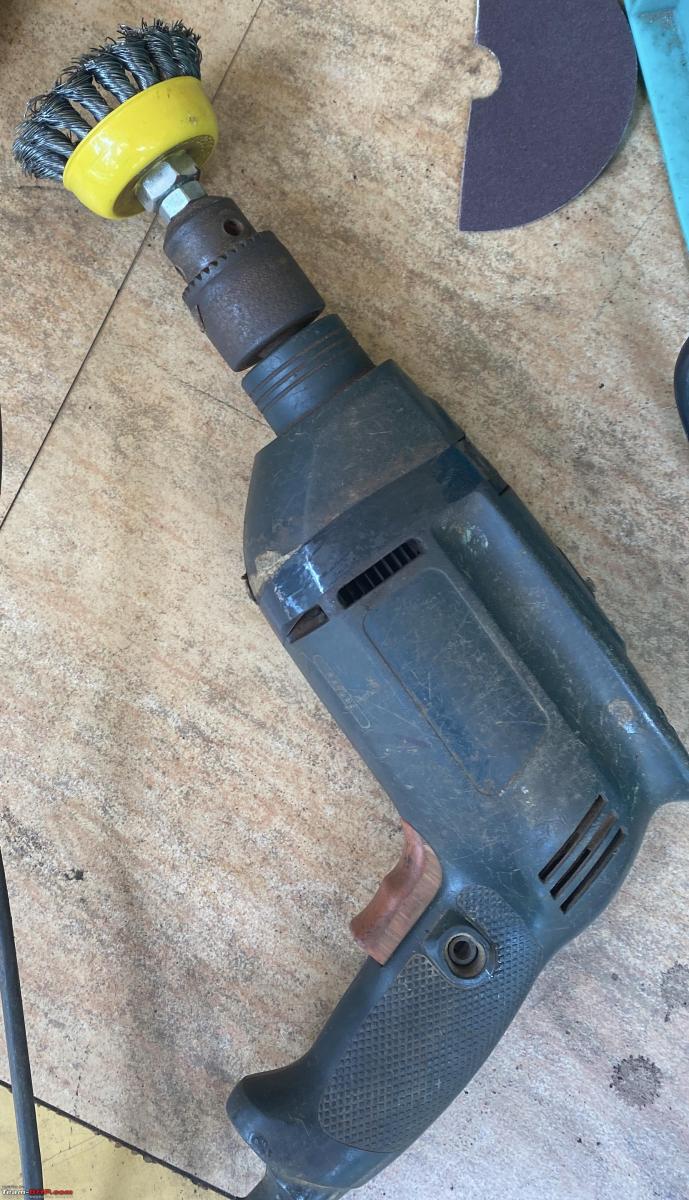 I had ensured the metal brush was secured tight, to avoid any damage to self.
Using this, I scraped all the rust that was accumulated. Let pictures do the speaking:
Before rust removal.
After Rust Removal followed by two layers of spray paint (one base coat and one final coat)
The time between each coat was around 30 mins, and the covers were kept under the sun for drying. Once completely dried up, I put back the drum brake covering, followed by placing the wheels and securely tightening the wheel nuts.
First DIY on the Innova, which I was not confident enough would work, was a small success! It felt so good giving this care and looking forward to more such cost-cutting DIY which will not pose any harm for the vehicle / passengers as such.
Interiors:
Below is the image from the cockpit – driver side POV: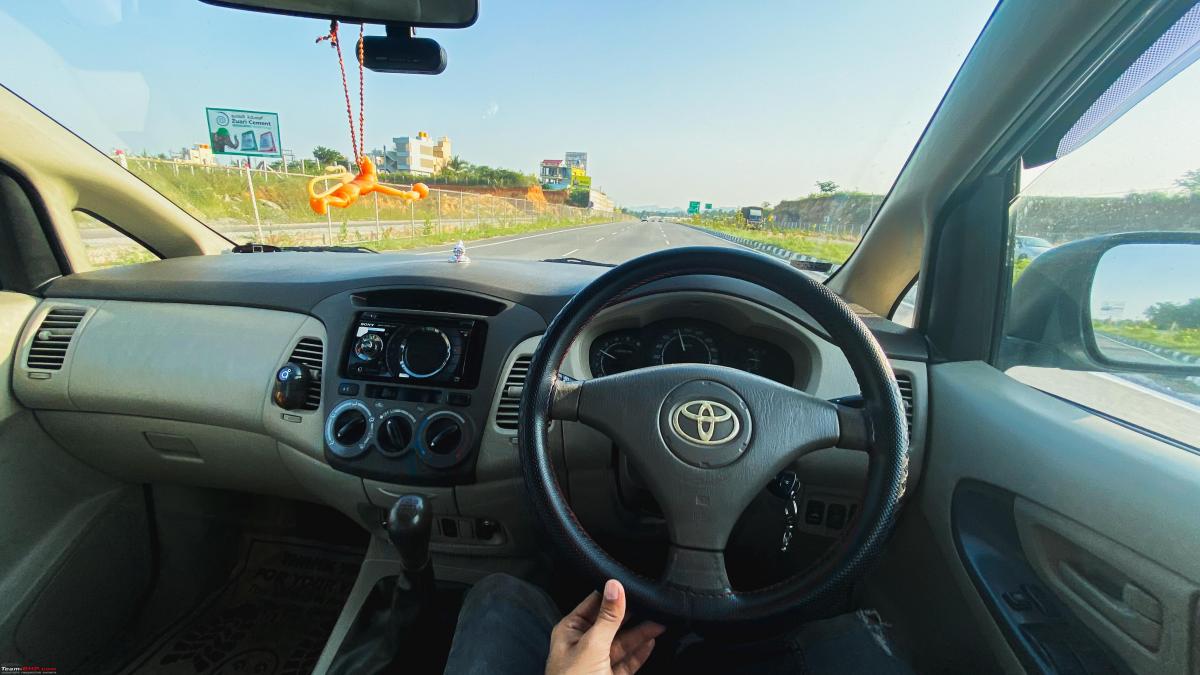 At the time this image was clicked, the ODO reading was somewhere close to reach the '222222' km. But could not capture this beautiful moment due to obvious reasons, hence the above image taken on Bengaluru-Mysuru Expressway when I was the only one on the empty roads!
When the vehicle was delivered back in 2011, the car was taken to a popular car accessories shop nearby. Following work was done which still does its job pretty well:
Sony Xplod Music Stereo. This was a pretty decent audio system available back the within our budget. Till date, I do not feel like shifting to a touchscreen infotainment system (which for me is distracting and I love certain things old school way).
Set of Pioneer Speakers just near the 'A' pillars and below the roof, for better audio quality.
Floor carpet (this was replaced with new one again in 2017 due to wear and tear).
Seat covers matching the 'Light Metallic Blue' color of the body frame.
Fog lamps and its enable/disable button from Toyota.
Steering cover, which is of pretty good quality and provides good grip & feel for single-handed drivers like me. The existing one seen in pic above was put in place on Mar-2019.
Currently, there are some cluttering noise coming from various sources:
Front and Middle Row Seat Tracks.
Power Window of Driver side has some issue when the windows are partially lowered at some points.
The double sided tape of the passenger side window rain guard has become lose, which rattles on high speeds that is distracting. A simple DIY should fix this.
Number Plate Change:
The previous number plates were just the punched ones which were in place since years, had a lot of scratches which can attract 'challan' under any AI driven cameras being implemented across India. So, to avoid any unnnecessary contribution towards the Motor Vehicle Department, I approached a good car acessory shop near to 80 ft Road, Indiranagar to enquire about the HSRP number plates, which has been made mandatory in Karnataka for vehicles older than year 2019. However, he advised me that the discussion on HSRP is still in the pipeline and I need not worry at present, but instead can go for the standardised 'punched' number plates with 'IND' marking. He showed me some samples, I agreed for the one with blue stripe on the left and got the current plates replaced the next day for INR 800/-. I felt the price nominal too.
Finally, my short-term OCD was fulfilled, and Innova is getting its much required pampering and care that was missing when it was 'rotting' at home with less usage!
After the last periodic service in Aug-2023, the vehicle has clocked ~3500 km so far which included city only, highway only and both types of runs. Will keep you all updated in this thread on more such DIY, service updates and if any restoration work is done.
Drive Safe!
Sud.
Check out BHPian comments for more insights and information.
Source: Read Full Article