Mixing It Up, We Put a Race Car Driver in a Lamborghini Hurac\u00e1n Evo Road Car
Last year, I drove the Lamborghini Huracán Evo at the Bahrain International Racing Circuit. At that event, Lamborghini only offered a drive on the racetrack. And in that story, I said, "Lamborghini claims all the new tech makes the Evo ride better down the road and feel more luxurious—when the anima (which is what Lamborghini calls its drive mode selector) is in strada, or street, mode, the LDVI instructs all the systems to keep calm. But Lamborghini only offered me drive time on the track, so I can't confirm or dispute that."
Well, now I can: I recently got a chance to spend time in a Huracán Evo, and I'll say right now—it is confirmed!
And when you have a Lamborghini, why not also have a professional Lamborghini driver? Bryan Sellers, lead driver of Paul Miller Racing's Lamborghini Huracán Evo GT3, fits the bill perfectly. He gets in the driver's seat for a spell and helps me assess the 5.2-liter naturally aspirated V10 Evo and all its 631 hp on the road.
First of all, note that Sellers and I easily carry on a conversation driving the Evo on public roads. In fact, it's remarkable how civilized this supercar can be. I connect my phone with Bluetooth. The Evo has navigation, satellite radio and cupholders—Starbucks cup-size cupholders no less. Having the anima switched to strada means it's downright comfortable. The seven-speed dual-clutch transmission shifts smoothly, and the ride from the adaptive dampers nears creamy consistency.
But Sellers and I don't last long enough in strada drive mode to take advantage of the ride and the rest. He is a race car driver, after all. And despite having his dream job of racing Lamborghinis, he very rarely gets to drive them on the road. He wants to spin the V10 to its 8,500-rpm redline, feel the power and how well the all-wheel-drive system puts it down to the road. He wants to spend his time in corsa mode. I hold on.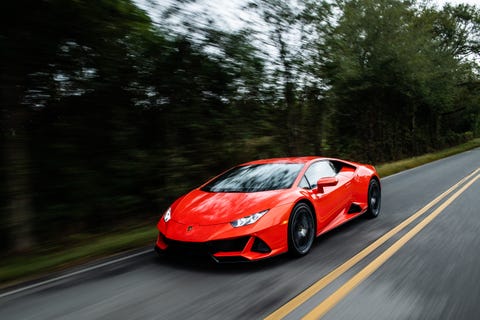 "For me, you're buying a Lamborghini because you want the performance, right?" Sellers says. "So you might as well put it in the biggest, baddest mode they have. Even when you drive these back roads, you feel good driving it, like it wants you to go fast. Corsa is my go-to."
Strada and corsa, or track, make up two of the three Huracán Evo driving modes, the third being sport. And sport proves both Sellers' and my least favorite. Don't get me wrong—it serves a meaningful purpose; if you want attention, it's easy to get in sport. But it's the least natural feeling mode, which is a car-purist demerit. And you can't get much purer than a professional race car driver.
Sellers puts it this way: "I immediately noticed the increased roll stiffness in the car between sport and corsa mode. In corsa mode the car is much more responsive because of the increased stiffness … sport mode has quick power delivery. But the corsa mode feels more linear and progressive."
The differences between modes aren't subtle. That's because the Huracán Evo uses tons of technology to change the character of the car. In addition to magnetorheological shocks (an adjustable shock that uses metal-infused oil and electromagnets to affect viscosity), the Huracán Evo has brake-based torque vectoring, rear-axle steering and a mechanically locking rear differential. And all of it is used to give the car a neutral feel and fast responses.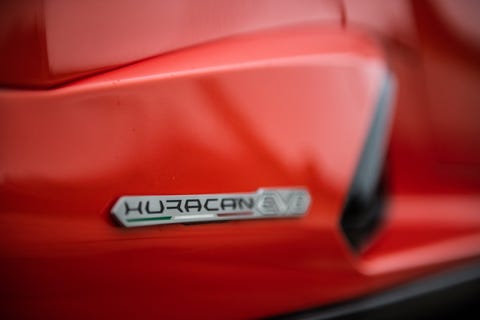 Another roadgoing Lamborghini Sellers drove recently was the more hardcore Huracán Performante—for 10 days. It was a thank you from the Sant'Agata Bolognese-based company for winning a championship in 2018. And Sellers sees a lot in common with the Evo and Performante: "I think the Evo is not that far away from the Performante. It's certainly a big step from the standard Huracán. The balance of the Evo is closer to the Performante. It's a good improvement (over the standard Huracán)."
I agree completely. As I said in my original review, "Regardless of driving mode, the Evo is playful—fast steering, responsive to all drive inputs and immensely quick. Whereas the Huracán could be coerced into sliding the rear, the Evo welcomes it, almost eager to make some smoke. It's not despite the myriad 'safety features' added to the car, but because of them."
Lamborghini uses modern technology to make its cars more fun and add more feel, not the other way around. And now I can say with confidence that's true on both the track and the road.
Source: Read Full Article