MG ZS EV ownership review after 1 month & 3,800 km
The electric vehicle offers a silent & vibration-free driving experience but for a Rs 27 lakh car, it is missing some important features.
BHPian speedmiester recently shared this with other enthusiasts.
Quick Summary
This is an initial ownership review of my white MG ZS EV, which I have christened as Lightfury. After spending a little over a month with the ZS and clocking more than 3800Kms on my MG ZS EV, here is a quick summary of the Positives and Negatives.
Positives
Smooth silent vibration-free driving experience
Quick acceleration and sub-10sec 0-100 time means a lot of fun on the highways
Full suite of safety features. This includes 6 airbags, TC, ESC, ABS, Blind spot monitoring and 3-point seatbelts for all passengers
Long range of 350-400Kms even at good highway speeds makes it a competent highway car
Excellent build quality with pleasant interiors
Long list of features including 360 camera, connected car technology, sunroof, cruise control, Bluetooth key, remote monitoring, selectable regen, music app etc
Excellent coverage on warranty, service pack, RSA
Full-size spare wheel
Negligible running and maintenance costs
Negatives
Some important missing features for a car costing 27L. This includes steering reach adjustment, lumbar support, auto-dimming IRVM, ventilated seats
Softer suspension leads to a bouncy ride on undulations at higher speeds
Lack of Lumbar support means that I cannot drive as long as my other cars without a break
Headlamps are adequate, but not great. Non-availability of fog lamps only compounds the issue
Minor irritants while using the touch screen infotainment system
First Road Trip
Background
Though I consider myself a petrol head, I always had a soft corner for EVs. This started with a quick test drive of Reva-i in 2012. I was happy with the convenience of an automatic and the effortless drive on traffic-clogged roads, but the negatives outweighed the positives and this was not the car for me. This didn't stop me from following the EVs' journey across the globe, I always had a want than a need to buy an EV.
In the meantime, Mahindra bought Reva and launched E2O in 2013. Zoomcar then had a fleet of E2O for self-drive rental, this gave me a chance to test the car for a longer time to convince myself of its utility as a city car. Even my wife loved the ease of driving E2O in the city as she had just learnt to drive.
Though E2O was better than Reva in all aspects, the high initial cost was a downer and the plan to buy was put on the back burner. In Mid 2014, Mahindra started offering battery lease as an option to owing E2O which significantly reduced the initial purchase price and also offered peace of mind on the unknowns of owning an EV as any issue with the battery would be taken care of by Mahindra. In Oct 2014, took the plunge and bought the E2O with the battery lease option. This is the top variant but with a lesser range of 80Kms, but the range was a non-issue as it would be used strictly as a city car. We used the car for the next 30 months and covered around 22000 kms before selling it.
Positives
Quiet and effortless driving in the city
Ridiculously low running cost
Zero maintenance cost, didn't even spend a rupee for the three periodic services performed on the car
Ease of parking
Scratchproof and dentproof body
Negatives
Build quality, a lot of issues with the body panels
Lack of well-trained personnel for servicing the cars
High cost of spares
Stiff suspension offered a very bad ride. As a city car, this became a major problem as the Bangalore city roads compete with Moon's craters
With the E2O, I never worried about the range. We used it extensively within the city. The SOC and Range prediction was accurate and even with AC I always got 80Kms or more. There was no degradation of the battery till the time I had the car. I decided to sell the car as the bad ride was affecting my then-pregnant wife and the lack of rear doors also made it an impractical car for us. I looked at exchanging it for E2O plus which came with 4 doors, but the new battery offered in it was worse than the one in the E2O in terms of regen and range. Even the eVerito was a big let-down. With no viable EV in the market, I had to put the EV plan on hold.
Launch of mainstream EVs
I was keenly following the EV market and the news of Hyundai launching Kona in 2019 put my EV plans into focus again. I was at the dealership on the day of the launch and took a short test drive, I was very impressed with the Kona and this was an EV that can replace the ICE car. But I had moved to a new role which offered permanent WFH so it made no sense to buy an EV if I am not commuting.
Also, there was news of Tata launching Nexon EV at a lesser price and MG coming up with ZS which offered much better space than Kona. I prebooked both Nexon EV and MG ZS on the day of their launch. Test drove both Nexon EV and MG ZS in early 2020. Found both to be competent EVs in spite of a few negatives. I was more inclined towards ZS as it offered more space and I could do Bangalore-Mysore-Bangalore in a single charge (which accounts for 70-75% of the yearly 25K Kms I drive). By the time, I made up my mind and convinced my family on MG, covid was making inroads into India and it was time to be cautious. The lockdown and associated pandemic issues put all car purchase decisions on hold.
2022 and the new car itch begins
There was absolutely no need for us to buy a new car as our two cars were doing their duties without any hiccups. The itch to upgrade was always there, I was only interested in pre-owned cars if going for an ICE car upgrade, but the used cars are no longer VFM as it's a seller's market out there.
The news of extended range versions of Nexon and MG ZS also kept the EV bug firmly planted in my head. I had booked both Nexon EV max and MG ZS EV much before the launch. My heart was set towards Nexon EV max, but my family liked the larger ZS. It also made sense as ZS came with a larger battery and a full suite of safety features. It helped that the ZS was available earlier to Nexon EV max.
Booking and Delivery Experience
I booked the ZS at MG Motors Electronics City branch. Booking and other formalities were smooth and found no issues there. Only issue I faced was when the dealership insisted on paying fully for the car to be allocated. I was assured that if there are any issues in the car, there will be a full refund or another car will be allocated. Though the dealership insisted on getting their own insurance, I pushed back on it with the quote I received from the market. Finally, they relented and I saved 40K just on insurance. In terms of accessories, I only opted for 3D mats and mudflaps.
The car was in Bangalore in the first week of July, but I wanted to take delivery on my Father's birthday. So I did my PDI and gave consent to registration closer to the delivery date.
I would rate the booking and delivery experience as 4.5/5.
Delivery Day
About the Car
Exterior
Since the official review covers this part very well, I will let the pics do the talking.
The front is dominated by the big grill, which is body-coloured, which also houses the charging port. The front camera is located below the MG logo.
The side profile is nearly identical to the earlier version. Changes include chrome on all door handles and the wheel caps over the alloy wheels which aids aero. Door request sensors are available on both Driver and Passenger sides.
Chrome Door Handles with request sensor
Alloys with Aero Wheel caps
Front three-quarter view
Rear three-quarter view
The rear of the car has a few changes. This includes the LED rear lamps that are similar to Astor. The bottom part of the bumper has redesigned reflector elements. The number plate housing is now body colored. The rear wiper arm also houses the washer unit.
Rear lamps
Only one rear fog lamp on the right side.
Headlamps are LED with DRLs.
LED DRLs
Headlamp in action
The ORVMs house the cameras for 360 view and the mirror has blind spot monitoring lights. They flash if you use indicators when the system detects a vehicle in the blind spot. Very useful in the rains and in low light conditions.
360-degree camera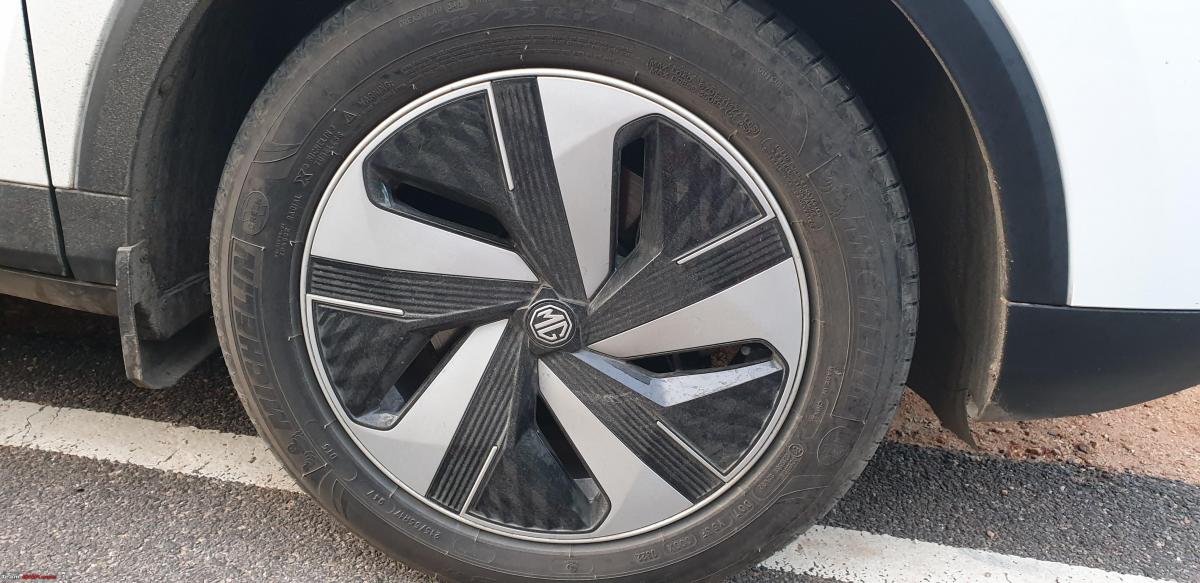 Tyres are Michelin branded 215/55 R17 profile, the earlier version had 215/50 R17 profile. These are low resistance tyres. The recommended air pressure is 41 PSI, strangely I have not noticed any harshness in the ride. These are imported from China and cost of whopping 22K per tyre as per the service advisor.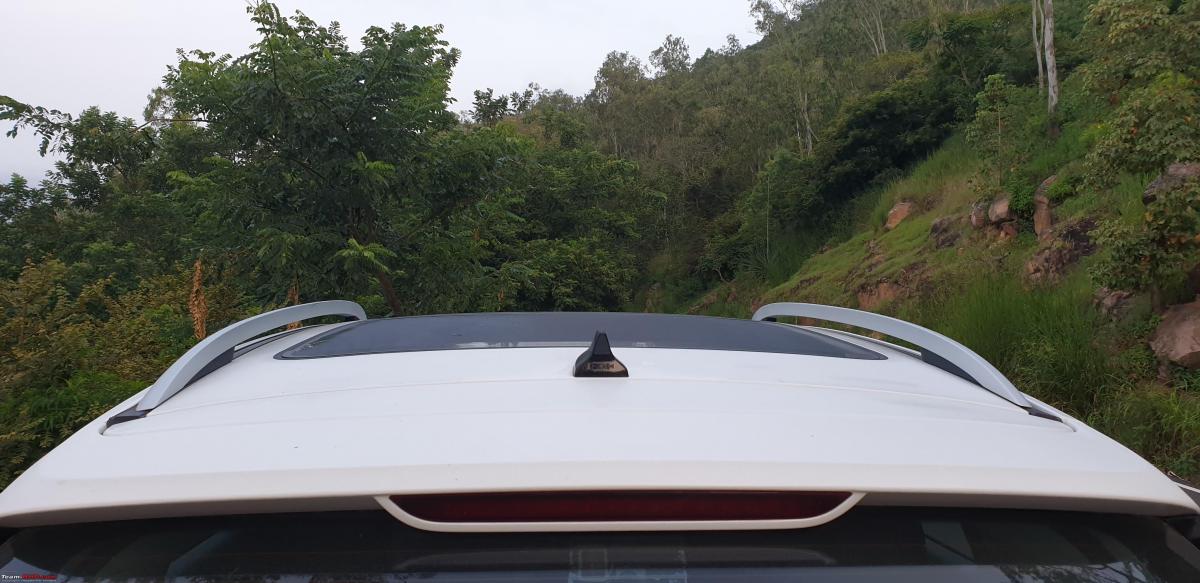 The shark fin antenna is coloured black. Roof rails are standard and so is the sunroof.
Ground clearance is 177mm which is adequate. The underbody is flat and well protected.
Charging ports with redesigned flaps. The earlier one had a rubber cover, the new ones have a spring-loaded mechanism to open the flaps.
Continue reading speedmiester's ownership experience for BHPian comments, insights and more information.
Source: Read Full Article