Mercedes C300d vs BMW 330Li compared as worthy successors to my Octavia
Having driven a 170 bhp turbocharged petrol engine with the super-slick 7 speed Dry Clutch DSG, I'd like to believe my standards on drive quality are pretty high for my next car.
BHPian krishnadevjs recently shared this with other enthusiasts.
Background:
Back in 2017, we decided to upgrade from our 3 year old Honda City Diesel. After much research, plenty of test drives and comparison (Audi A3, Hyundai Elantra and Toyota Corolla were the other cars in the ring), we finally ended up choosing the Octavia 1.8L L&K model.
Our Octavia after a nice, detailed wash.
The Octavia was definitely an upgrade from our previous car, in all parameters – driving dynamics, driving feel, comfort, dimensions, features, safety, road presence, space, practicality, looks, almost everything!
It was simply too good a car at that price point – almost 27 lacs. At double of what we paid for the City, it sure felt twice as good as the City.
Till date, I've done 50k km in 4.5 years, despite 2 years of the pandemic. This includes 4 round trip drives from Mumbai to my hometown, Thiruvananthapuram, Kerala, and many other road trips within Maharashtra. Never has the Octy failed to bring a smile to my face. There hasn't been a single day when I don't look back at the Octy after parking her and walking away.
Despite the threat of the DQ200 gearbox hanging over us, we've been quite fortunate to have a fuss-free ownership experience.
Even in terms of service, we were pretty happy – except for one bad experiences in JMD Skoda, the Mumbai service center. In fact, the Trivandrum Service center, Malayalam Skoda where we did 2 years worth of service, was truly amazing!
In these 4.5 years, except for one instance of noise coming from the steering column and another where a suspension bush had to be tightened, there has been ZERO trouble with the car so far, apart from regular maintenance.
My wife says I look after my car better than I look after my daughter. She may be right, because the Octy does not look like she's 5 years old. She's in an immaculately maintained condition, with no signs of wear either on the exterior or on the interior. Every colleague/friend of mine who gets into my car, has commented that I maintain my car really well.
The above photo, in fact, was taken last week.
All in all, I have no reason to change my car.
I love my Octy too much even now.
It serves all my requirements very well.
It's such a good car that upgrading from it is such a challenge.
Being a car fanatic, right from childhood, I've always looked up to luxury brands – especially a Mercedes Benz or a BMW or an Audi. Over the last few months, there have been some changes in my life, both from a personal and a professional POV, which have put these aspirational brands within reach.
While I was sure I'd own one of these brands at some point in my life, the temptation of having one right now simply proves too strong to ignore. While the heart says I should plunge right in and get my first luxury car, the mind says I could possibly wait a couple of years, especially given how good the Octy drives/looks/feels.
But then, looking never hurt anyone. So, I decided to step into the car market once again, after a gap of 5 years, and at least evaluate a worthy successor to the mighty Octavia.
Criteria:
Now that I decided to evaluate options, I noted down stuff that mattered to me:
Only Sedans:
For me, a car needs to have a certain shape and proportion. It needs to have a hood, a cabin and a boot. It needs to look like a sedan.
That they have superior handling characteristics is the cherry on the icing.
I did try out an SUV, and while I did like the high seat position as well as the fact that the bottom never scraped, I did not like the comfort of it; neither did I like the proportions or the way it looked.
Driving Experience:
I'm the kind of guy who doesn't hand over his car to even a valet for parking. I always prefer driving myself and cannot even fathom having a chauffeur. Hence, this new car too would be 100% self driven.
Having driven a 170 bhp turbocharged petrol engine with the super-slick 7 speed Dry Clutch DSG, I'd like to believe my standards on drive quality are pretty high.
Our upgrade would need to satisfy my need for a fulfilling drive. This means a quick throttle response, very nimble and precise steering control, exciting engine sound, super quick imperceptible gear changes, the option to do manual shifts (esp with paddle shifters), quick acceleration (the kind that pins you to your seat) and great handling characteristics.
It is juvenile, but I still like being the first one off the line from traffic lights. The Octavia served very well for that requirement – the new car too needs to be extremely good to drive.
Feature Rich & Plushness:
Given this is supposed to be an upgrade over an already feature rich car, the expectation is that the new car would be loaded to the hilt with the latest gizmos, driving aids, safety aids and creature comforts.
The Octavia already came with a sunroof, auto-parking, keyless entry and go, ambient lights etc. So, the replacement should justify the premium. While the Octy was worth 2X the price of the City, the replacement (which would likely be 2X the price of the Octy) needed to atleast be 60-70% better.
Further, how good the car interiors look and feel would be a key criteria for selection.
Safety:
We do quite a lot of highway drives, and safety is a non-negotiable requirement. In addition to passive safety features, I would be looking forward to having more new-age active features.
Comfort/Space:
We'd soon be a family of 4 – with 2 car seats. So, the new car absolutely needs to be comfortable with a good amount of space inside the cabin. Since we also do quite a few road trips, it should have a nice amount of space in the boot. We've been quite spoilt for boot space, courtesy the cavernous 590L boot space in the Octavia.
Brand Value:
As mentioned earlier, I really don't need an upgrade right now, as our Octavia is absolutely perfect in terms of satisfying our needs. It's more of satisfying my itch for an aspirational car that the new one is for. And one of those perks that comes with such a car is the snob value that comes with it. This is something that would probably tilt the scales in favour of a luxury brand over a more logical choice like a Volvo.
Cars considered so far:
BMW 330i M Sport / 330 Li M Sport:
The BMW 330i M Sport.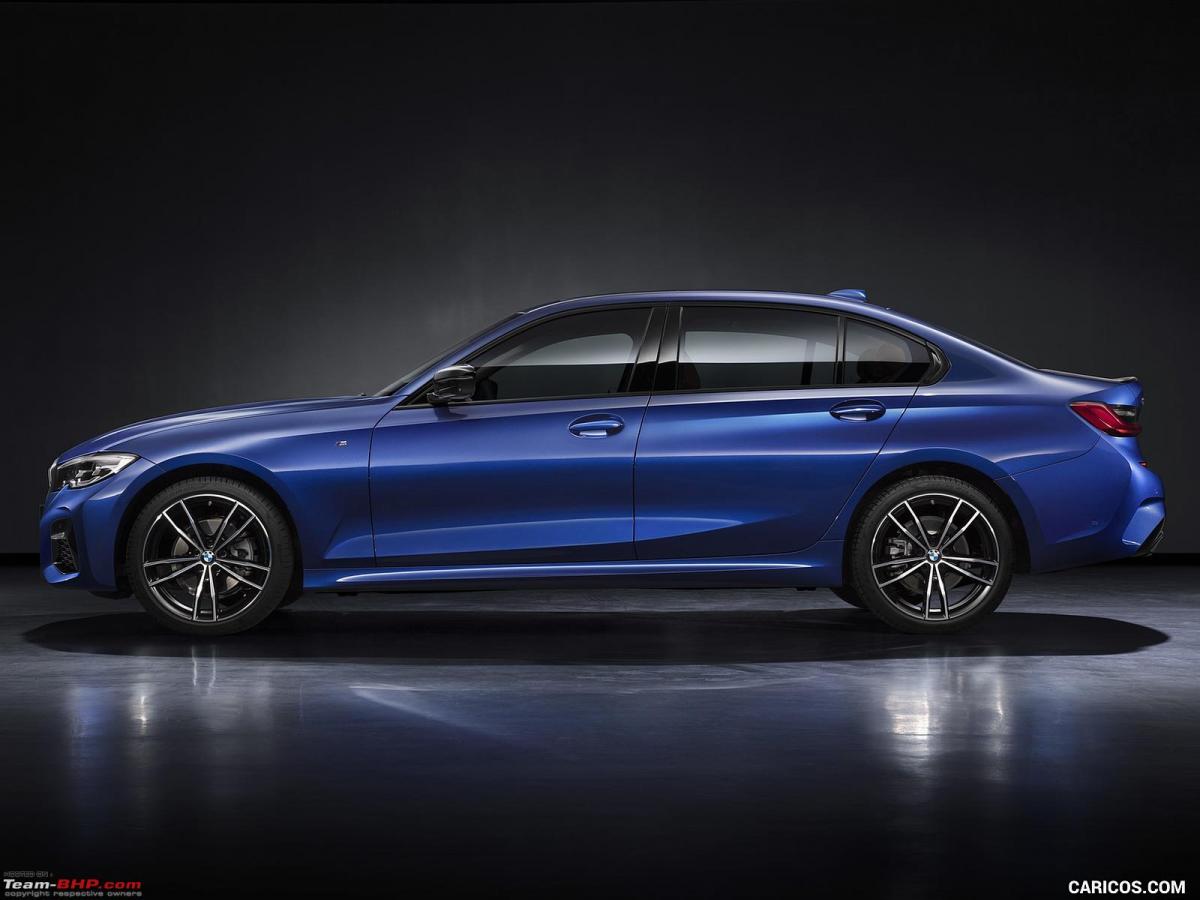 The BMW 330Li M Sport.
For as long as I can remember, this has been a DREAM car. I've always wanted to buy a BMW 330i when I had the opportunity. While I've read so much about this car and watched so may reviews of it, I had a strong preference for this option.
And so I took a test drive of not just the 330i, but also the long wheelbase version – the 330 Li.
Pros:
Amazing Drive: The way the 330i drove was just BRILLIANT! As I pressed down on the organ type accelerator, the car just leaped forward, pushing me back into the driver's seat. The steering was super precise and the car just went the way I pointed the steering at. The 330 Li was not very behind in terms of performance, and even it felt like a significant upgrade in the drive department.
Space: While the 330i felt like a reasonable upgrade from the Octavia, the 330 Li hit it out of the ballpark in this department. Although there was a big transmission hump in the rear-mid seat, the cabin was wide enough to comfortably sit three mid sized adults.
Looks: Both the BMW models looked extremely beautiful! From the power bulges on the hood to the sleek LED lights to those huge, beautiful rims – everything screamed attention. This was no ordinary car for sure.
Cons:
Comfort: Although the SA did say that the tyre pressures are messed up, and that could be a reason for the stiff ride, he did acknowledge that BMW rides are generally stiffer. I too have read and seen reviews where the stiff ride of the BMW has been called out. However, my problem was that I couldn't perceive any improvement in ride comfort over the Octavia. Sure – there were better seats, more lumbar support, a plusher cabin etc, but the suspension setup was just too stiff. Even on the Li, which is supposed to have a plusher feel, I didn't find the ride quality magical, or even better than the Octavia.
Features: The global semiconductor shortage seems to have been taken as an excuse by even luxury brands to shamelessly cut features on Indian models, without a commensurate reduction in price. It truly feels like cartelization, with prices increasing so much, and features getting cut down so much! No keyless entry, no front camera, no 360 camera view, no rear sunblind, no rear passenger sunblinds, no gest2ure control, no HUD, no electrical closing of boot, no ventilated seats – I'm appalled at how many features have been given a miss at this price point! There were only a handful of features over the Octavia, which I really appreciated – such as the full auto parking (rather than just steering control), auto start stop etc.
Plushness: Sure, it was a BMW from the outside. But from the inside, the cabin didn't feel very superior to the Octavia. Even the material used were not that much of an upgrade – artificial leather on the dashboard top layer was pretty much the only difference. I did not find the cabin of the BMW a special place. Even in terms of tech, it did not feel like a significant upgrade.
Hence, despite it being the favourite in this race, AND the car I really thought I'd end up owning sometime, the 330i / 330Li did not meet the requirement. Hence, we dropped it from the list, with a very very heavy heart.
Mercedes-Benz C220d / C300d: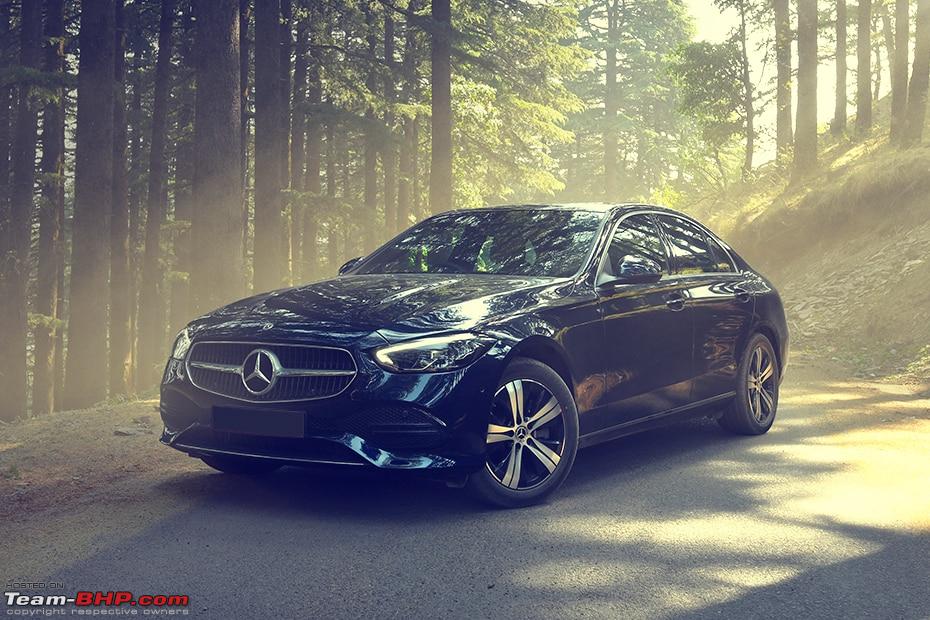 The C220d.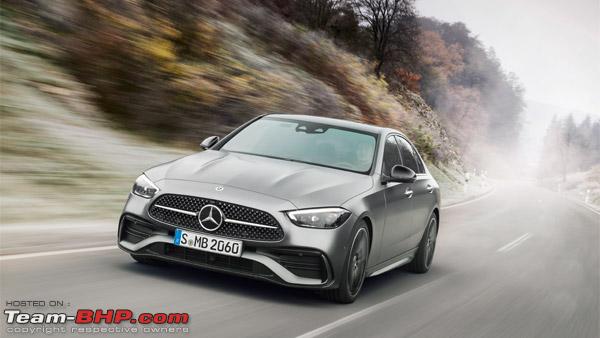 The C300d.
Mercedes was the epitome of luxury, for kids of my generation. While BMWs and Audis sprung up later, Mercedes was the true symbol that you had arrived. "Benz caril vanniranguka" (Coming out from a Benz car) was a huge aspiration, not just for my generation, but even for my parents!
And hence, there was huge excitement about these cars in my family. We were literally questioning ourselves as to whether we could really think of owning a Mercedes-Benz!
After making sure we weren't dreaming, we took a test drive of the C220d.
With Mercedes, we were okay with going with a diesel car, as we'd read so much about how silent and smooth even their diesel cars were. Further, a Mercedes diesel is supposedly less polluting that a petrol car from peers.
Pros:
Plushness: The car screamed luxury! One look inside the cabin and I was like ! This is by far, the most beautiful interior of a car I've seen. The virtual cockpit, the massive central screen, the beautiful AC vents, the floating armrests, the brilliant dashboard pattern, the quirky headrests – everything was eons above what I've ever experienced! While I had experienced Ambient lighting on the Octavia, this was at a whole different level – the interiors of the C class truly felt special.
Comfort: While driving the C220d, I really felt it to be much better on NVH as well as ride quality in comparison to both the BMWs and the Octavia. Despite being a diesel car, the car was silent, and had very little vibrations. The integrated starter alternator did a very good job of making the Auto Start stop function imperceptible. The ride was so comfortable that my daughter actually dozed off in the back seat during the TD!
Tech: Now, this car actually felt like it was an upgrade. There was so much tech everywhere! And while the BMW also had some of these functions like Auto Hold and electronic parking brake, everything felt so much better in the Mercedes. The driving aids came in at the right time, the entertainment system was so much better, there was even a fingerprint sensor to personalize the car! Add to it the fact that this was a mild hybrid with a 20 HP and 200Nm boost function, the Mercedes definitely felt like a proper tech upgrade. I also loved the tiny things – the ambient light around the AC vent going red if I increased temperature and green if I decreased it, the seatbelt pulling you ever so lightly as it pre-tensed to adjust to your body, the gear selector on the steering column, making my left hand completely free, the ability to make the headrest come forward and support your head, and so many others.
Looks: Like the BMW, the Merc too looked amazing. While I had seen the 220D, and was enamored even with that, the 300d is supposedly better looking – with the AMG body kit and wide 18 inch alloy wheels. The car looked very gentlemanly and had a very elegant presence. I absolutely love the new headlight and taillight treatment the Mercedes family has. While it does make the entire family look the same, I think this works to the C class's advantage.
Cons:
Drive: Having driven the 220d, I felt the drive wasn't something very special. Even though the figures on paper seemed better than the Octavia, I felt like I was driving around a tank – I felt slow throttle response and not very exhilarating acceleration. The steering however was precise and driving the car was super easy – the proportions didn't seem very large. The SA was super-confident in claiming the 300D drove much better. Though both models came with the same engine, the state of tune was quite different. The 300d came with an additional 65HP and 110 Nm, as well as a claimed 0-100kmph of 5.7 against the 220D's 7.3 and the BMW 3 Series' 5.8s.
Features: The semiconductor shortage had eaten its way through even the C-Class. Notable features which were absent were: Ventilated Seats, Front Parking Camera, 360 Camera, Active Cruise Control, Keyless entry etc. To not have even basic stuff like keyless entry at this price point seemed criminal to me! However, the Merc did fare better than the BMW, as it came with electric steering adjustment (and a neat feature of steering going up and seats going back to facilitate easy egress once the car was stopped), fully electrically adjustable seats (including lumbar support), a much better entertainment system (especially the 13 speaker Burmeister system in the 300D), and the MBUX interface system.
Ground Clearance: Having opted for a sedan, GC was bound to be an issue, but the Merc took it one step ahead. Even in the small bumps around the place I live, the bottom scraped. And this was attributed to the extended wheelbase along with the comfort setting of suspension. Despite driving as slowly as I could, the underbelly did scrape. Given the absolute lack of education or common sense among the officials who plan our Indian roads, this would be a major challenge if I bought this car.
So, overall the Mercedes did fare much better than the BMW, and I could see this car as a reasonable upgrade to the Octavia. Coming in at around 2.3X the price (courtesy BH registration), the 300d seemed to, at least on paper, be a solid drive as well as a comfortable, plush ride.
However, the fact that the Indian C300d had so many features removed from the international version, even basic ones like keyless entry, has me in a fix.
Should I look at other options – Audi? Volvo? Anything else?
Would an Audi feel too similar to the Octavia, given they share the MQB platform and even parts? Besides, it's a FWD with not much to speak of in the drive department.
Would a Volvo be able to tick off all my requirements or would I find myself yearning for a luxury brand again in another 3 years?
Should I even buy a car now? Should I wait for the semiconductor shortage to end, thereby bringing in more features and prices down?
The heart tells me to go for the C300d now, the mind tells me to wait it out or look at other more VFM options. Any suggestions people?
Here's what BHPian GForceEnjoyer had to say on the matter:
I don't really see prices coming down anytime soon, but features may return. However, it would be too long a wait in my opinion, since prices would certainly have increased by then. My tentative suggestion would be to listen to your heart and purchase a car sometime soon.

I think you should try to test drive the C300d just to be fully informed about its driving characteristics. However, in your case, the 330Li should only be considered if you find the handling so vastly superior in comparison that you can live with the missing features. Otherwise, for your use case, the C300d pretty much has you completely covered. I think you can fulfill your dreams of stepping out of a Benz, and reminisce of the fantastic drive you had just prior to stepping out.

Since you're upgrading from an Octavia, the A4 might leave you underwhelmed with the driving experience despite the interior quality being up by a notch. The Audi A4 and the Volvo S60 certainly won't match up to the handling of the C300d or 330Li due to them being FWD, but a test drive won't hurt. Good luck.
Here's what BHPian Aj56 had to say on the matter:
If you're willing to go upto 70L for a C300, might as well get the 530i M sport, the 5/E/A6 class will have better space at the rear for a family of 4 as they're midsized sedans vs the compact 3/C class.

Reason I'd avoid the ES is you want an engaging drive and the Lexus is anything but (great for cruising still), XF is too old as is the S90. So I'd say pick between the E LWB and 530i, the former is not as engaging to drive but it's interior is leagues ahead of the 5, but the 5 is quicker and handles better. Test drive both.
Here's what BHPian Shreyans_Jain had to say on the matter:
The 3 and C are barely an upgrade over an Octavia. They are only marginally better in most areas and significantly worse in a few (cabin and boot space) but the asking price is more than double. You'll be spending just for the badge. The A4 is basically an Octavia wearing different clothes.

If you truly want an upgrade, you need to a segment higher, to the 5, E and A6. Do check out the A6 in particular, it offers excellent value compared to its peers.

Note that all these cars have limited boot space, further compromised by the space saver tyre placed inside the boot area. None of them can be loaded up in any way like your Skoda. Octavia is an excellent car, very difficult to upgrade from. You'll end up spending 3 times it's price to find something substantially better. Law of diminishing returns catches up very fast in this end of the market.

It is very clear that this is a purchase from the heart. My suggestion would be to go big and get a 530d or an E350d. Even if you have to delay it by an year or two.
Here's what BHPian sunikkat had to say on the matter:
Welcome to the club. I own a 2016 Octavia TDI with 70k kms run. In 2020, with this itch, I was actively looking for an upgrade and my budget was up to 50 to 55 lakhs. Tried every car (A4, 3 and C previous) and nothing did really feel a real upgrade to Octavia. 330i was definitely a great car and best upgrade, but on practicality (say boot space) and the additional money commanded, I really did not feel like parting from Octavia which was so well maintained and totally trouble free. Being a salaried, I was also taking a big hit on depreciation if I upgraded then. Finally I spent around 4 to 5 lakhs and did many mods – remap, Bilstein B6, 17inch wheels, android auto etc. And boy, I am all over in love with Octavia again. Now have no plans to sell for another couple of years minimum. This drives like a dream and with remap is faster than almost everything on road.

Being a hardcore BMW fan, I am sure my next upgrade will mostly be 330i. But not yet.

In your case I would suggest to hold on to Octavia and explore the full potential with some mods. But then, YOLO, suggest go for 330i or 300d if you really have to.
Here's what BHPian androdev had to say on the matter:
You should definitely buy a car from this category if finances look healthy simply because you will not have the josh later on in life. As you get into higher categories, price doesn't correlate with value linearly – be ready to be guided by your emotions 🙂 Octavia is a very good car and you won't find 50-60% OVERALL improvement in your next upgrade – but you will find justifiable improvement in very specific areas.

Mercedes cabin ambience and comfort will be that area if you go with MB.

It would be highway driving pleasure in the case of BMW.

These are real standout features that an Octavia owner can't miss.

It seems like most of your usage is within city which probably warrants an MB but their prices and ownership costs will be a tad higher than BMW.

Most of us on this forum enjoy long Highway drives, value reliability and savings and hence have a soft corner for BMW. My personal favourite is 5 series – it has its flaws but it scores high in things that are important to me: great looks, street cred, outstanding drivetrain options (2L diesel for bullet proof reliability for those looking for very long term ownership, 2L petrol for fun, 3L for some serious power) and 5 series has proven to be very reliable in this category.

The only used car that is relatively safe to buy in this segment would be a BMW and this is a good source.

If you have better use for your money, keeping the Octy would be a wise decision. I would still say do the car scene when you are young instead of postponing for later if finances look good.
Check out BHPian comments for more insights and information.
Source: Read Full Article