Mercedes-Benz C-Class: C200 vs C220d vs C300d. Which engine to buy?
C300d AMG without a doubt. It's overpriced by 5 lakhs, but when I'm going to own a car for 10 years, that additional 50k / year isn't even going to be on my mind.
BHPian Aditya recently shared this with other enthusiasts.
Mercedes-Benz launched the 2022 C-Class (W206) sedan in India last month. The car is available in petrol and diesel versions.
Mercedes C-Class Pros
Stunning looks & design. Matched to solid build quality too
Premium quality interiors, supportive seats, filled with technology
Useable rear seat, with better legroom than before
Wide range of engines; powerful 265-hp C300d for enthusiasts, workhorse C220d and a C200 for sedate drivers
Smooth & competent 9-speed AT gearbox
Well-damped suspension offers a mature ride quality
Fun to drive (with the right engine)! Communicative chassis & excellent high-speed manners
The C220d (especially) & C200k are reasonably fuel-efficient for the segment
Equipment such as seat kinetics, latest-gen MBUX, panoramic sunroof, memory seats, electric steering adjustment…
Top-notch safety kit, run-flat tyres, powerful brakes & a suite of electronic aids to keep you safe
Mercedes C-Class Cons
C200 petrol's 1.5L drivetrain feels just about adequate. Best for chauffeured use or for calm owners
There is no bigger or more powerful petrol engine option (like the C300d)
Rs 55 – 61 lakh ex-showroom pricing is stiff! We find it overpriced
Boot space (already at a premium) is drastically impacted by the spare wheel on the floor
Better as a 4-adult seater than 5
BMW's 330i is the more fun-to-drive petrol sedan
IMHO, the faux leather seats just don't cut it at this price point (3-Series gives real leather). No ventilated seats either
Styling is more of an evolution than a revolution. Also, looks very similar to other sedans in the Mercedes range
While it's not unusual for premium sedans, you need to be careful on bad bumps. This car with 4 people and luggage bottomed out a few times during our Mussoorie drive
The C-Class petrol comes in one version – C200. It has a 1.5L engine, which generates 201 BHP & 300 Nm. It comes with a 48v mild hybrid system. The mild-hybrid part of this is an integrated starter-generator that sits between the engine and the transmission and takes over the role of the alternator and starter. It can also provide a power/torque boost. When quick acceleration is required, the electric motor helps by providing up to 20 BHP and 200 Nm of torque.
The C-Class diesel comes in two variants – C220d and C300d. The C220d has a 2.0L engine that puts out 197 BHP & 440 Nm, while the C300d makes 261 BHP & 550 Nm. Like the petrol, both these variants come with a 48v mild hybrid system as well. All engines come paired with a 9-speed automatic transmission.
The additional torque makes the diesel more enjoyable to drive than the rather sedate petrol. The diesel will also be more efficient as well. The petrol, on the other hand, is cheaper to purchase and in certain cities (like Delhi) will be allowed to ply on the roads for 15 years compared to 10 years for the diesel.
So, if you were to buy the Mercedes C-Class, which engine option would you pick & why?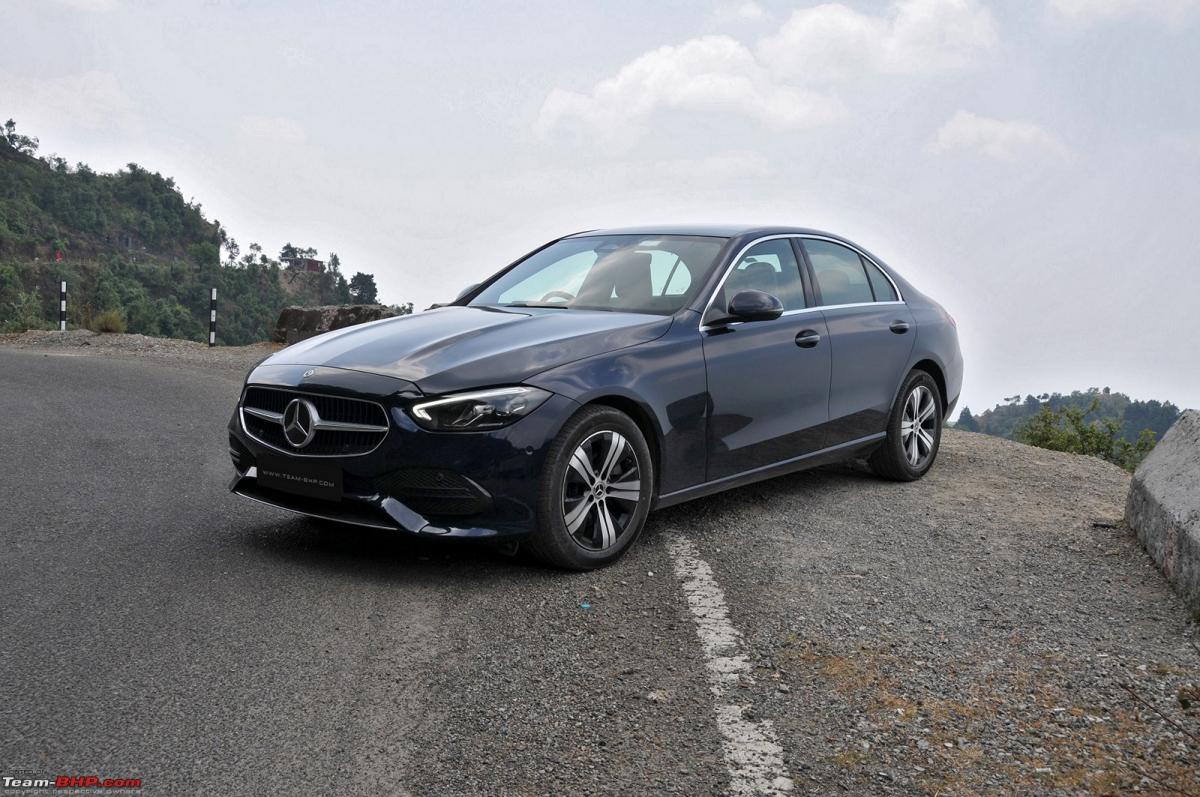 Read Team-BHP's full review of the 2022 Mercedes C-Class.
Here's what GTO had to say on the matter:
C300d AMG without a doubt. It's overpriced by 5 lakhs, but when I'm going to own a car for 10 years, that additional 50k / year isn't even going to be on my mind. Instead, I will care about the driving experience and the C300d delivers tons of it. Fast performance, competent gearbox (80% as nice as BMW's ZF 8-speed), excellent suspension balance between ride & handling, now acceptable rear-seat legroom (no longer cramped) and absolutely drop-dead gorgeous looks. It's the kind of car that you as well as your family will thoroughly enjoy.

Big fan. C300d all the way.

Believe it or not, I compared the '22 C300d to the '13 530d. It's not a match to the G30, but it is certainly a match to the F10. Better road manners (more agile), equal space (in fact, better rear legroom but not the width), comparable performance and more equipment. Side by side with the F10 530d, the C300d loses that 6-cylinder creaminess & snappy 8-speed ZF, yet it is a spectacular 4-cylinder. So enjoyable! Have become a big fan after spending a couple of days with the C300d.

This is the C300d kissing my 530d. Trust me, it's a very symbolic picture (that's Moderator Axe77's parking skills). In the real world too, she is so darn close:
Here's what BHPian d3mon had to say on the matter:
Where's the "None of the above option" when you need it?

Rs 61L ex showroom is close to the OTR for a 330i MSport in BLR. I'd save some money and buy that 330i, or pay a little bit more to get the 530i (64.5L ex-showroom) any day of the week over the C300d.
Here's what BHPian sunikkat had to say on the matter:
If I can spend 56 lakhs (showroom), I would gladly put another 6 lakhs and get the 300d. It will be future proof for the next few years.

Would not buy c200 even if it was priced at 35 lakhs (showroom). A Slavia / Virtus stage 1 will produce equivalent or more powerful figures and will be faster too. A 1.5-litre engine is totally not done for that money.

In reality, I would happily buy a 330i.
Here's what BHPian CEF_Beasts had to say on the matter:
Don't see the other option?

My top choice will be the M340i followed by the C300d. My third choice will be the Lexus ES300h.

If someone is spending a big sum of 73Lakhs OTR for the C300d, the 78Lakhs OTR M340i is not very far.

The ballistic 6 cylinder B58 can run rings around the C-Class, quite literally.

For a family sedan, combined with the diesel efficiency and performance the C300d makes sense but not at the price at which it is being offered!

In fact, I spotted a white test-drive C-Class on Saturday and it's a looker from the front, but not as much from the side and rear. Again this is where the 3er wins, with its long bonnet and stubby boot.

Maybe it's time for BMW to offer the 6-cyl 330d in India at the same ex-showroom price as the 4-cyl C300d.

Although I don't have even a % doubt about which car is going to outsell who, looking at the sales of the E-Class LWB and GLC.
Check out BHPian comments for more insights and information.
Source: Read Full Article