Matt Hagan Last DSR Ride and 5 More Reasons to Watch the NHRA Finals at Pomona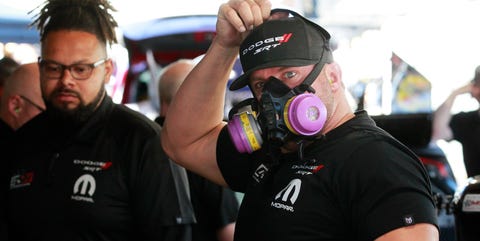 Before three-time Funny Car champion Matt Hagan leaves the only home he has known in NHRA drag racing to join Tony Stewart's new team, he'll be giving Don Schumacher Racing a memorable battle with stablemate Ron Capps this weekend as the 20-race Camping World Series season concludes with the Auto Club Finals at Pomona, Calif.
Hagan is just one reason to tune into this weekend's Auto Club NHRA Finals at Pomona, California, on Nov. 14 at 4 p.m, on FS1. Here's six good ones: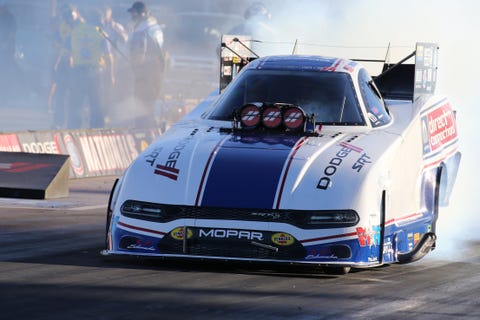 Hagan, the reigning champion, has been in and out of first place in the standings since August, swapping places during the Countdown with Capps. He'll be trying to close a 58-point gap that Capps opened on him two weeks ago – and he'll be trying to climb from a hole he fell into with first-round losses in the past two races.
If he can pull it off, he might be the first to earn a championship with the help of a substitute driver who earned points for him with a Countdown victory. Hagan missed the U.S. Nationals in September at Indianapolis and the Countdown kickoff at Reading, Pa., a week later as he struggled with a nasty bout of COVID. Tommy Johnson Jr. filled in for him and made up for missing the rainout-influenced lineup at Indianapolis by winning at Reading.
Hagan returned and won at St. Louis and lost to Capps in the Dallas final. His task during qualifying is to outscore Capps with bonus points they can earn during qualifying, and his task on race day is to go at least two round farther than Capps.
"We're heading into Pomona fighting for a championship, and I've been on both sides of this battle," Hagan said. He has raced for the Funny Car crown as either leader or challenger heading into the season finale seven times. He won three of those showdowns, in 2011, 2014, and 2020.
"My first championship, I just had to show up and go two rounds to be crowned a champion, similar to what Ron has to do. Last year, we were going into the last race two rounds ahead. And this year, we're going in two rounds behind. So it's nothing new for us, but I think we have to be super-aggressive rolling into qualifying and get some valuable points. The game plan is just really run hard, run smart, and be aggressive. We've got nothing to lose. This is Ron's to lose, honestly, and ours to win."
The Mopar Dodge//SRT driver said he's just thrilled that he's still in contention for his fourth Funny Car title, despite his recent stumble.
He said, "We've had two bad races in a row in the Countdown, and that's been a big hit. It's unfortunate, but we've just got to bounce back. I'm very aggressive about it. Dickie (crew chief Venables) is going to be aggressive. I'm going in there full steam ahead. I'm pumped up. I'm ready to go and fired up about it. I want to go race, and that's what we're going to do."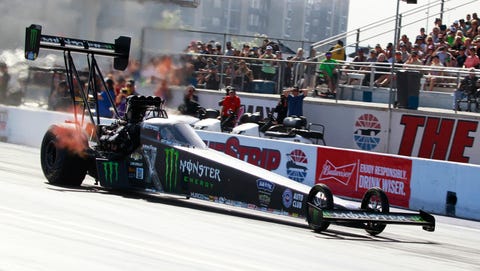 Just like it did in wiping out every driver's advantage earned through 13 regular-season races at the start of the Countdown in what one team calls "pencil parity," the sanctioning body has tossed another stress-inducing element to the Countdown.
The Finals will feature a points-and-a-half system. Each elimination round-win is worth 30 points (rather than 20), top-four (rather than three) qualifying runs are awarded bonus points, and additional points are granted based on qualifying order. A maximum of 187 points are up for grabs.
The points-and-a-half system means second-place Brittany Force (above) is still alive in the Top Fuel championship. She trails Steve Torrence by 105 points.
In Funny Car, Ron Capps leads by 58 points over Hagan, 83 over Cruz Pedregon and 138 over J.R. Todd and 155 over John Force.
Just about the only folk who like it are math whizzes who love number-crunching – and any racer behind enough to appreciate the free points. And the small points can make a huge difference. (For example, Top Fuel's Steve Torrence edged Doug Kalitta by three points in 2019. Tony Schumacher has been on both sides of it in the Countdown era, acing out Larry Dixon by two points in 2009 and losing to Antron Brown by seven in 2012 . . . the same year Jack Beckman nosed out Capps by two points. Three extra points made Pro Stock's Jason Line a three-time champion in 2016.) With close chases in all pro categories, this is a factor to watch.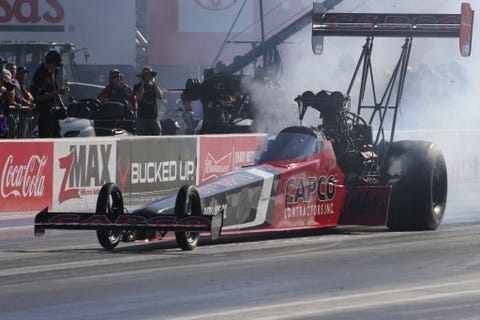 Steve Torrence is gunning for his fourth consecutive Top Fuel championship.
In the NHRA's 70-year history, only six have done that: Don Prudhomme, Kenny Bernstein, Lee Shepherd, Bob Glidden, Tony Schumacher, and John Force. Schumacher, so far the only Top Fuel driver in the group, was the most recent racer to do so, earning six straight titles from 2004 through 2009.
Force won 10 in a row as part of his unprecedented 16.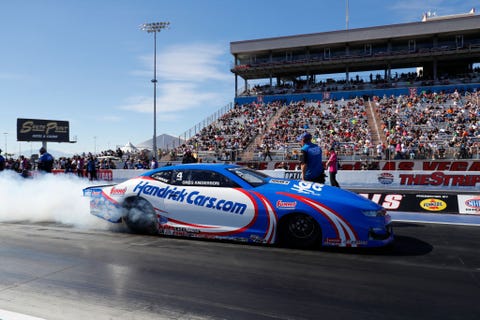 NASCAR legend Rick Hendrick could earn a second championship in as many weeks.
If Pro Stock veteran Greg Anderson, driving the HendrickCars.com Camaro, can hold off arch-rival Erica Enders, in the Melling/Elite Performance Camaro, he will follow Kyle Larson's lead from last weekend at Phoenix in the NASCAR Cup Series.
"It's tough," Anderson said. "On that side of the fence, in NASCAR, they're dominating. They're winning every race. They're kings. They're heroes. And I feel like I'm not holding my end of the bargain up unless I'm winning every race. So I've got to find a way to do it, got to find a way to win, to keep pace with the other side of the team. That's the situation I'm in—but I like it."
Anderson and Enders are locked in a tug-o-war for a fifth championship, with Anderson leading by just 32 points. In 2019, the last time the Finals took place in its traditional location at Pomona, Anderson was the "shenanigator" —the instigator of shenanigans—during qualifying, purposely trying to influence the starting order so he could have the chance to ruin Enders' race day and title hopes in the first round of eliminations. This year, Enders' team has been trying to stack the deck against Anderson.
"I think that's the exact playbook they should use," he said.
So shenanigans might play a part in the title outcome.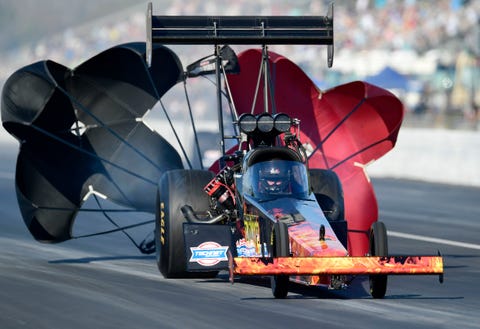 Will Top Fuel's Josh Hart, pictured, or Pro Stock's Dallas Glenn earn the Rookie of the Year award?
Glenn started out the season as the crew chief for Kyle Koretsky, but Canadian company Rad Torque Systems offered him a chance to drive full time. With three victories, Glenn has proven himself a natural. Same for Top Fuel owner-driver Josh Hart, who blasted to a spot in NHRA lore by winning his maiden race, at the Gatornationals this March at Gainesville, Fla. No one had done that in 20 years, not since Darrell Russell, also in Top Fuel. He won again in the fall race at Charlotte.
Hart also has impressed by introducing at least four new sponsors to the sport. And he has some big plans for 2022, with a second dragster and a run at Factory Stock Showdown title.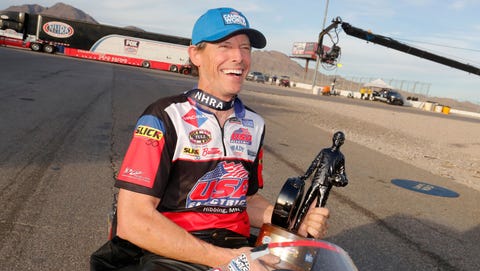 Sixty-year-old Steve Johnson can close his 34th season with his first crown.
Johnson, competing for his 34th season in the Pro Stock Motorcycle class, is within 20 points of regaining his lead over four-time titlist Matt Smith and claiming his first championship. It took him 17 years to earn his first victory.
Johnson said, "After 10 years, my mom said, 'Um, have you thought about construction or lawn care or dentistry?" And then it came the day popular Top Fuel driver Darrell Russell was killed. Johnson earned his third victory at the U.S. Nationals the hard way. He clearly defeated Matt Smith but the scoreboard declared Smith the winner—and days later, far past the moment to celebrate in style, the NHRA reversed its decision. But no more hard luck.
Johnson is fresh from his victory at Las Vegas—his third this season, second in the Countdown, and ninth overall. And even with what he described as his modest team's "20-foot-wide trailer, some popsicle sticks, and a toolbox," he's ready to joust with four-time and current champion and points leader Smith.
Source: Read Full Article