Maruti Jimny 10,000 km service: oil change, suspension lubrication
The SA himself suggested that I take the Jimny to the Nexa service centre for upcoming services.
BHPian Neil Roy recently shared this with other enthusiasts.
This Sunday, I decided to take the Jimny for the 10,000 km service as the vehicle had touched 10950 kms. Service was done at Khivraj, Mount Road, Chennai. For Automobile lovers who want to pamper their rides, I recommend Sundays as the day for giving service. The load is much less and you can watch the car being serviced in front of your eyes. The only service done was oil service and the suspension was lubricated. Maruti service is different from Nexa service in that the hydraulic jack for lifting the Jimny is different from standard Maruti cars and the SA himself suggested that I take the Jimny to the Nexa service centre for upcoming services. This time around, he used the wheel alignment ramp to change oil. In fact, the SA went out of his way and said that, if I insist on doing the service in Khivraj itself, I have to inform him beforehand so that he gets the necessary spares ready and the ramp free so that I won't be inconvenienced. With the volume of Maruti that this workshop handles every day, I was pleasantly surprised by the SA's commitment to customer satisfaction. Well done, Khivraj Maruti.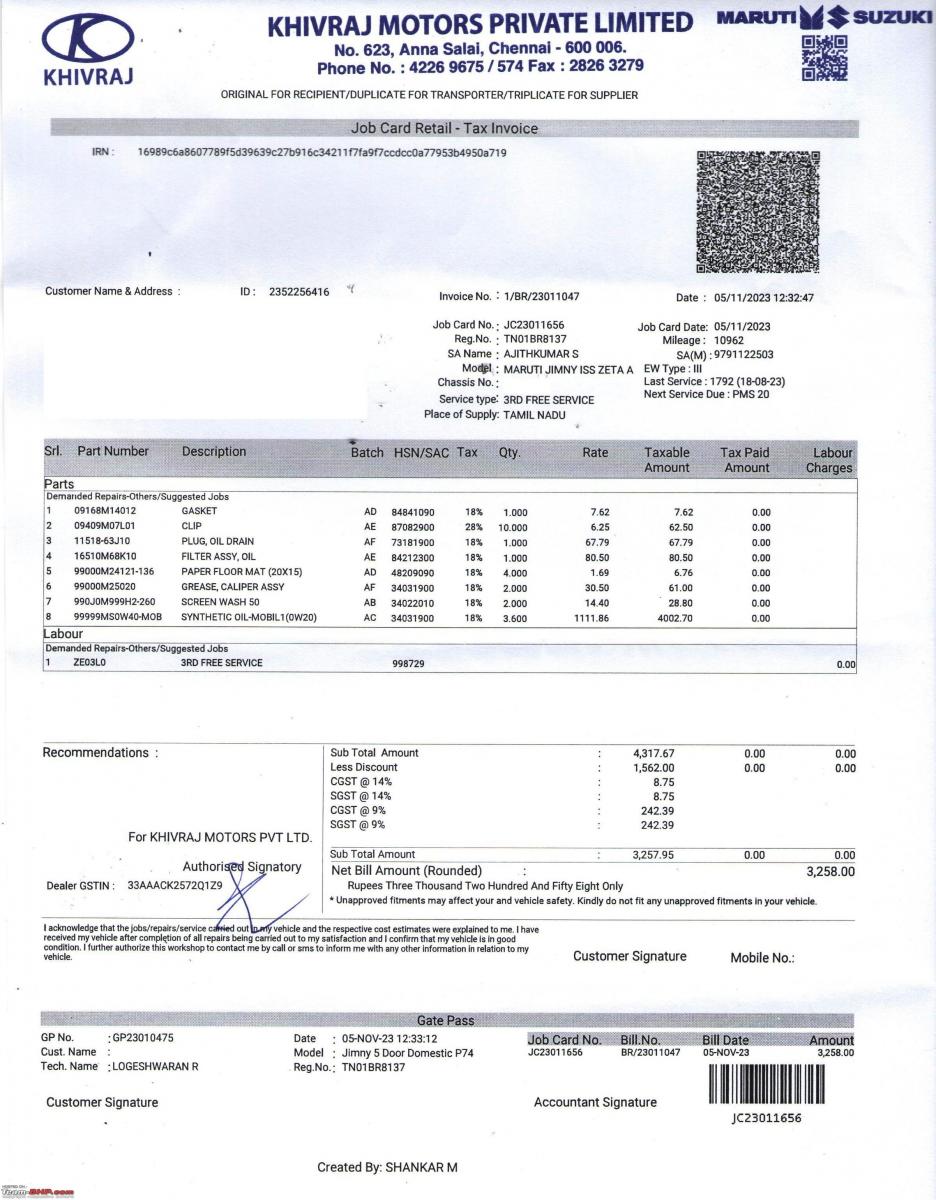 Attached is the 10000 km bill.
Also, sharing two DIY I did for storage inside the Jimny. The first one is the console area near the gear lever. Took some plywood and cut it to dimensions, stuck some fabric cloth we get on the speaker door panel, and inserted a cup storage. Total damage to pocket – Rs.750 including the cup storage Voila.
The next one is even more useful. Sunglass holder. As many are aware, the Jimny does not have a sun glass holder per se. So, I booked a glass holder online, put some holes in the middle, matched the holes in the roof lining, put holes, and kept a metal plate behind the roof lining as a guide, and tightened it with screws for both sides. It is neat and can be done with any glass holder that is unused in your house. Rest assured, there is no rattling. I have driven almost 3000 kms post this DIY before posting.
Also, after lubricating the suspension, the Jimny is more comfortable to drive. That will be the next DIY.Drive safe,guys.
Check out BHPian comments for more insights and information.
Source: Read Full Article