Lung nut issues on my Jeep Compass leaves me stranded on the highway
With no other option, I started walking on the highway in search of help. After walking 300 m I went to a puncture wala for help.
BHPian vattyboy recently shared this with other enthusiasts.
I was going from Udaipur to Surat by road in My Jeep Compass.
Before starting my journey, I checked and filled the air in all my tyres recommended by Jeep with my TUSA Tyre Inflator.
After driving around 100 km from Udaipur my front left tyre ( Bridgestone Turanza T001) got burst and it was just 2 years old with a lot of thread and life remaining. By God's grace, my speed was just 60 to 70 kmph when the tyre burst.
Drove the car to the left onto the shoulder of the road and parked the car safely.
I opened the boot and took out the lug wrench provided by Jeep then I connected it to the alloy wheel lugnuts to open them and to my utter surprise they were not opening and they were slipping.
Out of 5 nuts, I removed 3 but the remaining 2 were just slipping.
Just to give a better aesthetic appearance Jeep gives a chrome cover on top of the wheel lug nuts.
With ageing this chrome cover becomes weak and when we try to open it this cover slips from the nut.
After this chrome cover fitment on the lugnuts, the size gets so odd that most of the lug wrench can't open it
See the lugnuts, one is without a cover broken by the Hammer to open the tyre.
With no other option, I started walking on the highway in search of help. After walking 300 m I went to a puncture wala for help and he came with the 2-3 lug wrench which was available with him in the hope that lug nuts would open by them but No, Due to that chrome cover on the lugnuts the size gets so odd than most of the lug wrench can't open it.
Some local villagers sitting at the restaurant were seeing all this for 1 hour and they came to help me when the puncture wala also failed to open the lugnuts.
They brought a hammer and screwdriver to break this chrome cover and succeeded after another 1.5 hours. As there was no space to break this chrome cover when the lugnuts were fitted in the alloy wheels.
So Finally after 3 hours of hard work with no shade to protect us from the sunlight we all succeeded.
These 3 hours were full of mental tension as many thoughts came into my mind that I would have to call the towing truck and send my car to Ahmedabad and I would have to call a taxi to carry on my journey. For this silly lugnuts. Total damage to the wallet would be 50k approx.
But In the end, god was with me.
Now, I fitted the stepney and continued my journey.
Called my Jeep SA and told him the story and he told me – "Sir, due to many complaints by Customers, the new BS6 Compass comes with normal lugnuts and you can get them fitted in your BS4 Compass for Rs 5000". That day, due to it being a Sunday, ASS was closed so I told him I will come tomorrow. I mean what? Rs 5000 for lugnuts? Rs 3600 for the part and Rs 1200 for labour.
The next day i.e. Monday, I went to Nanawati Jeep ASS Surat at 11:30 AM sharp to get the new lugnuts fitted in my car. Now you guys guess how much time this small job should take.
30 minutes? 1 hour? Ok, max 2 hours? No. Nanawati Jeep Surat took 4 hours! Out of these 4 hours, for 3 hr 30 minutes the car was standing idle and only 30 minutes of work was done on the car.
I arrived at 11.30 AM, and 30 minutes passed. Now, at noon, the SA opened the job card and by 12.30 he gave it to the technician. By 12:50, the technician took the car inside. See how slow their work is. 1 PM to 2 PM was their lunchtime and I was sitting empty stomach. From 2 to 2.30 pm, they did the work. From 2.30 to 3.30, they took to make the bill and gate pass. Nanawati Jeep Surat, I appreciate your workmanship and the skills of your staff but the speed of completing the work is very slow.
Rs, 900 for 1 set × 4 for 4 tyres:
New lung nuts (black) compared to old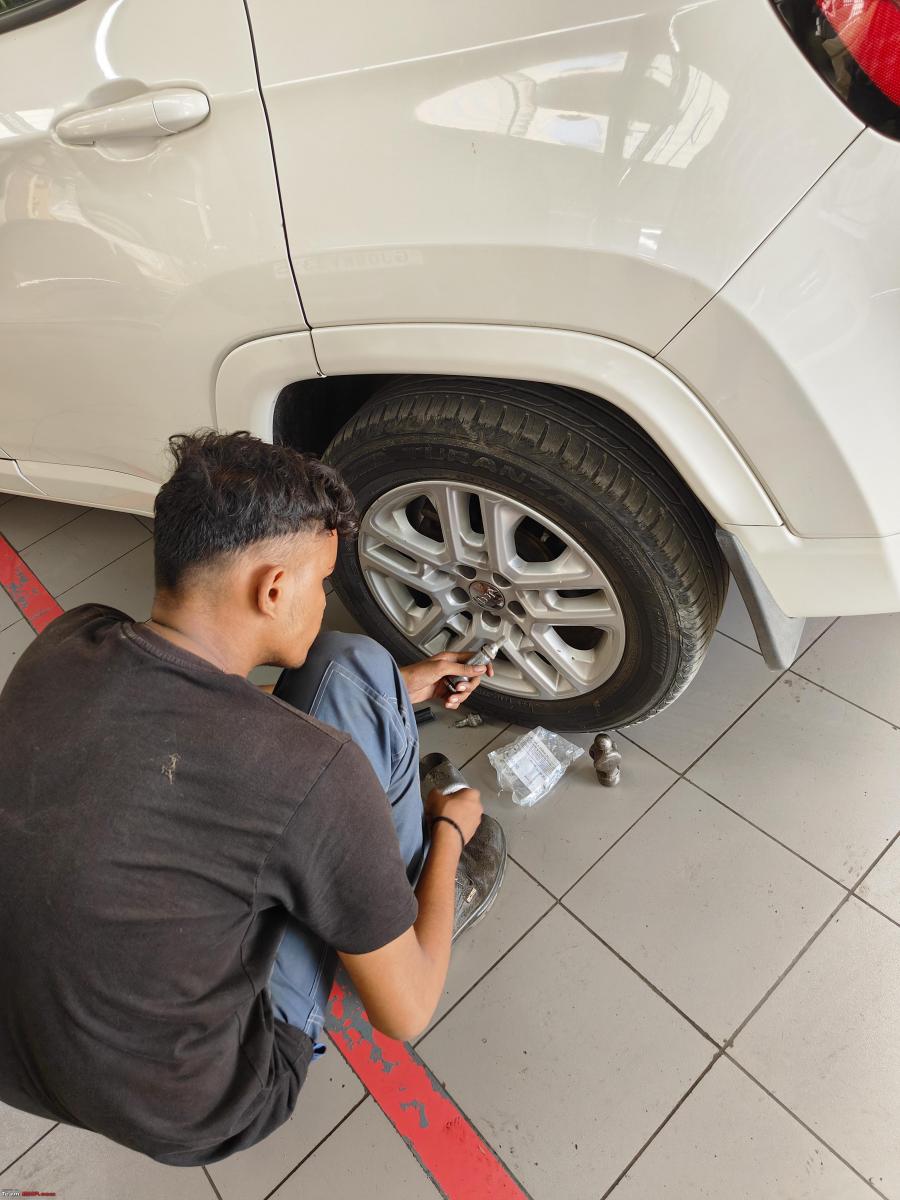 After fitting new lung nuts: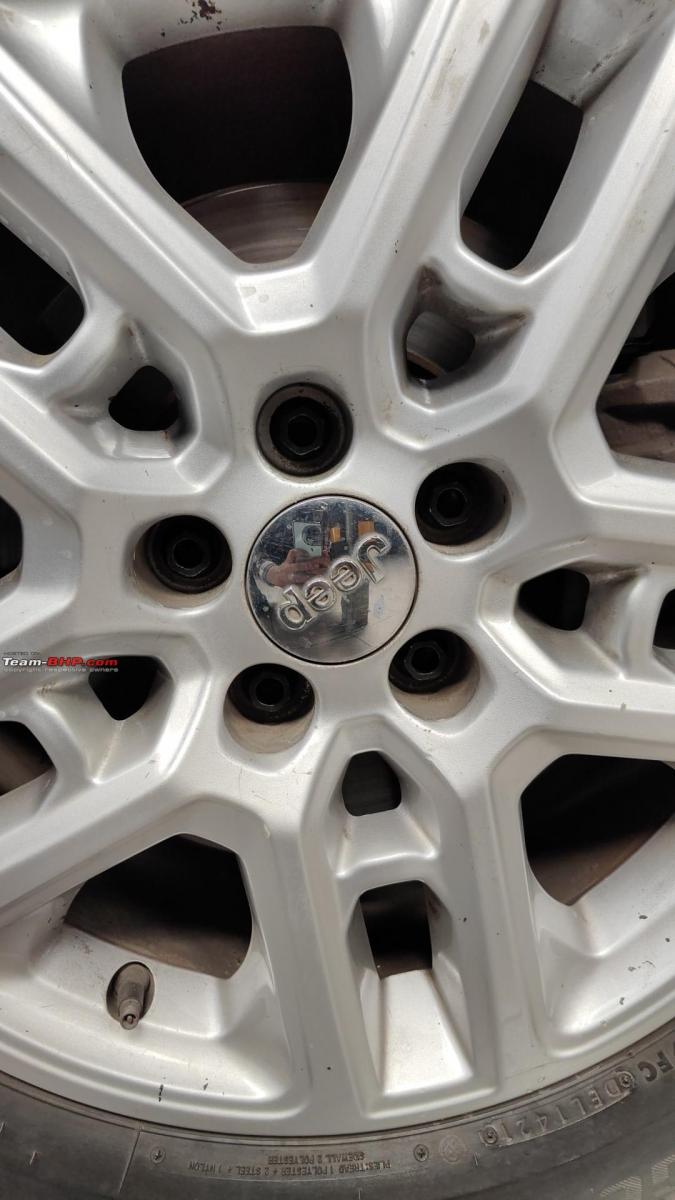 After the whole process, I went to my nearby tyre shop and purchased 2 Yokohama Earth 1 tyres for the front of alloys. I was more inclined to buy the Yokohama BluEarth RV 02 but they are out of stock in the whole Gujarat. So went with Earth 1 for peace of mind due to their availability in every shop across India. Cost: Rs 11500/- per tyre.
I will compare Bridgestone Turanza and Yoko Earth 1 in separate tyre threads.
All my fellow BS4 Jeep Compass owners, I urge you to please get the lugnuts changed ASAP. I don't want you guys to face the same situation like I did.
The next work is to get the alloy wheels refurbished.
Check out BHPian comments for more insights and information.
Source: Read Full Article