Jeep Compass accident: TVS NTorq hits my stationary SUV from behind
The rider of the 2-day old scooter was not wearing a helmet. He acknowledged that it was his mistake and apologized.
BHPian ramnaresh_2000 recently shared this with other enthusiasts.
Every car owner's nightmare, the unfortunate yet unavoidable event occurred with my Phoenix today. It was met with a minor accident. I was on my way from shopping and I had stopped my vehicle on an empty roadside to have a sip of water. Suddenly from nowhere a bike came and hit my vehicle at a speed of approx 60 kmph.
The point of impact was the silencer, the clamp holding the silencer broke and the silencer was hanging on the ground. The rear bumper broke, and the right side taillight was damaged. The right side back fender got scratches. Everyone in my car was in a state of shock.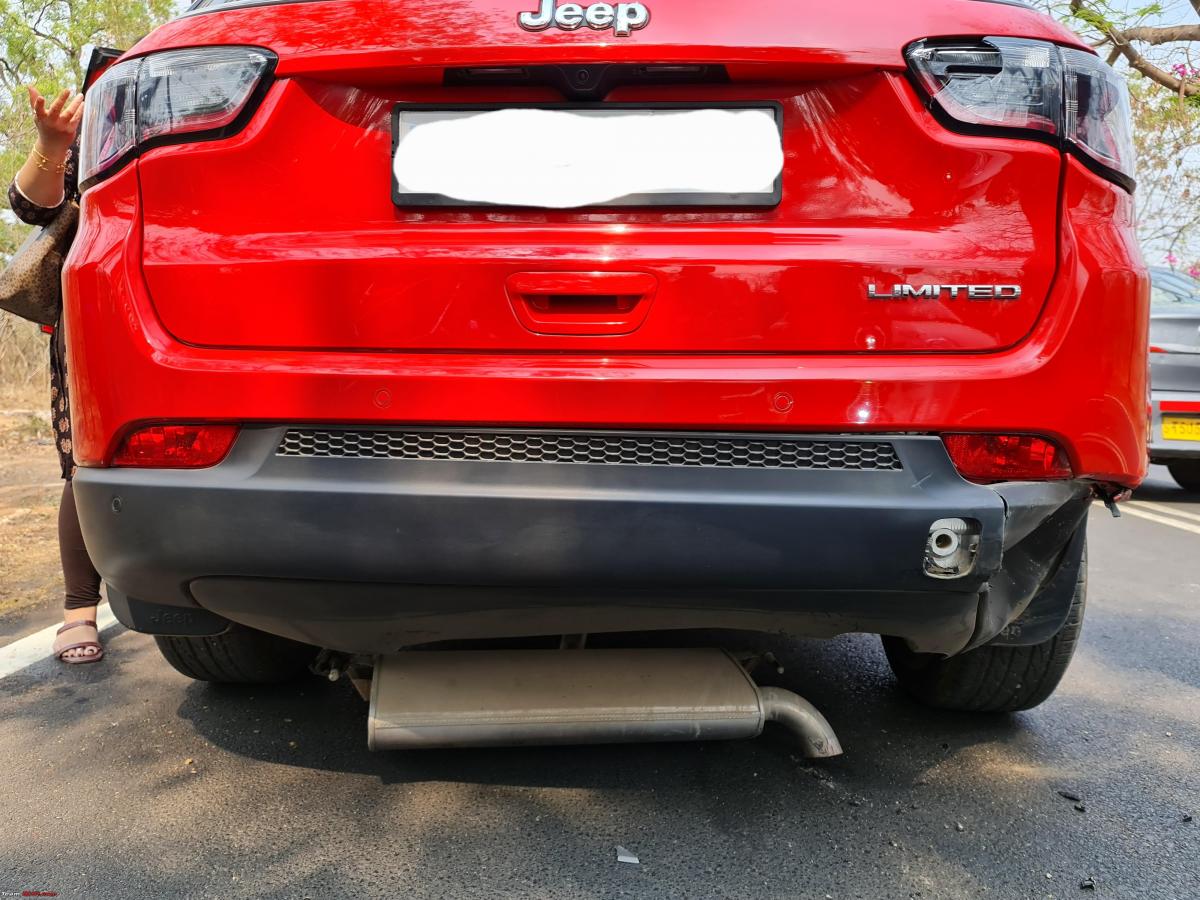 His was a 2-day old brand new TVS Ntorq bike. He was not wearing a helmet. The bike had a front disc without ABS. The dealer has not given him any insurance papers or a helmet. The bike failed to start after multiple attempts by the public, so they parked it on the side.
As usual, a large public has gathered in a few minutes and started making allegations against me because as per public court logic it is always the big vehicle owner's fault. I calmly looked at the bike driver and took him to the side and enquired why he hit a stagnant vehicle.
My first doubt was that he might have been drunk, but that was not the case. I did not smell any alcohol on him. He said he was feeling nauseated and was driving fast to reach home and take rest, but lost control. He acknowledged that it was his mistake and apologized. He said that he thought the vehicle was in motion. I recorded his statement on my mobile for safety. He claimed that he has not eaten anything since morning, was feeling nauseated for the last 2 days, was driving in the harsh summer afternoon and this cocktail was the perfect recipe for a disaster.
His bike was hardly 2 days old. I asked him to call his parents or friends. He said his parents were out of the station and none of his friends was answering his call. He said he was a car mechanic and had just now given an interview in a Hyundai showroom for a job opening. He started apologizing and said he doesn't have any money. I first told him not to worry about money as I have full insurance coverage.
As no one was coming to help him and the public who gathered to watch the "tamasha" left, I slowly recovered from the shock and noticed he was bleeding from his forehead. Felt sorry for him and quickly booked an auto and took him personally to a nearby hospital. Admitted him to an emergency ward and took care of joining formalities.
The guy begged me not to admit him to such a big hospital and he is fine with some small clinic's first aid treatment. I assured him that I will take care of the charges. CT scan came clean, the wounds were cleaned and dressed, and TT injection was given. After being under observation for a few hours he was discharged.
Meanwhile, I raised a claim in my Acko app, and called Jeep RSA. The RSA guy came in 30 minutes to my location, as the clamp was broken the RSA guy used a small rope to tie the silencer to the body and loaded it on his towing vehicle. Asked for "chai paisa" and took 100 bucks and gave me the receipt and left. Acko assigned a surveyor and he called me and said that he will be evaluating the damage tomorrow morning. I also called the Jeep service manager and he confirmed that the vehicle has arrived at the service center and he will take care of it and other formalities.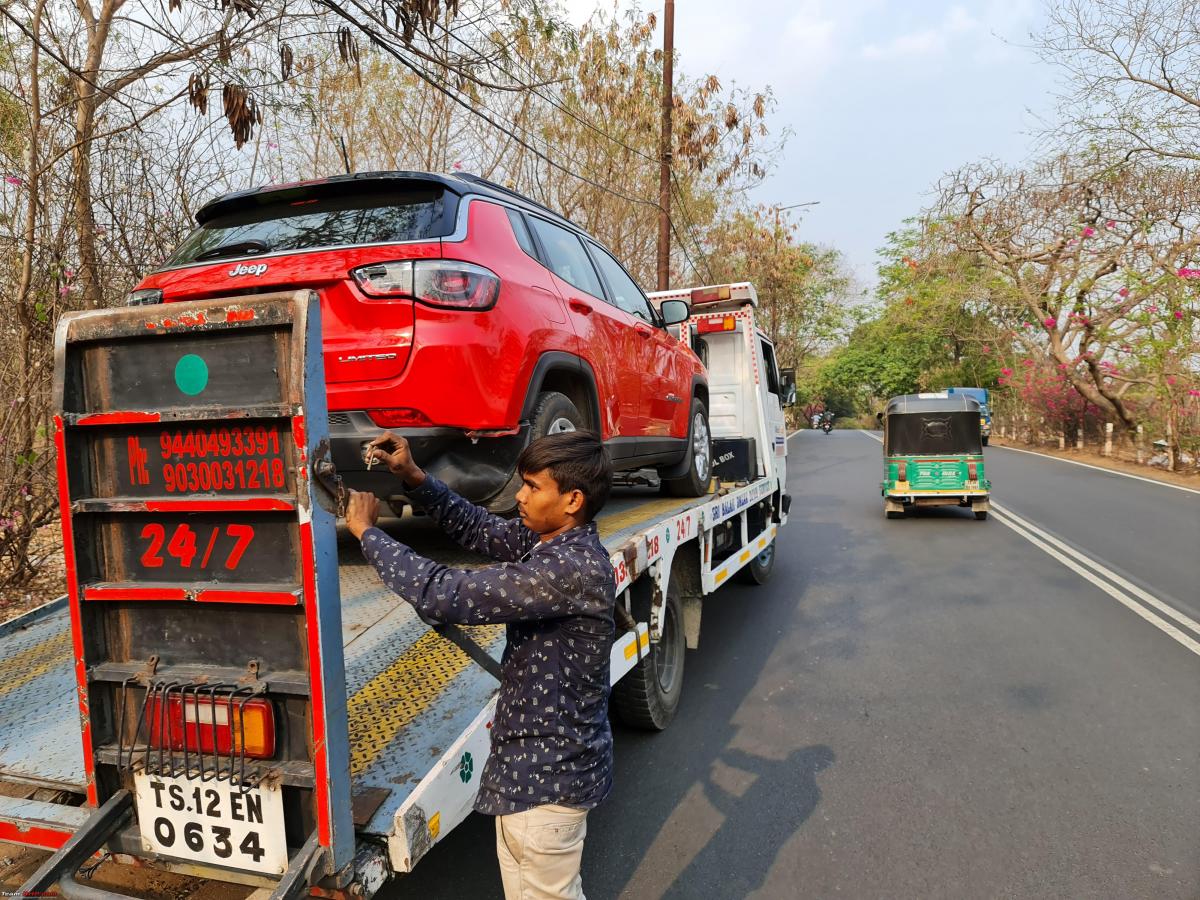 He messaged me this in the evening. I asked him about the insurance papers.
Lessons learnt
Not to park the vehicle on road even on an empty stretch of road. Always park away from the road on the side.
Install rear dashcam to record unfortunate events like this.
I really hope the claim formalities go smoothly without much damage to my pocket. As I have Zero depreciation insurance, I am assuming that all damages will be covered in it and I will only have to pay the mandatory deduction amount which is around 5k+2k.
Finally 2 accidents in a span of 6 months. First one was with a rented Innova, met with an accident on my Karnataka trip and this one. Seriously a series of unfortunate events.
The only silver lining was that no police got involved and the bike guy agreed that it was his mistake. There are many ways this could have turned ugly and would have been escalated quickly. Thank God for that.
Here's what BHPian Meph1st0 had to say about the matter:
It was really nice of you to get him treated in the hospital. But from the pics, it looks like you parked on the road and not the roadside. This is wrong and I think you understand it now. People don't expect a vehicle to be stopped in the middle of the road. If there is a breakdown, hazard lights should be on and the warning triangle should be kept at a suitable distance. Otherwise one may fail to recognize that the vehicle has stopped. Also please consider the inconvenience it causes to the other road users.
Check out BHPian comments for more insights and information.
Source: Read Full Article