How I plan to fit my 4.4-metre Jeep Compass in my sub-4m parking space
Even a Ford Ecosport & Mahindra XUV300 are a snug fit, with no room for error.
BHPian ramnaresh_2000 recently shared this with other enthusiasts.
Bhpians, need some advice and your valuable input on parking my Phoenix inside my home.
Background: Since I purchased my Compass during the pandemic WFH era, I used to park it in my parent's house in my hometown. It was a nice covered parking area with walls on 2 sides and an open area on the other 2 sides. Now as my son's school has started, I shifted back to Hyderabad. I am still WFH
Problem: I live in a duplex house with a limited parking area which can fit only small cars which are less than 4 meters in length. It can easily fit i10, Santro, Celerio, Kwid and Tiago (you get the idea). It can fit Swift, Ecosport or XUV300, but it will be a very snug fit with no room for error. The issue is that my Compass is approximately 4.4 meters in length. I don't want to park it on the road as the harsh Hyderabad sun and rains will ruin the paint. It will attract rats and bird droppings.
Solution/Jugaad: To extend my gate and make it into a 2 step folding gate, so that my Compass is protected. I will use a car cover to protect the backside.
Advice Needed: I know the problem, I have the solution, but need advice on the gate folding mechanisms. I found a few images online, but not sure which will be the best mechanism for me.
Please do share images if you are using this kind of solution or any other jugaads you are using.
In the below image, you can see the back protruding outside quite a bit and cannot close my gate.
I want the folding mechanism near the red arrows.
Need advice on damping material required on the sidewalls and front entrance. The right side door and front bumper need protection from walls due to tight gaps.
Founds some images online. Credits to the original uploader.
This one looks overdone.
Below are screenshots from the YouTube video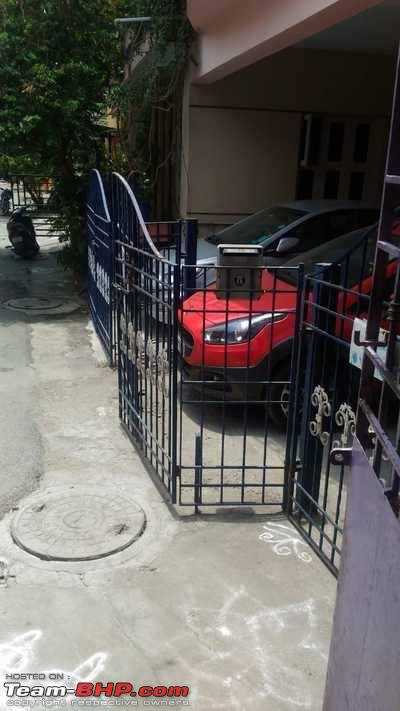 Final question: Will this extension be illegal? Are any approvals required from the local municipality?
Thanks in advance.
Here's what BHPian anjan_c2007 had to say on the matter:
The best solution will be to extend your gate taking the help of a good fabricator to make it a two-step folding gate. Apart from using a car cover please also make the gate taller and opaque using either metal or acrylic sheets keeping the aesthetics ok. A taller gate covering the full height of the SUV can camouflage it from prying eyes.

Such two-step folding gates have become common in Delhi since the 1990s in localities where each middle/upper-middle class house (they call it "Kothi") has an average of at least four cars these days. These two-step folding gates intrude into the footpath space on broader roads no doubt but are only too common, especially in South Delhi.
Here's what BHPian hridaygandhi had to say on the matter:
We were in a similar situation a few years back, and had to consider Ford Fusion instead of Fiesta (2006) and Honda Jazz instead of Honda City (2011) and hence when it was time for the next upgrade, decided we did not want a 4-metre parking space to limit our choice of the car.

We were in a slightly different situation than you in the sense we had a covered garage with a shutter, so we decided to install a new shutter outside the roof (the older one was inside the roof) to increase the length of the garage to 4.8 metres. This way our shutter closed on the ramp instead of in the parking like it used to before. (It helped that we had our house constructed leaving a 10ft space between the road and ramp and hence owned that area.) We also took the opportunity to install the automated open-shut mechanism which has been such a boon.

In your case, I would suggest you get a sliding gate installed outside the wall, which can run alongside the outer wall when opened. (No legality issue as well.) It will barely take up any space, will not open on the road and like us, you can take the opportunity to remote control the opening, which will be a huge convenience on sunny/rainy days.

Another suggestion would be to get a roof and shutter combination installed (since you own the land of the ramp as well) which can fully cover your parking and protect your car.
Here's what BHPian Cliff9091 had to say on the matter:
I think the gate extension is the best solution for you, it's a common practice in Bangalore and is termed as box gates, as for the door hitting the wall, the best I can think of the baby proof materials for sharp corners and walls at home, or also soundproofing foam panels. Get them in the shade of your wall, or paint them in the shade wall It will look neat and not very tacky. The gate extensions there are mixed reactions on the forum.

Moreover, the car will be used I'm assuming daily throughout the day and be parked only at the night and at the time of day, there should be no problem with the "footpath" being used. As seen in the photos you shared when people park the cars on roads unevenly and you're making an effort not to cause a problem to passerby, the small gate extension is justified. Be sure to get a nice car cover and acrylic/plastic sheet extensions if your budget permits.
Check out BHPian comments for more insights and information.
Source: Read Full Article