Forza Horizon 4 Season Change: Hard Chargers Blast Through Spring
Temperatures are rising once again in the UK, as Spring has made its grand return to Forza Horizon 4. This latest seasonal switch marks the final week of Series 20, with a fresh serving of events and content.
The final Series 20 Playlist brings updated prizes for 50% and 80% completion. There's no new content making its debut this week, but you'll have a fresh opportunity to bag one of the wildest hypercars ever made.
Read on further for our content breakdown.
Agera Packs a Mighty Punch
This week's prizes are all returning content, with Koenigsegg leading the charge. The 2015 Koenigsegg One:1 is the result of taking a standard Agera and turning up the extreme meter past eleven.
Alongside the wild aerodynamic upgrades, the One:1 is the first hypercar to develop a power to weight ratio of 1hp per 1kg. The 5.0-liter, twin-turbocharged V8 pumps out 1,360hp, coupled with a weight of 3,000lb (1,360kg). Despite producing a lot more downforce than a standard Agera, you'll need to be on top of your game to rein in the One:1.
Also up for grabs is the Alfa Romeo 33 Stradale. This beast is one of the rarest and most beautiful cars ever made. It also packs serious firepower underneath those curves. A tiny 2.0-liter V8 puts out 245hp in a car weighing just over 1,500lb. The 33 also has a reputation in the community for decimating drag racing events when tuned to full power.
This week's prizes in the seasonal championships include the Hoonigan Ford Fiesta RS and the Lamborghini Reventon Forza Edition.
One prize to look out for is the Mercedes-AMG GT63 S. This four-door bruiser is a more practical version of the AMG GT sports car. Under the hood sits AMG's familiar 4.0-liter, twin-turbocharged V8, but has been tuned to produce 640hp. Along with four-wheel-drive, the AMG GT sedan should easily steamroll through all weather conditions.
You'll need to complete this week's Trial event "Discount Delivery" to add the AMG to your garage.
If you're in the mood for a Showcase Remix, the latest returning version promises to be fast and furious. "Supersonic vs Superfast" will see you get back behind the wheel of the volcanic Ferrari 812 Superfast. Here, you'll be racing against a formidable Delta Wing aircraft
Events and prizes for this week are below.
New Arrivals
Series: Road Racing Series
Cars: Modern Supercars
Restrictions: S2 Class, 998 PI
Prizes: 15,000 CR, 25,000 CR, Lamborghini Reventon FE
Pulling Power
Series: Cross Country Series
Cars: Extreme Offroad
Restrictions: A Class, 800 PI
Prizes: 15,000 CR, 25,000 CR, The Gun Show emote
Just In Time
Series: Road Racing Series
Cars: Hypercars
Restrictions: S2 Class, 998 PI
Prizes: 15,000 CR, 25,000 CR, Hoonigan Ford Fiesta RS
The Trial: Discount Delivery (Co-Op Championship)
Series: Street Scene
Cars: Reasonably Priced Cars
Restrictions: B Class, 700 PI
Prizes: Mercedes-AMG GT 4-door
Spring Games – Series 20
Series: Playground Games
Cars: Hot Hatch
Restrictions: C Class, 600 PI
Prizes: Honda Prelude
Old Town Speed Trap
Season Objective: 210 mph
Mam Tor Danger Sign
Season Objective: 1,010.5 ft
Strathbridge Speed Zone
Season Objective: 140 mph
Forzathon Events
Forzathon goes extreme this week, with Extreme Offroad cars taking center stage. Grab one of these wild beasts to get started.
Next, prove your off-road credentials by winning 3 Cross Country Series events. Afterwards, test your extreme off-roader's durability by earning 20 Wreckage Skills.
Finally, build up some air miles by earning 9 stars from Danger Signs to finish this week off.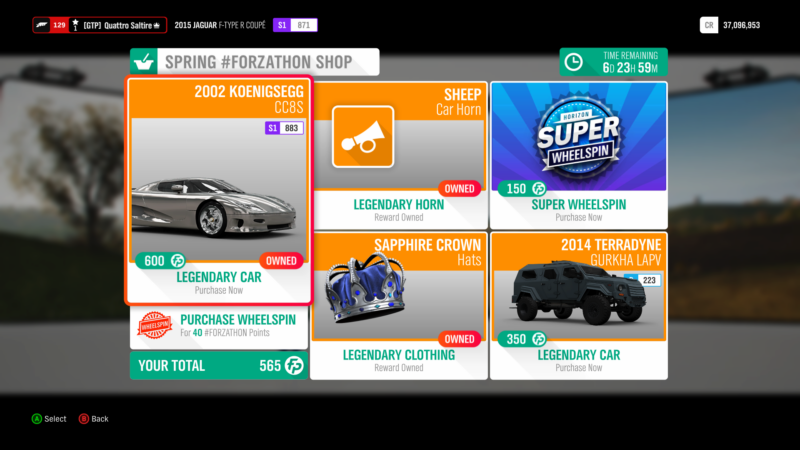 Forzathon Shop
Koenigsegg is back at the front of the Forzathon Shop lineup this week, with the car that catapulted the company into the hypercar spotlight.
The CC8S was the first production model Koenigsegg made, and gave a serious shock to the elite establishment. Power by a supercharged 4.6-liter V8, the CC8S puts out 655hp, and produced performance on par with the McLaren F1.
If you want the CC8S, you'll need to pay up 600 Forzathon Points. If current Koenigseggs are too wild for your tastes, then the CC8S might just provide what you're looking for.
Alongside the Koenigsegg stands the imposing Terradyne Gurkha. This armored patrol vehicle will bulldoze whatever chooses stand in its way, thanks to its hefty 16,500lb bulk. You won't be getting anywhere fast in the Gurkha as the 6.7-liter, turbocharged V8 diesel engine produces just 300hp. Once you get going, the Gurkha is pretty much unstoppable.
The Gurkha will set you back 450FP this week. If you're after a brute in order to your authority on the Horizon Festival, then look no further.
This week's novelty items are the Sheep horn and the Sapphire Crown.
Feature image courtesy of Komojojo
Source: Read Full Article