Forza Horizon 4 Season Change: Delivering a Powerful Summer
Summer has rolled in to the UK to begin a fresh week in Forza Horizon 4. The newest season marks the kickoff for Series 20, with a spate of new content due to arrive over the next four weeks.
Series 20 also means an all-new Playlist, with new prizes available for 50% and 80% completion. This week sees the debut of the fastest McLaren ever made. There's a lot to get through this week, so let's dive in.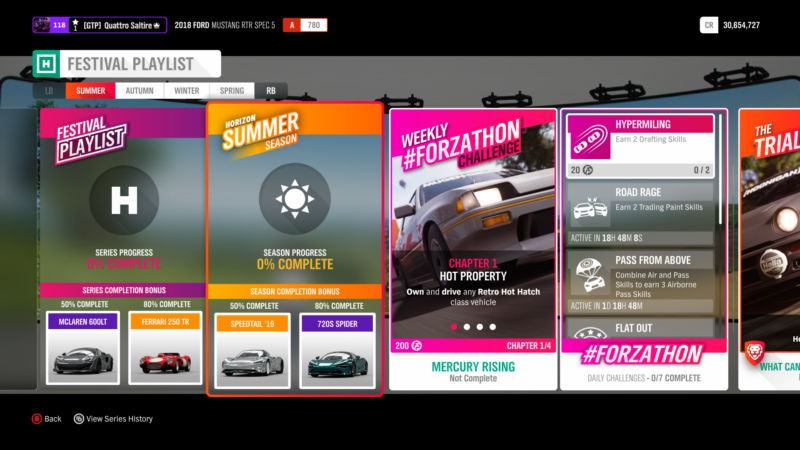 Speedy Speedtail
The big Summer season prize this week is the gaming debut of the 2019 McLaren Speedtail. Woking's latest Ultimate Series flagship is its fastest and most powerful road car ever made.
Using a 4.0-liter, twin-turbocharged V8 with hybrid assistance, the Speedtail produces a mighty 1,036hp. Combined with a sleek aerodynamic body, the Speedtail will blast on to 250mph. To revive the spirit of the old McLaren F1, there's also a three-seater layout with a central driving position.
Those eager to try out the Speedtail for they can win one, a new Monthly Rivals event will give you that opportunity. You can attempt to tame the Speedtail around the Lakehurst Copse Circuit this month.
If you're after huge speed, but without the F1 nostalgia, then the McLaren 720S Spider will be for you. Like the Speedtail, the 720S has a 4.0-liter, twin-turbocharged V8, but the Super Series model produces a more modest 710hp. Despite gaining a folding hardtop roof for the Spider variant, this 720S retains identical performance to the coupe.
Prizes for completing the Playlist include the McLaren 600LT and Ferrari 250 Testa Rossa. Over with the seasonal championships, the prizes include the Hoonigan Ford RS200 and BMW Z4 M40i
One prize that fans will enjoy is the Ferrari F50. Designed to replace the F40, this supercar was labelled as a 'Formula One car for the road'. The 512hp, 4.7-liter V12 was derived from the Ferrari 641 racer, and was bolted directly to the carbon tub. If you want the F50, you'll need to win the "Handle With Care" championship to get it.
There's also a new Horizon Story available through the whole month. "Express Delivery" will see you hop in to some of Horizon's commercial vehicles to deliver an assortment of items to various points around the UK.
Prizes for this week are listed below:
Handle With Care
Series: Dirt Racing Series
Cars: Retro Supercars
Restrictions: A Class, 800 PI
Prizes: 15,000 CR, 25,000 CR, Ferrari F50
First Class Postage
Series: Road Racing Series
Cars: Modern Sports Cars
Restrictions: A Class, 800 PI
Prizes: 15,000 CR, 25,000 CR, 2019 BMW Z4 M40i
Next Day Delivery
Series: Street Scene
Cars: Vans and Utility
Restrictions: A Class, 800 PI
Prizes: 15,000 CR, 25,000 CR, Plymouth Fury
The Trial: What Can Brown Do For You? (Co-Op Championship)
Series: Dirt Racing Series
Cars: Rally Monsters
Restrictions: S1 Class, 900 PI
Prizes: Hoonigan RS200
Summer Games – Series 20
Series: Playground Games
Cars: Super Hot Hatch
Restrictions: B Class, 700 PI
Prizes: 2018 Honda Civic Type R
Ambleside Edge Danger Sign
Season Objective: 984.3 ft
Hythe House Speed Trap
Season Objective: 200 mph
Brookside Speed Zone
Season Objective: 147 mph
Forzathon Events
This week's Forzathon looks at cars that became cult heroes in Britain: Retro Hot Hatches. Own and drive one of the pocket rockets available to get started.
Next, unleash your car's full potential and rack up 25 Ultimate Speed Skills. You'll need a fair bit of tuning to get your car up to the required speeds for this one. Afterwards, it's time to hit the streets as you'll need to earn 3 victories in Street Scene events.
Finally, you'll have to earn 3 stars in total from Speed Zones to finish this week's challenges.
Forzathon Shop
The shop lineup this week consists of a pair of rare Italian beasts. Sitting front and center is the 2018 Lamborghini Huracan Performante.
Designed to be more track-focused than a standard Huracan, the Performante sheds 88lb and gains a power boost to 631hp for the 5.2-liter V10. The Performante's party piece lies in its hidden active aerodynamics, allowing for much more downforce than a regular Huracan.
If you want it, the Performante will cost you a hefty 650 Forzathon Points. That means that if you were unlucky and missed it during Series 18, you now have another chance to grab one.
However, should you be after something more classic, there's the Alfa Romeo Giulia TZ2. This racer was designed to take on Porsche in GT sportscar racing during the 1960s. The TZ2 racked up multiple wins during an 18-month period. Despite only having a 1.6-liter engine making 170hp, the TZ2 weighs in at a scant 1,367lb, allowing for enjoyable handling.
You will need to fork out 450 FP if you want one. However, you might save yourself from spending millions in the Autoshow if you choose to get it from the shop.
Clothing items available this week are the Pink Biker Boots and Pink Biker helmet.
Source: Read Full Article