Fantastic experience at a premium car detailer in Gurugram
I wanted to get ceramic coating done on my 2023 Hyundai Verna & based on my interaction with the owner, I found him to be really passionate & knowledgeable about what he does.
BHPian MyLife_MyCar recently shared this with other enthusiasts.
Got the ceramic coating done about 3 weeks ago from 5C Car Care Gurgaon, owned by our own TBHPian AJ56 aka Anish Jain. He is really passionate about what he does and has immense knowledge of everything related to car detailing and its maintenance. He even personally inspects each and every car before it leaves his shop to ensure that the customer gets more than what he/she pays for.
Backstory
As everyone keeps talking about 3M, it was the first brand in my mind when I thought of ceramic coating. A quick Google search showed a 3M Car Care near my home and I called up the guy. He quoted an amount X1 (don't remember the exact amount) with a maintenance application every 4-6 months for 2 years.
Called up another 3M Car Care (at NFC) and he quoted amount X2 (which was significantly higher than X1) with 2 maintenance applications every 6 months. Confused at how two 3M stores differ so much in the price and maintenance schedule, I looked up for information on the 3M website and came to know that NFC is the only authorized 3M branch in New Delhi!
Anyway, still not convinced with both, I came to the Google of the car world (of course, TBHP) and started looking at the threads on ceramic coating. That's when I came across 5C Car Care (Professional Car Detailing – 5C Car Care, Gurgaon) and thought of giving it a try.
Getting up an appointment
Called up Anish to fix an appointment. He briefed me about the process and said that I need to leave the car for 3 days with him. One distinguishing point here was that there won't be a need for a maintenance pack every few months, as was the case with 3M. They use the SystemX Ceramic Coating.
Since I had to take a business trip for a week, I planned to leave my car 4 days before I travel so that I could collect it on time. Also, Anish mentioned that there is a 6-day curing period for the coating where it should not be exposed to heavy rain/water. It also worked well for me as the car would be sitting in the parking for the week that I was away.
Attaching a few before and after pics. You can easily see the swirl marks left by the cleaning guy at the dealer. I think my car had to be cleaned 2-3 times before delivery as it was raining for a few days in Delhi back then, and they had to wipe the car once before PDI and once before the delivery.
Bonnet
Door Handle
Tail Lamps
Overall, it was fantastic work done by Anish. He is very knowledgeable and has an eye for detail. Even a speck of dust can't escape from him. He ensures that his team is taking proper measures for handling the car. There are a couple of water tanks to store RO water and numerous washing/cleaning mitts for wiping the car. I opted for glass coating as well as an add-on.
The evening I went to collect the car, there was heavy traffic as usual. Though I tried to leave as early as possible, I was late due to some office meetings. Anish had to wait beyond his closing time just for me to collect the car.
Exposure to hard water
10 days after getting the ceramic coating done, I was at my in-law's place where they had a garden hose and I decided to wash the car there on my own. After happily seeing the car enjoying a full wash, I got to know that the tap that I connected the garden hose to gets the hard water.
By the time I realized this, it was already too late and hard water left its mark on the car.
Below is a sample image from Google. Could not get a picture of my car:
With a heavy heart, took it to a detailing shop near my home to get a thorough foam wash. The owner of that shop started asking me about the ceramic coating – from where I got it done, what is the duration for applying the maintenance pack etc.
Without going into much detail, I replied that I got it done from Gurgaon, and there is no need for reapplication if maintained properly. Hearing this, the guy started doubting the quality of the ceramic coating and told me that I might have been fooled as all ceramic coatings need a reapplication/top-up after 5-6 months. He was being sarcastic when telling me this (or at least I felt so). Hence, I told him that I got this done from 5C Car Care and they use SystemX ceramic coat.
The guy meekly said okay and did not probe any further adding that SystemX is good.
He, however, suggested me to take the car back to 5C and get it checked there for removing hard water spots as he did not want to risk applying some solution that might harm the ceramic coat. I appreciated his honesty, thanked him, and left the place.
Setting up a second appointment
Messaged Anish immediately and told him about the issue. Since he was committed to some other customers, he asked to bring in the car after 2 days.
In those two days, there was a light drizzle in Delhi. Delhi is yet to get a proper monsoon – there is a streak of hot sunny days, followed by some winds and showers randomly. Although I have a covered parking, there is a lot of dust in the area as there is construction work going on nearby (metro and buildings). Somehow, the rainwater, mixed with dust, found its way in the parking (due to the winds), all settled and eventually dried on my car. Not a good scene to watch.
Anyway, after 2 days, on a Thursday morning, took the car to 5C. Anish's staff immediately took the car in and gave it a nice foam wash to start with. The car was back to its glory or at least that's what I thought after seeing it from a distance. On a close inspection, found that the hard water marks are still there, sticking firmly to the surface.
Thus, begins the experiment from Anish and he tried applying some solution (don't remember the name) to the bonnet – first with X% dilution, then with Y% dilution and so on. At some point, it worked! The marks were almost gone, but to treat the whole car, it would take time. So, Anish asked me to leave the car and collect it the next day (Friday).
Collecting the car post-treatment
Started from my home on Friday evening after wrapping up my calls by 5.30 pm. Figured that it would take me an hour to reach 5C. However, the Murphy Uncle paid a visit and it started drizzling. Traffic jam, followed by water logging and the evening peak hour rush, resulted in a delay and I reached 5C after 7.45 pm.
Around 7.15pm, I dropped a message to Anish informing him that I'm on the way and stuck in traffic. He told me that it was raining heavily and water-logged roads in Gurgaon, and asked me to collect the car next day. However, I was just 4-5Km away now, and going back would mean wasting all the efforts for coming so far, and repeating the same thing the next day (the forecast said it would continue to rain the next day).
I requested Anish if he could wait for a few minutes. Although it was his closing time and his staff had all left, he patiently waited for me, yet again.
On top of that, he did not charge me anything on goodwill (just for this once). Really appreciated his gesture!
The car is back to its original form, and now I have learnt a lesson to always check the source of water that is being used to wash the car. The black color is really a tough one to maintain and needs a lot of pampering. However, the shine of a clean surface and then the smile on your face is totally worth the effort.
Watching the Glass Coating in Action
As I opted for an add-on glass coating from 5C, I got to see it in action on my way back home after collecting the car. It was still raining but the water on the windscreen was no issue. During my journey from 5C to home, which was almost 35 km, I had to use the wiper only 2-3 times. Even it was night, it was fairly easy to drive without the wipers in the city lights. I was, of course, extra cautious and did not exceed 50kmph, but wanted to highlight the ease of drive with the coating on the glass.
The pics below do not do complete justice.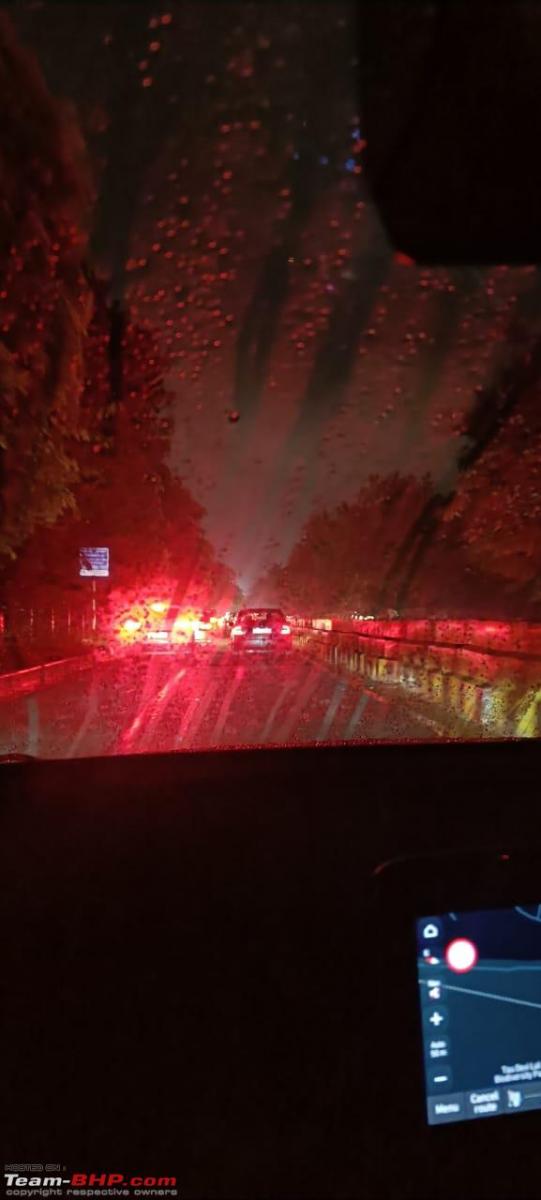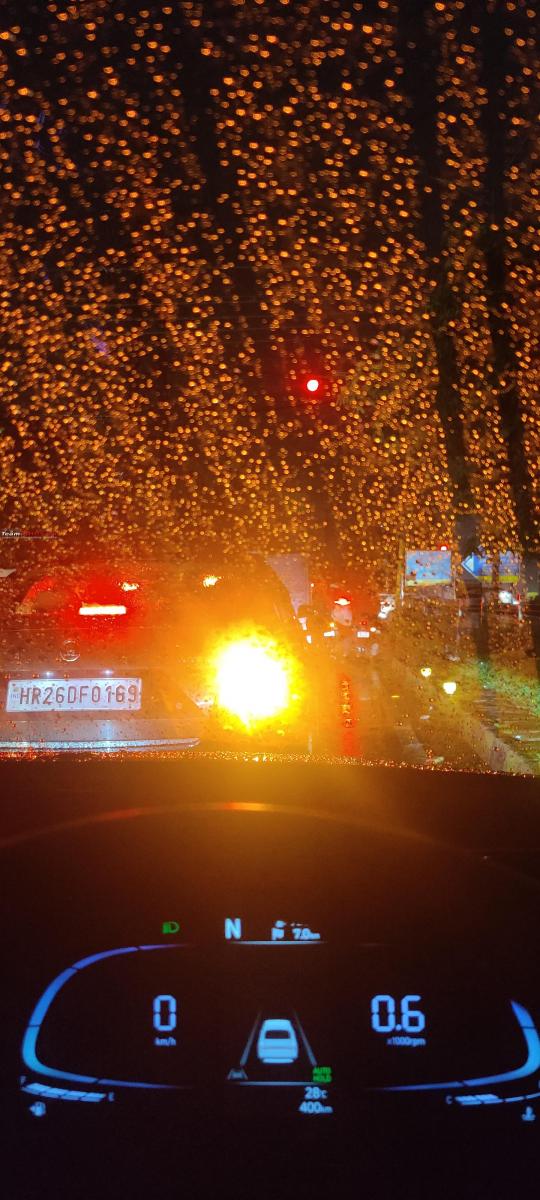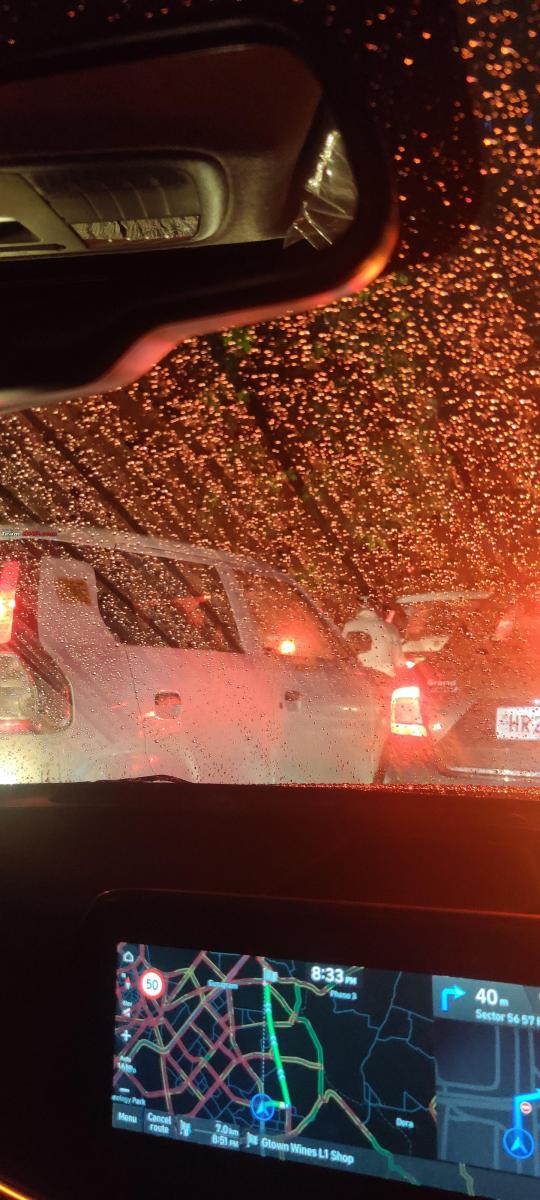 Disclaimer: I am in no way associated with 5C Car Care. This post is purely based on my interaction and experience with Anish and 5C Car Care.
P.S: I need to click pics more frequently to capture all the memories with the car
Check out BHPian comments for more insights and information.
Source: Read Full Article