Every 2021 Midsize Crossover and SUV Ranked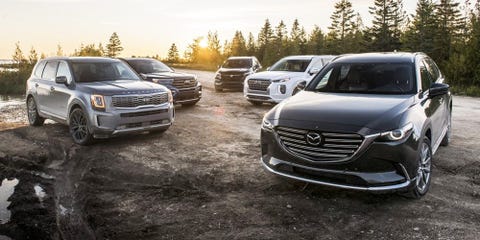 Think of these crossovers and SUVs as the just-right ones. They fall right in the middle of the size and price spectrum that sees subcompacts on one side and full-size rigs on the other. Once made up almost entirely of truck-based entries with rugged frames, four-wheel-drive systems, and meaty tires, this segment is now practically overflowing with crossovers, vehicles based on car platforms using relatively efficient engines, including two- and three-row offerings. Beefy styling and body cladding intended to evoke 4x4s of yore make up the personality gap, though a few truly hardcore off-roaders are still offered. So, click on for a peek at how the crowded midsize SUV class shakes out, as ranked from worst to best.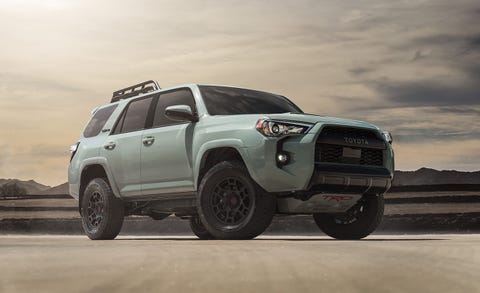 In a world rapidly being consumed by car-based crossovers, Toyota's 4Runner is one of the few remaining midsize SUVs to share DNA with a pickup truck. Although it's offered in two-wheel-drive base form, it's a proper 4×4 that offers up to 5000 pounds of towing capacity. Those accustomed to the smooth ride and swanky interiors of modern crossovers may find that the rugged 4Runner falls short in those metrics. Available with just one powertrain—a 4.0-liter V6 with 270 horsepower and 278 lb-ft of torque mated to a five-speed automatic transmission—this beast is outdated and somewhat sluggish, but also several times beefier and dirt-ready than the competition.
Base price: $37,265
Engine: 270-hp 4.0-liter V6
Cargo space: 47 cubic feet
MORE 4RUNNER SPECS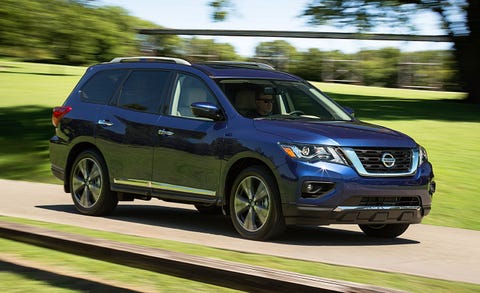 Once an off-road warrior like the Toyota 4Runner, the Nissan Pathfinder has matured and has happily found itself in a family way. For starters, it's a car-based crossover, not a body-on-frame ute like it used to be. There is seating for seven with easy access to the third row, even with a child seat installed on the second-row bench. A 284-hp 3.5-liter V6 powers either the front or all four wheels through a continuously variable automatic transmission, but it feels dated. Thankfully, there's a new-generation Pathfinder hitting showrooms in summer 2021, with a nine-speed automatic transmission, modern looks, and a far more intuitive interior.
Base price: $33,130
Engine: 284-hp 3.5-liter V6
Cargo space: 16 cubic feet
MORE PATHFINDER SPECS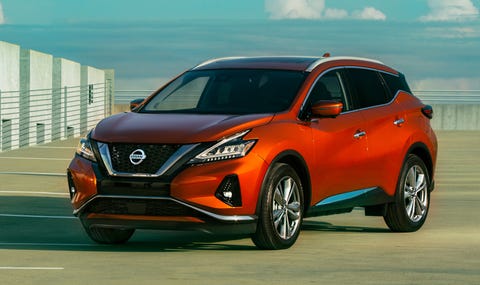 Not much has changed this year for the 2021 Nissan Murano. It's still got the same sharp looks and the same smooth ride. Front-wheel drive is standard, but all-wheel-drive is available on every trim. Nissan's Safety Shield 360 is also standard on all four trims, with automated emergency braking, rear cross-traffic alert, rear alert with emergency braking, and high-beam assist. A 260-hp 3.5-liter V6 with a CVT is the only powertrain. The interior is nicely appointed with handsome optional leather upholstery, and the ride is quiet and composed.
Base price: $32,575
Engine: 260-hp 3.5-liter V6
Cargo space: 31–32 cubic feet
MORE MURANO SPECS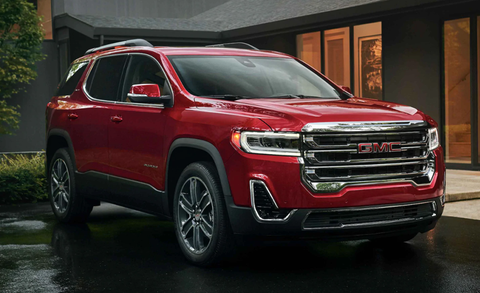 The three-row Acadia provides plenty of storage and room for up to seven, despite being smaller (and much lighter) overall than its predecessor. It drives fine for an SUV; in our testing, the front-drive version matched its EPA fuel-economy rating of 25 mpg, but the all-wheel-drive model fell short of its estimate by 5 mpg, managing only 20 mpg. Cargo room is tight with the third row in use but improves considerably with it folded. Interior tech includes an 8.0-inch touchscreen infotainment with wireless Apple CarPlay and Android Auto connectivity, and 4G LTE Wi-Fi capability on all trims.
Base price: $30,995
Engines: 193-hp 2.5-liter I4; 310-hp 3.6-liter V6
Cargo space: 13 cubic feet

MORE ACAIDA SPECS

The Chevy Traverse is no minivan, but its interior is nearly as spacious as one. Folding the third row opens up 57 cubic feet of cargo space behind the second row. With both second and third rows folded the Traverse has 98 cubic feet of space, which is just 3 short of the Toyota Sienna minivan. The 310-hp 3.6-liter V6 under the hood drives the front or all four wheels through a slick-shifting nine-speed automatic. A 7.0-inch infotainment display is standard, and an 8.0-inch unit is optional; both come with Apple CarPlay and Android Auto. Automated emergency braking is an available feature, as are conveniences like adaptive cruise control and automatic high-beam headlamps.

Base price: $30,995
Engines: 310-hp 3.6-liter V6
Cargo space: 23 cubic feet

MORE TRAVERSE SPECS

Subaru's Ascent was late to the three-row crossover party, but it arrived with its sights set on segment domination. Its roomy, storage-bin-laden cabin offers room for up to eight passengers as well as the image of traditional Subaru all-weather readiness. Flexible seating and excellent packaging provide ample passenger space and easy access to the third-row seat. The 260-hp turbocharged four-cylinder engine can tow up to 5000 pounds and is complemented by competent handling. Should the Ascent's athleticism run out, automated emergency braking and lane-keep assist is there to help.

Base price: $33,345
Engine: 260-hp turbo 2.4-liter H4
Cargo space: 18 cubic feet

MORE ASCENT SPECS

The Toyota Venza is a 219-hp all-wheel-drive hybrid. It uses the same powertrain as the more affordable Toyota RAV4 Hybrid, but the RAV4 has a better EPA-estimated highway fuel economy at 40 mpg, can drive further on a tank of gas, and despite being a compact crossover, also has more cargo area than the Venza. It's not all bad news though, as the Venza is a handsome looking alternative, and it's the first Toyota with an optional electrochromic panoramic sunroof. It can turn transparent to opaque with the flip of a switch. The Venza has a bunch of driver-assistance features standard, like automated emergency braking, lane-departure warning, and adaptive cruise control on every model. Per Toyota's hybrid powertrain warranty, the Venza comes with an eight-year or 100,000 hybrid component coverage.

Base price: $33,645
Engine: 219-hp 2.5-liter I4 electric-hybrid
Cargo space: 28 cubic feet

MORE VENZA SPECS

The two-row Ford Edge sits between the smaller Escape and larger three-row Explorer in size, but the Edge is still a somewhat popular seller in the midsize segment. Its boxy shape maximizes interior space in the cargo area, with 39 cubic feet behind the second row and an impressive 73 cubic feet with the second row folded. A 245-hp turbo inline-four or a 280-hp V6 mate to a six-speed automatic and front- or all-wheel drive. The top ST trim is powered by a 335-hp twin-turbo V6 with all-wheel drive and a heated steering wheel standard.

Base price: $32,495
Engines: 250-hp turbo 2.0-liter I4; 335-hp twin-turbo 2.7-liter V6
Cargo space: 39 cubic feet

MORE EDGE SPECS

The Blazer name is back in Chevrolet showrooms, only unlike before, it's attached to a car-based crossover instead of a rugged 4×4 SUV. Feelings on the name are mixed, but there's no denying the Chevy Blazer is a cool-looking piece, one that successfully mixes Camaro styling cues with an aggressive, lifted-hatchback shape. Three engines are available, a base naturally aspirated four-cylinder, a turbocharged four-cylinder, and a V6—and all-wheel drive is optional.

Base price: $29,995
Engines: 193-hp 2.5-liter I4; 227-hp turbo 2.0-liter I4; 308-hp 3.6L V6
Cargo space: 31 cubic feet

MORE BLAZER SPECS

The Volkswagen Atlas Cross Sport is simply the two-row version of the seven-passenger Atlas. Both SUVs share the same powertrains, including a 235-hp turbo four-cylinder and a 276-hp V6, and use an eight-speed automatic transmission. The lower roofline gives it some attitude compared with the bigger Atlas too. This five-passenger version has an extra three inches of legroom over the three-row, making it a comfortable and spacious experience for anyone in the second row. During our highway fuel economy test the V6–powered Atlas Cross Sport achieved 25 mpg, slightly better than the Ford Edge ST and Honda Passport. Driver assist features such road-sign recognition and adaptive cruise control are optional, and can be especially useful when dealing with stop-and-go traffic.

Base price: $32,050
Engines: 235-hp turbo 2.0-liter I4; 276-hp 3.6-liter V6
Cargo space: 31 cubic feet

MORE ATLAS CROSS SPORT SPECS

Like its namesake, the Volkswagen Atlas can carry the world on its shoulders—at least figuratively speaking. Unlike many three-row crossovers' third row seats, the Volkswagen's can hold two adults comfortably. There is even room for luggage behind them. Apple CarPlay and Android Auto are standard, and a 12-speaker Fender audio system is optional. The base model comes with a 235-hp turbocharged four-cylinder engine, front-wheel drive, and an eight-speed automatic. All-wheel drive is available, and so is a 276-hp V6. Optional safety tech includes automated emergency braking and lane-keep assist.

Base price: $32,565
Engines: 235-hp turbo 2.0-liter I4; 276-hp 3.6-liter V6
Cargo space: 21 cubic feet

MORE ATLAS SPECS

The Dodge Durango remains big and brawny in an era of soft, curvy crossovers—and it's also not as trucklike as other large SUVs. Its handling is quite good given its size (even in regular-grade, non-SRT form), and its ride is comfortable. There's a 295-hp V6 and a few V8 options to choose from that can be had in either rear- or all-wheel drive. The V6 can tow 6200 pounds; the V8 can tow up to 8700 pounds. The optional third row makes room for seven. An 8.4-inch infotainment touchscreen is standard, while a 10.1-inch screen is optional for the all-wheel-drive GT trim and standard on Citadel and R/T. The Dodge Durango is the only SUV on this list to offer three rows of seats and 710 horsepower, found in the Durango SRT Hellcat.

Base price: $33,490
Engines: 293–295-hp 3.6-liter V6; 360-hp 5.7-liter V8; 475-hp 6.4-liter V8
Cargo space: 17 cubic feet

MORE DURANGO SPECS

The two-row Hyundai Santa Fe is refreshed for 2021 with new powertrains and an upgraded interior. Every engine offered in the Santa Fe is a four-cylinder, starting with the 191-hp base engine up to the 277-hp turbocharged 2.5-liter with a dual-clutch automatic transmission. The Santa Fe Hybrid adds an electric motor to a turbocharged 1.6-liter for a combined 225 horsepower. The jump between the SEL and Limited trims with those powertrains is nearly $10,000. Hyundai plans to add a plug-in-hybrid model later in 2021. The dash is fitted with a 8.0-inch touchscreen standard, with a 10.3-inch screen optional. The buttons and controls are easy to find and use. Every Santa Fe comes standard with forward-collision warning and automated braking, adaptive cruise control with stop-and-go tech, and lane departure warning with lane-keep assist.

Base price: $26,995
Engines: 191-hp 2.5-liter I4; 277-hp turbo 2.5-liter I4; 225-hp turbo 1.6-liter I4 with electric motor
Cargo space: 36 cubic feet

MORE SANTA FE SPECS

If a stylish, useful, and trouble-free ride is what you're after, the Honda Pilot lands on its feet. Every Honda Pilot uses a 280-hp 3.5-liter V6 to power the front or all four wheels through a nine-speed automatic transmission. The all-wheel-drive system offers torque vectoring for improved traction and settings for snow, sand, and mud. The Pilot's three rows provide plenty of room for all, and a host of driver-assistance tech is available to help keep everyone safe. Should you dig the Pilot's vibe but only want two rows of seating and tidier exterior dimensions, Honda offers the Passport; that SUV looks nearly the same, if slightly stubbier in length.

Base price: $33,725
Engine: 280-hp 3.5-liter V6
Cargo space: 17 cubic feet

MORE PILOT SPECS

The new Ford Explorer looks to build on its previous success of being one of the most popular SUVs ever. Immediate improvements include an optional hybrid drivetrain, an 8.0-inch touchscreen with Apple CarPlay and Android Auto standard, as well as a new mechanism that allows passengers easier access into the third-row nosebleeds. It didn't win our most recent comparison test among other new three-row SUVs, but it did have the best braking distance among its competition. A 300-hp turbocharged four-cylinder is standard, but move up to the ST trim to unlock a 400-hp twin-turbo V6. The Explorer can tow a maximum 5600 pounds in top Platinum and ST trims.

Base price: $33,470
Engine: 300-hp turbo 2.3-liter I4, 365-hp twin-turbo 3.0-liter V6, 400-hp twin-turbo 3.0-liter V6, 318-hp electric-hybrid 3.3-liter V6
Cargo space: 18 cubic feet

MORE EXPLORER SPECS

Uh, what's a Jeep Wrangler doing here? It's true, the legendary Wrangler is unlike any vehicle it shares the segment with. The doors are easily removable, the windshield folds down, and let's just say you won't see people in Ford Explorers waving to each-other in traffic (at least not with two fingers, that's a Jeep thing). It's available in two- or four-door, with four different powertrains. A 285-hp 3.6-liter V6 is standard, but there's also a 270-hp turbocharged four-cylinder, a 260-hp turbo diesel V6, and a newly added 270-hp turbocharged four-cylinder plug-in hybrid. A six-speed manual transmission is standard on the 3.6-liter, but the optional eight-speed automatic is standard with everything else. There's also a V8–powered Wrangler 392 on its way and a fully-electric Wrangler planned for as early as 2022. The Wrangler has 13 different trims to choose from, including a right-hand-drive four-door model, for folks who take their mailman cosplay extremely serious.

Base price: $29,970
Engines: 285-hp 3.6-liter V6; 270-hp turbo 2.0-liter I4
Cargo space: 13–32 cubic feet

MORE WRANGLER SPECS

The Jeep Grand Cherokee is about to undergo a major update, as the 2021 model year will introduce a new generation. A three-row version joins the lineup called the Grand Cherokee L. For now, the familiar handsome face of the current Grand Cherokee still offers plenty, as the outgoing two-row model won't be replaced until 2022. There's a trim option for any occasion, like the off-road-oriented Grand Cherokee Trailhawk with tools to travel earth's unpaved parts. A 475-hp V8 powered SRT model exists too, and so does an even crazier 707-hp Grand Cherokee Trackhawk. A tiny 5.0-inch display is standard on lower trims, but opting for the larger 8.4-inch touchscreen with the Uconnect infotainment software, is worth the extra money, as its quick and easy to use.

Base price: $33,890
Engines: 295-hp 3.6-liter V6; 360-hp 5.7-liter V8; 475-hp 6.4-liter V8; 707-hp supercharged 6.2-liter V8
Cargo space: 36 cubic feet

MORE GRAND CHEROKEE SPECS

The new Toyota Highlander is better than ever, offering more space and a fuel-efficient hybrid powertrain. Every gas-powered Highlander comes with a 295-hp V6 and eight-speed automatic transmission. Front-wheel drive is standard, but all-wheel drive is available. A 243-hp Highlander hybrid is available, which is available with either front- or all-wheel drive as well. The front-drive hybrid models get the best fuel economy, with an EPA-estimated 35 mpg on the highway. If you can match the EPA estimates, you could drive the Highlander almost 600 miles before stopping at the gas station. The standard Highlander completed our highway fuel economy test with a result of 28 mpg. Base and mid-range trims can seat up to eight passengers, but with available second-row captain's chairs on higher trims, the Highlander will seat seven instead. An 8.0-inch touchscreen for infotainment is standard, while a 12.3-inch screen is equipped on top Limited and Platinum trims. All models get SiriusXM satellite radio, a 4G LTE Wi-Fi hotspot, as well as Apple CarPlay, Android Auto, and Amazon Alexa connectivity.

Base price: $36,085
Engines: 295-hp 3.5-liter V6; 231-hp 3.5-liter V6, 167-hp electric motor, 68-hp electric motor, total system power: 306 hp
Cargo space: 14 cubic feet

MORE HIGHLANDER SPECS

Think of the Honda Passport as a Honda Pilot with part of its tail missing. The Passport is a plucky two-row, with predictable handling that makes it easy to drive anywhere. It comes with a 280-hp V6 and nine-speed automatic transmission only. All-wheel drive is available, but front-wheel drive is standard. The front-drive Passport is is the most fuel efficient version, getting an EPA-estimated 25 mpg on the highway, while all-wheel-drive models dip 1 mpg beneath that. The Passport can transport up to five people, with 50 cubic feet of cargo area behind the second row. It's spacious.

Base price: $33,965
Engine: 280-hp 3.5-liter V6
Cargo space: 50 cubic feet

MORE PASSPORT SPECS

Kia's Sorento is a good-looking, value-oriented crossover for those seeking to avoid the minivan stigma. The Sorento can be had in either front- or all-wheel drive, with a 191-hp four-cylinder engine standard and a 281-hp turbocharged four-cylinder available too. Both use an eight-speed automatic, though the 227-hp Sorento hybrid comes with a six-speed automatic only. The hybrid has an EPA-estimated 35 mpg highway fuel economy, while the other two powertrains both get 29 mpg. Inside is an easy-to-use 8.0-inch touchscreen, or optional 10.3-inch screen on higher trims. A wireless phone charging pad is also optional. The Sorento also comes with a 10-year or 100,000-mile powertrain warranty, one of the best warranty offerings of today.

Base price: $30,565
Engines: 191-hp 2.5-liter I4; 281-hp turbo 2.5-liter I4; 1.6-liter I4 with electric motor (277-hp combined output)
Cargo space: 13 cubic feet

MORE SORENTO SPECS

It's not easy to give a three-row crossover spirit, but the Mazda CX-9 drives like it's something better. It's earned several of our 10Best awards throughout the years, although it's starting show its age among a handful of truly worthy opponents. It's still a great choice. Mazda knows how to treat its drivers, as you'll find out just from siting in this CX-9. The materials feel good, and for 2021 its once tiny infotainment screen is replaced with a large 10.3-inch display. A 250-hp turbocharged inline-four with a six-speed automatic is the only powertrain. The torquey turbo engine gets an EPA-estimated 28 mpg on the highway in front-drive models, and loses 2 mpg with all-wheel drive. Cargo room and third-row space aren't generous—certainly not compared to behemoths such as the Chevrolet Traverse or Volkswagen Atlas—but neither of those SUVs' cabins are dressed in class-above materials and features like the Mazda is.

Base price: $35,060
Engine: 250-hp turbo 2.5-liter I4
Cargo space: 14 cubic feet

MORE CX-9 SPECS

Much of what makes the Hyundai Palisade a top choice in this segment is the fact it looks and feels like something from the midsize luxury SUV listing without a giant price tag. Plus, it's big inside and has tight body control on the road. Power comes from a 291-hp V6 mated to an eight-speed automatic transmission. During a comparison test with the other top three-row SUVs, the Palisade tied the Mazda CX-9 with best observed fuel economy on our 450-mile trip, with 22 mpg. There's no shortage of available extras on the Palisade. Heated and ventilated second-row seats are standard on upper Limited and Calligraphy trims, a feature the $100,000-plus Cadillac Escalade doesn't have. The Palisade was named a Top Safety Pick by the Insurance Institute for Highway Safety, receiving a Superior rating for front crash prevention for vehicle-to-vehicle testing. Hyundai also offers a promising warranty, one of the best in the industry, with a 10-year 100,000-mile powertrain warranty.

Base price: $32,645
Engine: 291-hp 3.8L V-6
Cargo space: 18 cubic feet

MORE PALISADE SPECS

Parked at the top of Midsize Mountain is the Kia Telluride. It carries all the class-leading features from its Hyundai Palisade sibling but is better-looking and more affordable. There's plenty of passenger and cargo space, with over 31 inches of legroom in the third row. Steering and infotainment controls are easy to use, and the 10.3-inch touchscreen standard on most trims is responsive. We lived with a 2020 Kia Telluride SX AWD for 40,000 trouble-free miles and couldn't understand why anyone would buy more expensive midsize SUVs with fewer features. We've also awarded the Telluride with our 10Best award every year since the model's debut in 2019.

Base price: $32,785
Engine: 291-hp 3.8-liter V6
Cargo space: 21 cubic feet

MORE TELLURIDE SPECS

From: Car and Driver

Source: Read Full Article