Did a road trip to Gurudongmar Lake on my Royal Enfield Interceptor 650
900 meters before the lake, the road breaks off from the main highway and becomes an off-road patch that delights all motorists.
BHPian turboNath recently shared this with other enthusiasts.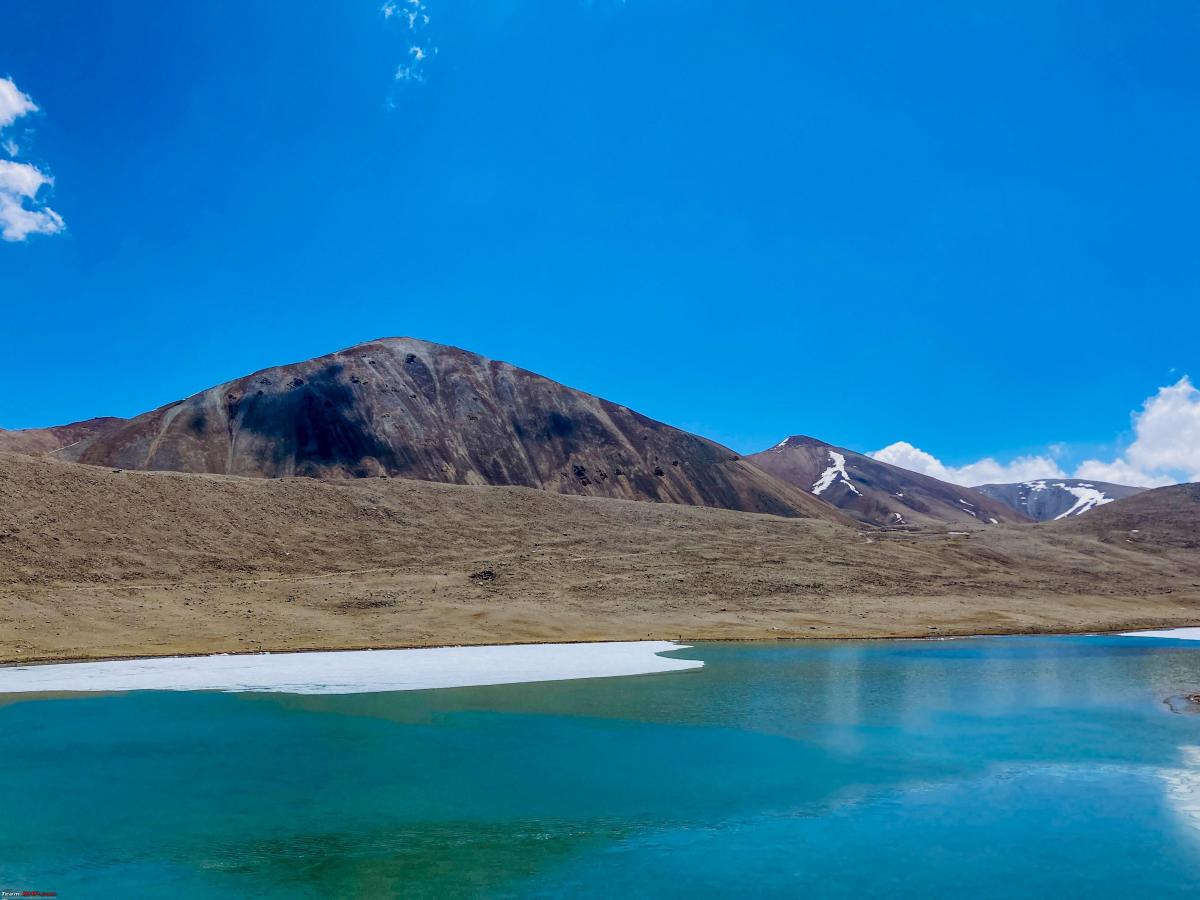 There's a saying that bad roads often lead to beautiful destinations. This particular quote has always surprised me with some miraculous views in each and every road trip that I have been on since I started riding/driving many many summers ago.
If you're a lazy bengali with a small flame of adventure burning in your heart, then you must have visited/planned to visit Gurudongmar Lake atleast once in your lifetime. Located at a very convenient ~900kms away from Kolkata and tucked away behind the shadows of the Khangchengyao peak in North Sikkim, Gurudongmar Lake is tale of crystal clear blue waters in a landscape that resembles Moonland. This particular lake is the closest we can get to Ladakh's Pangong if we are on a tight time constraint.
While Pangong dwarfs it in terms of its vast expanse, Gurudongmar holds its own ground standing steadily at an altitude of 17800 feet above MSL. The lake's altitude varies from 17000 to 18000 feet in different versions of stories brought back by enthusiastic and adventurous Youtubers but for this tale, let us stick to what Wikipedia suggests.
Planning:
After my recent trip to Latpanchar during Holi, my heart was pining for another taste of Eastern Himalayas and the outlook calendar had a positive news for me in the shape of 'Good Friday'. This is one of my favorite holidays in a year since it has the highest probability of falling on a Friday which means it's going to be a long weekend!
But this time it will have to be on two wheels since it had been almost 2.5 years since I last took out Nemo, my orange Interceptor 650 for a proper ride. The lockdown had been especially hard on her with the ODO meter reflecting a measly 1500kms during the fateful Covid era. I spoke to my elder brother who owns a Dominar 400 and he was already 'in' even before getting to the planning part. After a few suggestions in and around North Bengal, we decided upon Gurudongmar since that would give us a small taste of adventure in a very short span of time.
This would be my 5th attempt to scale that lake and yet I was terribly excited as if it were my first! The plan was extremely simple:
Day 1 – Kolkata to Lachen.
Day 2 – Lachen to Gurudongmar and back to Lachen.
Day 3 – Lachen to Kolkata.
Google Maps suggested 19 hours for the first leg (Kolkata – Lachen) and I knew that we wouldn't have much time to run around for permits once we crossed into North Sikkim. I contacted few travel agents in Mangan and finally decided to go ahead with one who seemed as enthusiastic as us! By this time three more riders had got onboard with the plan. Two of them would be riding from Kolkata with us and the third rider will be joining us from Kalimpong.
With the plan set, it was time for a quick checkup of our bikes and I conveniently availed Royal Enfield's Service on Wheels so that I could still attend office meetings while keeping an eye on the RE mechanic checking up on Nemo.
Based on my last 3 years experience with Nemo, I knew there wouldn't be any mechanical issues with the bike but getting a puncture at the middle of the night with no towns in sight started giving me nightmares (although my bike was running on FormulaX coated tubes).
That prompted me to consult the RE manual along with some helpful DIY videos from Royal Enfield's Youtube channel and very soon I was able to remove and refit my rear wheel without much trouble.
Since this was going to be a very short trip, I kept the luggage at an absolute minimum and settled for 1 tank bag, 1 saddle bag along with my existing top box. Apart from the essentials, I carried a portable battery powered tire inflator, inner tube repairing kit, one extra tube and an assortment of spanners and wrenches, and 2 5 litre kerosene jars for carrying additional fuel.
After a long and arduous wait of 1 week, 14th April finally showed up on the calendar and our trip was imminent.
The adventure begins – Day 1:
Our 4 engines fired up at 6pm with a combined displacement of 2000+ cc (2 X Interceptor, 1X Himalayan, 1 X Dominar 400)
We took our favorite STKK route that takes one through Dankuni-Mogra-Nabadwip-Krishnanagar-Baharampur-Palshanda.
We had already planned to take breaks during fuel stops since all of our bikes had similar ranges. The first fuel stop was right before Baharampur and basic math showed that Nemo was giving more than 25 kmpl even with a lot of spirited riding. We decided to have dinner at a place called 'Pappu Da Dhaba' which has existed since 1970 at Palshanda.
Till that point we had covered a little over 250kms in 4 hours and the bikes simply felt wonderful to munch miles on.
Post dinner, we continued our journey hitting the NH34 and proceeded towards the first bypass road – Malda bypass. As it was well past midnight, we were wary of closed down fuel pumps and sleepy pump attendants. Hence we decided to stop early at 130kms mark (from the last fuel stop) to ensure that we will have enough fuel till dawn. This petrol pump is open 24X7 and is located near to the famous Pardesi Dhaba in Malda where we stopped for a quick Nescafe break. I did a quick visual inspection of the tires and everything looked good.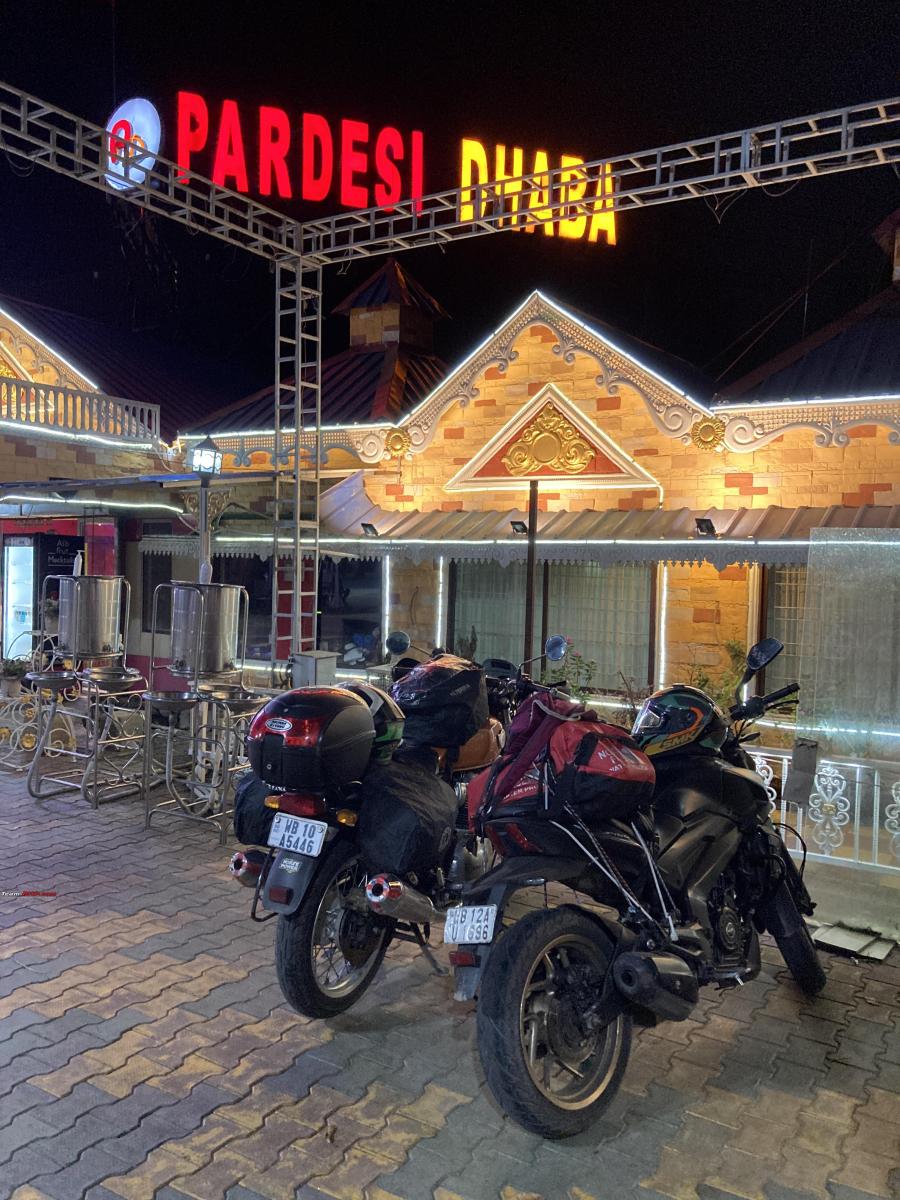 As we soldiered on, the roads seemed to get better and better and very soon we found ourselves near Ghoshpukur. This particular region holds a special place in my heart since one gets to see the first tea gardens in this area and it is really a wonderful feeling after a long night ride from another corner of the state.
By this time we were nearing the 600kms mark and it was time to clean and lubricate the chains. We also cleaned our helmet visor for the second time since it easily gets coated with greasy diesel and bug splatter whenever you're riding at night.
Google Maps still showed that we had 6 hours to go before we arrived at Lachen and hence we decided to continue till our breakfast stop post Sevoke. The straight smooth asphalt road through the clean and green Mahananda Wildlife Sanctuary at Sevoke was extremely eye soothing and that infused new vigor. We stopped for a quick breakfast at a small food joint, 30kms away from the Sevoke railway crossing.
As our hungry stomachs waited for bowls of piping hot egg Maggi and tea, this fluffy pupper kept us busy with his constant requirement of belly rubs: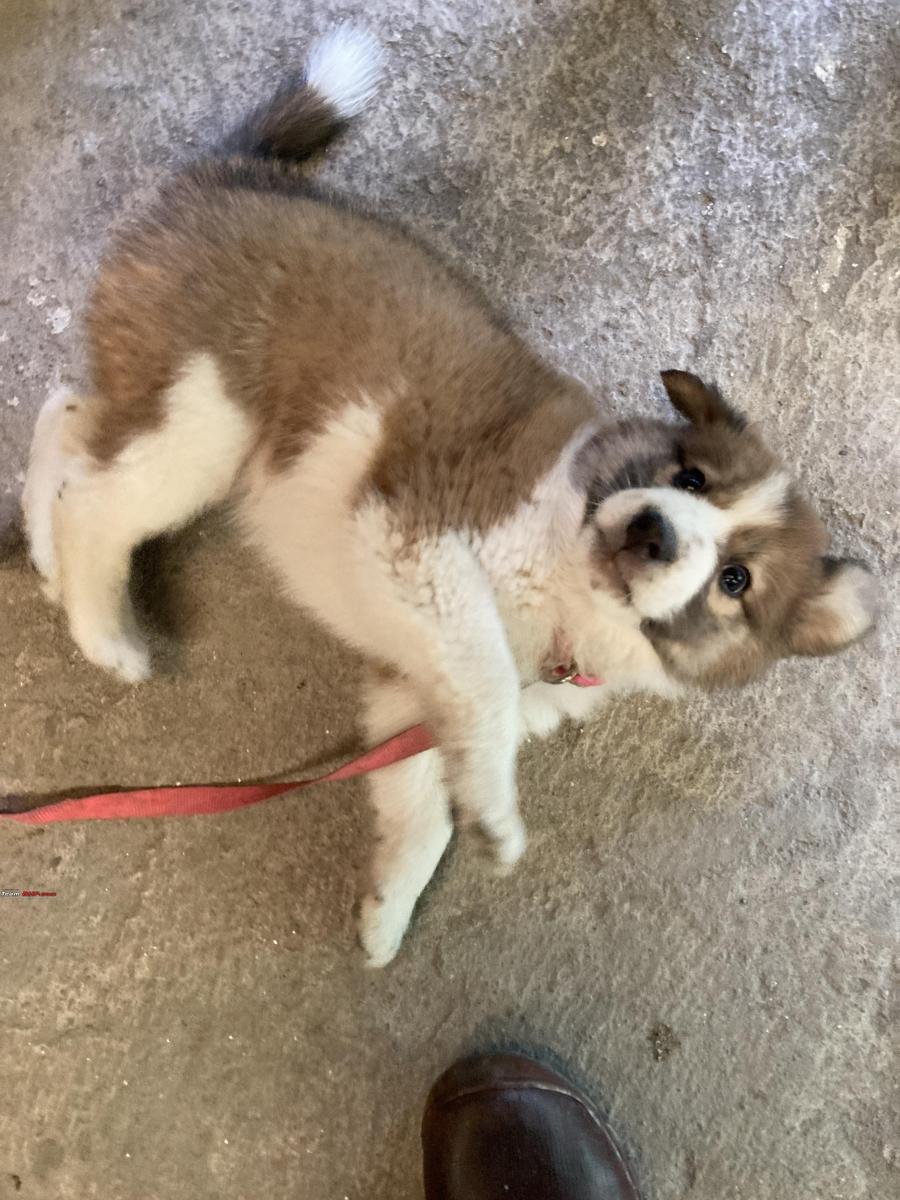 Post breakfast we continued towards the WB-Sikkim border at Rangpo. Petrol was trending at 111 in Sikkim against 115 at WB and we lost no time in ensuring that our bikes had a heavy 'breakfast' as well. There are some bad patches of road before Rangpo and a lot of construction work is going on which meant we were covered in a layer of white sand while attempting to negotiate the potholes and craters behind trucks and other vehicles.
We took the Singtam-Dikchu road bypassing Gangtok to reach Mangan. In the previous week, Bhpian Mile_Breaker had faced a dry petrol pump at Mangan (the last petrol pump if you're going towards Lachen/Lachung) and had asked me to refuel at another BPCL 10kms before Mangan. We tanked up at that station and also filled up the fuel jars with an additional 10 litres of fuel per bike. We estimated that this would allow us to start from Lachen with full tanks on Day 3 and we could stretch till Rangpo without another fuel stop during the return leg.
Our permits were already ready and we heaved a great sigh of relief on finally holding that piece of paper in our own hands. Nothing could stop us now ! Oh wait ! There was a landslide right before the first checkpost of North Sikkim – Toong. As we waited for the JCBs to work their magic and open the road, we grabbed a quick snack break at a small joint before Toong.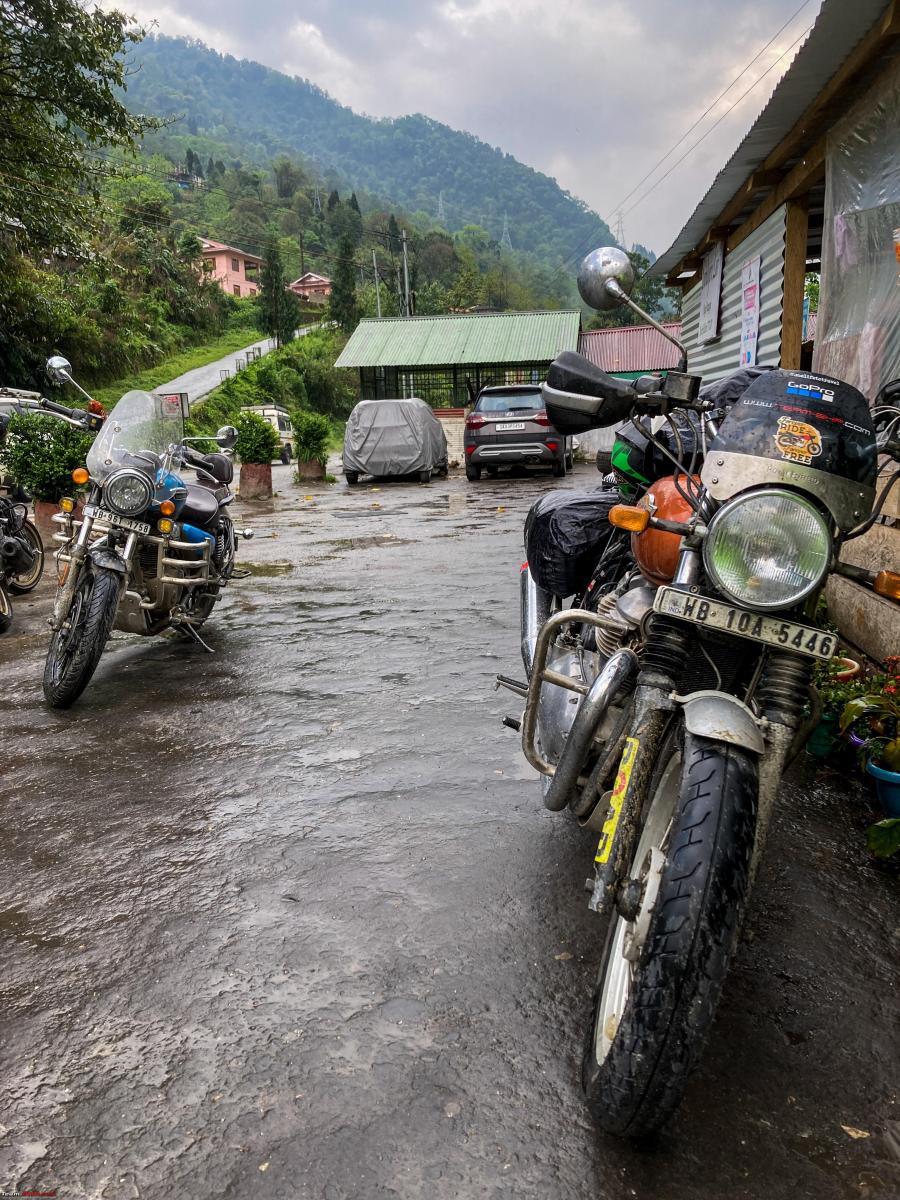 By this time the rains had started and we had to cross several slush patches which was definitely a big challenge for the interceptor's highway oriented tyres. But overall the bike seemed planted and that wonderful low end grunt ensured that I could overcome those obstacles pretty easily.
The landslide finally got cleared after 1 hour and the remaining road to Lachen was uneventful. The Theng tunnel after Toong was mostly devoid of traffic and we zoomed into Lachen within the next 1.5 hours. Total time taken was 19 hours including stoppage time of 2.5 hours.
The sleepy hamlet of Lachen'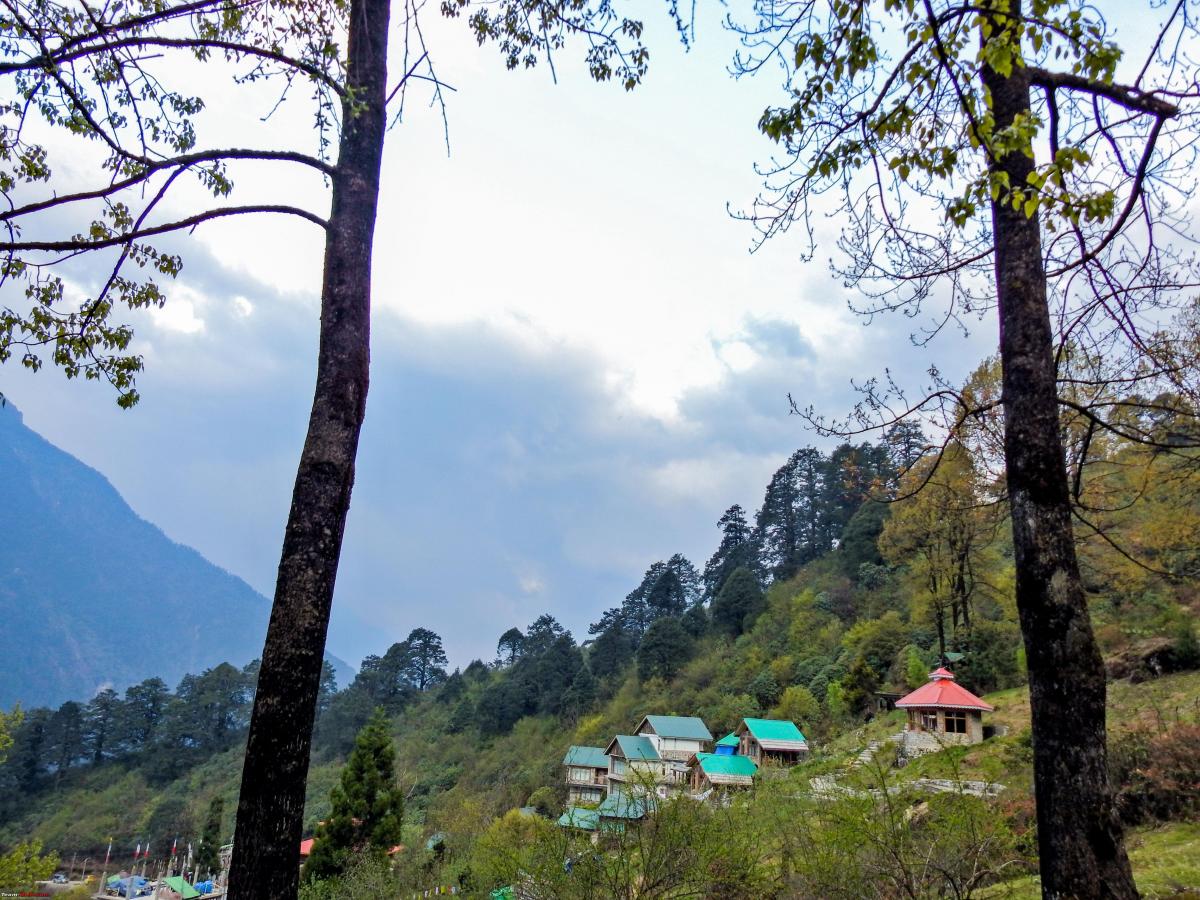 Home sweet home for a lucky soul'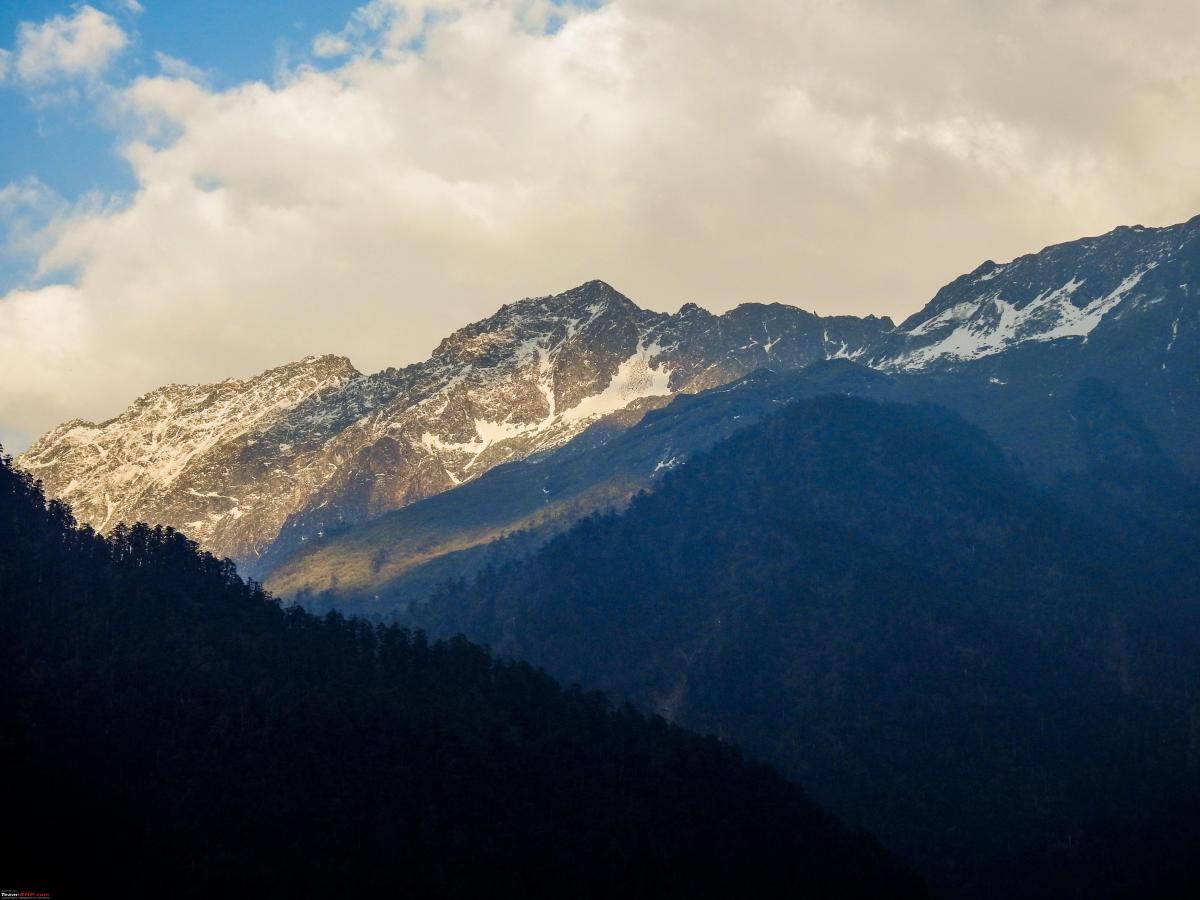 Sentinals of Lachen'
And with that Day 1 of our trip came to an end with the promise of adventure saved up for the next morning.
The adventure continues – Day 2:
Next day we ended up departing from Lachen at 6:30 am (1 hour delay from our scheduled departure time). This meant that by the time we hit the road, most of the tourist vehicles were already making their way up to the Thangu checkpost billowing thick black fumes. The road condition from Lachen to Thangu is great with many fascinating corners and that allowed us to have some fun on those twisties.
It's been so long since I gazed into your eyes'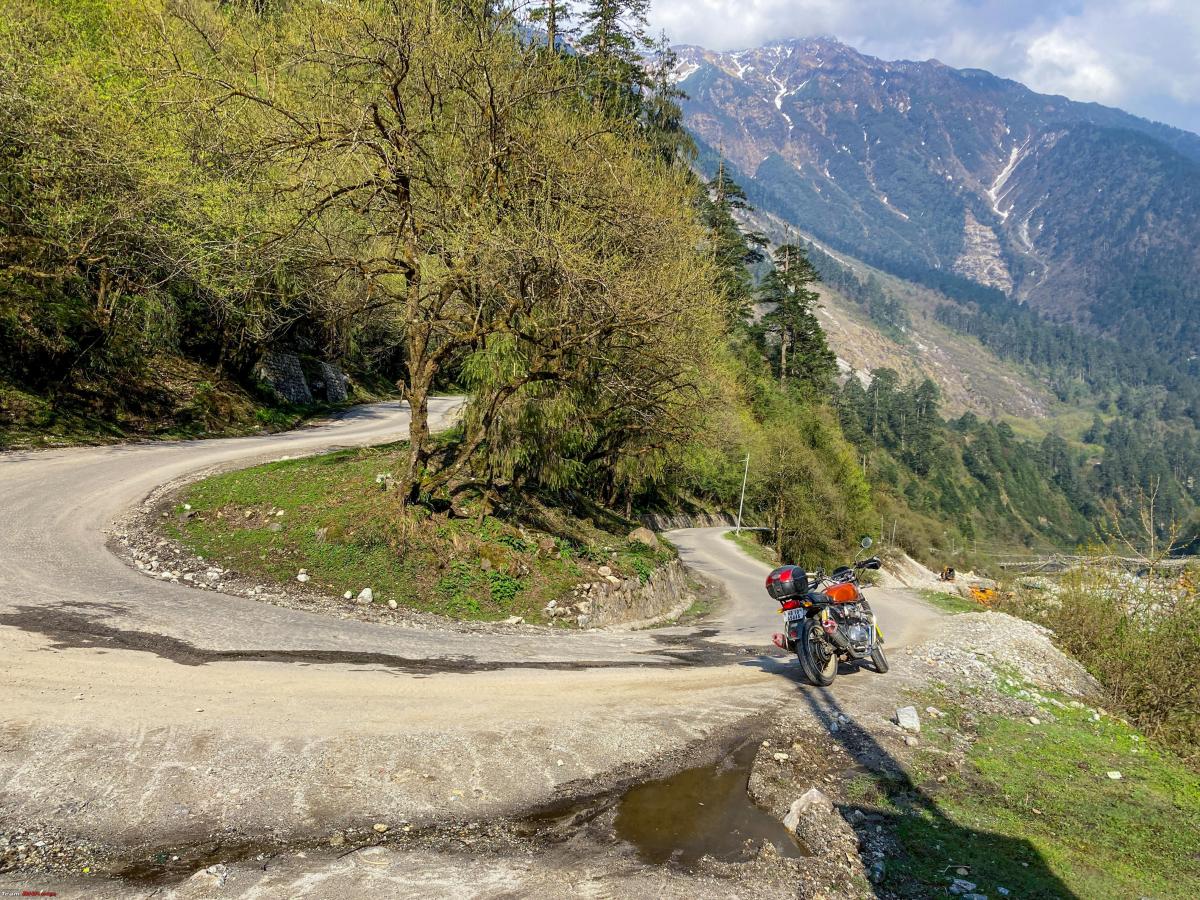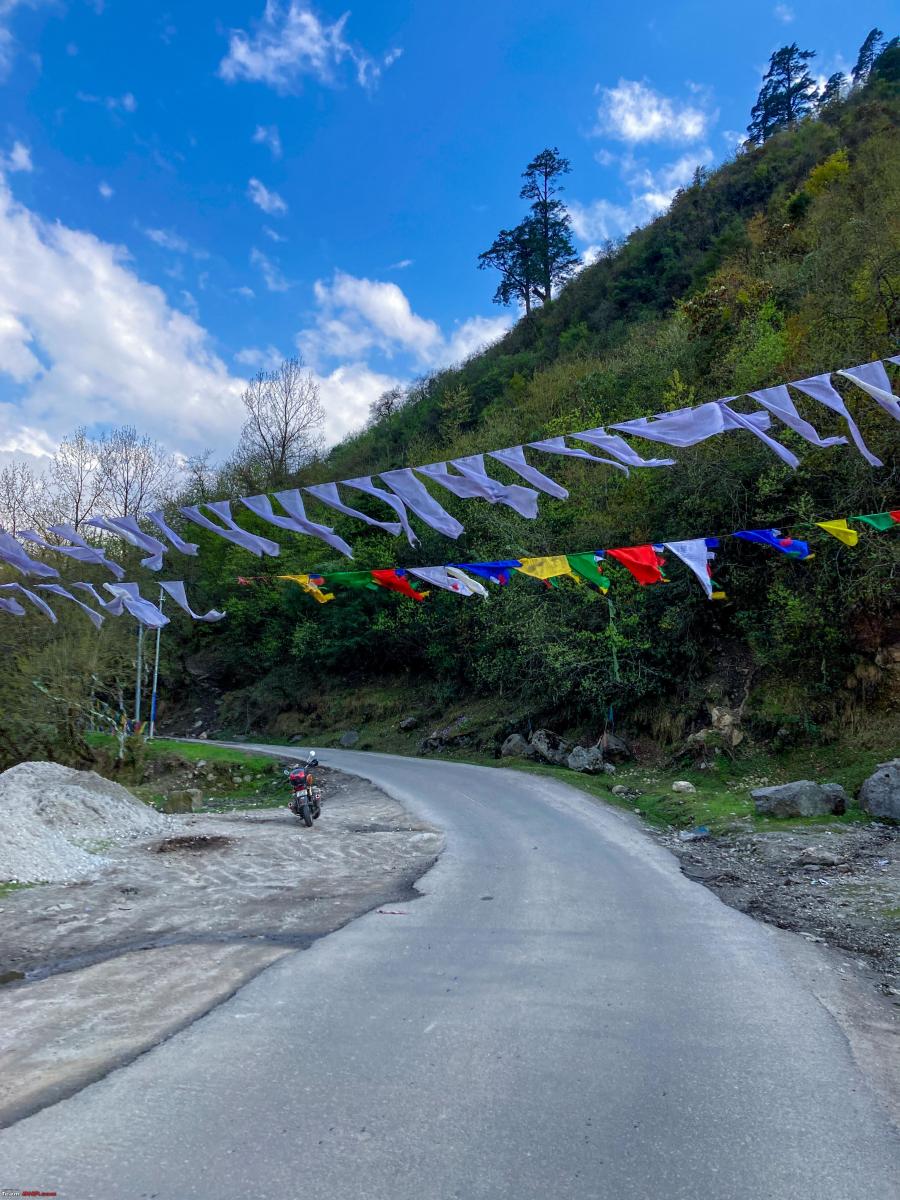 We cleared the formalities at Thangu (Sikkim Police checkpost) under 5 minutes and proceeded towards the last Army checkpost at Gaigaon. The stretch between Thangu and Gaigaon is not in a good shape and you will have broken patches of road with lots of undulations. However, if you're a bit careful, you can easily take a low GC vehicle along. At Gaigaon, we stopped for a quick breakfast break with Aloo Pakoras and delicious coffee. All charged up, we proceeded towards the lake at full throttle. The last 12 kms is a heavenly piece of tarmac that offers stunning views of the cold-desert landscape along with lofty high peaks.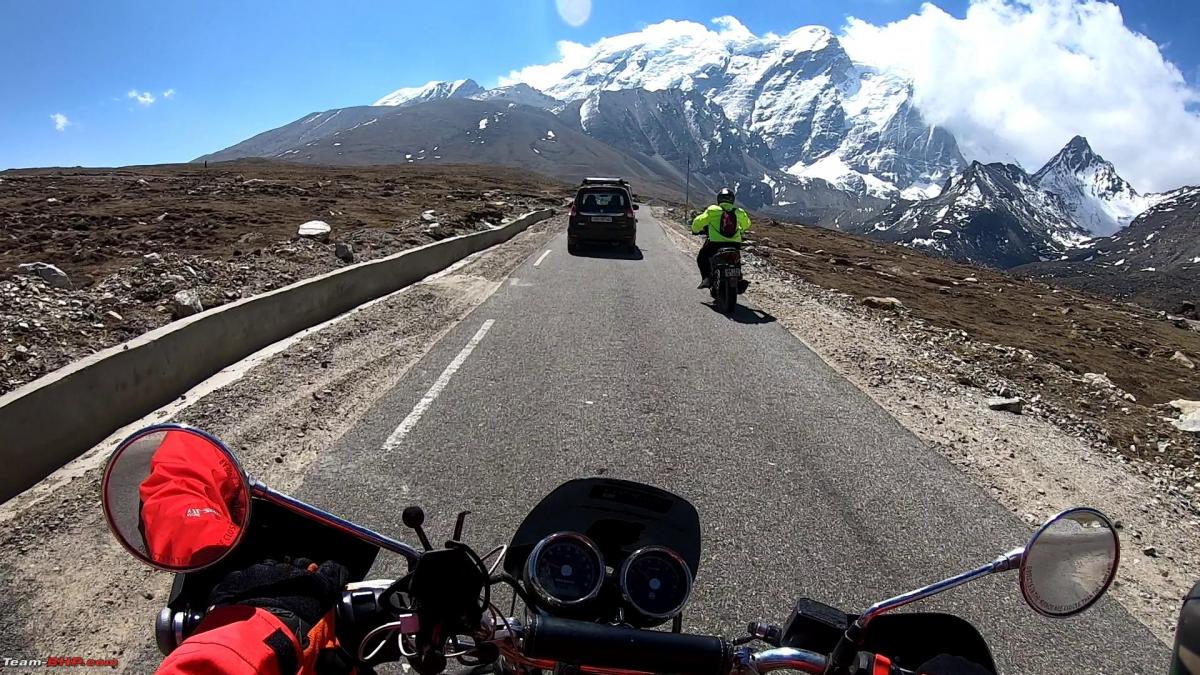 Screen grab from GoPro.
900 meters before the lake, the road breaks off from the main highway and becomes an off-road patch that delights all motorists. On this stretch, you can literally 'make your own road' and proceed as per your choice.
Screen grab from GoPro.
Nemo made it seem very easy, and very soon I found myself standing right beside one of my favorite lakes – the mighty Gurudongmar Lake:
Gurudongmar lake can take up any shade of blue that you can ever imagine.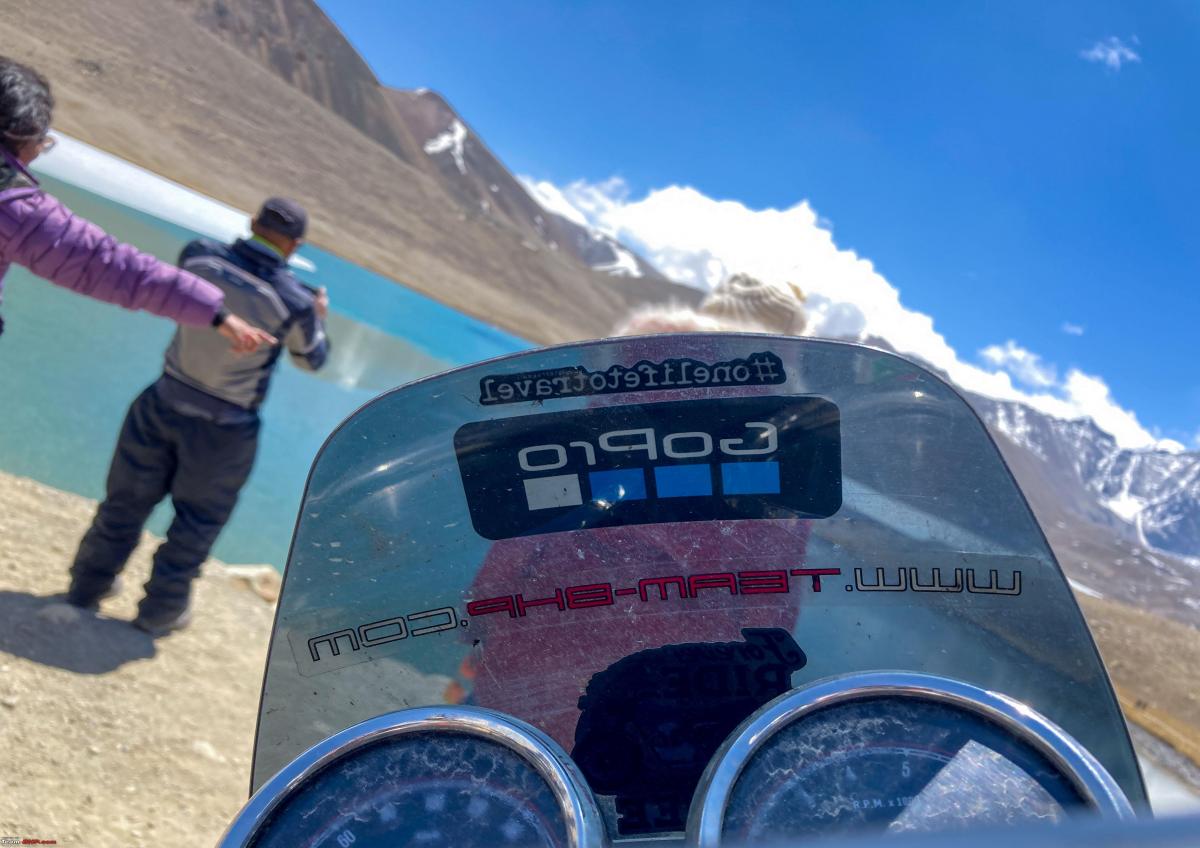 No brownie points for guessing my favourite sticker.
We decided to hike down to the lake shoreline in order to get close to the crystal clear water. The view down below was even more wonderful with a portion of the lake still frozen.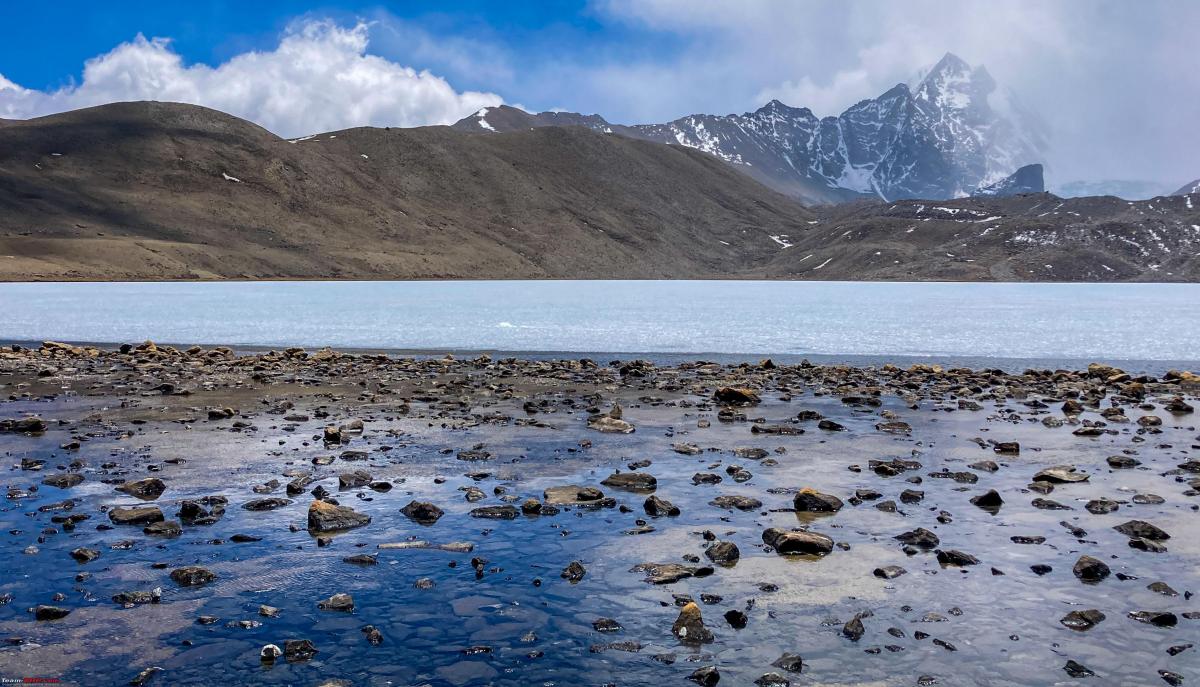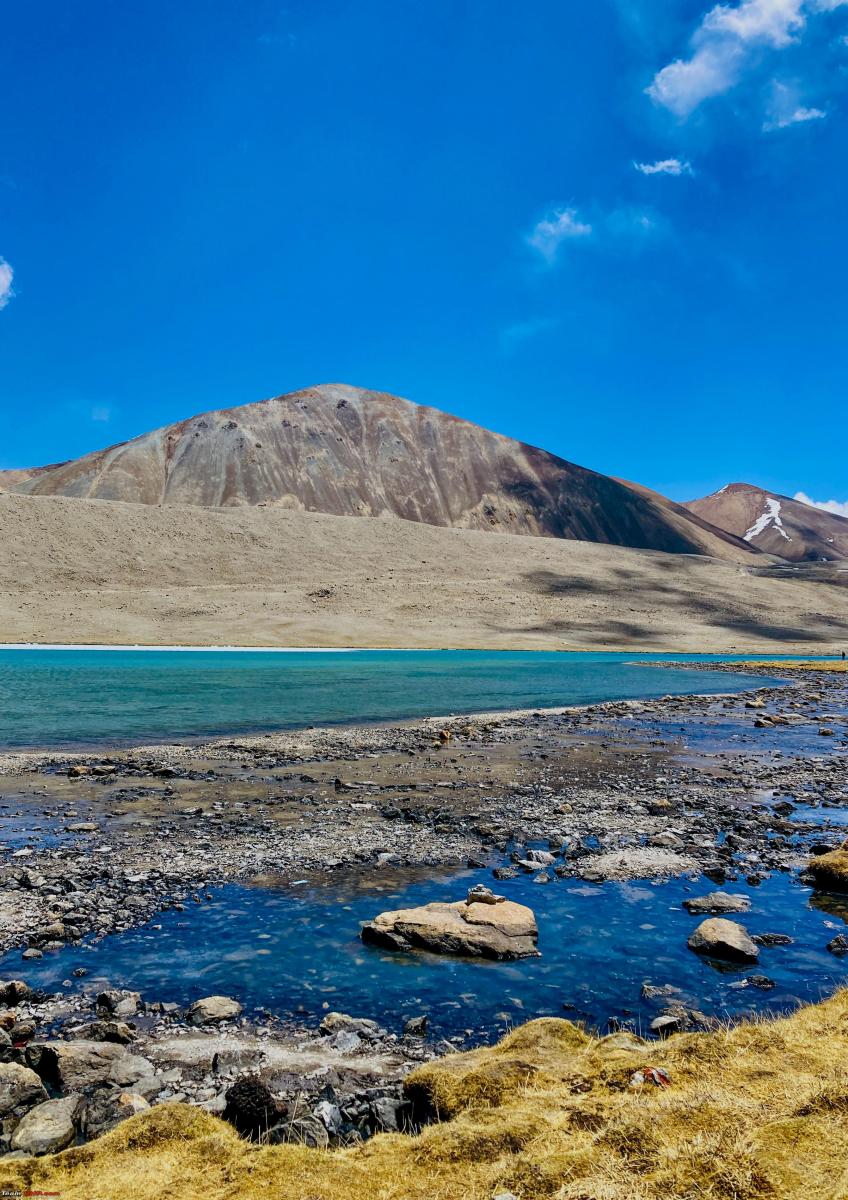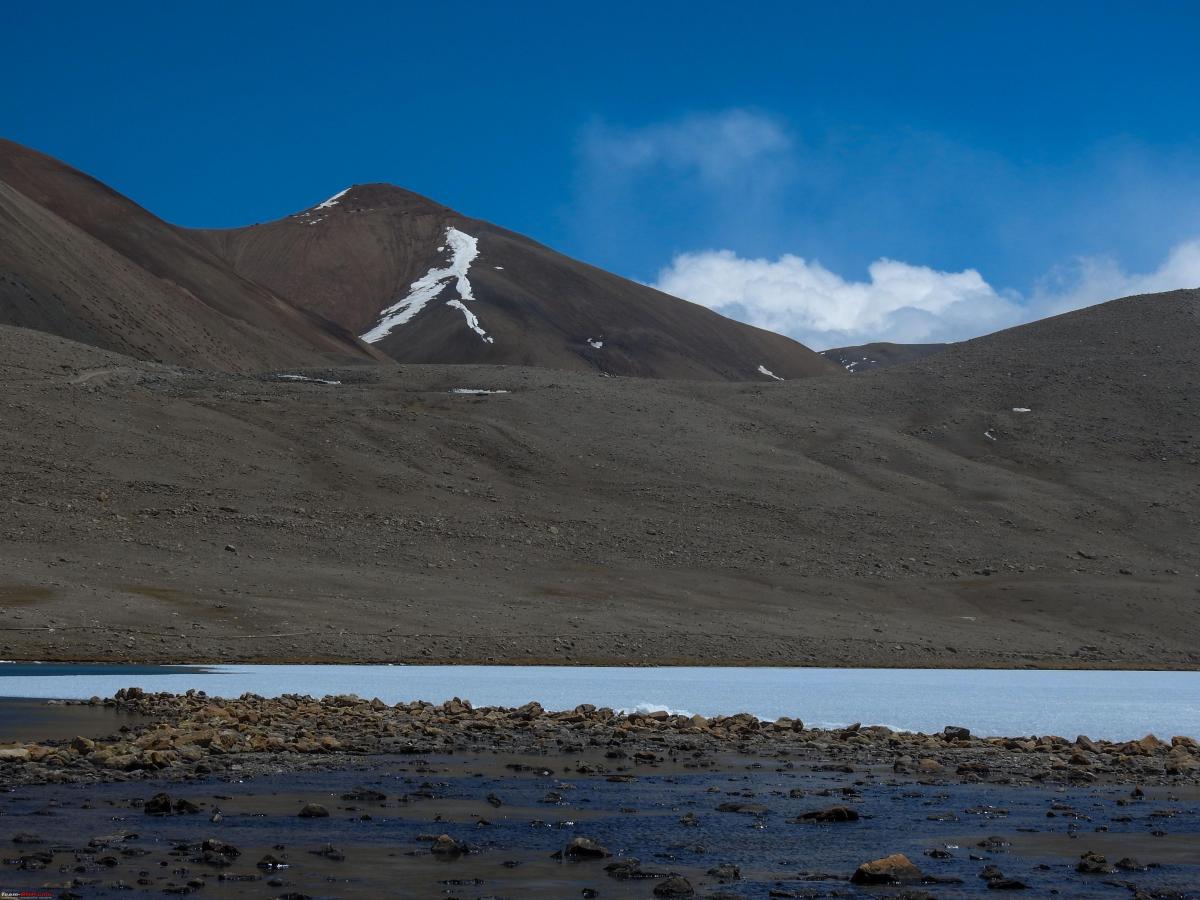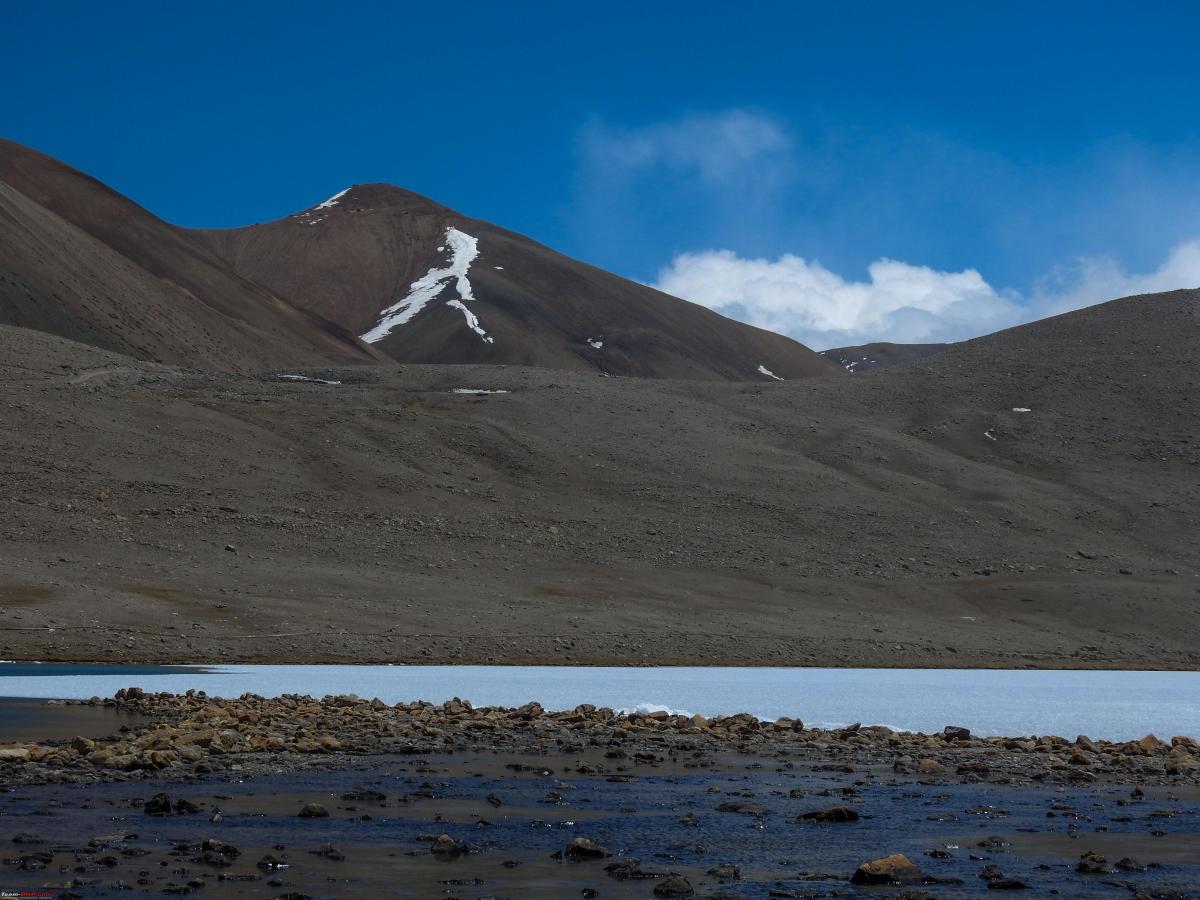 We spent around 3 hours by the lake shore until it was late afternoon and the high velocity winds were starting to resemble cyclones of dust spiraling towards the blue skies. We hurriedly packed up and proceeded back towards Gaigaon after a quick photo session with our 'wild horses'.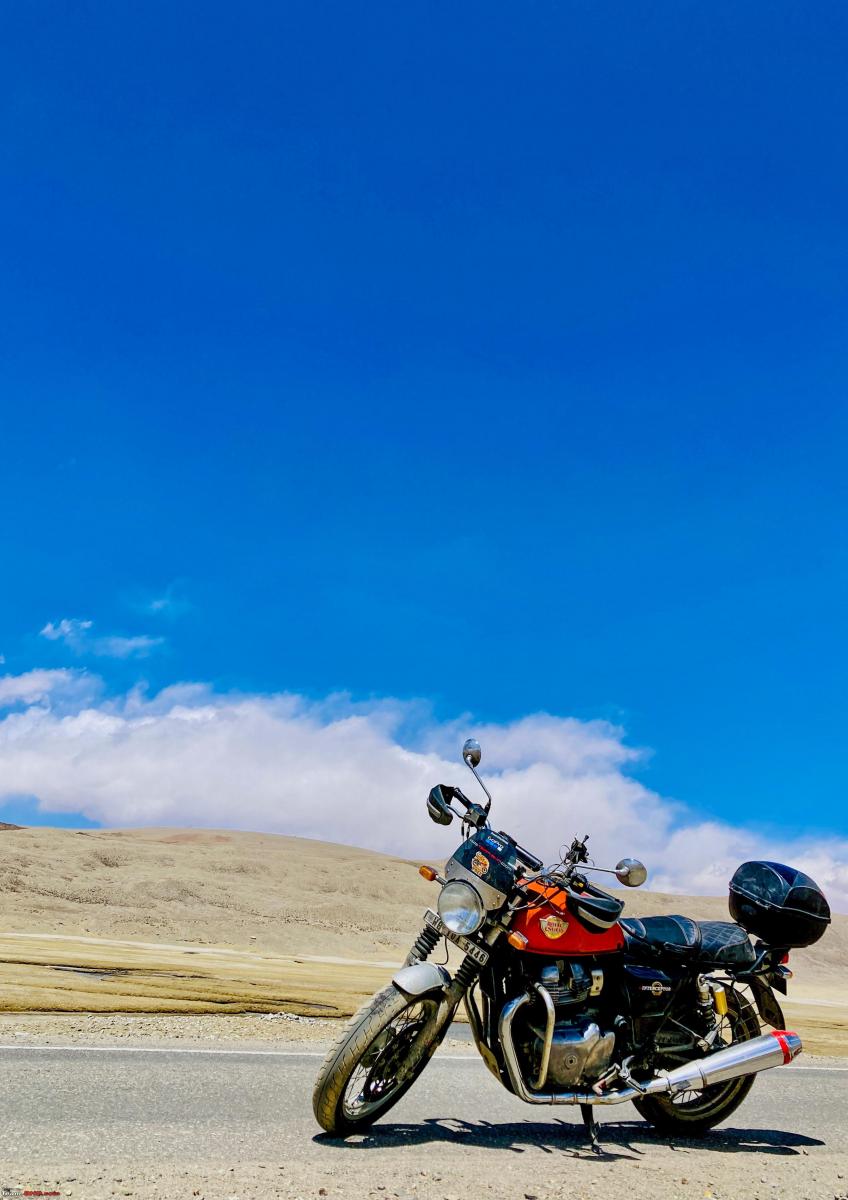 The journey back to Lachen mostly included impulsive stops along the route to gaze at unknown waterfalls, lesser known peaks and familiar avifauna from the high altitude region: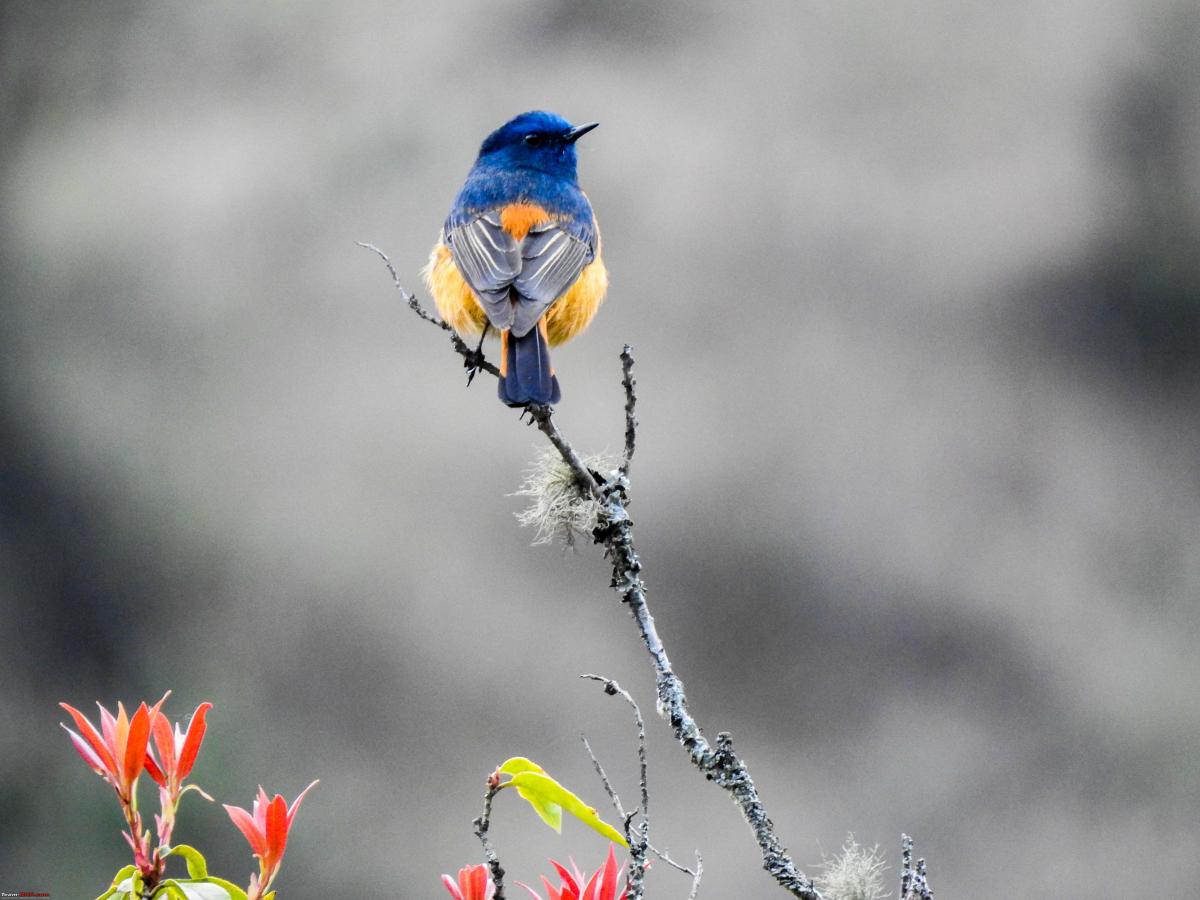 North Sikkim had us in a trance with every corner. I wish we could have stayed back if not forever then at least for another week ! But then again civilization was calling us back and we had to oblige grudgingly.
The adventure comes to an end – Day 3:
We started at 6:30am from Lachen on Sunday and reached home at 11:30pm. The ride back from Lachen to Kolkata passed us by in a blur and the entire experience felt surreal. Rushing from Kolkata to Gurudongmar for a glimpse of the blue waters kept reminding me of one of my favorite songs by Marty Robbins:
"All day I've faced a barren waste
Without the taste of water, cool water
Old Dan (Nemo) and I with throats burned dry
And souls that cry for water
Cool, clear water".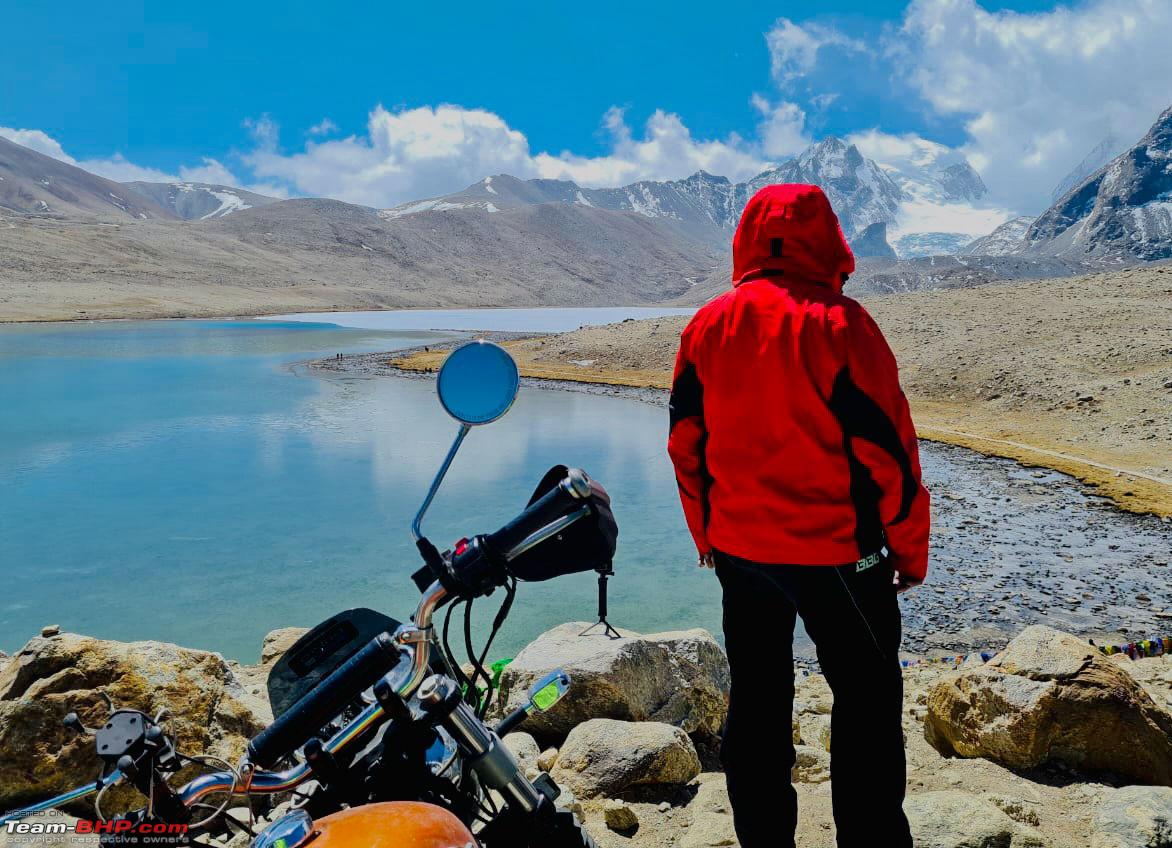 Check out BHPian comments for more insights and information.
Source: Read Full Article