Damaged Seltos: Kia & dealer forcing me to take its delivery
I have had a horrendous experience since the day I have booked a Kia vehicle. I dread and curse my decision to even consider Kia over a certainly more prominent and established player.
BHPian UmangThaker79 recently shared this with other enthusiasts.
I write to this forum with sheer anguish post the mental harassment that a Mumbai based Kia dealership – Shreenath Kia, has put me through pre-delivery. It might be helpful to also look at how dealerships are ensuring that customers suffer. I have had a horrendous experience since the day I have booked a Kia vehicle. I dread and curse my decision to even consider Kia over a certainly more prominent and established player.
Details: Name Umang Thaker. Booking No – B20210****. Vehicle No: MH47 $# 61*5.
Complaint Ref Nos:
1-74463462
1-75229584
1-76025518
1-76300063
My plaint
1. If the car has not been handed over to the owner, the responsibility of keeping the vehicle in good order rests with the dealership. Any damage of any kind to the vehicle should be owned by the dealership or the OEM.
2. On 22nd July, which was the date of delivery and I was supposed to collect the vehicle, I got a call from the dealership (Vikram Solanki) saying there was accidental damage resulting in some scratches to the vehicle and we will rectify it and give it. Please do not get your family today. Further, Mr. Punit Khirsagar was confident that all parts would be removed and new parts would be used as replacements.
3. What they called minor scratches were full blown dents and damage to the rear door, logo unit, bumper and left side rear door panel. The entire car was covered in minute glass pieces – all over the car and inside the window panels as well (pictures attached).
4. The next day, when the car was examined by the workshop engineers, they confirmed that no replacement was possible as the entire body of the car is one piece.
5. I clearly told them that I do not want a damaged vehicle which is repainted and refurbished. Yet, without consulting me, they began the repairs.
6. On 27th July 2021, to add insult to injury and to my rude shock, Mr. Derrick Goveas, VP, says, and I quote "In my 20 years of experience, I have seen many such instances and since the registration of the vehicle is done in your name, we can't do anything. This is not our fault as we did not damage the vehicle intentionally. You see the vehicle on Tuesday, 27th July and you will not be able to see the difference."
7. I asked him, why I should accept a refurbished vehicle instead of brand new vehicle when I was not at fault. He had no answer.
8. The Shreenath Kia representative called us to the showroom on 29th July 2021 and simply rubbed more salt into our wounds by saying that there were minor scratches which we had been rectified and I will not even come to know. When I asked about the compensation that he had spoken about on the phone, he said they would give the car a complementary ceramic coating.
9. For all the damage, delay and mental harassment at the hands of the showroom, the compensation of a ceramic coating is not acceptable at all.
10. I have paid upfront for a brand new vehicle and today the dealership is forcing us to accept a refurbished vehicle and in spite of 4 complaints (ref numbers attached), no resolution has been offered.
Finally. when Kia employee, Mr. Deepak Tyagi, called 19 days of my first complaint, he spoke to me through Derrik Goveas. He didn't have the courtesy to call and hear my side of the story. He was pre-meditated in taking the dealership side and justified the ceramic coating as the compensation.
Chronology of Events
1. Booking – B202102607 on 18-01-21. IMPS/101714117682/SBIN0004650. Variant – Seltos HTX Plus AT 1.5 Diesel- Automatic. 12-13 weeks waiting period given in writing. Rs. 25,000 transferred to Shreenath Vehicles.
2. Delivery update – 05-03-21. Telephonic chat with Mr Vikram Solanki – "We cannot provide any update as we do not get delivery schedules. 12 weeks are not over yet."
3. Delivery update – 18-04-21 or 20-04-21. Telephonic chat with Mr Vikram Solanki – 12-weeks were over now, "We cannot provide any update as we do not get deliver schedules."
4. Model discontinued – 20-05-21. Telephonic chat with Mr. Vikram Solanki – "Sir, the model that you booked is discontinued. You will have to pay 20,000 extra for new logo and some features." There was no official communication from Kia Motors.
5. Delivery Update – 29-05-21. Telephonic chat with Mr. Vikram Solanki – "Will check with my manager and let you know on 31st May. Again, we do not get delivery schedules and cannot commit the date of delivery."
6. The correct development was, "model discontinued", but the email smartly said new features and new logo added. Hence, pay extra – 09-06-21. E-mail from Vikram Solanki with the new price list and new features. Again, no mention about the fact that Kia Motors had discontinued a model for which they had bookings. Very unprofessional on the part of the OEM and the dealership. How could the model be discontinued? If so, why were the bookings taken? Basic courtesy is to at least service the ones already booked and then discontinue it.
7. Alternate Model – 12-06-21. Seltos HTX Plus old model was offered and on 17th June 2021, a grey colour car was offered. I politely declined it since I was told that I would get the car of my choice very soon.
8. Vehicle allotted – 09-07-21. E-mail from Shreenath – "Congratulations, we have allotted you a vehicle. Pay in full by 12th July or we will give it away to the next person in queue."
9. Actual Delivery Date – 22-07-21. Pre-defined date of delivery – Call from Vikram Solanki and Punit Kshirsagar – "Car has met with a mishap. A glass door has fallen and shattered into your car. All old parts will be removed and new parts will be added. We will send the car to the workshop and update you if parts can be replaced." There was damages all over the left side and rear of the car (logo unit + bumper, side door + rear panel + dents on the roof). My instructions were crystal clear, "Wait for my instructions before doing any repair work. I want a brand new vehicle as that is what I have paid for."
10. Ref No 1-74463462 on 22-07-21. Complaint call to Kia Customer Care. The call attendant records complaint – vehicle damaged while still in custody of Shreenath Kia, Malad. No revert from Kia Motors.
11. In person meeting – 24-07-21. Derrick Goveas says, "It's unfortunate. As a matter of fact, such things keep happening. We have already started work on the dents. My stand, "I want a brand new vehicle as that is what I have paid for." No solution is offered at this stage yet.
12. Ref No.1-75229584 on 26-07-21. Complaint call to Kia Customer Care – A damaged and refurbished car was offered instead of a new vehicle. Complaint passed on to service team. Kia service representative from Shreenath Andheri calls and says he will redirect to the complaint to sales team. Still awaiting a revert from Kia Motors.
13. 2nd in person Meeting on 29-07-21. Derrick Goveas, Shreenath Kia says, "We wanted to offer you compensation but as you know margins per vehicle are very low, we cannot offer anything. Please look at the refurbished car. We have already spent enough money. As a goodwill gesture, we will give you a free ceramic coating." They called me to discuss the compensation and under that guise, simply pushing an old agenda, "See the car. You will not even come to know that there was any accident."
14. E-mail from Derrick Goveas on 30-07-21. Derrick Goveas, Shreenath Kia – "Due to unforeseen circumstances, there was a heavy downpour of rain with heavy winds. The showroom glass door shattered and splinters of the glass happened to fall on your car, which left scratches of glass on your car. All small scratches have been removed post polishing." For the first time the Shreenath representative acknowledged that there was damage to the vehicle. Puts the onus back on the client – "take the vehicle or we will not be responsible for the delay."
I feel very harassed by the dealer and also regret my decision to choose an OEM which clearly sides with the dealership since it has received the full money. I am already paying the EMI and have paid upfront. I seek advise from the forum on my next steps.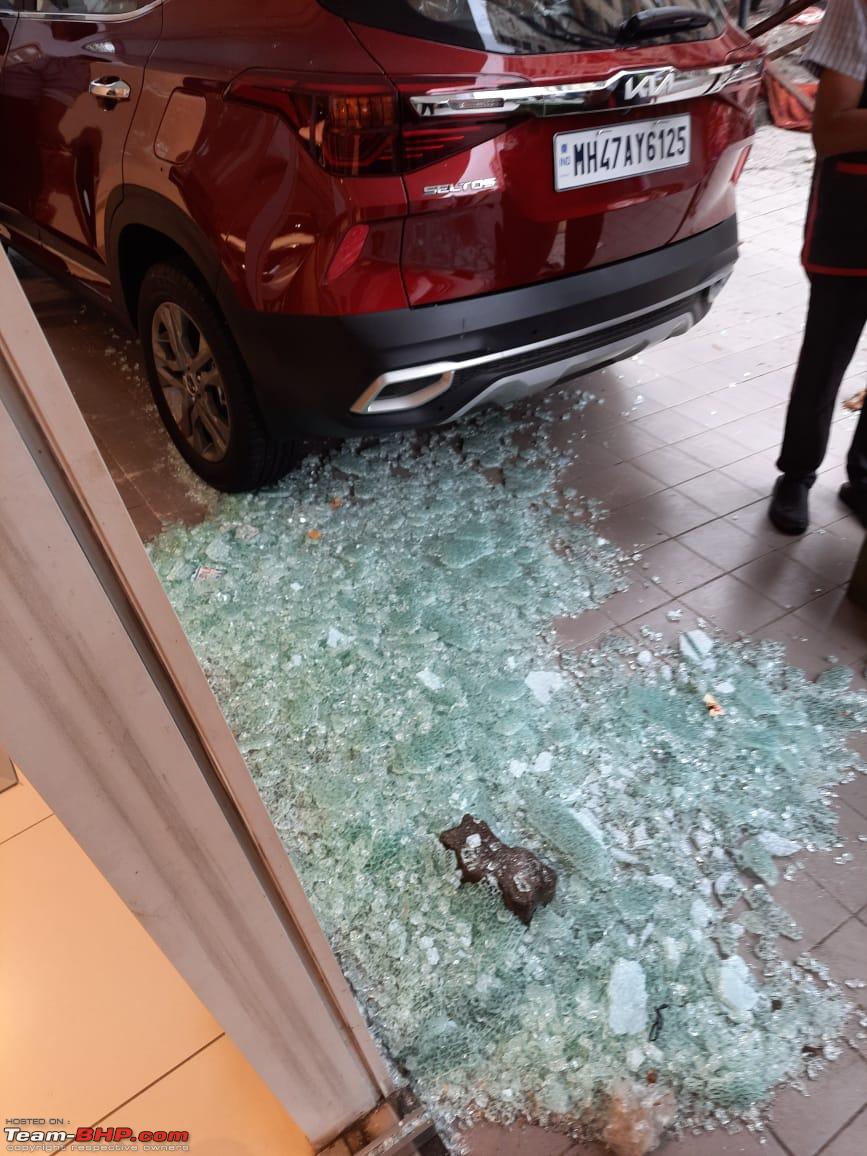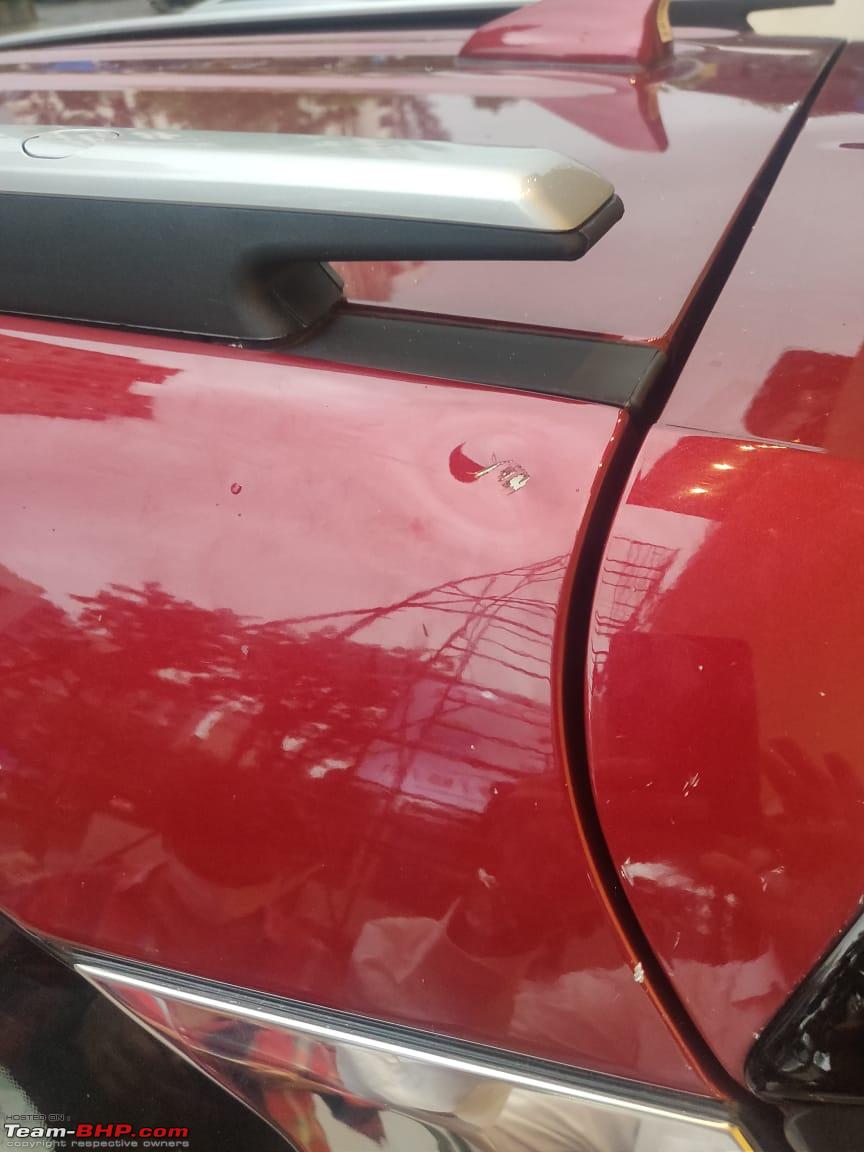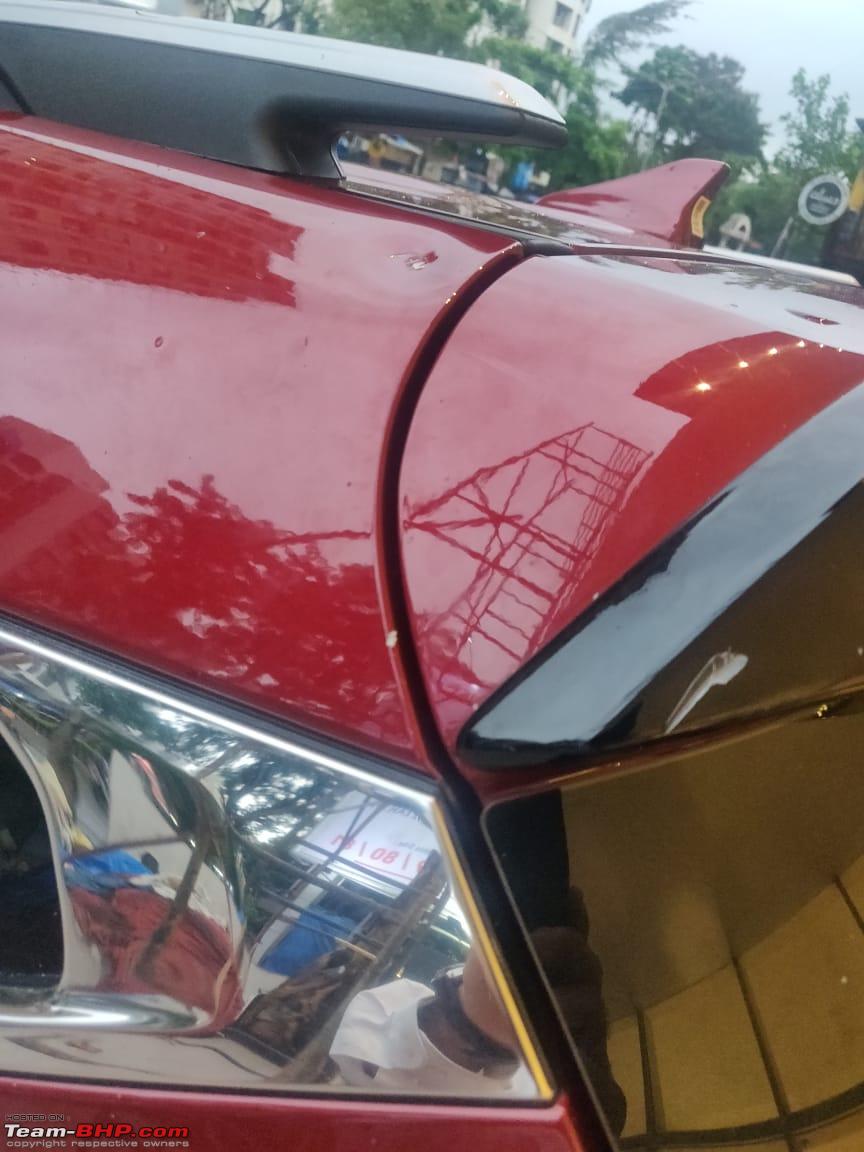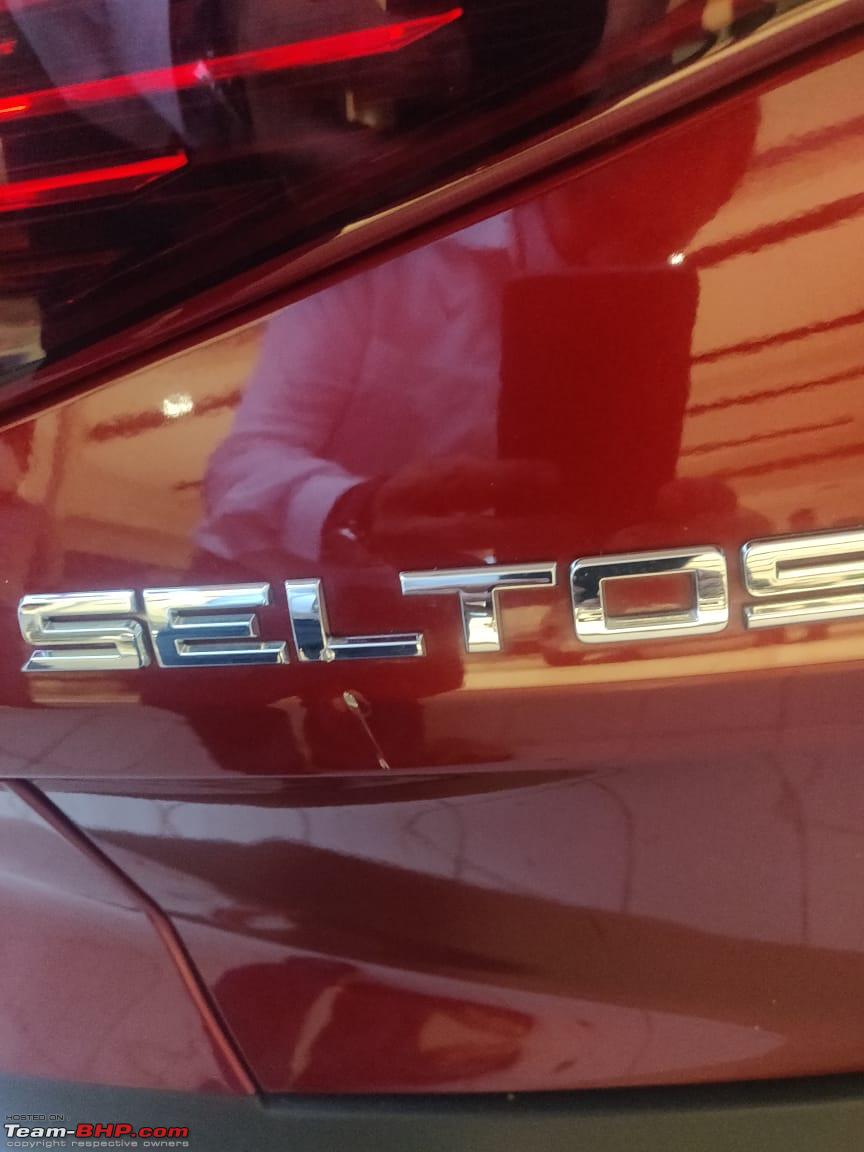 Here's what BHPian AkMar had to say on the matter:
Sorry to hear about your experience. While such things do happen, the way in which dealer responds is important. Here since the car is already registered, a full replacement might not be possible (I am not sure, experts can clarify). However the dealer & Kia have been extremely unprofessional in communication. "We have already spent enough money", "margins per vehicle are very low we cannot offer anything" is something they should never tell the client come what may. I believe there is some insurance taken by dealers also for the period before delivery.

They should have been frank in their communication. Starting repairs without consent of customer is also a mistake. I believe an honest repair job of the car without cutting corners, a good discount and/or free extended warranty (specifically covering the repair job against corrosion/paint issues in addition to regular extended warranty) would be one of the good options to close this grievance.

Frequency of complaints about Kia coming out on the forum are concerning.
Here's what BHPian Mr.Boss had to say on the matter:
Dealership could have completely hidden this incident and pushed the delivery by a day or two blaming the RTO and other paper work or missing keys or what ever it is. Instead they took the right channel to inform the customer about the mishap – I appreciate (hope everyone will do)

From customer's perspective paying for a brand new vehicle and getting a repaired one for no mistake of ours will be painful, but the event here is 'accident' and that's bound to happen. Even after all the sentimental feelings it's a piece of metal & material. Once the vehicle is registered, it belongs to customer though the actual delivery happens later. Asking for a new vehicle post registration (especially for this minor damages) will not workout.

Spoiling the relationship with the dealer is not worth for this damage IMO, you are supposed to visit then at least twice in a year for scheduled maintenance and repairs, only the relationship could help you during future warranty claims and other repair jobs.

Though there is no guarantee that you may or may not face similar situation with the same or different dealership during warranty claims, but the probability of making the situation worse is higher when the relationship is spoilt.

Settle for a ample compromise / compensation and move on.

Make sure the accident repair is registered somewhere with their liability to get the consequential failures in future.
Here's what BHPian Turbanator had to say on the matter:
100% agree with you here. They should have parked it securely or told you clearly that it will be parked at your risks and costs. Now, members who are suggesting this as an accident and could have happened immediately, maybe just after delivery, I agree but that does not absolve the dealer for making this right.

Think from the OP's perspective, how many of us will like to drive a brand new vehicle paid with hard earned money after getting repaired due to an accident caused by someone else who had no business in driving that car at first place.

How Dealership suffers is not concern of buyer, they should either make a reasonable offer to the OP or give a brand new car and use this as demo or sell to someone else. What happens to the car after one takes delivery, the onus / fate is of the buyer but I won't accept a damaged car for no fault.
Here's what GTO had to say on the matter:
Big deal if the car is already registered. It's not like the car is tied to you for life. Fight man, fight. The dealer should sell the car as 2nd owner and absorb the loss. It's damaged goods, happened on their property and he should absorb the losses as the cost of doing business.

Take it up with Kia & spread it on social media. We will do our bit by placing your thread on the homepage today. Take a good + strong negotiator and sit on the table first to talk (refer to this thread). Don't bring in a lawyer just yet as the talks will end, but make it clear that you are open to take the legal route if it comes to that.

Be very, very firm that you have paid for a new car and you will accept a new undamaged car only. Of course, if the dealer offers you a very good discount on this car which you are okay with, then it's between the two of you. But no way will you take a damaged car for a new car price.
Check out BHPian comments for more insights and information.
Source: Read Full Article