Cullinan in the Time of COVID: My Weekend in Rolls-Royce's Ultra-Luxury SUV
I had the whole thing planned out. I was going to take the Cullinan, Rolls-Royce's new Gigantor SUV, out in the desert and explore. Off the beaten track, into the wilderness, chuckwallas be damned.
Truth be told I was inspired by the brazen actions only months before of the adventuress, my friend and colleague (perhaps frenemy and colleague, it's really hard to tell) Emme Hall, who had only months before driven a race-ready Cullinan down the desert-dirt spine of roughest Nevada, from Lake Tahoe south all the way to the Mexican border and the rolling rippled sand dunes of Glamis, California. Hall was a competitor in The Rebelle Rally, an all-girl (her words) adventure/rally that celebrates point-to-point navigation, desert exploring and feminine camaraderie like no other event before or after it. Sort of an Amazon cactus-stomp. Months before that, Hall had somehow convinced Rolls-Royce that it "would be good ROI" to lend her a race-stripped Roller for the run. And even more miraculously, Rolls-Royce agreed.
Well it was a good ROI. Turns out Hall not only competed in and completed the Rebelle, she won the darn thing! In an ultra-luxurious Rolls-Royce Cullinan, no less. Must have been all those years racing Volkswagens in San Felipe. Who knows?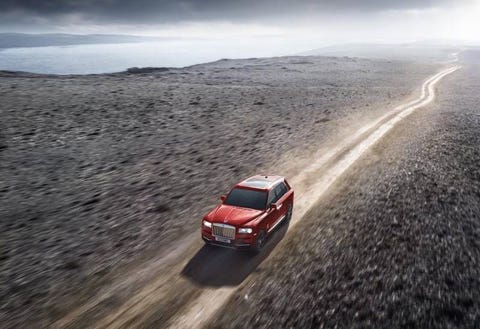 So I asked her, "Do you think I could talk Rolls into letting me drive that thing, your race car?" In what demonstrates the can-do fearlessness and moxie no doubt utilized across 700 miles of gila monster-strewn dirt, Hall said, "Sure!"
So I asked. And they said yes! Ninety percent of success is just showing up.
But, Rolls said, the race Cullinan had "a few things we want to address," not specifying what things. So I was offered a stock Cullinan, given that I wasn't going to be racing one. Where, exactly was I planning to drive it, they asked? I proposed a number of scenarios, only one of which I'll divulge here since I want to do all the others in other rigs in the future. The one was to traverse the Mojave Road, a 19th century ramble first used by Native Americans as a trail, then by early settlers and Army troops as a wagon trail to cross the great Mojave Desert from the Colorado River west to Barstow, Calif. It'd take three days. I even got the powers that be in Detroit to OK it. I was even on the verge of getting a real photographer to take along.
As Flounder said in Animal House, "Oh boy, isn't this great!"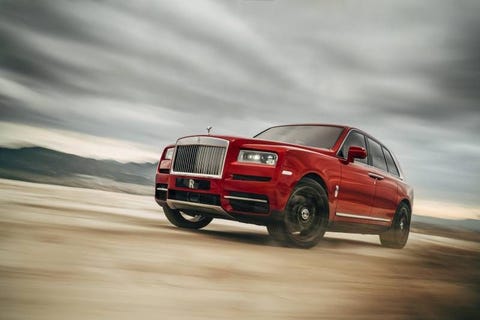 Then it all fell apart. I don't know if you've heard, but there's some kind of pandemic thing going on. We're all supposed to stay in our homes except to visit the doctor or go to the grocery store. I have both within blocks of my house. I could take a bicycle.
Sure, I could have defiantly driven out to Barstow and high-tailed it along some desert dirt road; it's only an hour and a half from LA. I could have maybe even traversed the Mojave Road, at least part of it, but would that have been morally allowable? My Catholic guilt wrestled with my idiot self, pinning my idiot self to the ground and raising its arms (wings?) in victory. Whether that was the right decision or not can be debated on internet forums for the next year and a half, but I dropped plans to hit the dirt and, instead, drove a bit in Los Angeles.
I know, I am lame. Go ahead and say it—but there's no comment section, so you can't, hahahahaha! (Editor's note: Joke's on him, it'll be back in May). If it's any consolation, Rolls will be making this thing for another nine or 10 years, maybe longer. So I can still do TMR in a Rolls, maybe even in an electric Cullinan.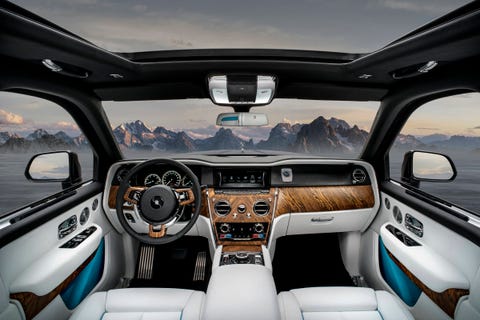 Really, though, most owners are never going to get their Cullinans dirty. These beautiful beasts will prowl Nantucket, The Hamptons and Telluride, maybe seeing some snow but not likely any dirt. In that sense, my test-weekend-and-a-half on the streets and freeways of SoCal was a far more accurate reflection of how the Rolls-Royce Cullinan would be carted about.
And I do live not far from San Marino, an upper-crusty suburb of LA that was old money when Beverly Hills was still farmland. In fact, my rented office desk is in San Marino, so I even have a legitimate reason to be there if the police ever pull me over. I could drive around there and fit right in.
On LA freeways I could enjoy the Cullinan's 563-hp 6.75-liter twin-turbo V8, an engine with about as much torque—627 lb-ft—as the Titanic, but which would fare better against an iceberg, I gotta think. That engine is mated to an eight-speed transmission that is so smooth you won't know it's there, let alone feel it shift gears. Step on the throttle and you don't have to wait for either turbo to spool up or for the revs to climb or for anything else that other engines have to do before delivering thrust. You just step on the throttle and off you hurl.
It's maybe not as impressive as the magnificent W12 in the Bentley Bentayga Speed that I drove just weeks before; that thing had oomph. More oomph than even this impressive mass of metal. The Roller weighs about 400 pounds more than the Bentayga Speed, depending on options and things, but it has only 21 more hp. That means the Bentley is better to 60 mph than the Roller, 4.4 seconds to the Roller's 5.3, the latter which I recorded on my cellphone, so it might not be all that accurate. The Cullinan carries its nearly 3 tons of test weight well, though, like a middle-aged movie star who's had a few "surgeries" but still has star appeal.
The Cullinan will give buyers the smoothest, quietest ride of any SUV ever made. That's for sure. There's 220 pounds of sound-deadening material in this thing. And a suspension for the gods of ride calibration. Like the Rolls-Royce Phantom, the so-called "Magic Carpet Ride" uses self-leveling air suspension with larger air struts for off-highway jaunts.
"The suspension makes millions of calculations every second as it continuously varies the electronically controlled shock absorber adjustment system—reacting to body and wheel acceleration, steering inputs and camera information," says Rolls. "A new double-wishbone front axle and five-link rear axle deliver astounding levels of control over lateral roll and shear forces and deliver incredible agility and stability, as does the addition of four-wheel steering, all contributing to incredible drivability and nimbleness."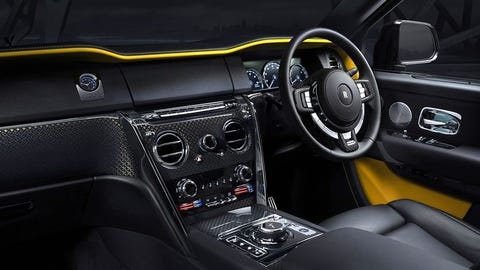 That is not just marketing hyperbole: The Rolls is the smooth-sailing-est cloud ride you'll ever experience. If you ever do take it off-highway, you just hit the Effortless, Everywhere button and the big ute figures out which ride mode will work best. No need to switch between gravel, sand, dirt and unruly peasants.
Inside are all the touches you would expect in a Rolls-Royce, from a full-leather interior that includes The Spirit of Ecstasy embossed on every leather-clad door panel for $1,900, to contrasted seat piping for $4,025. But you can't really pick apart the cost of anything here. Buyers in this segment aren't deciding between EX, LX and Limited, nor between this and a Bentayga, Range Rover, GLS or Cayenne Turbo. I gotta think they have their minds made up. They'd have to, since the Cullinan is two or three or four times as much as those potential competitors.
As with every other luxury carmaker that has jumped into the SUV market, Rolls-Royce has seen a spike in sales since introducing its entry. Total RR sales in the U.S. went up 25% in 2019, the first full year the Cullinan was available. Total sales in 2018 were 4,107, and hit 5,152 in 2019, suggesting the new ute accounted for roughly 1,000 sales. If you figure that Cullinans start at $325,000 but transaction prices are probably closer to my test rig's $406,225, add those three zeroes and you have $400 million worth of Cullinans rolling out dealer doors. Which is nice—for Rolls. Of course, all carmakers are taking a COVID hit right now, but you can see the Cullinan was just what the doctor ordered for Rolls-Royce last year, and will certainly remain strong once this current mess runs its course.
Now if all this COVID craziness would clear up maybe I can get out on the Mojave Road like I planned.
Rolls-Royce Cullinan Specs
ON SALE: Now
BASE PRICE: $325,000 AS-TESTED PRICE: $406,225
POWERTRAIN: 6.75-liter twin-turbo V12, eight-speed automatic, AWD
OUTPUT: 563 hp at 5,000 rpm, 627 lb-ft at 1,600 rpm
CURB WEIGHT: 5,864 lb (mfr.)
0-60 MPH: 5.3 sec (AW)
FUEL ECONOMY (CITY/HIGHWAY/COMBINED): 12/20/14 mpg
PROS: Big luxury in handy off-road form
CONS: That exterior could scare children
Source: Read Full Article