Covered 2000 km in 24 hours on my new Octavia to attend Team-BHP Meet
We couldn't believe that a tyre so new gave up in such a way. This is one of the worst tyres to be provided with such a great car.
BHPian LONG_TOURER recently shared this with other enthusiasts.
Me and my friend took delivery of the Octavia from Solan, Himachal Pradesh on 23.02.2022 and I had to cover around 2000 km straight within 24 hours to make it to the meetup location. As time was limited, I called up BHPian DevOnWheels if he could join me from Lucknow to which he happily obliged.
So the plan was fixed. I would drive alone all the way from Solan, HP to Lucknow, UP and BHPian DevOnWheels would join me from Lucknow for the rest of the journey till Ramsai Tea resort.
Day 1: Solan, Himachal to Lucknow
I started from Skoda Solan at around 2.00 pm after completing all the formalities. The Octy was accompanied by my friend's Honda City ZX till Greater Noida where a few of my school friends were waiting to see the new car. The drive from Solan to Greater Noida was uneventful through NH44 and Eastern Peripheral Expressway. Managed to reach Great Noida by 8.30pm. The vehicle returned a healthy mileage of 17kmpl on this trip.
After a heavy meal, I started from Greater Noida at around 9.30 pm. I must say, this was one drive I was very excited about i.e., driving the 2.0TSI on the best roads in the country, the Yamuna Expressway, Agra Lucknow Expressway! And buoy I was not disappointed at all. It's very difficult to keep the Octavia under 2k rpm because of the power you have post 2k rpm. I somehow managed to control my emotions and used cruise control 90% of the time. This thing doesn't want you to drive sedately at all.
While descending from Solan with the Honda city 5th gen
Managed to reach the hotel at Lucknow at 4.00 am where BHPian DevOnWheels was eagerly waiting to see the vehicle in person.
Day 2: Lucknow to Ramsai tea resort (1000kms)
As we were already running behind the schedule, I decided to give my sleep a miss and we resumed our journey to Ramsai at 4.45 from Lucknow.
We took the Lucknow-Ayodhya-Gorakhpur-Darbhanga-Araria-Purnea-Siliguri-Ramsai route which is along NH27. We avoided the Purvanchal expressway as the roads from Arah to Darbhanga via buxur are in terrible condition due to everlasting construction activities and highway expansion work. Google initially suggested taking NH327 via Araria but we continued driving on NH27 due to construction and expansion going around NH327 reported by BHPian ABHI_1512 (He is the encyclopedia of North Bengal and Northeast road conditions).
We lost our way to reach the resort in our final 50kms or so. It was a tense situation with just 50kms of range showing on the ODO but we finally made it to the resort by 12 am. We were glad to see all our fellow Bhpians and straight away joined them for dinner. In the whole Lucknow-Ramsai stretch, DevOnWheels was the man behind the wheel who drove 700kms without taking breakfast or lunch break. In fact, in the whole 1000kms stretch we hardly took 5 bio breaks due to time constraints which is commendable, to say the least.
Welcomed by DevOnWheels at 4am in the morning.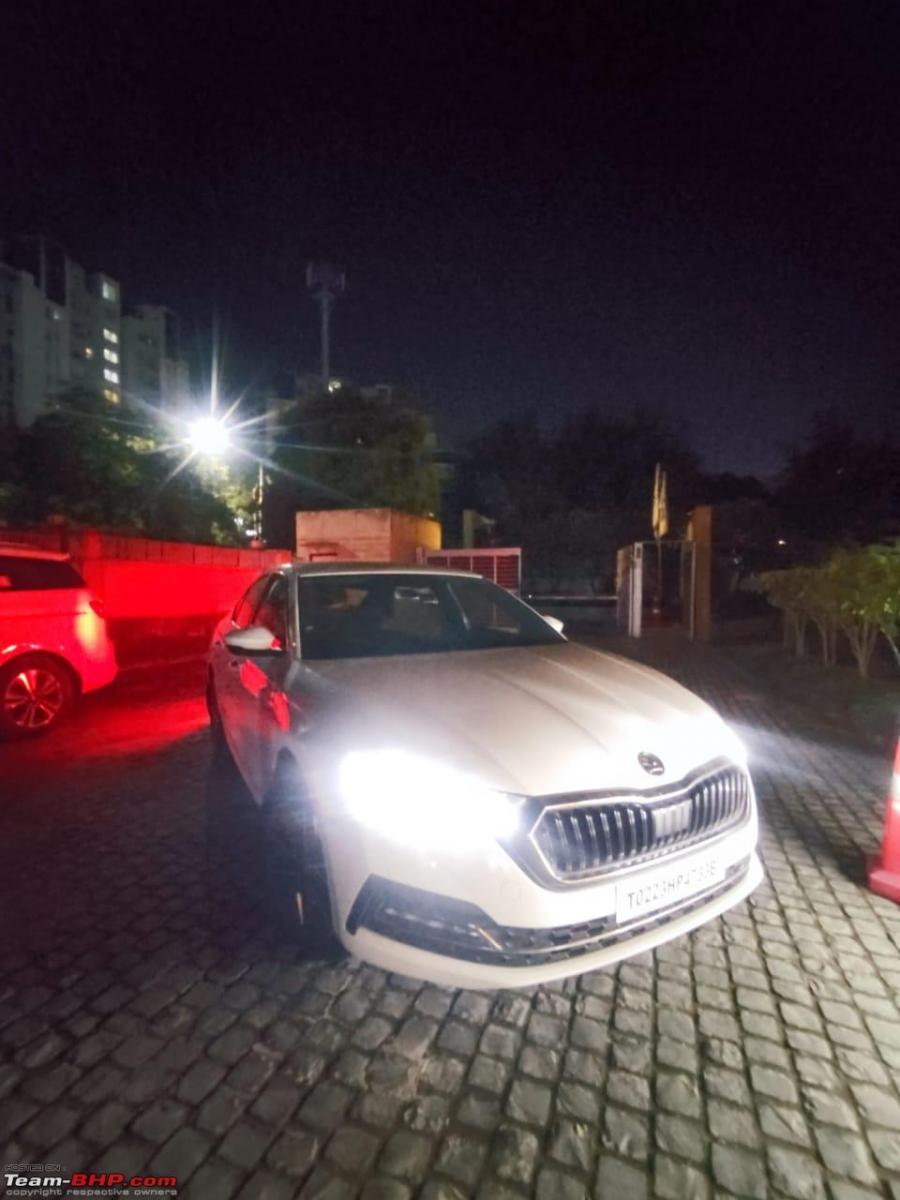 Started again at 4.45am skipping the sleep altogether
Struck around Ayodhya traffic. Trucks and trucks everywhere.
Finally making it to the meetup location at midnight, Octy welcomed by two Fords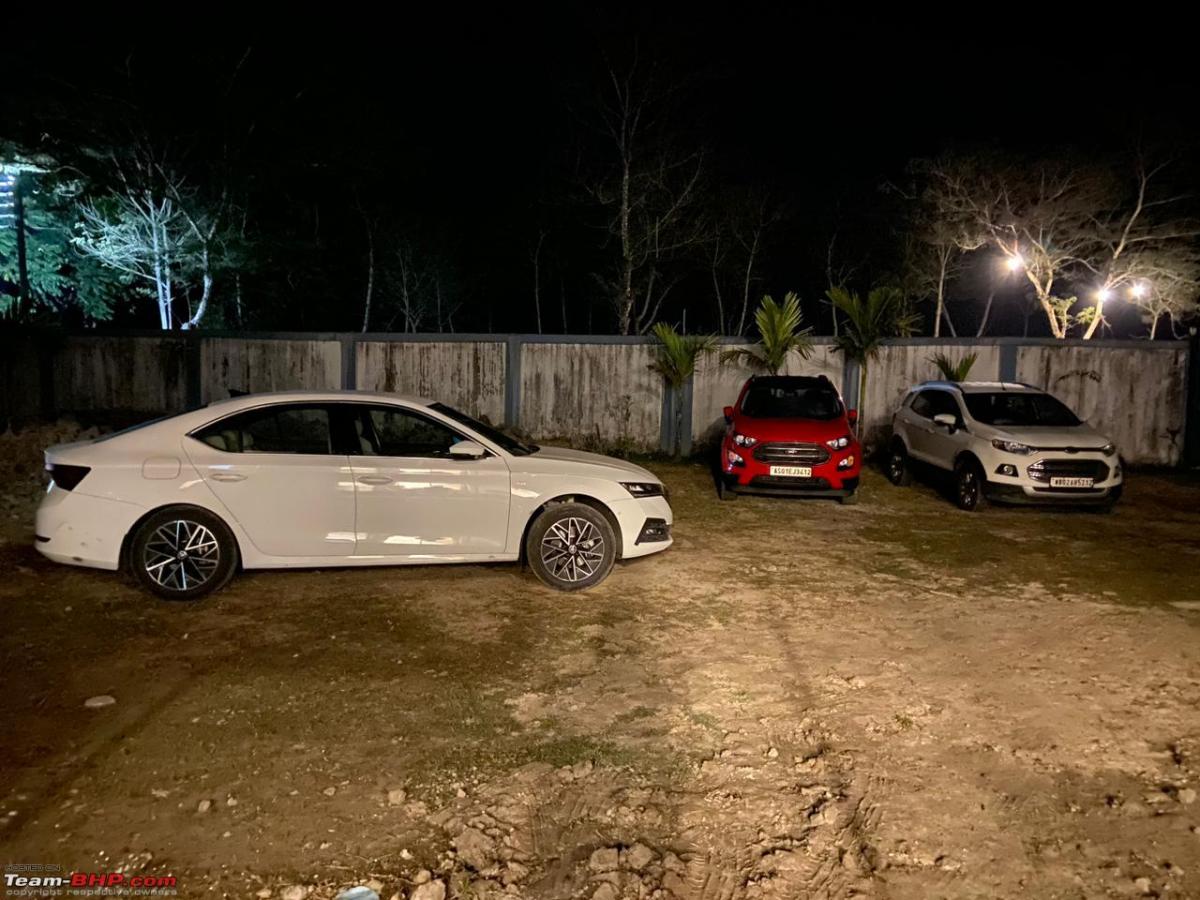 Day 3: In and Around dooars
Let the pictures do the talking.
Late Morning drive towards Lava surrounded by Tea gardens
Bahoon on the frame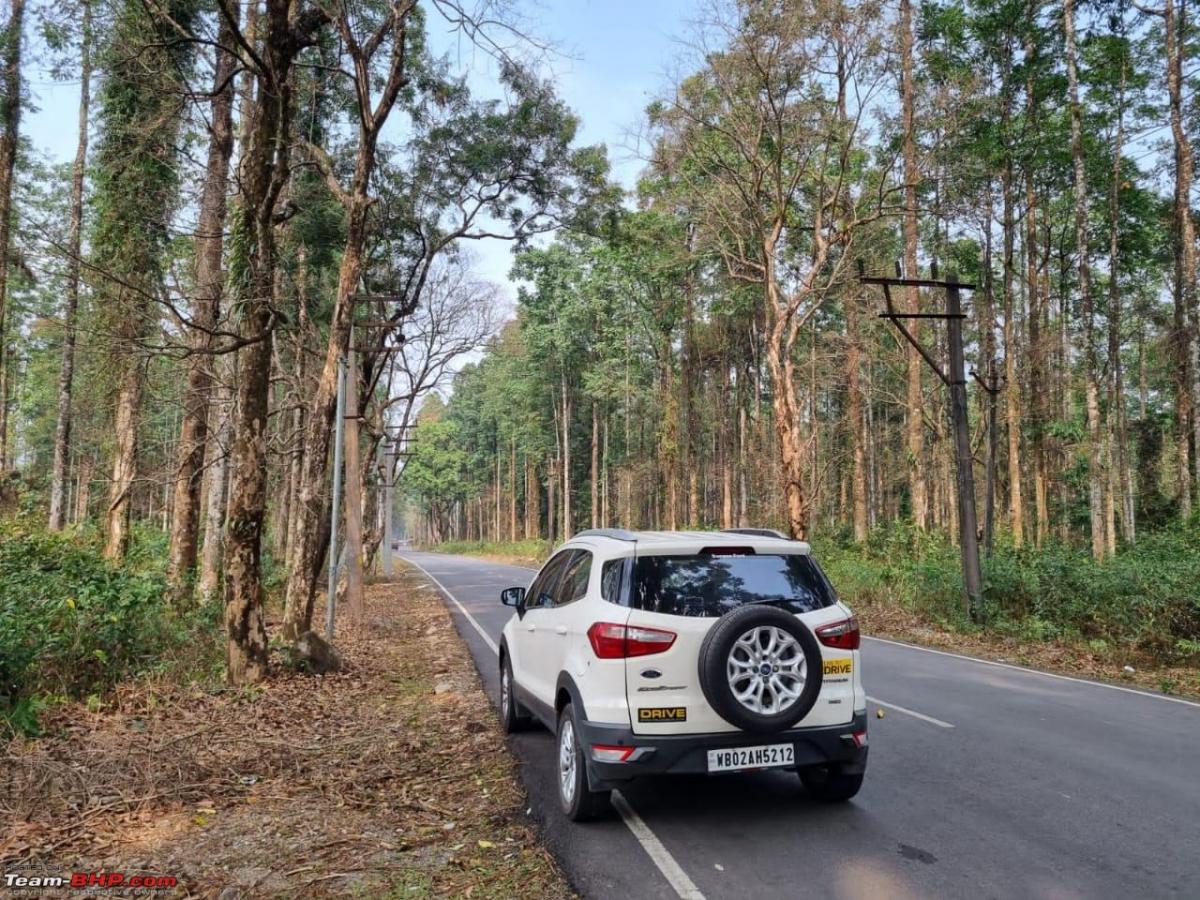 DevOnWheels trying to improve his poor photography skills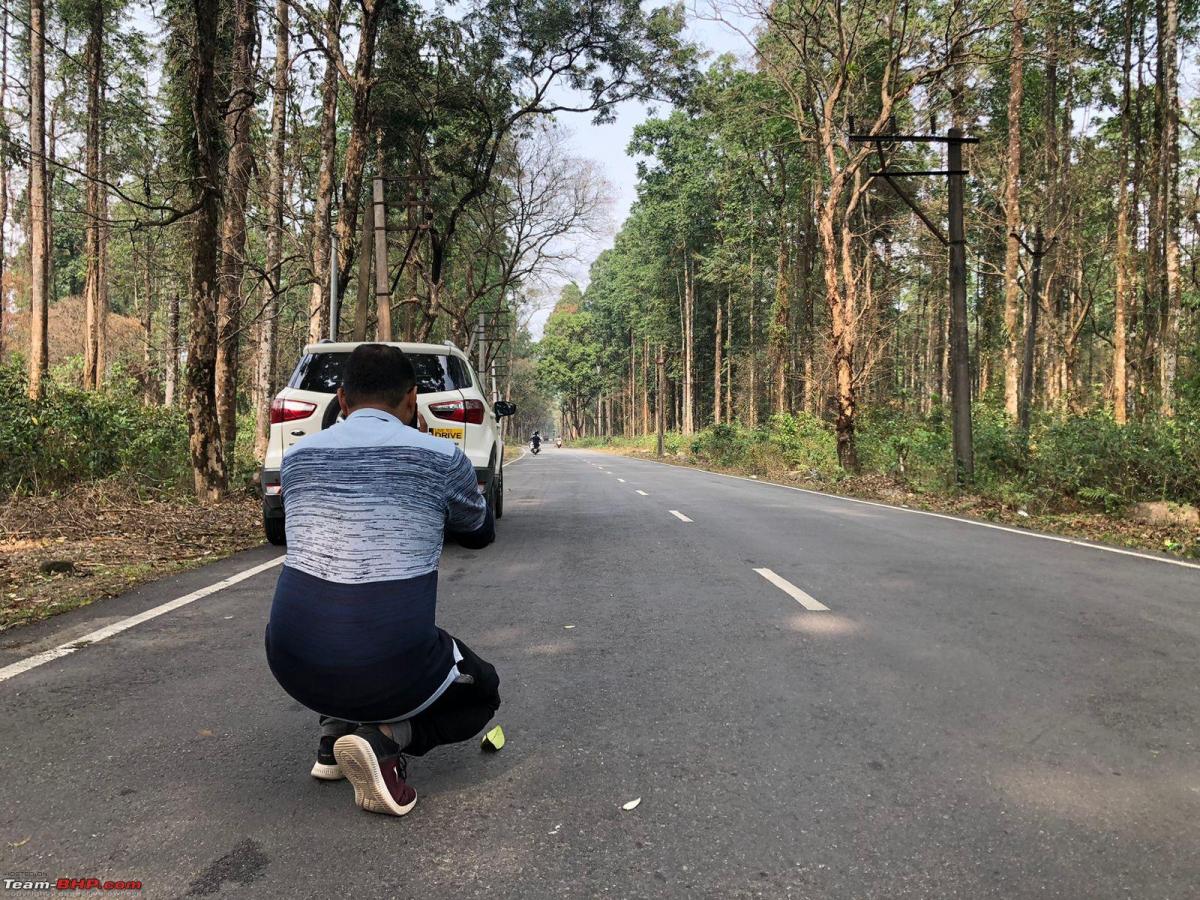 Some moving shots with the Red EcoSport. I call this car dragon. It sticks out of the crowd instantly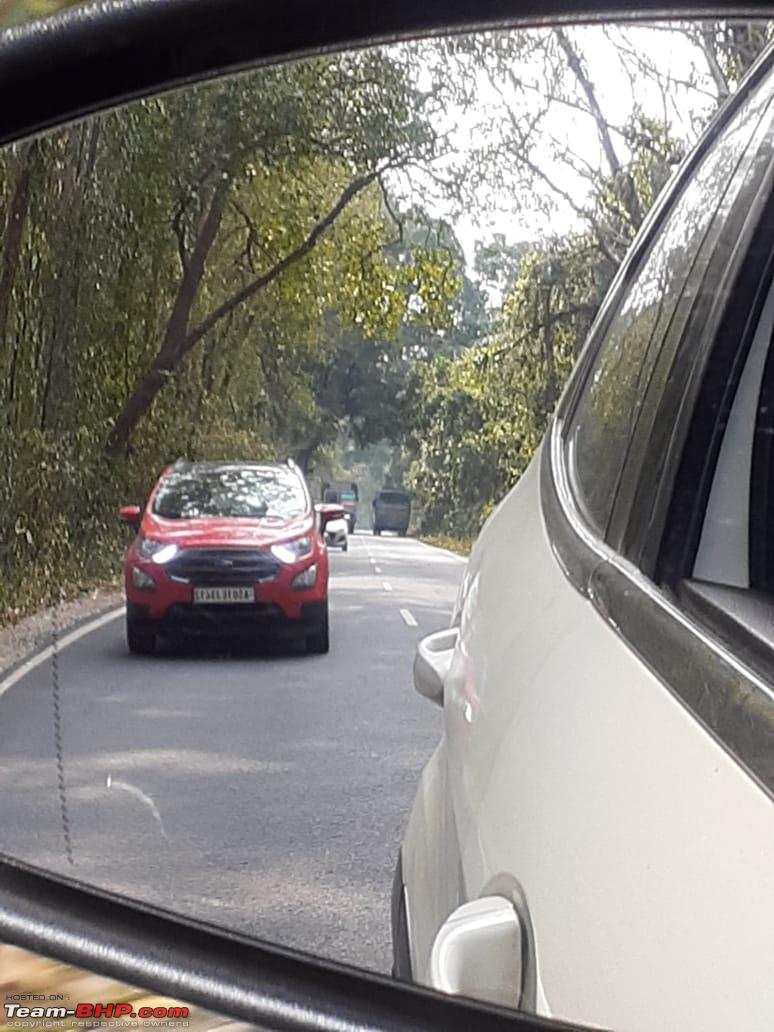 BHPian Yogi..reeturaj with the beloved Bahoon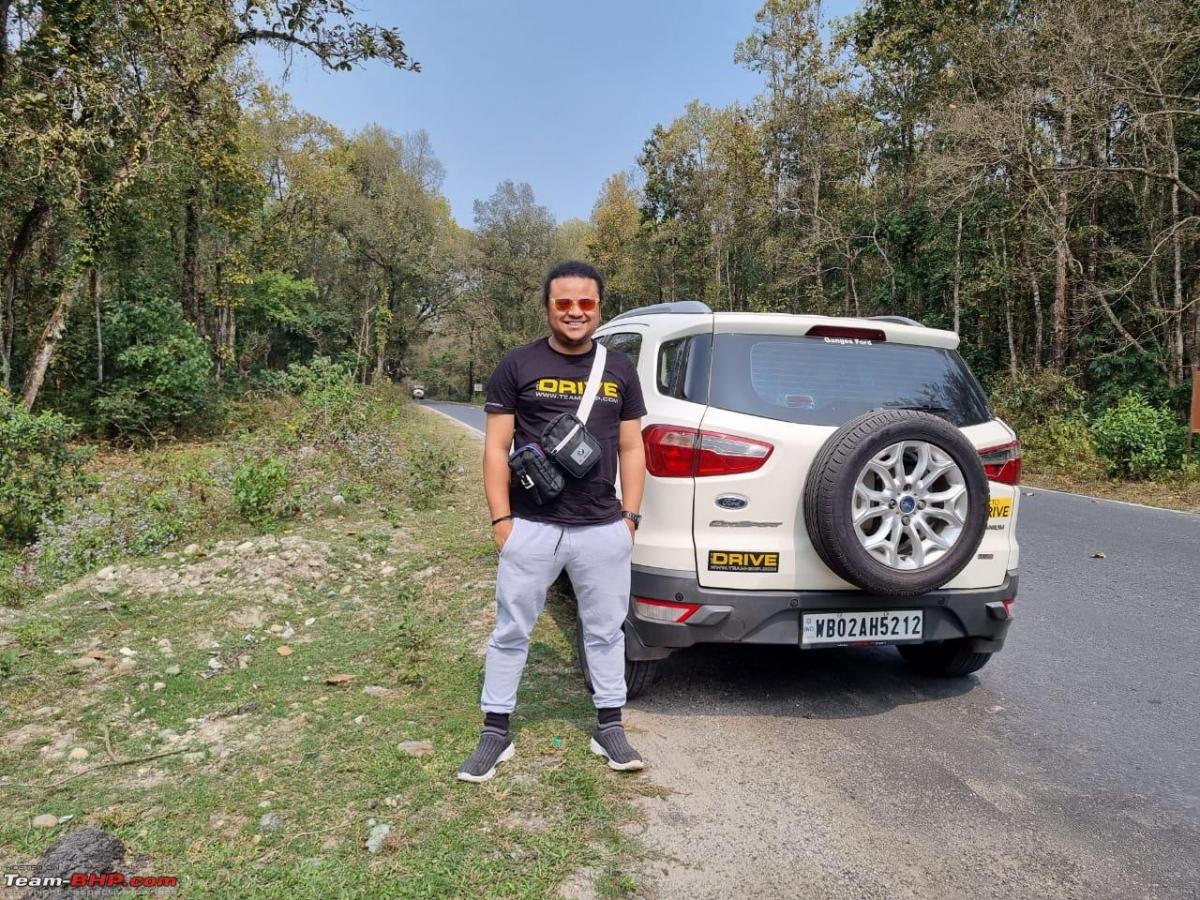 Behind the scene of the previous picture
BHPian ABHI_1512 with his photography skills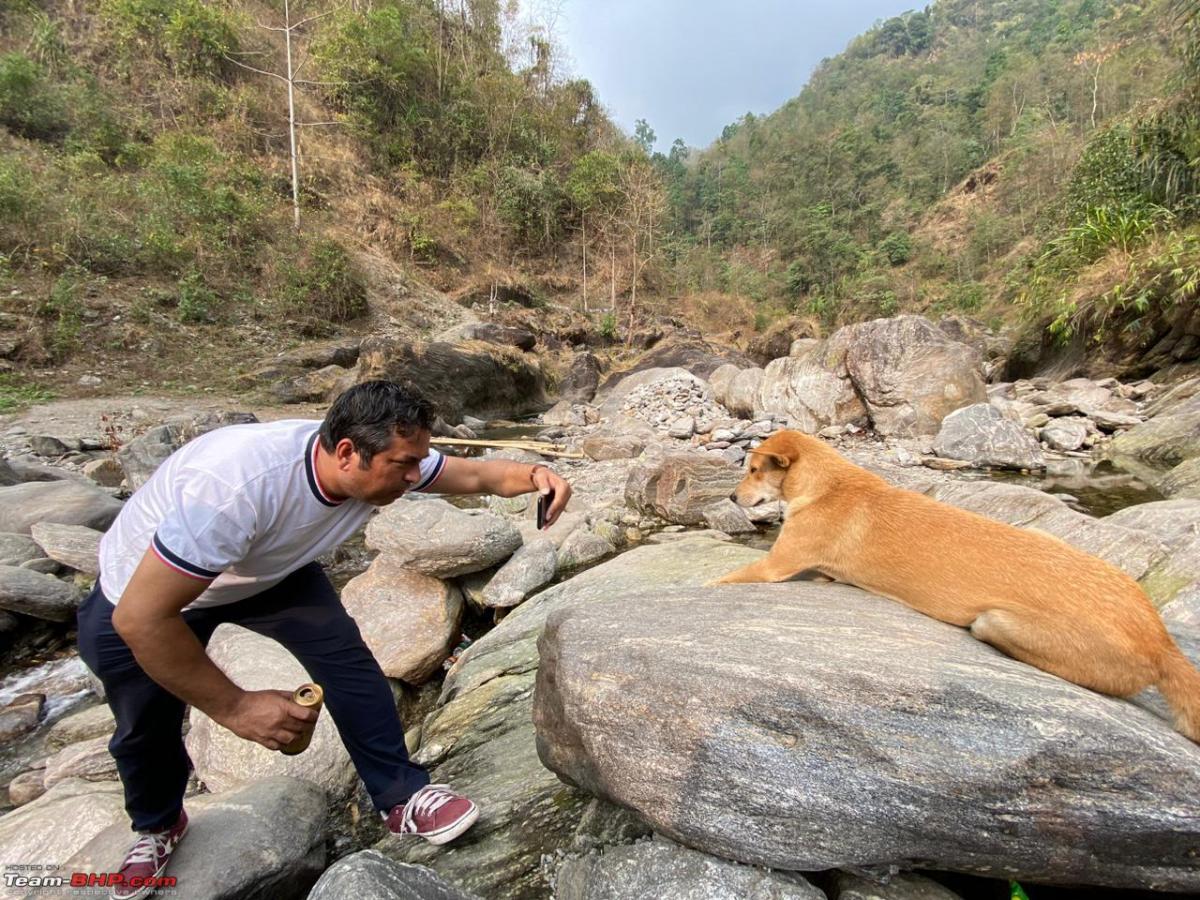 Some more random shots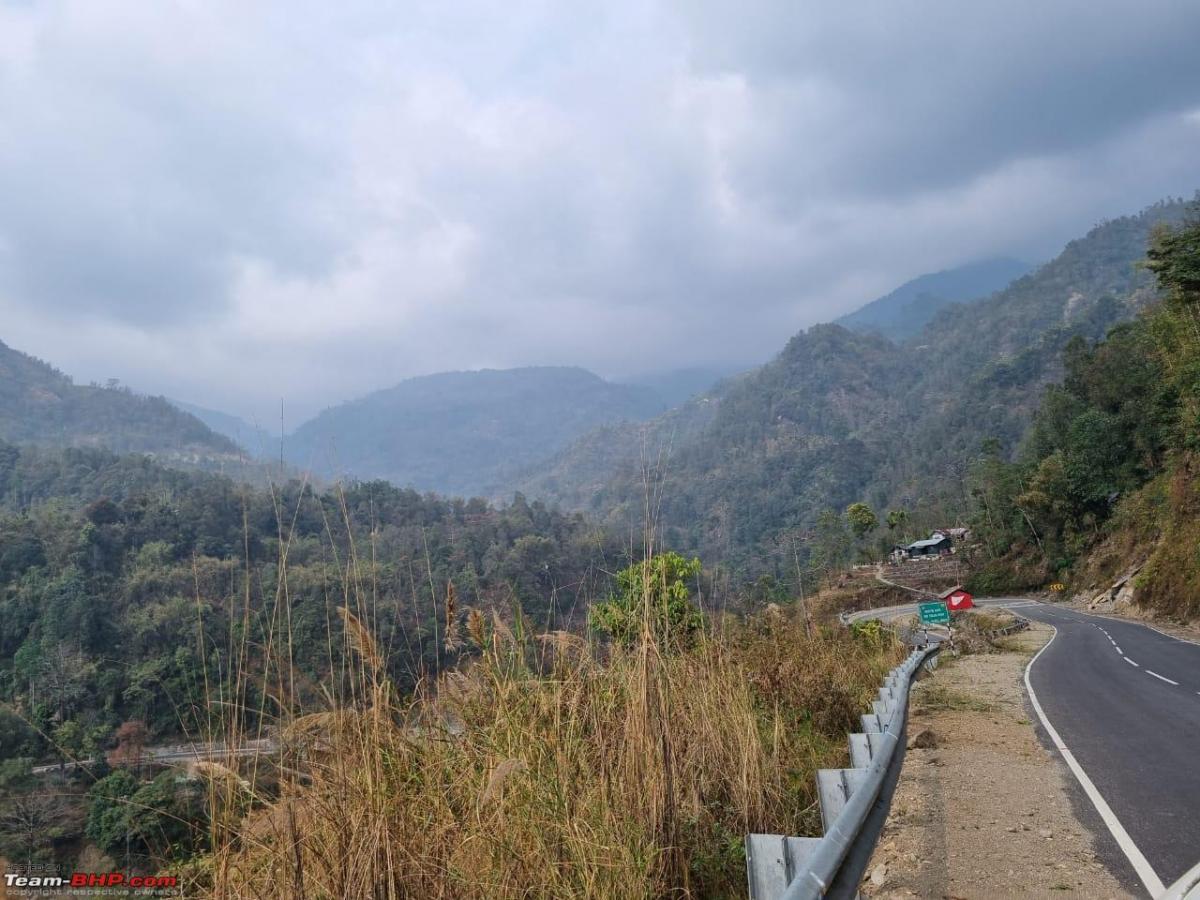 Some photography of BHPian Prakritij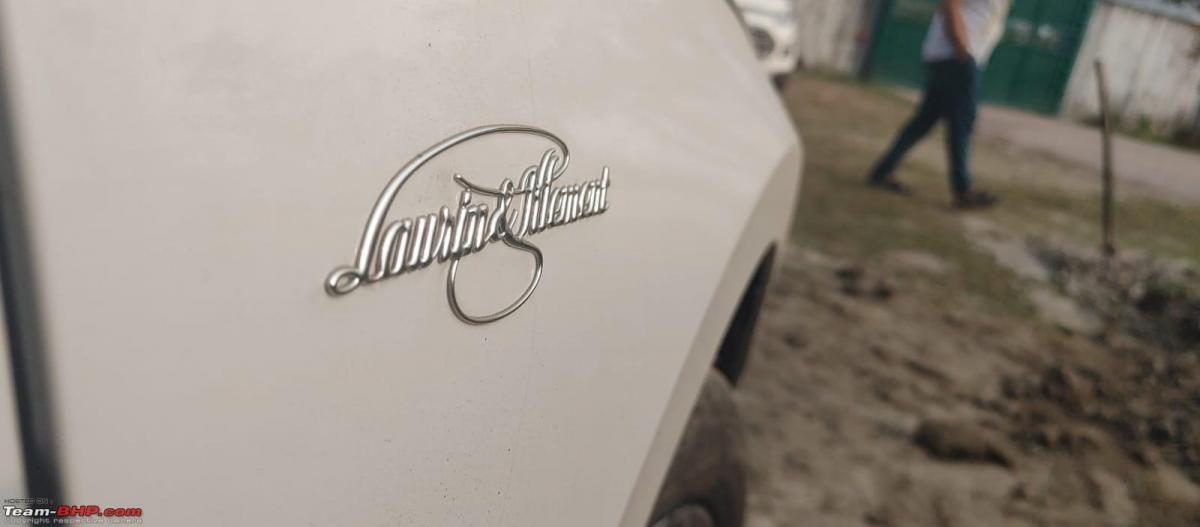 Day 4: The last leg (Ramsai to Guwahati 400kms)
(Poor Goodyear assurance tyres gave up)
That was the last leg of my trip from Solan and the vehicle was due to be permanently registered at Guwahati (the vehicle was temporarily registered in Himachal though).
Bhpian ChiranjitP and Bhpian Yogi..Reeturaj decided to accompany me in the last stretch to Guwahati and we planned to start early dawn. The plan was to reach Guwahati by 11 am the next day but God had some different plans for our last leg.
We started by 4am in the morning, and while most of the BHPians were in deep sleep due to the previous night's party, BHPian ABHI_1512 graciously came downstairs to see us off.
The roads from Ramsai to Guwahati are very much straightforward, all we needed to do was stick to NH27 once we moved out of the Gajaldhoba road. Me being a frequent traveller on this route was pretty much sure that we would reach Guwahati by 11 am.
We were averaging 80kmph through the good roads of Dooars, however, I missed a small pothole near a bridge culvert and went over it at around 40kmph. The Octy took the hit like nobody's business but the front left tyre gave up. Yes, the tyre had a massive sideline crack near the alloy. We couldn't believe that a tyre so new gave up in such a way. This is one of the worst tyres to be provided to such a great car, heck even our Tucson's 225/55/R18 Nexens were much better than these GoodYear Assurance. I highly recommend the current Octavia owners change the tyre before embarking on a long road trip.
Our In house tyre changing expert BHPian ChiranjitP
One with the ugly spare wheel
The sun was up when the tyre cut happened and we could replace the tyre with the spare in no time. Thanks to BHPian ChiranjitP and Yogi..Reeturaj. On the way, we found a tyre repair shop where the technician told us that the tyre is damaged beyond repair due to a large sidewall cut. We couldn't manage to go beyond 70kmph due to the spare wheel which delayed our journey by 2 hours.
We reached Guwahati by 1pm. Dropped BHPian ChiranjitP and Reeturaj and reached home at around 1.30pm. More about the tyre replacement story will be narrated in the Octavia Ownership thread soon. Thanks for reading!
Check out BHPian comments for more insights and information.
Source: Read Full Article