Car group meet up & a trip to Mount Abu organised by Team-BHP Gujarat
We've members from groups like Thar groups, motorcycle groups, modification and adventure enthusiasts, etc.
BHPian SJM1214 recently shared this with other enthusiasts.
Team-BHP group in Gujarat is one big family.
We are one big family of more than 100 BHPians. We keep discussing cars, Team-BHP threads, new car launches, meets, etc. Team-BHP GUJ group is a blend of members from various off-roading groups, THAR groups, motorcycle groups, photography groups, modification enthusiasts, and adventure enthusiasts, which makes us a perfect place (virtual) for members with all kinds of interests.
Yes, there is something always going on in the group virtually. But it will be an injustice to consider us just a Virtual group. We love to meet each other. Various meets like off-roading meets, motorcycle ride meets, Test drive meets, coffee meets, family tours, etc. keep happening. We are so close to each other, now we are socially connected with each other's families and attend each other social functions.
One fine day we decided to design our logo, by clubbing the legacy of Team-BHP and Gujarat's true spirit.
Team-BHP GUJ Logo.
This logo proudly (on cars and motorcycles) shares the space with our Team-BHP stickers.
My RE Classic 350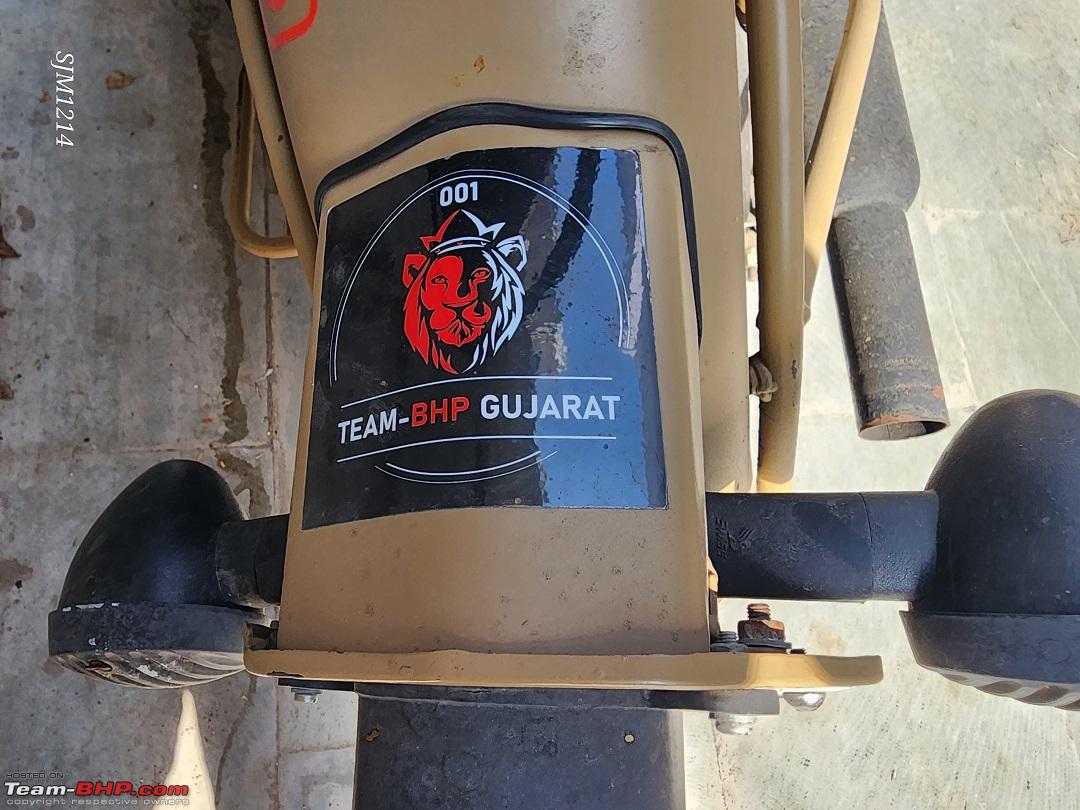 BHPian Abhik's Thar.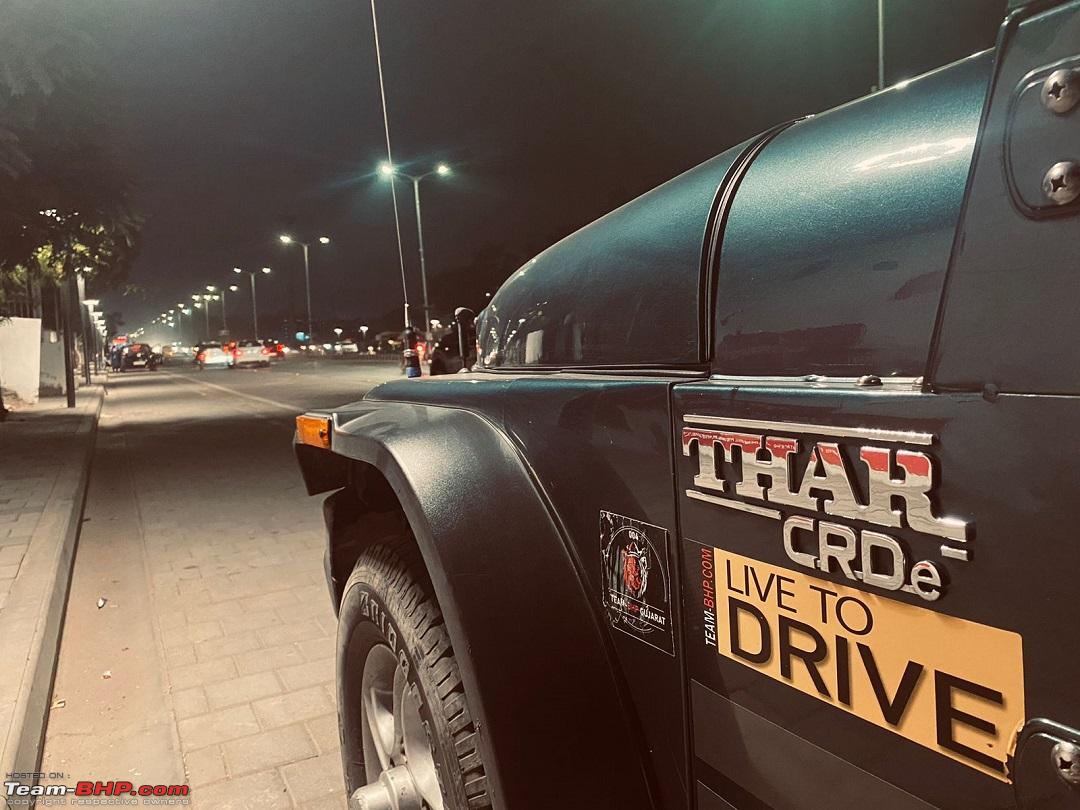 Somewhere deep in the Ladakh region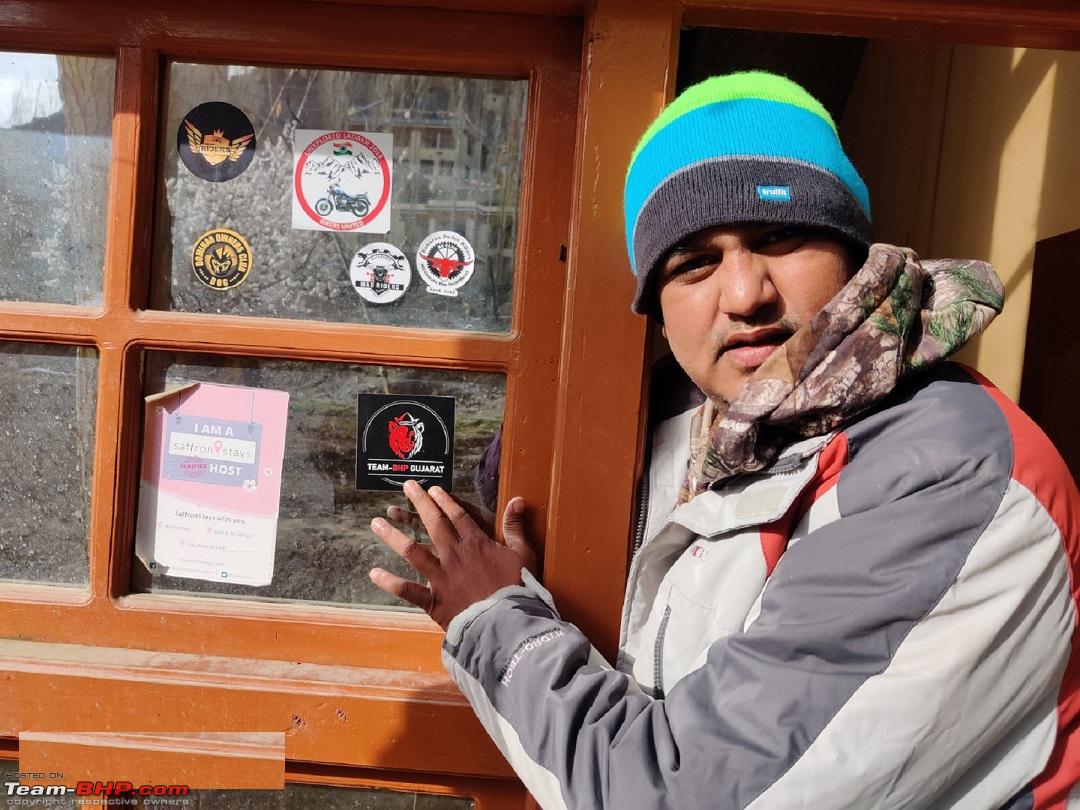 PS: this is a privately owned hotel and they encourage people to paste their stickers.
BHPians from Ahmedabad and Baroda used to regularly meet at different locations since 2009. We have some very old threads of Team-BHP meets mentioned below.
The Ahmedabad Team-BHP meets thread
The Vadodara Meet Thread
New members from GUJ joined the forum, and all of us kept discussing and demanding a meeting in the above threads. Both of the above threads kept buzzing from requests for a meet from members all over GUJ. We decided to merge both groups and started calling us Team- BHP Gujarat.
We successfully arranged a meeting back in 2019, please refer below thread.
Gujarat Team-BHP Meet – 6th Jan, 2019
We met many fellow BHPians for the first time. We had an amazing breakfast session discussing cars, travel, and photography. More and more members joined in after reading the above report. There was always an ongoing demand from all the members to plan one more meeting as soon as possible, and within just seven months we planned one more meeting at Ahmedabad.
Gujarat Team-BHP Meet – 28th July, 2019
We were becoming one big family of motorheads. We were not just talking about automobiles but we were actively involved in automobile events and get-togethers.
Vadodara Invitational Supercross : BHPians as lap scorers
Offroading excursion with the Offroad Club of Gujarat (OCG)
We regularly kept meeting. However, most of the time, we were not able to post the meet reports on the forum. That's the reason I am creating a separate thread to create a report on meets that don't have their separate threads.
The demand for an overnight meet was increasing and that too out of Gujarat (for obvious reasons).
Group had an amazing off-roading and jungle Safari at Jawai. I was going to attend that meeting. However, at last, something came up and I had to drop out. We had a meeting at Daman, but once again I was not able to attend it.
As I was not part of this trip, I am not able to write something about it. A humble request to BHPians to write and upload pics for Jawai and Daman's trips in this thread.
Team-BHP Meet At Mt. Abu.
The Surat team was pushing for some location around Dahanu, Bordi, or Daman. The Ahmedabad team was pushing for Udaipur, Abu kind of locations. We Baroda and Anand (Central GUJ) guys were just observing the tug of war. Finally, the Ahmedabad team won the war and we finalized Mt. Abu.
12th March 2022, was the D day. Yes, It's possible to drive from Surat to Mt Abu in 10 hours. However, Surat guys were starting from Surat after finishing the working day. They booked a Hotel in Ahmedabad for a night stay on Friday. We kept that hotel at our rendezvous and starting point.
BHPians from Surat checked in at a hotel on SG road, Ahmedabad on 10th March and confirmed their arrival in Ahmedabad late at night
Team Surat
Two-wheelers, three-wheelers, and pedestrians are not allowed on National Express Highway -1. It is not possible to approach NE1 by walking (if you do not know the road and if you are not local). However, there are points (not official) on NE1 at every town to approach the NE1. People just climb the slope and can get on NE1. These unofficial and illegal points are very useful for daily commuters to hitch a ride to A'bad or Baroda.
I am local and I know NE1. I have used this point many times. BHPian Anirudh was starting from Baroda in his Ecosports. I gave him my location at one of these points at NE1.
NE1
BHPian Anirudh picked me up from NE1 in his amazingly maintained EcoSports, We started cruising to A"bad. Other Members were waiting for us at the Hotel in A"bad. We reached the hotel said hello to all the BHPian and immediately got on the road to Mt. Abu.
To Abu
After an amazing drive mix of tanker traffic, empty highways, and ghat roads. We reached Mt Abu at 1.00 PM. A beautiful colonial-styled Bungalow near Nikki Lake was booked by BHPian Khalil Khan. The entire Bungalow was booked for us.
A Siberian Husky welcomed us at Abu
At Our Bungalow
We wanted to have a convoy drive, However, Many BHPians were starting late from their destinations, so we couldn't have a convoy drive. We reached our destination. We were happy to meet each other after a long time and we started our "mehfil" in the Parking.
Our Mehfil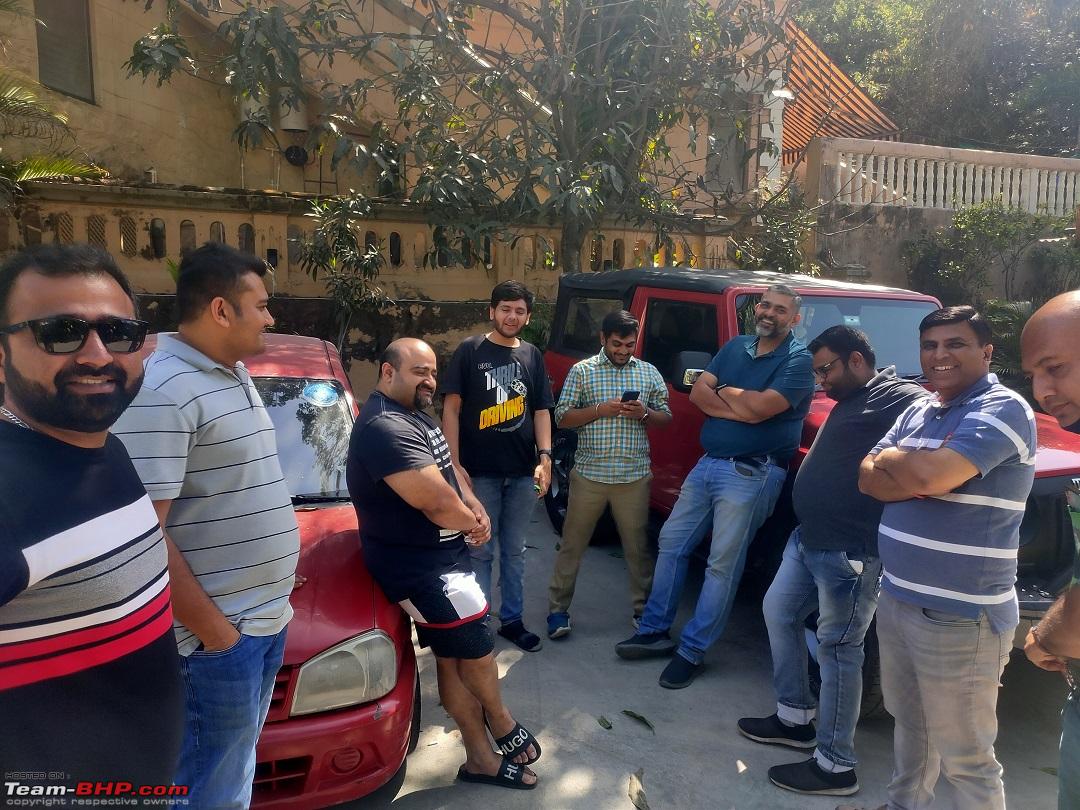 We dumped our luggage in our rooms and got together on one of the balconies. The weather was nice and we made ourselves comfortable in that lobby only. I don't exactly remember what was the hot topic during that meet but I am sure it was cars, roads, off-roading, travel destinations etc. It was fun talking to each other.
Our Conference room.
Once everybody joined, We approached for lunch. Lunch was simple but tasty. All of us were hungry after a long and continuous drive. During lunch, we came to know BHPian Anirudh was on the way to Mt Abu with his Indian Motorcycle group. They were stuck on the highway due to some issue with one of the bikes. We offered to help, however, after some time they were good and started the on the road. We invited them to join us for a night get-together.
Lunch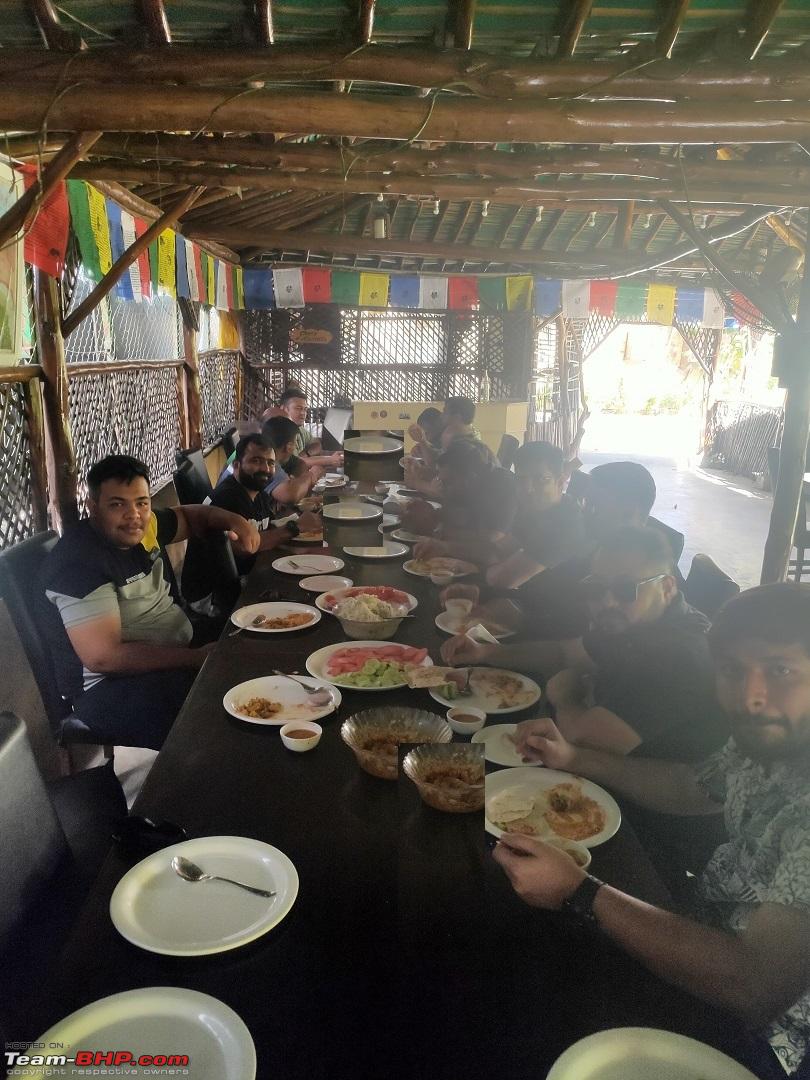 We had amazing lunch. We were tired, the weather was good and Abu was not new to anyone (no one wanted to go sightseeing). We were feeling sleepy. We wanted to have afternoon siestas, in fact, some of us started getting lazy on the balcony.
Feeling Lazy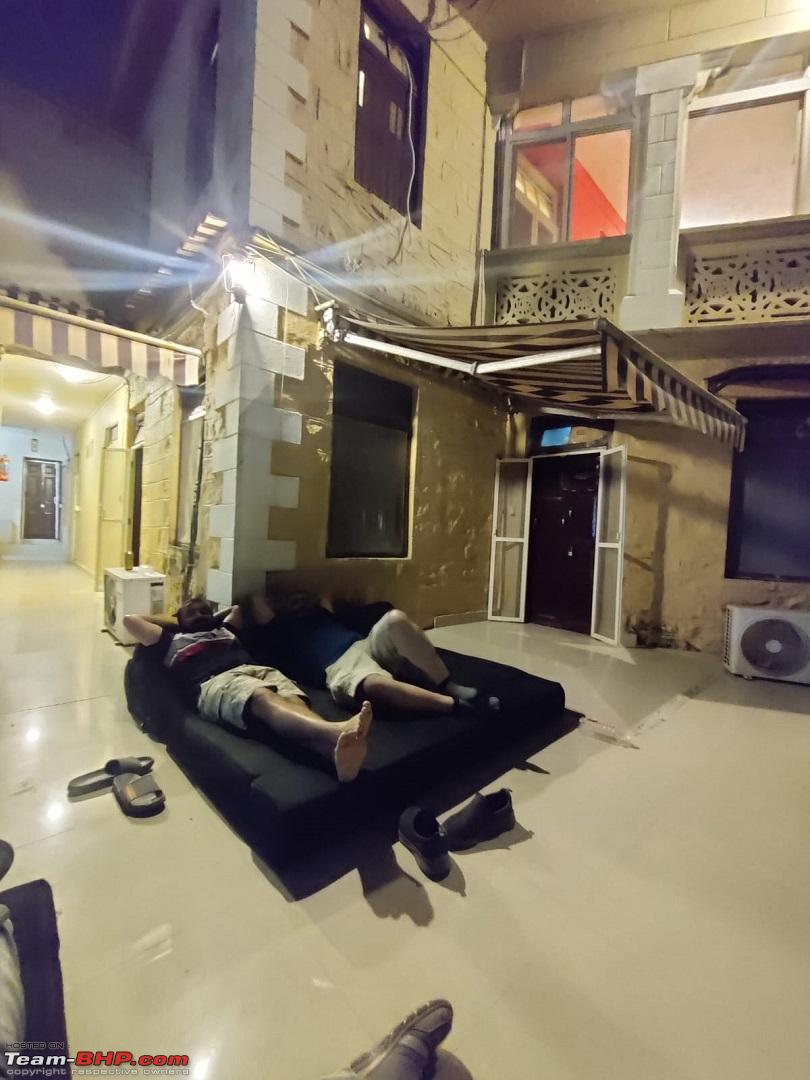 We were trying to make ourselves comfortable and approaching the rooms. At that time Khalil (who reached Abu at 0800 and had enough sleep and rest) came to us and told us that there is a very small uphill trail just behind the bungalow and we could have an amazing view of Nakki lake from the mountaintop. No one was interested in that " small" (that too uphill) trek after heavy lunch.
I don't remember how, but Khalil convinced me and the other two guys to accompany him for that trail. Khalil was leading us and we were following him on the uphill trail. Khali was right, it was a really very small trail, After just 10 minutes of walking we were on the top of a small hill facing an amazing view of Nakki Lake and surrounding hills.
Up hill trail
Me and Khalil Khan
Amazing view of Nakki Lake.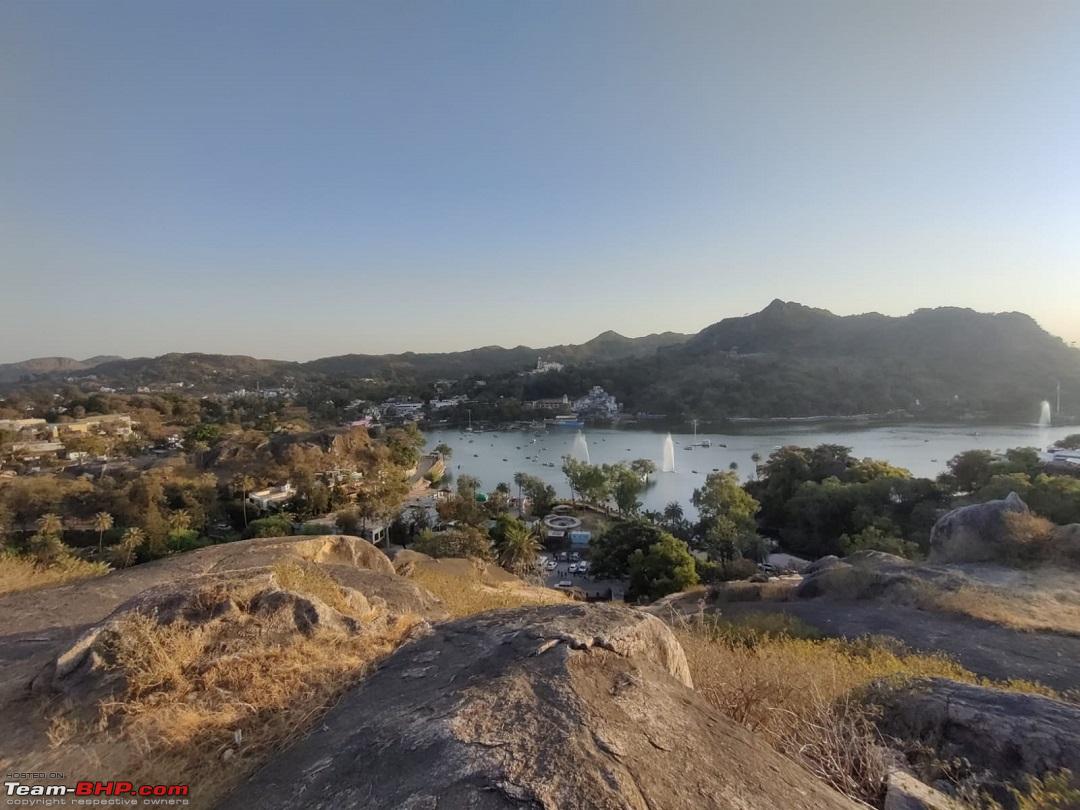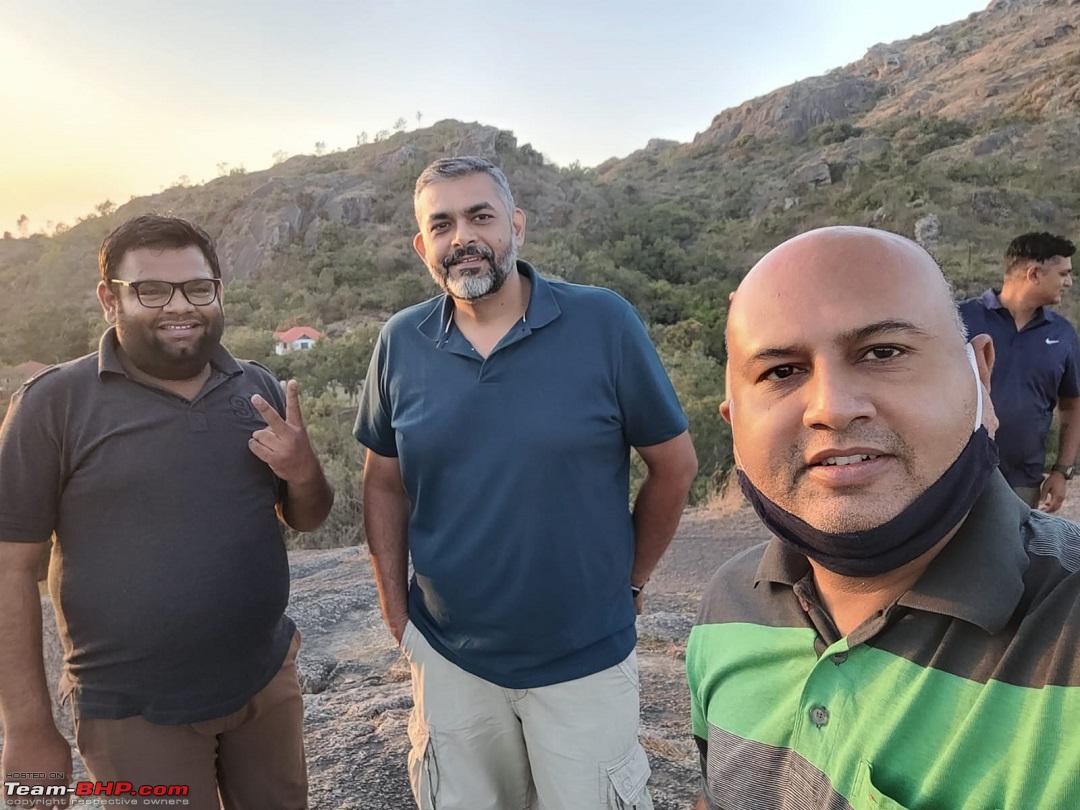 I loved that amazing view. I started calling each and everyone to get out of bed and join us at the hilltop. All of them were irritated by our calls. However, many of them got out of bed and came to the hilltop.
All joined us at Hill Top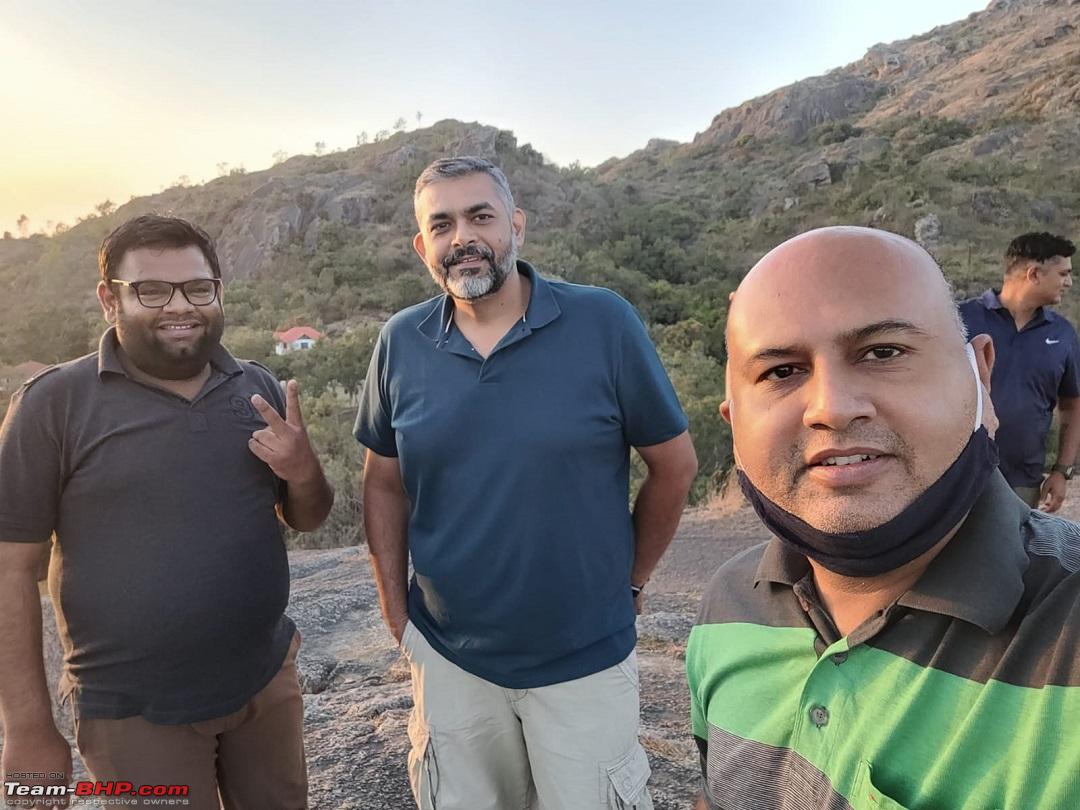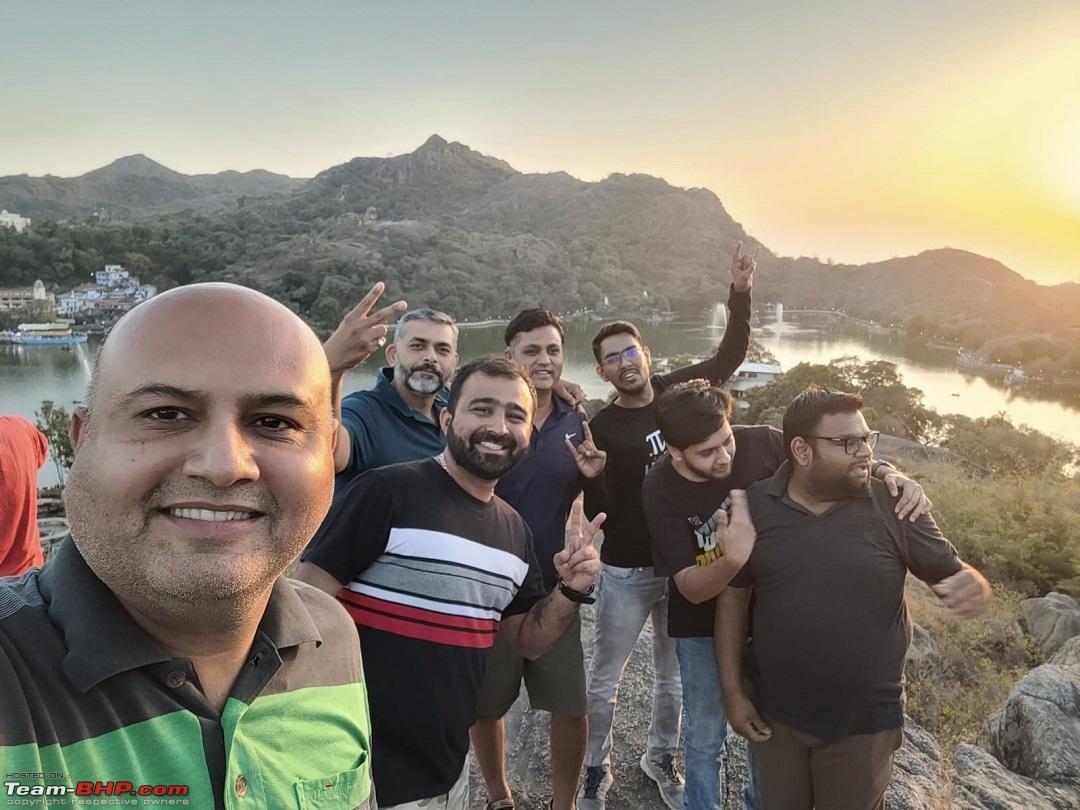 We loved that spot. We spent an amazing time there waiting for the sunset. Some of us tried to search for their souls, some talked to their legs, some played with their mobile and most of us took a lot of photographs.
Searching Soul
Talking to Legs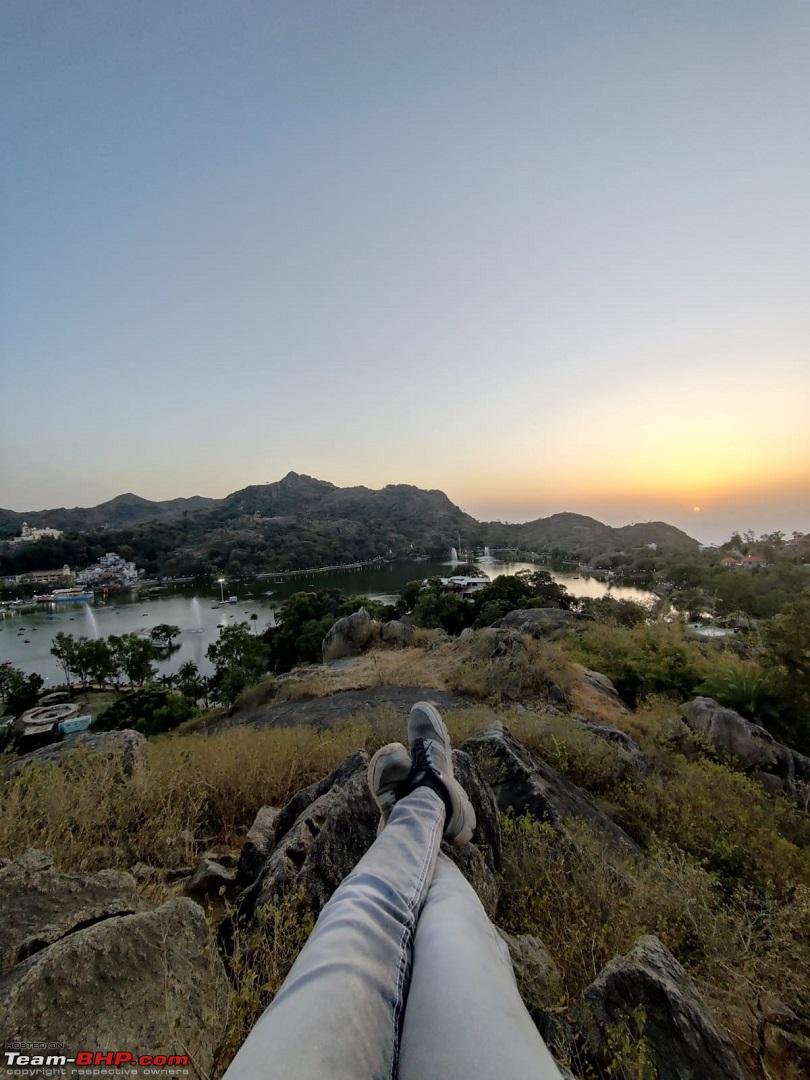 Playing with Mobiles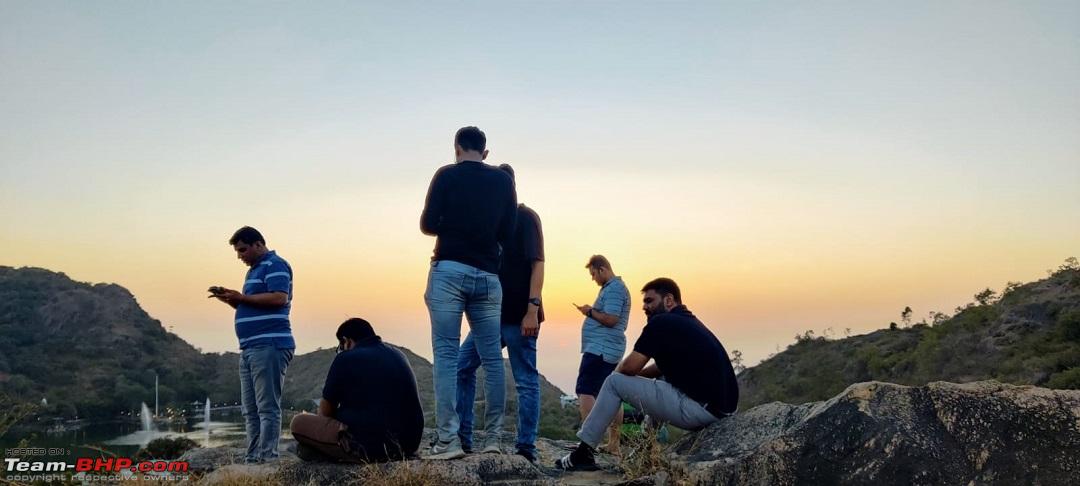 And the rest of us
Continue reading SJM1214's Team-BHP meet experience for BHPian comments, insights and more information.
Source: Read Full Article