Bought a 1998 Honda City 1.5 EXi-S: Ownership review of my project car
From "Are you seriously buying this!?" to "Woah, this reminds me of Tokyo Drift!", it was fascinating to see how people reacted to this purchase.
BHPian AnInternetUser recently shared this with other enthusiasts.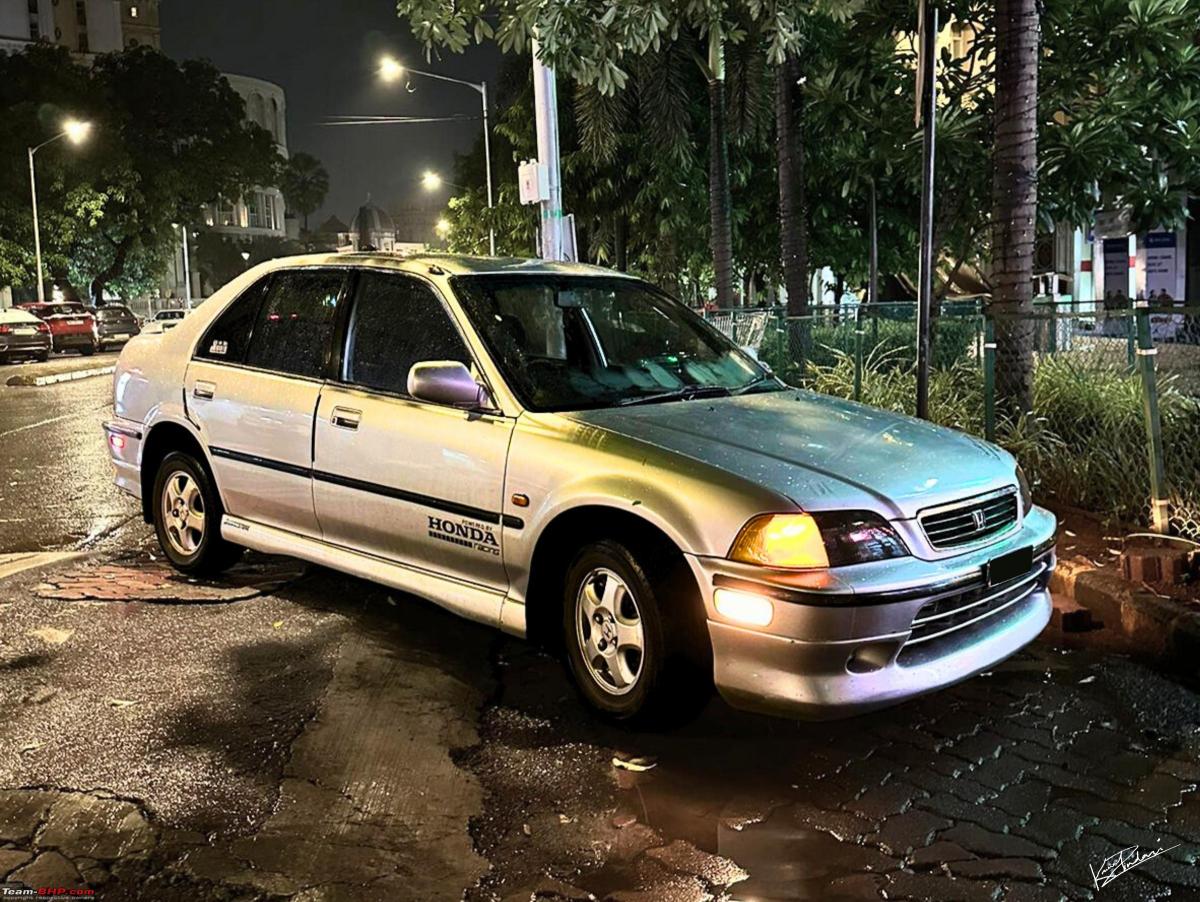 This might become a long post. The first part gives some background into my decision-making process and how I went about buying the car. The second part focuses more on the car and has pictures of the exterior and interior. Finally, the third part contains my short review, driving impressions, work that I've done, as well as my plans.
The Background and Process
Introduction
My automotive journey so far has been quite interesting. Like most of us, I have been into cars since before I could walk or talk. The cars that I learnt driving on were the Maruti Zen and the Honda Brio, and both hold a special place in my heart to date. Recently, I took delivery of a 1998 City 1.5. What was supposed to be the hunt for my mother's surprise birthday gift turned into the hunt to scratch a quarter-life-crisis-fuelled itch.
In 2018, we upgraded to a 2009 Honda City, Zonda, a car that has been my trusted partner ever since. It has taken me to college, endured my 'spirited' driving before I evolved into a better driver, and been a part of countless memories. My sentimental bond aside, this generation of the City is truly special, and the last "well-built" Honda in my humble opinion. So much so, that every time I drive a different car, I'm left with a newfound appreciation for Zonda.
The Itch For Something New
As good as Zonda is, after five years of driving the same car, I could feel the itch for something new. The conversations to look for an upgrade were in full swing, but no car within our budget made the jump feel worth it. On one hand, we wanted a larger car that would be better suited for our occasional road trips and would be more comfortable for the five of us. However, on the other hand, Mumbai's worsening roads and traffic conditions made the need for a smaller automatic hatchback stronger and stronger with every passing pothole and speed bump.
Around this time, I had a fleeting thought of surprising my mother with an entry-level hatchback for her birthday. And so began the search for a used i10 AT. I felt this would be a good way to hit three birds with one stone: my mother could get a stress-free automatic hatch, I could drive the i10 whenever I required some change from the City, and since the car wouldn't be too pricey, we could retain the City. It fits perfectly!
Taking a look at the used i10 market gave me a good reality check. I test-drove three cars, and none of them felt particularly reassuring. They also felt (and possibly were) at least 40-50% pricier than what they should be worth.
But the seed had been planted. I took the disappointing i10 experience as a personal challenge and set out to find the most fun or interesting car in the market on a budget. Part of me felt like this was a challenge on Top Gear—find the most unique car for under £2,000, or ₹200,000 in this case.
I spent an embarrassing amount of time on classifieds, looking for that "perfect" deal. This is when I spotted an intriguing listing: a 1998 Type 1 Honda City 1.5 Automatic. The seller described it as an "original Japanese build very rare collectable car in original condition", but I was quick to dismiss the car, and continued my search.
Later that day, a close friend of mine, Kushan, sent me the very same listing. I laughed his suggestion off, telling him that the car really didn't fit the bill (oh, how wrong I was!) But he still insisted we go and have a look since it really was quite rare. While I was really not sure about the car, I kept his conviction-filled suggestions in mind, since he knows and understands these cars and the market a lot better than I do.
I spent a few days toying with the idea of a few cars: the front-runners were the E280 CDI, the Toyota Camry, and the CR-V, among others. However, all of those cars would require putting in a lot more money than what I had initially anticipated (or budgeted for). At this time, the seller of the Type 1 City had lowered his asking price a little. The stars seemed to be aligning in the favour of the '98, and it appeared to be a good option after all. Looks like my friend really was onto something…
The Test Drive and Impressions
The itch to get a new car grew stronger and stronger day by day until I finally gave in and arranged a test drive with the seller of the 1998 City. Upon hearing this, Kushan was arguably more excited than me or the seller and shared something that really piqued my interest. As it turned out, he had spotted the exact same car back in 2017-2018, back when it was with its first owner. He had taken a few pictures of the car back then and sent them over to me. This was a very interesting development since the car in these pictures looked nothing like the car in the advert.
While his pictures showed a near-immaculate, rare Type 1, the advert showed a tinted and stickered-up car with smoked headlamps—not a very pleasant look (to me at least). Regardless, this combined with a conversation with Kushan about the car gave me some much-needed confidence in seriously considering the car.
I was still quite sceptical of a twenty-five-year-old vehicle, and part of me was a little surprised that I was even entertaining the possibility of buying one. Heck, at this point, I was quite excited!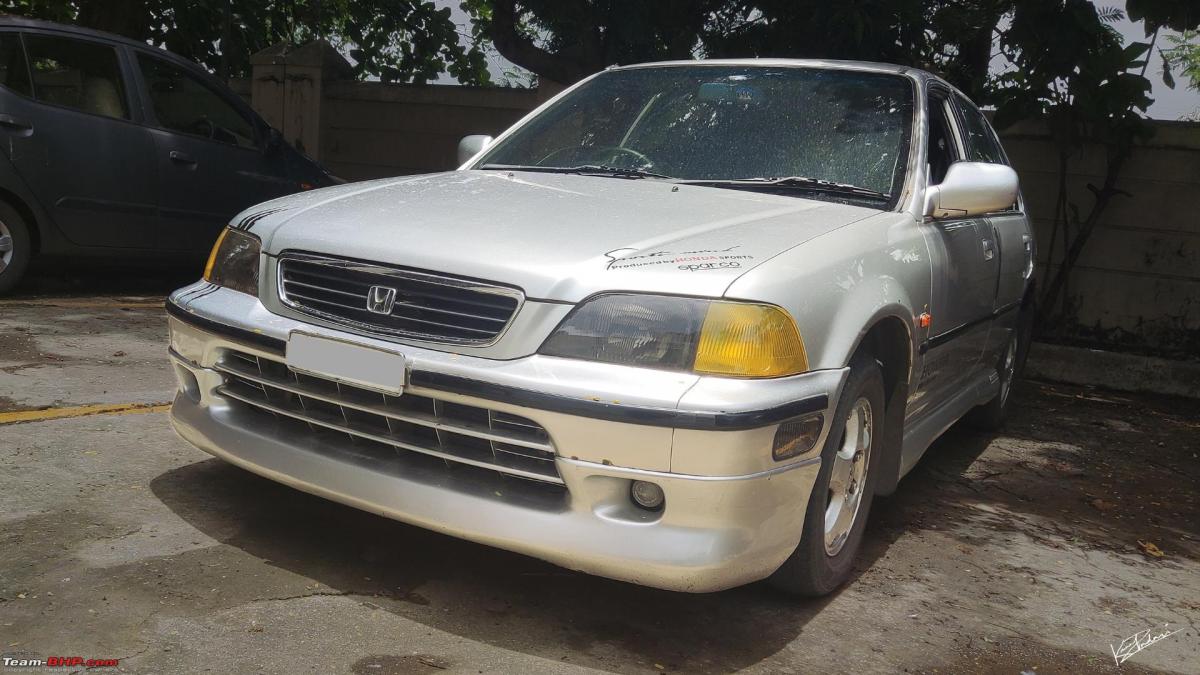 Upon finally seeing the car in person, my mind went into fault-finding mode. I had done some research on the common trouble areas for these cars, and I was happy to see that the car was still well-kept underneath, barring a few spots. The actual test drive did not disappoint, either. I was able to identify some rather obvious mechanical problems with the car, but that is to be expected from any used car, let alone one that is this old. I also ran some of the obvious flaws that I noticed with Kushan since he also has a Type 1 AT among other older Japanese cars, and he said most niggles were very minor. This gave me more confidence in the decision to make a serious offer. Surprisingly, the car felt monumentally better than the i10s that I had driven. Clearly, the car was growing on me.
I knew that this would be a bit of a project car considering that it did have a few flaws, and any car of this age will need work. To be honest, this was quite appealing since it would also mean that I would learn more about these cars in the process. And since the car was still in fairly good condition, none of the work I'd have to do would be time-sensitive or costly. I wanted my first project car to be easily manageable.
Negotiations, Inspections, and More…
In many ways, that test drive really sealed the deal for me. I had a number in mind, and I was willing to pull the trigger instantly if the seller fell for my "shrewd negotiation". Well, much to my dismay, he was unwilling to budge beyond a certain point. In fact, he was expecting another chap to come and see the car right after I was. Unsure if this was legit or just a tactic, I gave him my final offer and asked him to get back to me if it works for him. While I was leaving his place, I did see the other party coming in to check out the car, so it turned out he was not bluffing after all.
While I knew that my offer was a little aggressive, I had to leave some wiggle room for immediate repairs. Alas, it was too late for rational thinking to prevail, for I had already fallen for the car. The next morning, after getting barely enough sleep because I was busy thinking about the '98, I called him up to enquire. As it turned out, the other party had agreed to a higher price, but they needed a day or two to arrange the funds. The seller had not accepted a booking amount yet.
Seeing this window of opportunity, I asked the seller to let me get the car inspected by my mechanic. I was hoping this would either uncover a problem that would help me negotiate, or it would ease my concerns a little and allow me to bid higher. My mechanic, who recently restored a Type 2 VTEC, said this was a very clean car. He put a few concerns of mine to rest and gave me the go-ahead to increase my max bid for the car.
While all of this was going down at my mechanic's workshop, I heard someone pulling up to where we were standing in an Accord V6. "Woah! Is that a 1.5 EXi-S!?" The guy in the Accord exclaimed. At this point, I was visibly confused. Not knowing if this was a decoy by the seller or a genuine Honda enthusiast, I had my guard up. As it turned out, we had mutual friends in the Honda circle, and he had a Type 1, too. This worked out in my favour since I could ask him about the car's condition, etc. He, too, felt the car was well-kept, and so did a few of his friends who were now checking the car out. Kamy, if you're reading this, thank you for the help that day!
By this point, I was very clear about two things:
Long story short, I did not want to pass up on a car this good over a few thousand rupees, so I decided to pull the trigger that evening. Could I have got a Type 1 for cheaper? Yes. But as cheesy as it sounds, this really wasn't "just another Type 1".
Delivery Day
Truth be told, I wanted to take delivery that evening itself. However, I had no option but to wait for a couple of days due to my schedule at the time. No prizes for guessing that I barely slept for those two nights! In a way, the wait and anticipation also reassured me of my rather impulsive purchase. It was a surreal feeling when the day finally came—this was my first car! It is also quite poetic how my first car is also a birth year car: we are both 25 this year!
And so, after a quick snack break for the '98 at the petrol pump, I brought her home.
Surprising my parents with my first car was quite the feeling! Up until that point, they knew I was looking at cars, but I was very hush-hush about the details. So, seeing that I actually went ahead with a fleeting thought of mine was a bit of a shocker for them, too.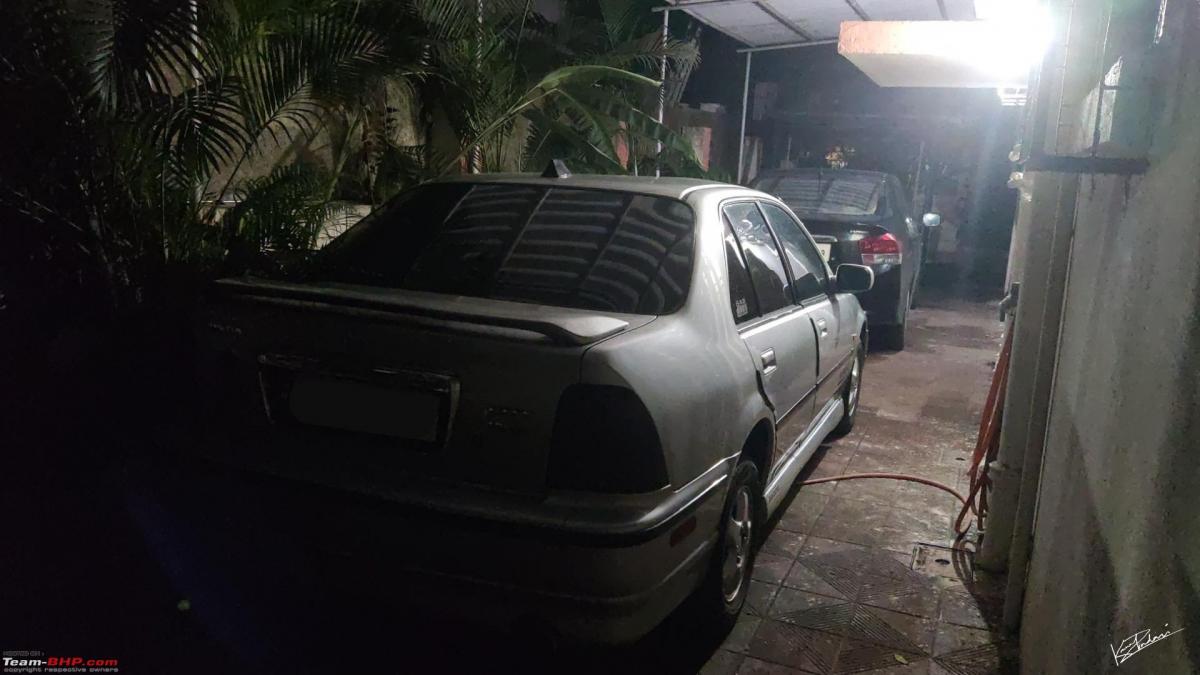 Continue reading BHPian AnInternetUser's Honda City review for more insights and information.
Source: Read Full Article