Bangalore to Lonavala in a Thar: Why I chose the SUV instead of my 320d
Fuel efficiency on mixed city and highway drives is around 8km/l.
BHPian Dr.AD recently shared this with other enthusiasts.
I did another road trip to Pune and Lonavala last week. It was a combination of a work trip in Pune, and on the weekend in between my work events, we had a family vacation in Lonavala.
I could have driven my BMW 320d there, but given that there are some nice hills and trails near Lonavala, I thought I should drive the Thar and see if I could explore some hilly areas there.
It was a solo drive for me from Bangalore to Pune and back. My wife flew into Pune to join us, and my family from Pune and Mumbai came together to meet in Lonavala.
The challenge was that I had to take my parents with me from Pune to Lonavala, and that would mean we would be four people in Thar for that distance. However, since that was just a short drive, I decided to give it a try, and thankfully, it all worked great! My parents are old but thankfully fit enough to climb into the backseat of Thar (they did that with no issues at all), and once in the seat, they found the back seat to be spacious enough for the two of them. So overall we had a fun drive.
Regarding the luggage space, we decided that each of us would carry one small or medium duffel bag. And it turned out that 4 duffel bags can fit in easily with all four seats up! This was a big relief, and this means that a family of four can actually do a short weekend trip in Thar with 4 duffel bags. Any extra small bags (like purses of the ladies) were carried on the seats. Overall it worked out perfectly fine and we had a great drive.
Four duffel bags fit perfectly: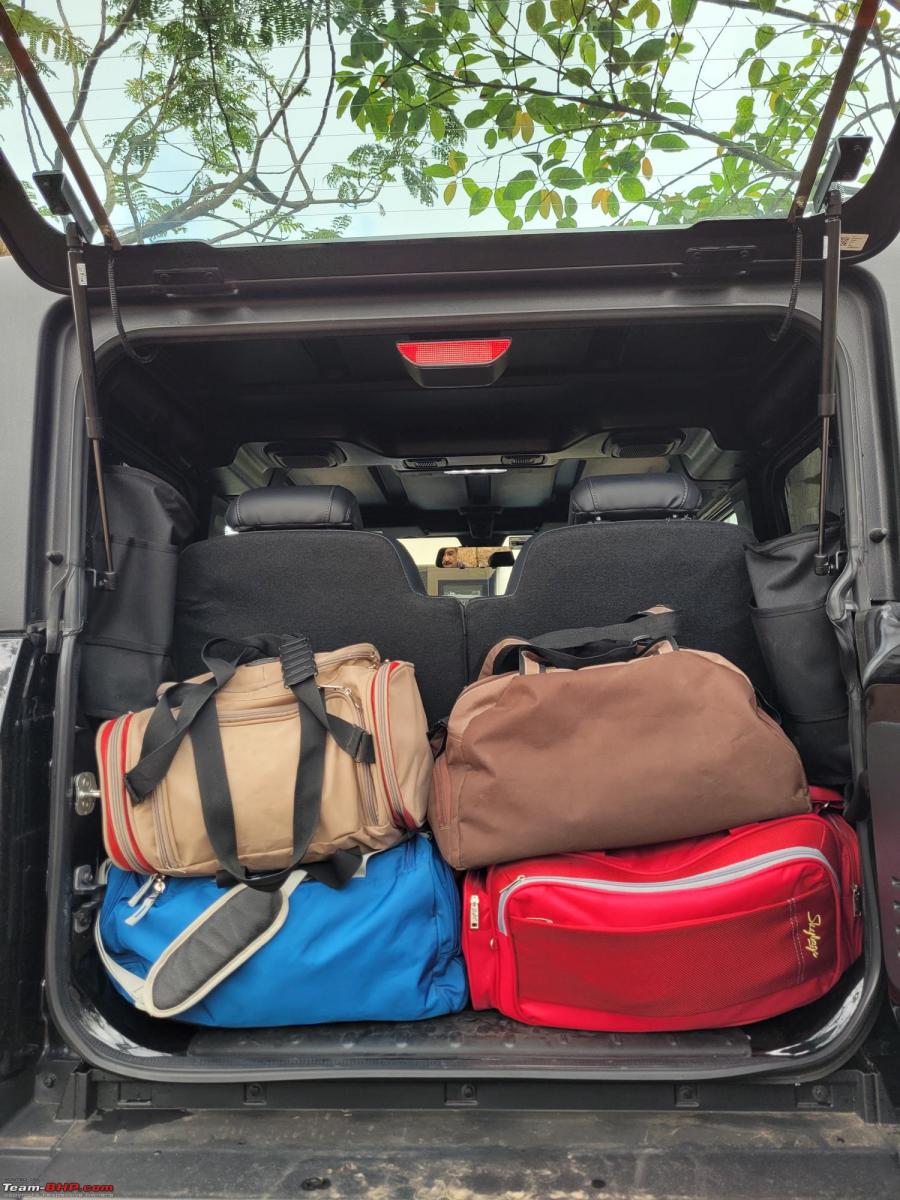 Appeal of the Thar
When we met in Lonavala with our family (my sisters and my nephews and nieces), it turned out Thar was a huge attraction. Somehow Thar received much more affection and interest from my family than my BMW 320d.
Everyone wanted to ride in the Thar and they wanted me to take them out and do some off-roading. Unfortunately, only 4 people can sit in on one trip, so I literally had to do multiple short drives to give people a ride in Thar. It is amazing to see the appeal of the Thar in the young kids as well as older parents generation. From 80 years age group to 15 years age group, everyone loved Thar and they wanted to ride in it.
Now it is given that the ride quality is horrible in Thar. But that does not seem to deter anyone! Somehow everyone who rides in Thar just loves it and they want to join in again and again. Talking about myself and my wife, both of us love Thar drives in spite of the horrible ride quality. There is surely some magic here that makes one look past the things like ride quality and comfort. Maybe it is all in the mind in the end.
Short Drives around Lonavala
I did a couple of short drives around Lonavala (with my family members who wanted to get a taste of some mild off-roading), and we explored some hills and some small trails nearby. It was a wonderful experience. Everyone enjoyed it and we had a great family time.
Parking the Thar in some hilly area where only a Thar could reach, and then getting out to enjoy the fresh air and the surroundings, was a wonderful experience, especially with the family. The kids in the family loved it the most!
Somewhere in the hills near Lonavala: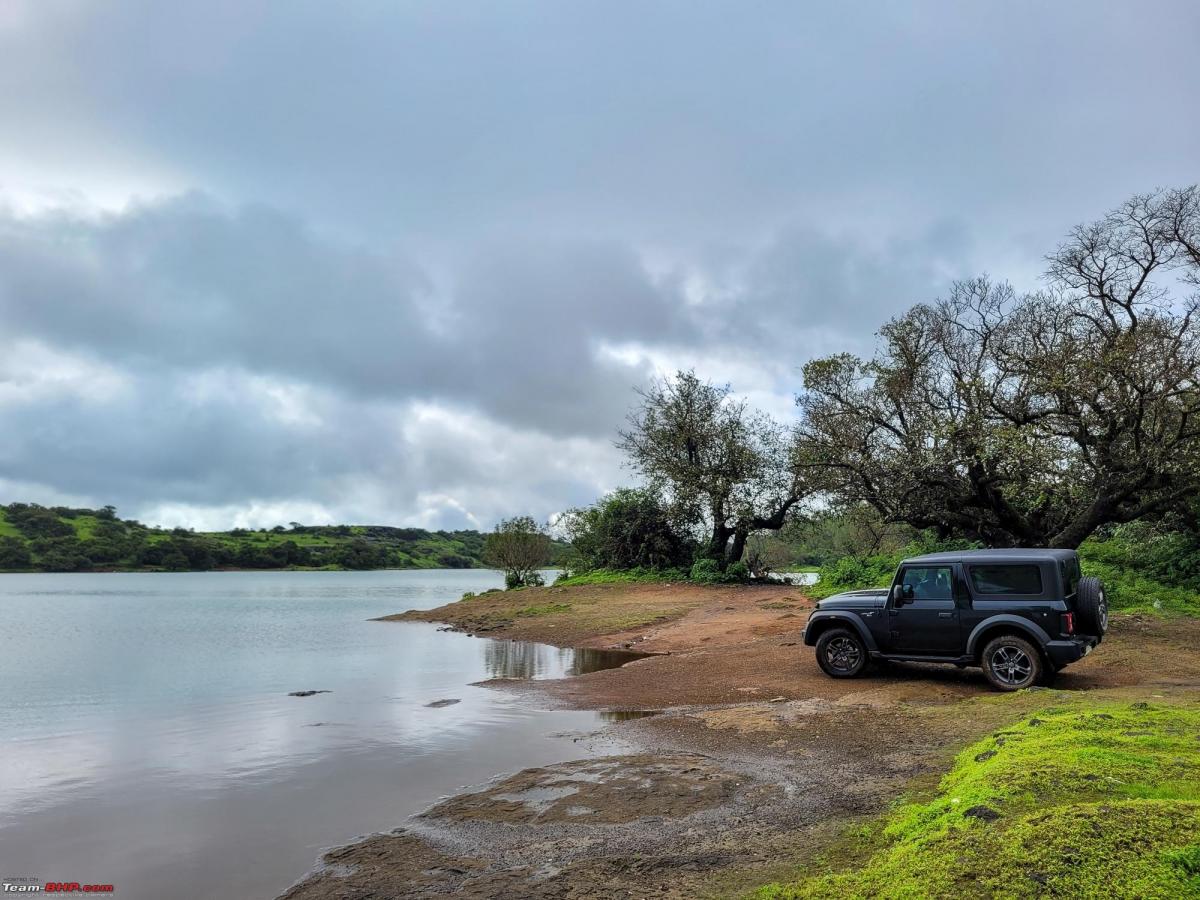 Quick Thoughts after Completing 7500km:
After this drive, the odometer is at around 7600 km. A lot of this driving (I would say about 5000km) was solo drives. Around 2200km was with me and my wife in the Thar, and about 300km was with four people in the Thar.
Based on this experience, I would like to update some of the opinions I expressed in my initial review. Here are some quick updates:
Well, that is all for now. Thank you for reading!
Check out BHPian comments for more insights and information.
Source: Read Full Article