A VW Jetta owner upgrades to a used Tiguan TDI: 12 quick observations
MID indicated mileage figures are 11-12 km/L in the city and a 460 km trip from Mumbai to Vadodara which took 8+ hours saw it display a rather impressive 19.8 km/L.
BHPian vishy76 recently shared this with other enthusiasts.
Brought home my 2019 VW Tiguan as an upgrade to my beloved Jetta. Prime reasons for upgrading were the heavy clutch on the Jetta and low ground clearance relative to most so called SUVs today.
I will randomly pour in with my observations here:
Biggest upgrade is NVH. Gets a solid 9/10 from me where the Jetta only got 7/10. Wind and road noise is especially very well controlled
Overall build and interior quality is also a notch above the Jetta. Though the doors don't have that solid thud the Jetta had, the car is well built nonetheless.
Interiors are very understated in design, but I love it that way. One thing I am disappointed with though is that there are already a couple of squeaks from the centre console. Something the Jetta never had
Exterior might pass off as very bland and boring to most people. Neither me, nor my dad could care less. Both of us share the same opinion when it comes to liking boring looking understated cars.
The Comfortline seems to get everything one needs. Electric driver's seat with memory, 8 inch MIB-2 with 8 speakers (same as the Highline), lumbar support and height adjust for the passenger seat too (though manual ofcourse), reverse camera in the 2019 MFG cars (though it's mounted on the bumper), LED headlamps, TPMS, dual zone climate control and the likes
17 inch rims might not have the aesthetic appeal of the 18 inchers on the Highline, but ride is far more comfortable and tyre replacement costs are also 4-5k cheaper per tyre.
Coming from a remapped Jetta, a 1.8 tonne Tiguan with 150 hp surely does feel like a minor downgrade. I won't call the car slow. The EA288 TDI has negligible turbo lag and revvs like a petrol, thanks to VVT. This coupled with the 7 speed DQ500 which offers fairly quick downshifts at highway speeds means the car can pull off most if not all overtaking manouvres very well
Coming to fuel efficiency, the motor easily manages to beat it's petrol counterpart. MID indicated figures are 11-12 km/L in the city and a 460 km trip from Mumbai to Vadodara which took 8+ hours saw the MID display a rather impressive 19.8 km/L.
The one issue I do have with the DSG is it's hesitancy in lower gears. The box is clearly confused in city traffic and also loves riding the clutch at speeds of 10-30 kmhr in 2nd and 3rd gear. It's an extremely irritating trait that most of these DSGs possess and I am yet to get used to it
The suspension on the Comfortline is sublime. With 215/65 R17s, most of the small and medium sized potholes are rounded off very well. I do make it a habit to slow down for larger ones though, but the car doesn't exactly crash through those either like the 18 inch equipped Highline sometimes does.
All 4 bass speakers on the car were faulty when I bought her. Went ahead and splurged on a set of JBL GTO 609C components for all 4 doors and don't regret it one bit so far.
Another minor gremlin was that the battery installed on the car was a puny 60ah Amaron Black meant for 3 wheelers and CVs. For a 2.0 TDI DSG with AWD, I estimated a minimum of 70ah would be the norm considering even a Jetta DSG needs 65ah. My estimate was spot on. The car starts in half a crank on the 74ah Amaron Pro battery I procured and there's no annoying DMF shudder or flickering of lights as she does so.
With a mere 22K km on the odo, my mechanic has asked me to defer the DSG oil change and Haldex fluid change to next year.
I have been in touch with BHPian Lamborghini who has a Highline TDI DSG and he's been extremely responsive on DM too. It was thanks to him that I had the confidence to splurge on a 74ah battery since he did the same and solved the slow cranking issue.
Overall I am extremely satisfied with the car. I procured it for slightly less than the price of a brand new Seltos today. Yes, it's a 4 year old German end of the day, but I am banking heavily on my experience with the Jetta and the overall reliability and credibility of the EA288 2.0 TDI and DQ500 powertrain here.
The only minor gremlin I have noticed after driving close to 1000 km after taking delivery is that the front left tends to make a weird knock when the car tends to descend from a very large and steep speedbreaker. This happens exactly when the front left wheel lands on the ground. Would love to hear what other owners have to say on this.
Leaving you guys with a few pics for your viewing pleasure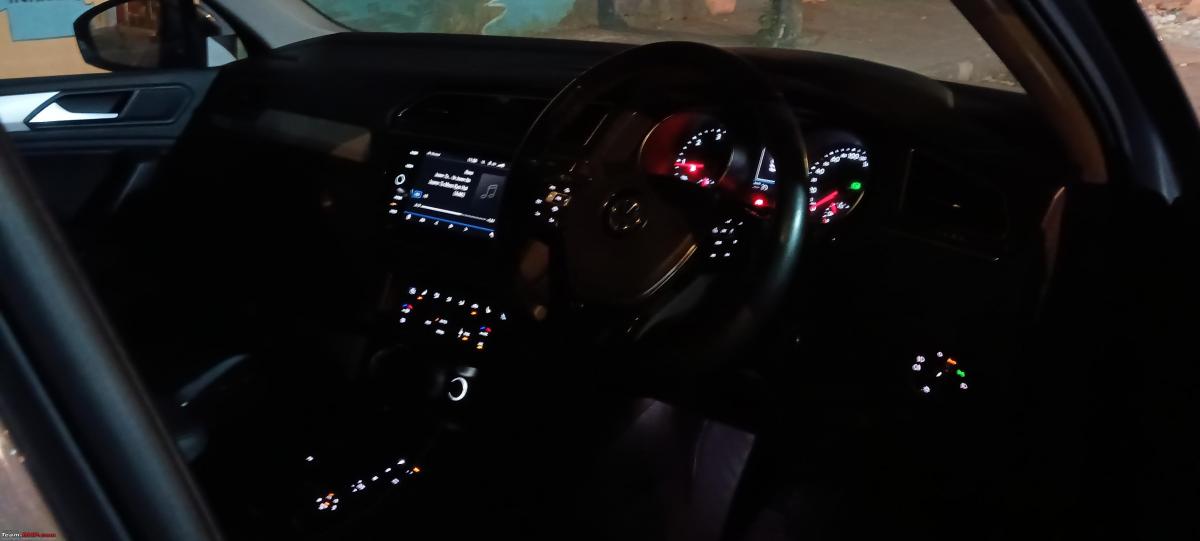 Read BHPian comments for more insights and information.
Source: Read Full Article