A 2000km classic car drive with my 1947 Daimler DB18 across South India
It was decided that the drive would start from Coimbatore, onwards to Munnar, Kochi, Madurai, Karaikudi, Pondicherry and end at Chennai.
BHPian KPS recently shared this with other enthusiasts.
Joy of ownership of a vintage car manifests in many ways. Some enjoy the way their cars look, while others love the story around their cars and then there are those for whom it is a prized possession for display and so on. But over a period of time, things evolve and what excites you manifests differently.
However, in my personal opinion, it is the long distance driving of your vintage car, that gives unparalleled joy. First of all, committing to a long distance drive is a serious responsibility. The car has to be restored and maintained in perfect condition to complete such drives without any major problems.
My good friends from the V & C scene at Mumbai, have always been a source of great inspiration. With their rich history, passion and knowledge of vintage and classic cars, are great company any time. However, it is their driving culture, which is something we need to emulate. Almost every weekend they are out driving the cars, exhibiting outstanding fellowship. Cars are always in great shape and niggles if any, are immediately fixed.
It is in 2006 that they start this culture of driving. By 2013 they had gained enough confidence to do their first major road trip to Rajasthan, followed by a 3300+ kms drive the South in 2014.
The 2014 Southern Trail, had this great bunch of passionate vintage and classic car owners doing a round trip to South India from Bombay, covering Coimbatore, Ooty, Coorg, Bangalore, Hyderabad, Sholapur and Pune, before heading back in their vintage and classic cars! This was my first long driving experience with this wonderful group and that memory was permanently imprint in my mind. There was no looking back. If I had to enjoy my car to the fullest, it had to be prepared for long drives.
Unfortunately, my 1932 Plymouth was not an ideal candidate for these long drives. The car is definitely more of a show car, to be brought to the local shows. Drives in city means you wrestle with the steering wheel and in summers the engine heat can dehydrate you! While the car has abundant torque, it lacks speed, which is very important on our long drives. The Daimler on the other hand was just the right car, has the vintage looks, decent 2.5L, 6 Cylinder Engine, great pre-selector gear box, tyres with rims, the right size and so on
For all of you who had followed the Daimler restoration with Christopher Rodricks of Rodricks Restoration, the car was prepared for long drives. Keeping originality as the central theme, only practical upgrades were made to make the car more useable. Upgrades like electric fuel pump, electric radiator fan, indicators are some good examples.
Since the car came home by December 2019, though limited by the pandemic, I had done close to 1200 miles in two years. Along with multiple small runs, I had done one longish 400 miles' round trip to a place called Sandur. These miles were good validation that the car was ready for longer drives. Christopher did regular checks and was satisfied with the car's performance. My confidence on the car was high and support provided by Christopher ensured the car was used at every opportunity.
When the driving group from Bombay decided that the 2022 annual drive would again be to the South, I could not have been happier! Doing a South trip with the Daimler would be a welcome start. It was decided that the drive would start from Coimbatore, onwards to Munnar, Kochi, Madurai, Karaikudi, Pondicherry and end at Chennai.
The Trip was rightly christened as "Trail De South"
Highlighted are the Madurai Meenakshi Temple and Auroville
Since I am based in Bangalore, I would drive to Coimbatore and in the end drive back from Chennai, while others would truck in and out with their cars respectively. Originally planned in the first week of December, the 3rd wave of the pandemic, pushed the trip initially to end January'22 and later towards end February'22. In hindsight, this decision to push the trip to late February was probably the most practical decision we took, considering it was still early summer and rescheduling our hotel bookings was still possible.
Initially I had planned to take the Daimler and the Beetle. This way we will have two cars driving together to Coimbatore and from Chennai. Driving in tandem is better as the car in in the rear will enable easier lane changing for the car ahead. So at my request, Srinand agreed to join me, driving the Beetle. However, as the pandemic progressed, the Beetle restoration was delayed and we both agreed that we will go only in the Daimler. It was better to have company than just drive by oneself, considering that the journey was expected to be around 2000 kms.
Post Pandemic rescheduling was done and the trip would start in Coimbatore on 22nd February and end in Chennai on 5th and with all of us returning home on 6th March. We would leave on 21st from Bangalore and reach Coimbatore a day earlier to receive our wonderful friends and their cars.
A few days before the trip, one of the driving veterans' Venky, decided that he would drive down to Bangalore from Mumbai in his 1968 Beetle and would join me on the drive to Coimbatore. This was welcome news considering he was a long distance driving veteran and has amazing knowledge of cars and its working. The signs were ominous; this was going to be a great trip. The Beetle from Mumbai was driven into Bangalore on 19th, ready to start the "Trail De South" run with the Daimler.
In the meantime, I did multiple mini drives to satisfy myself that the car was good to go. We fitted an electrical fan for additional cooling and it was working well in Bangalore traffic. We also decided to use coolant with a self-sacrificing anode, to limit possible corrosion that could be caused by the coolant.
The car was fitted with all the required Jewellery for the trip!
The car is ready after all the final checks
The Daimler was all set to go with a new set of badges adorning her, (from R to L) The Daimler Club Badge, Southern Road Trail – 2014, Gujarat Run – 2016 and Trail De South 2022, commemorating the trips I was part of.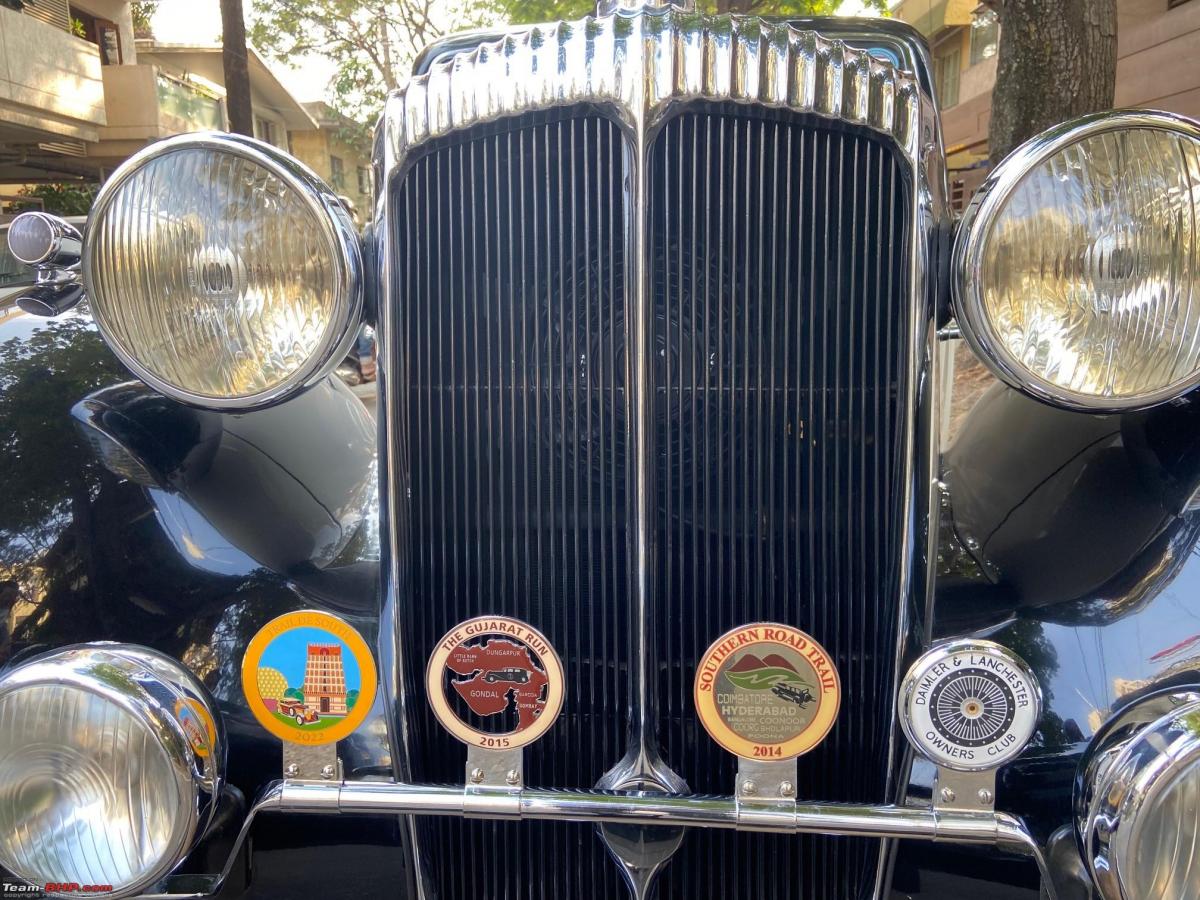 I opted to put the Stickers on the glass
Day 0 – 21st February'22: Bangalore to Coimbatore – 363 kms
So finally the "D" Day arrived and with much excitement we left for Coimbatore at 5.30 in the morning. Srinand and me in the Daimler, with our luggage on the back seat as the boot was filled with oil, water, spares, tools, cloth waste and even a small bucket for washing. We caught up with Venky and his Beetle and formally commenced our journey to Coimbatore.
The starting miles were recorded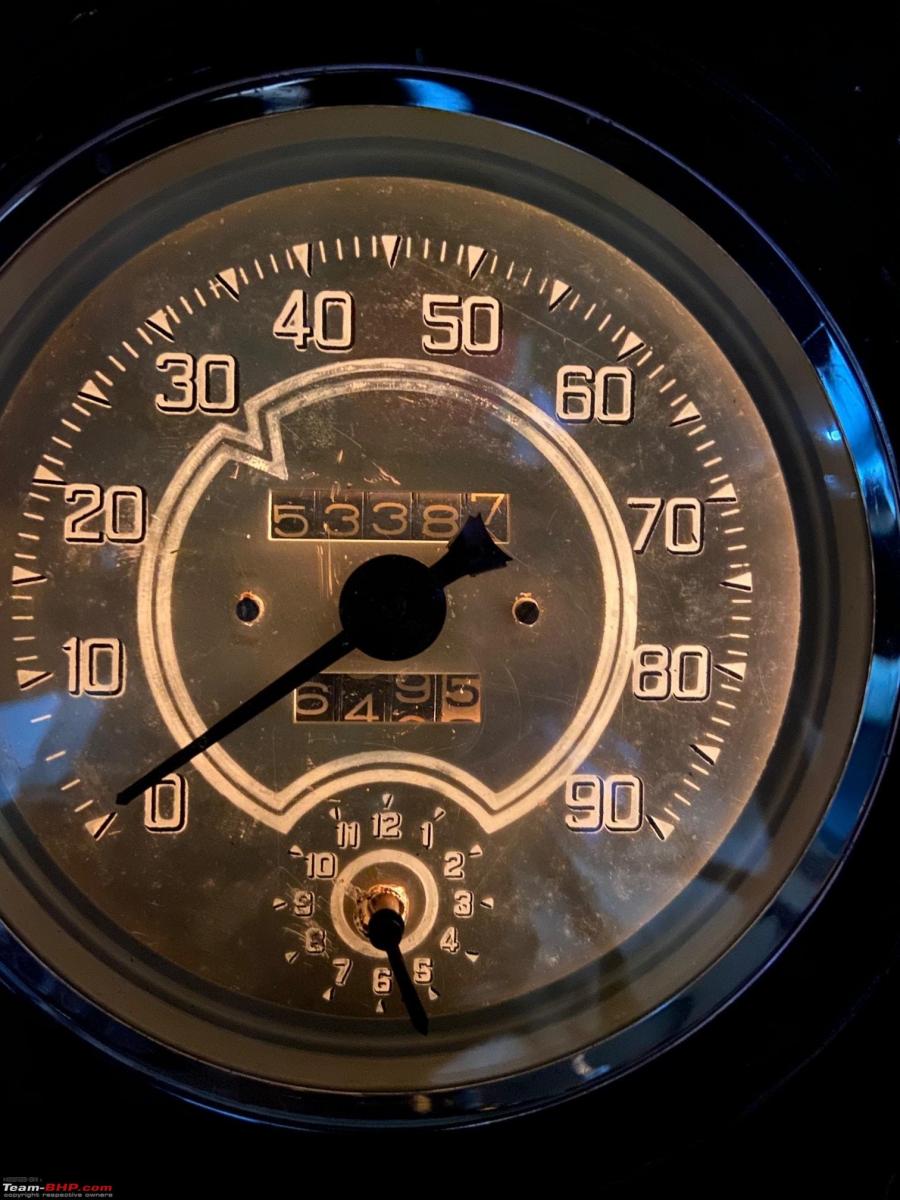 Our first pit stop was going to be at Murugan Idli, Krishnagiri.
The podi idli soaked in ghee would ensure we would not be hungry till we reached Coimbatore. Early morning travel was a breeze as the low traffic enabled a quick exit out of Bangalore. We had an uneventful journey till our first pit stop at Murugan Idli. With our bellies full, we did a quick check on the car for any sign of leaks.
We opened the radiator cap and got a shock. There was a layer of rust, like thick custard! After the initial panic, a quick call was placed to the restorer. Chris explained this was because of the self-sacrificing anode, and if the coolant was clear, there was nothing to worry.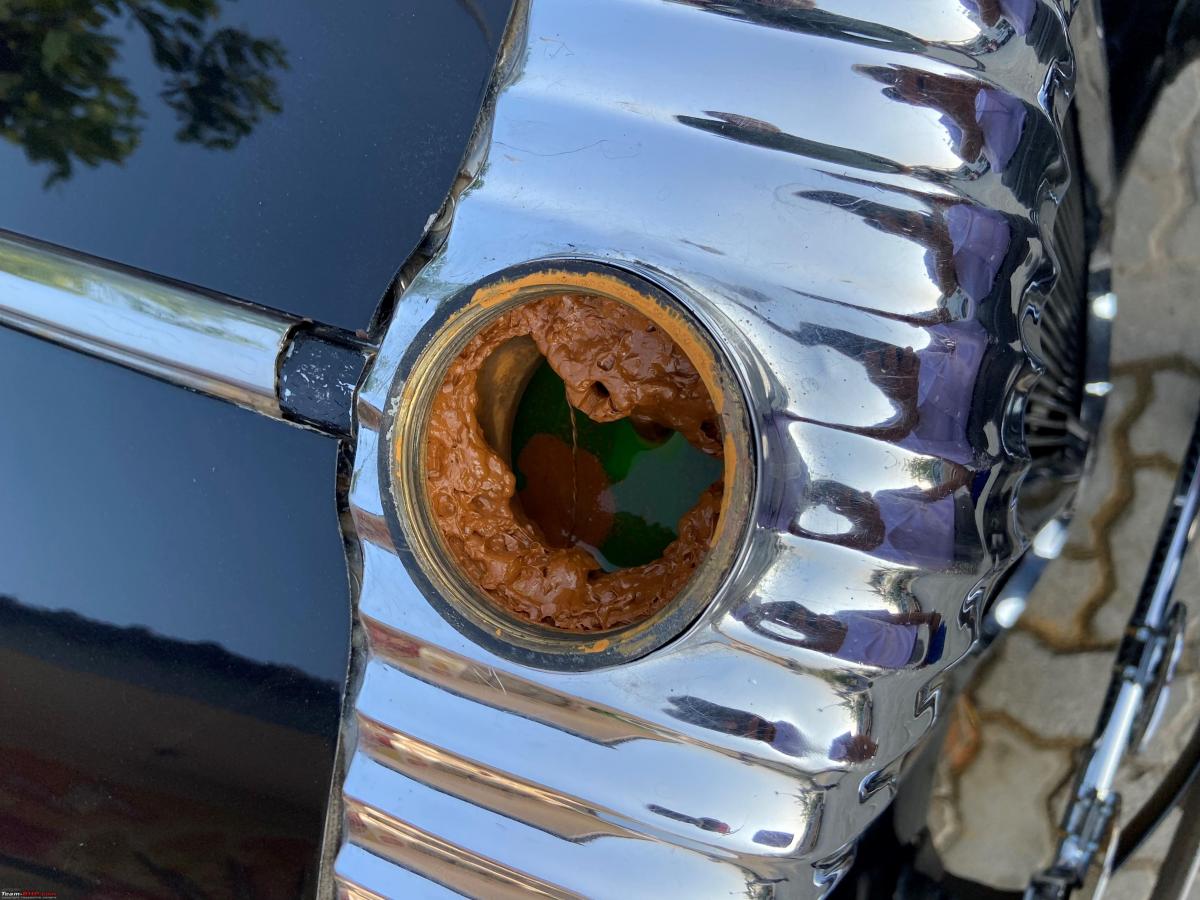 A quick check showed the coolant was clear and level was still good. We used a wooden spoon to clean up the custard of rust, as the radiator was hot. So every time we stopped, we cleaned the rust out. After about 150 miles, the rust started to reduce. The coolant hardly reduced and after 1000 miles, I had to top up the water only.
The roads were good and we were able to maintain a good speed. Having Venky covering the rear was just so good. Every time I would need to overtake, Venky would change lanes in advance, to free it up and allow me to complete my overtaking without being worried about a fast approaching car in the rear.
Some pictures of the largely uneventful travel to Coimbatore
Rare occasions Venky would be speed up!
The 363 kms journey was done in 8+ hours
We are arrive at Taj Vivanta, Coimbatore
The Beetle peeps out!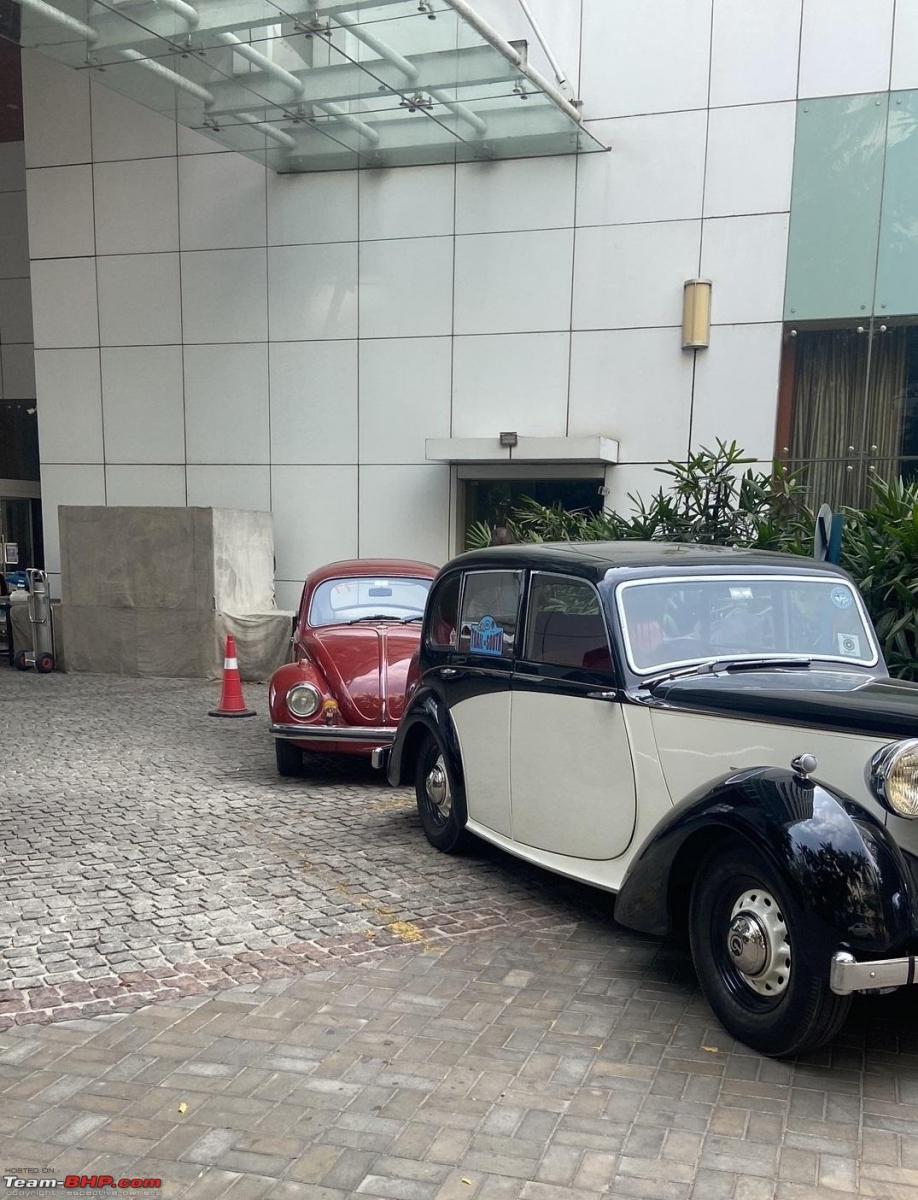 We could sense the excitement among the Vivanta Staff as we reached and checked in. Resident guests were surprised to find the Daimler in the parking.
Continue reading BHPian KPS' report on the 2022 Trail de South for more insights and information.
Source: Read Full Article