2020 Nissan Rogue Sport: Slow, Small but Fun in the Snow
This little runabout was built to serve the proletariat that thinks the Nissan Rogue is just too cool and too big for regular driving. I'm kidding, no one thinks that, but this subcompact crossover market is huge, so why not capitalize? Nissan already had the platform in the Qashqai, so here we are. I'll start by saying it's not really meant for my family, but here's the good stuff first.
The tech. The Rogue Sport has two radio knobs for volume and tuning and two climate knobs for the dual-zone climate control. It's the easiest way to control both of those things so I'm glad Nissan didn't try to reinvent the wheel here. As far as operation, my phone connected instantly and there weren't any glitchy moments in the five or so days I had the car.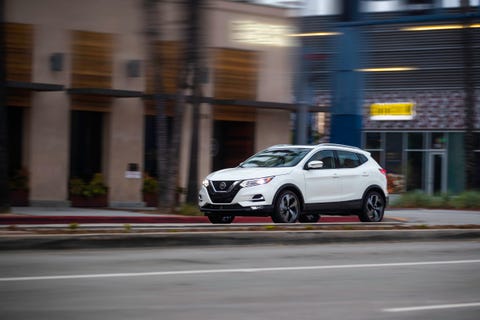 The part time all-wheel drive system in the Rogue Sport worked perfectly in the several inches of snow that we had. The Rogue Sport never stumbled and even was as far as kicking the tail out when I found the right amount of slippery, packed snow. It's also sprung softly so banging through all the new potholes that have developed was no big deal. The wheels aren't small at 19 inches, but the tires had some sidewall, which helps absorb those blows. The steering is numb, but that's normal for this size and class. No one's looking to carve corners in a Rogue Sport
Now the bad. There's very little space in the Rogue Sport. The cargo area is about 20 cubic feet; that's more than the Mazda CX-3 but almost 20 percent down from the Honda HR-V. Expect cargo to block the rearview mirror. But for young adults, traveling solo or with a friend, it could work. My child seats were easy to install, but there's just not enough space for a family.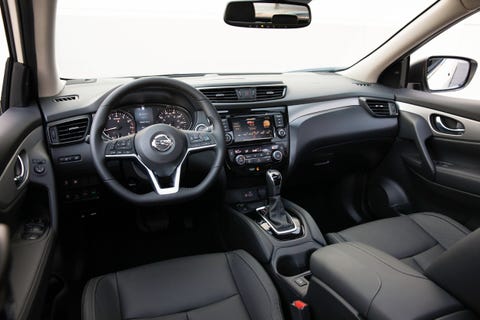 It's also very slow. I'd almost throw the Rogue Sport into the "annoyingly slow" file that I rarely use these days. With 141 hp, it's not a dog off the line with the CVT, but there's no power after that. On the bright side, highway mileage in the AWD version is 30 mpg.
As for this size class of vehicle, I still like the Subaru Crosstrek and the Honda HR-V. The new Mazda CX-30 has good specs and would be worth checking out.
2020 Nissan Rogue Sport Specs
Base Price: $23,240
Drivetrain: 2.0-liter I4, FWD or AWD, CVT
Output: 141 hp at 6,00 rpm; 147 lb-ft at 4,400 rpm
Curb Weight: 3,477 lb (AWD)
EPA Fuel Mileage (city/highway/combined): 24/30/27 mpg (AWD)
Pros: Impervious to weather with all-wheel drive, comfortable suspension
Cons: Almost annoyingly slow
Source: Read Full Article