2020 Honda CR-V Hybrid Gets More Power, More Torque, More Grip
If you want a more powerful Honda CR-V, get the Hybrid. Also, if you want better mileage, more USB ports and wireless charging for your cellphone, get the CR-V Hybrid. In fact, whatever you want from this class of crossover, you might find that what you want is the 2020 Honda CR-V Hybrid.
Unless you like the RAV4 Hybrid or the Escape Hybrid. It's a buyers market.
With over 5 million of them moved out showroom doors in the 23 years since the model debuted in 1997, the Honda CR-V is the bestselling crossover in America. But sales success is no reason to rest on your industry laurels, so Honda added another powertrain option. Heck, the Accord Hybrid was just sitting there, why not use it?
The 2020 Honda CR-V powertrain shares most everything with the powertrain of the Accord Hybrid sedan. No reason to reinvent the wheel, or in this case the hybrid. (They'll pass the savings on to you!) The CR-V Hybrid drivetrain, in dealerships now, consists of Honda's 2.0-liter four-cylinder Atkinson-cycle gasoline engine making 143 hp and 129 lb-ft of torque. To that powerplant, in the space where a conventional transmission used to be, are bolted two big, round electric motors; one is a generator/starter motor and the other is a propulsion motor. With the gas engine bolted to this AC synchronous permanent magnet motor setup, the combined system output is 212 hp at 6,200 rpm. That's entirely adequate to move the 3,649-pound CR-V Hybrid off the line.
There is no transmission. However, at a steady 45 mph, a clutch engages and direct-drives the gasoline engine to the wheels. At other speeds the gas engine acts as a generator to make electricity to drive the wheels. A 1.4-kWh battery acts as a buffer/storage solution for electrons. Thus the CR-V Hybrid can operate as either a series or parallel hybrid.
When the rear wheels start to slip, they are driven via a driveshaft, through an electronically controlled rear differential, and thence to the tires. Once the slip stops, the clutch just forward of the rear diff disengages to return the CR-V Hybrid to front-wheel drive to get better mpg.
Inside, the Hybrid gets the Honda-family shifter buttons, where you pull back on the R to get reverse and push down on the P and D to get park and drive. It also gets drive mode buttons for sport, econ and EV modes, and a unique, Hybrid-only gauge cluster to monitor a variety of performance parameters. There is also a Qi wireless phone charger and a couple of lit-up USB ports. The center console is more handy in that it can be configured to carry various-sized objects better than previously. Outside, the Hybrid gets a blue H badge in front and hidden exhaust tips in back.
Thus equipped, off I set into the Arizona desert outside Tucson for a CR-V Hybrid drive.
First off, I hit the EV mode button, designed probably for sneaking into your apartment complex late at night without waking anybody up. This uses only the on-board 1.4-kWh battery for propulsion. Here, the gas engine is decoupled from the electric motor for greater efficiency. Honda says you can get about a mile in this mode, which is more than enough to quietly sneak away from whatever you need to quietly sneak away from.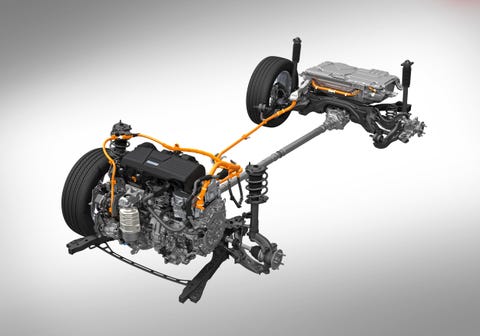 The econ mode alters throttle input to help fuel economy. As is the case with these systems from other manufacturers, it saps all the joy out of driving in exchange for better range and fuel mileage. I only tried it briefly before quickly clicking sport mode. In sport I tried a couple of 0-60 launches, expecting 10 or 11 seconds but was pleasantly surprised to find I'd hit 9.17 and 9.07 seconds using the highly accurate handheld smartphone timing method. Your acceleration may vary, though I doubt it will by much. Honda's Real Time AWD with Intelligent Control System sends torque to the rear wheels on launch, for the "optimal balance of confident capability and user friendliness in a lightweight, fuel-efficient design," according to Honda.
On various Arizona Highways (inside joke for Arizona residents) the 2020 Honda CR-V Hybrid was quiet and did a fine job of absorbing road noise and limiting wind noise. A subsequent drive in a Toyota RAV4 Hybrid showed that rig to be a little louder and a little more harsh on the road (assuming Honda didn't disconnect the bushings or anything, which, of course they would never do).
Next, Honda had set up a figure-eight drive course in deep sand so that I could compare this CR-V Hybrid to the non-Hybrid CR-V and a RAV4 Hybrid, the idea being that the Real Time AWD with Intelligent Control System provides much better grip in sand than the other two. Indeed (surprise!) it did, but not really SUV-style off-road performance. While the other two crossovers simply shut down a second or two at a time while their electronic brains tried to figure out how to get out of this sandy mess, the driveshafted CR-V Hybrid did a better job of getting traction to the tires. Not that CR-V drivers go off-roading very often, but it's nice to know that you can get around in the dirt better than some competitors.
Yes, competitors. There's the aforementioned RAV4 Hybrid and the Ford Escape Hybrid. All specs of these three crossovers are within a few iotas of each other across the board: The RAV4 makes 219 combined hp compared to the Honda's 212 and the Ford's 198; RAV4 has the most cargo volume, Honda has the most passenger volume, but only by a few cubic feet; interior measurements are within an inch or so of each other—RAV4 leads in cargo space, Honda in passenger volume; RAV4 is the heaviest at 3,710 pounds, but only 61 pounds more than the lightweight champ CR-V. Pricing, too, is close, separated by maybe $500 between the three, depending on how closely you scrutinize options and standard equipment. The Honda starts at $28,870 for a base-model LX and tops out at $37,070.
So which one should you buy, then? Usually the most recently renovated model is the best, which would give the nod to the Honda. The CR-V did feel more refined and sounded quieter than the RAV4 I got to drive the same day as the CR-V. (A RAV4 Prime PHEV is supposed to come out this year with 302 hp. Ford already offers a PHEV Escape with 209 hp.)
The choices are myriad. Drive one of each and see which one you like.
Source: Read Full Article