15 cars drive 6760 km over 22 days on a road trip to the Himalayas
Lack of oxygen at Sarchu or the traffic prone Gata loops, Pang or More Plains. All you can do is just wonder on what all India has to offer for the travelers and tourists.
BHPian Travelator recently shared this with other enthusiasts.
What fun are those 600 – 700 kms drives when you know you can do those in fixed number of hours and you know the eateries, terrains, diversions and what nots like the back of your hand. "Kick nahi mil rahi hai" The pandemic had only added to the itch.
Snap back to May 2021: I get in touch with a group that plans self drive trips to Ladakh and back and they have already done it once. They had a few cancellations and could accommodate us if we agreed to join them in 20 days. Skeptical whether we could do it or not at such short notice, we gave it a slip with a heavy heart. BUT…..I made ourselves available for their next season. May 2022. Little did I know that we will end up like Dominic Torreto's family.
Jan 2022 is when they announce the next iteration and we had a houseful within 20 days. (Wow.. I am not the only Mad Titan here).
Why go with an organised group tour:
Over 8 months of YouTube videos and innumerable blog posts later, we had realized that the terrain in the hills is nothing less than treacherous, with help difficult to come by. "Roy Cruisers" – Yes that what the organisers are called, have been there twice and and brought back people unscathed. Rajesh Kumar Roy and Rohit are charming guys and the first of their kinds where the founders travel with you on every single trip. So, with two kids of 4 and 9, we didn't want to take chances. Additionally, bookings at places like Sarchu, Nubra, Pangong and places that do not have the luxury of what we consider basic necessity, Mobile Network, was difficult.
The Plan:
While the plan looked hectic and sort of rushing, we decided to go ahead as any longer than 3 weeks would not have been possible.
I will detail the trip in three groups as above:
Mad rush:
As the name suggests, these 5 days were the days when all that mattered was to cover the distance so that we dont get left behind the next day. Now, that didn't mean you had to drive like Mad Max and the highways to be treated as Fury Road. Throttling was done only at the active instigation of a passing-by vehicle. At every other occasion.. it was "aap bade ho aap pehle jao".
Roads on the NH 48 are fairly good for most parts.
Our first halt was at Pune and the next day we crossed Mumbai's notorious traffic to beach over in Gujarat. It was only near Surat ( Precisely Palsana) where we left NH 48 on to state highway when the road conditions deteriorated, but only marginally. These were awesome roads by the standard of state highways. . The second halt at Kevadia (Statue of Unity) was marvelous.
One wrong turn can lead you into trouble and it gets compounded then that one wrong turn i take by multiple cars behind you. You can neither turn back nor happily gio ahead. That exactly what happened on our exit from Kevadia. In place of the Ahmedabad, Baroda expressway, we went onto take some obscurely narrow roads before joining back on the highway barely a few kms from Rajasthan border. Don't ask me name of places as mobile network was constantly patchy and we relied on the chaiwala, rickshawwla and at time camelwala to guide us back on track. Having said that, if you plan to reach Rajasthan from Kevadia, stick to the expressways.
One wonderful thing that happened was that we had our own personal cloud wherever we went… and no, I am not referring to AWS of Google cloud, it was "kaale kaale badal". Just before entering Jaipur, we had to take cover under some roadside trees to shield our windshield from the hailstorms.
Jaipur to Gurgaon is one poor quality road but I guess that is not intended to be used anymore after the Delhi – Mumbai expressway opens whenever Gadkari ji gets bored of creating world records on that stretch. Then on to Chandigarh, you can rather fly on the roads. Unless you fly, you will surely be pulled over by some smiling cops ready to help the govt. make more such roads by the collection they make here.
The orange beauty taking a pit stop:
A groupfie to mark the first lunch together:
Roads in Rajasthan are really nice and maintaining a good pace is easy: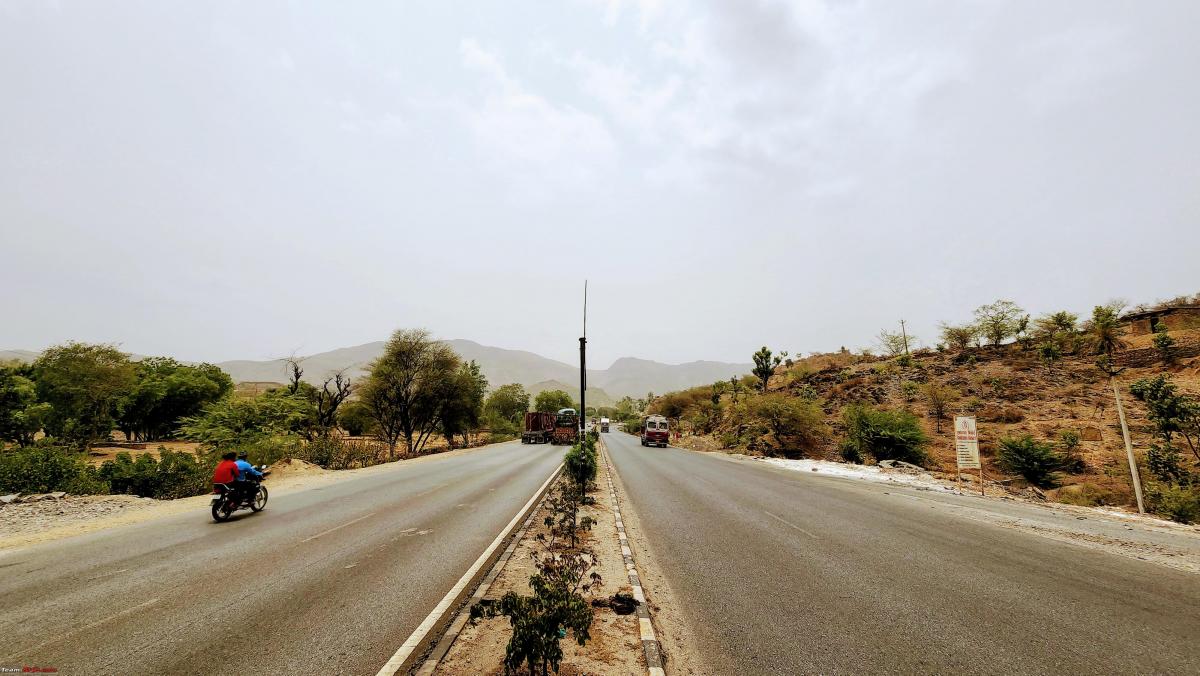 This is how we tracked the convoy. Whatspp live location sharing.
Was inspiring to see such a large convoy cruise together:
Sardar Sarovar: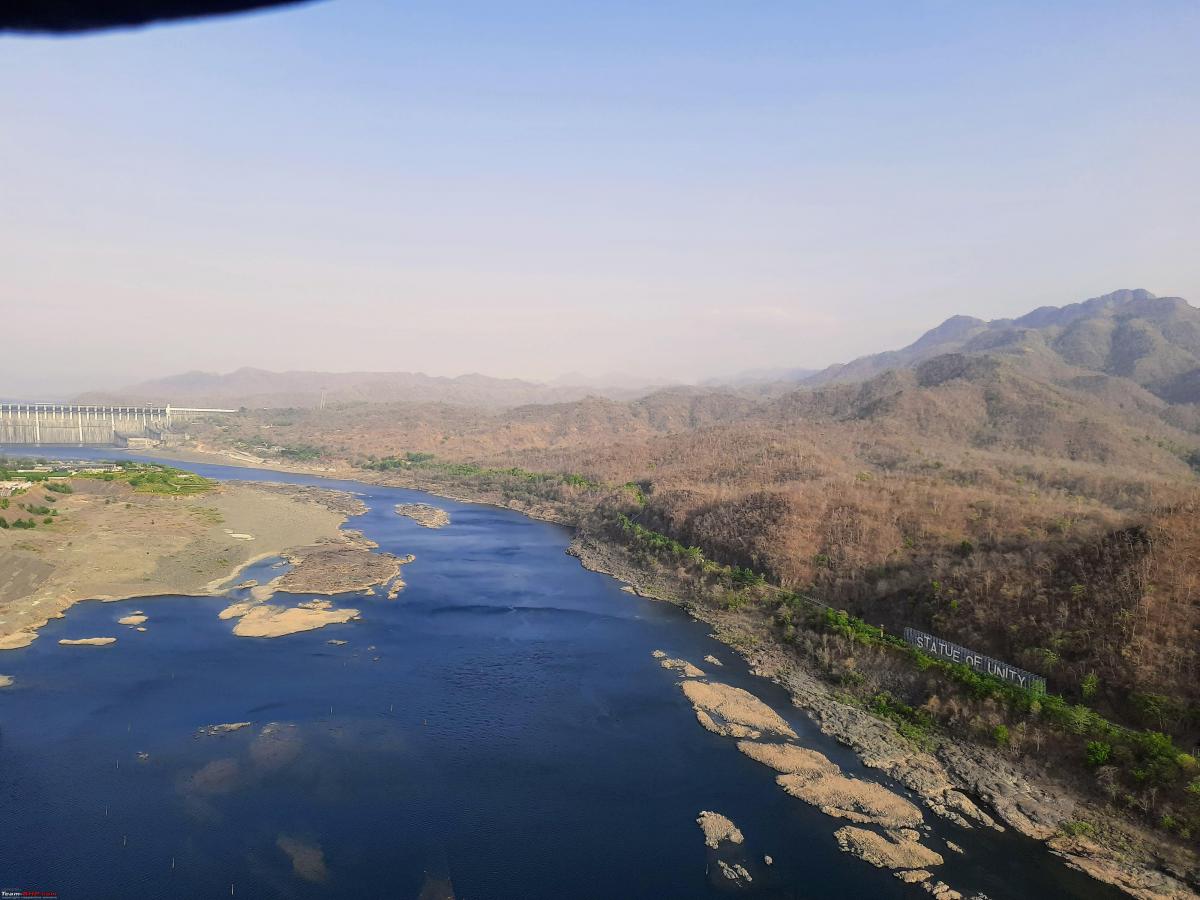 Statue of Unity. It is indeed a spectacular monument to witness: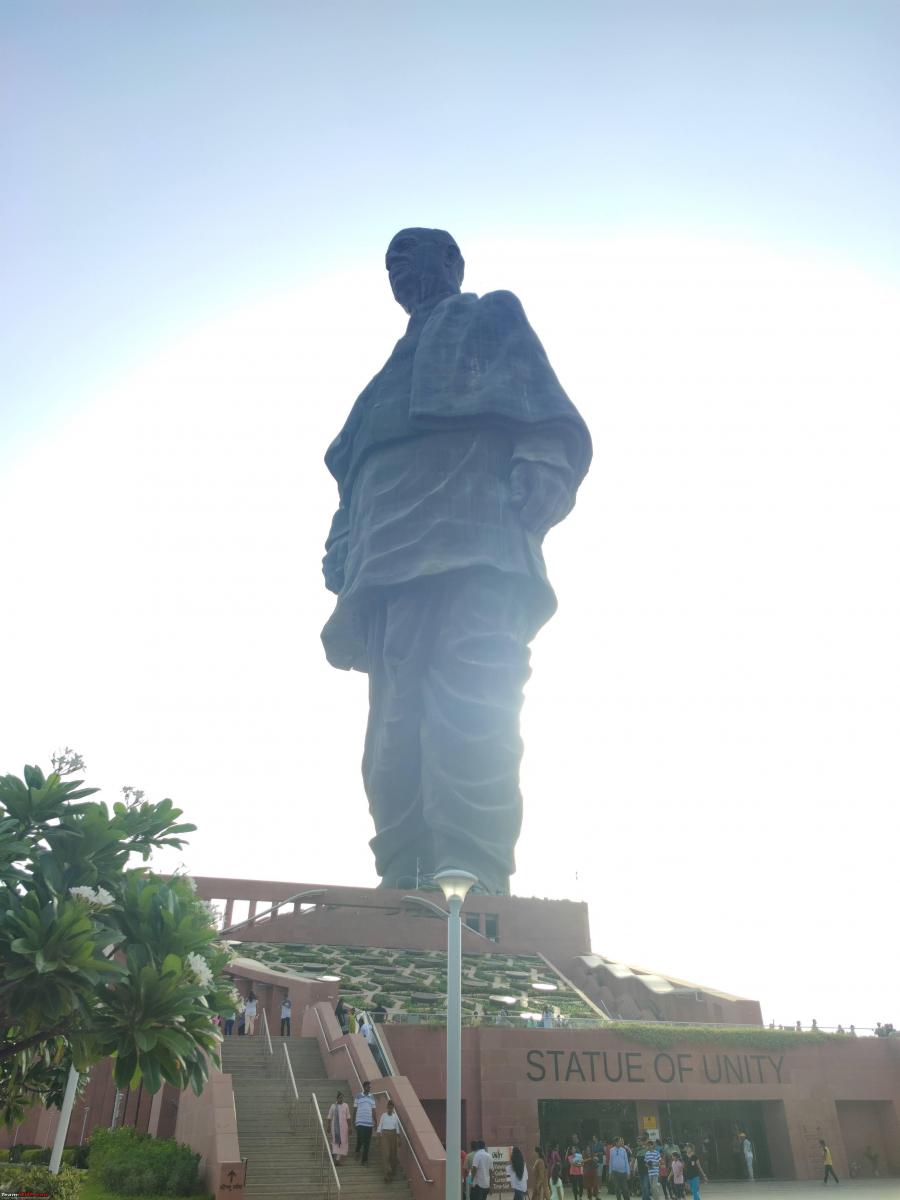 Pink autos at Statue of Unity, driven by women. One strong initiative towards women emancipation:
What better way to relax than spreading out on a charpai: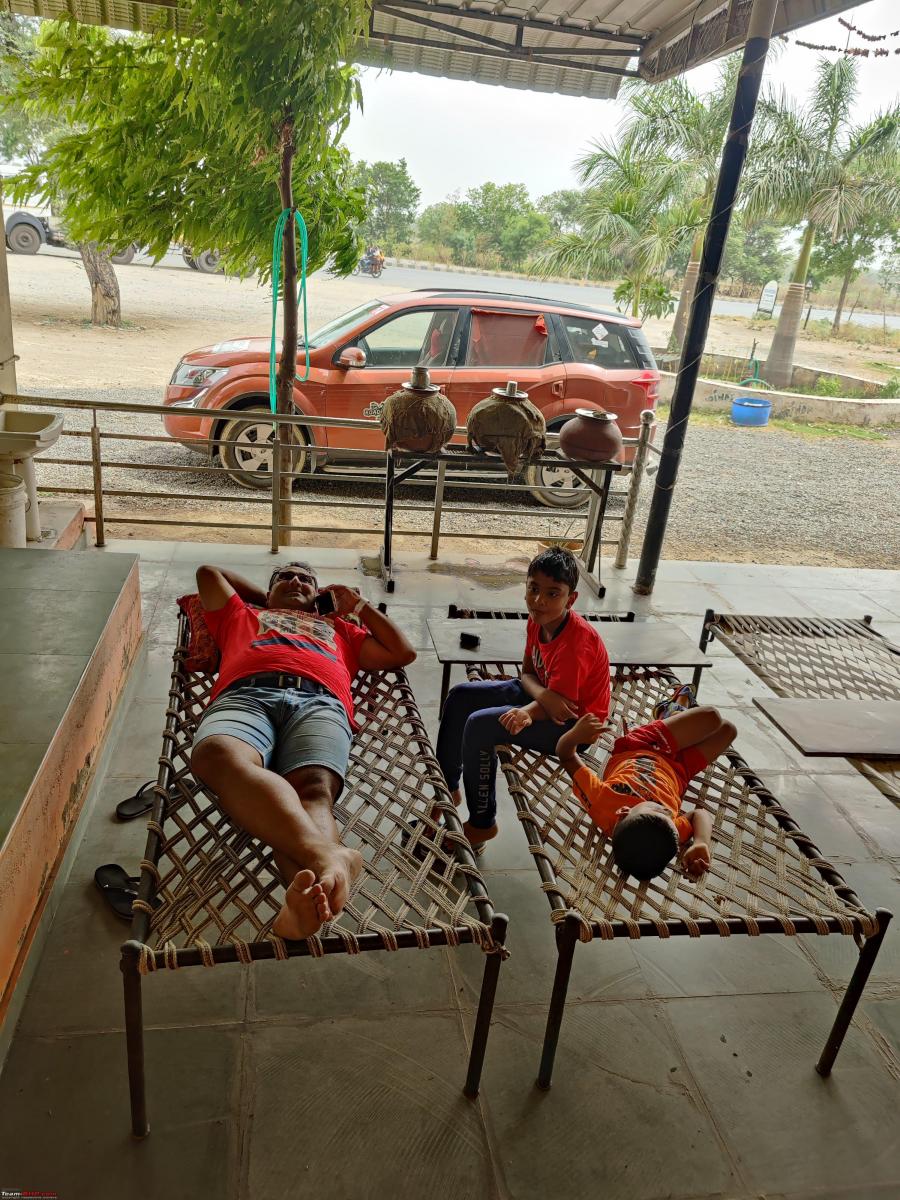 Kids making ample use of the space that the XUV500 offers: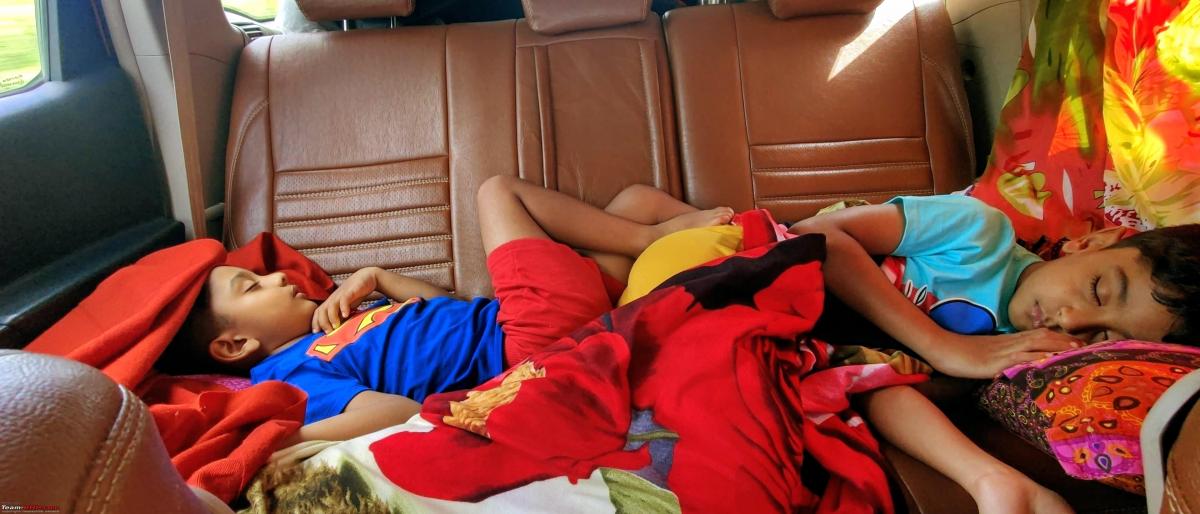 Ouch!! That was pinching until when 2 days later diesel prices were cut substantially:
Having visited this so many times, I still fail to understand why this was made: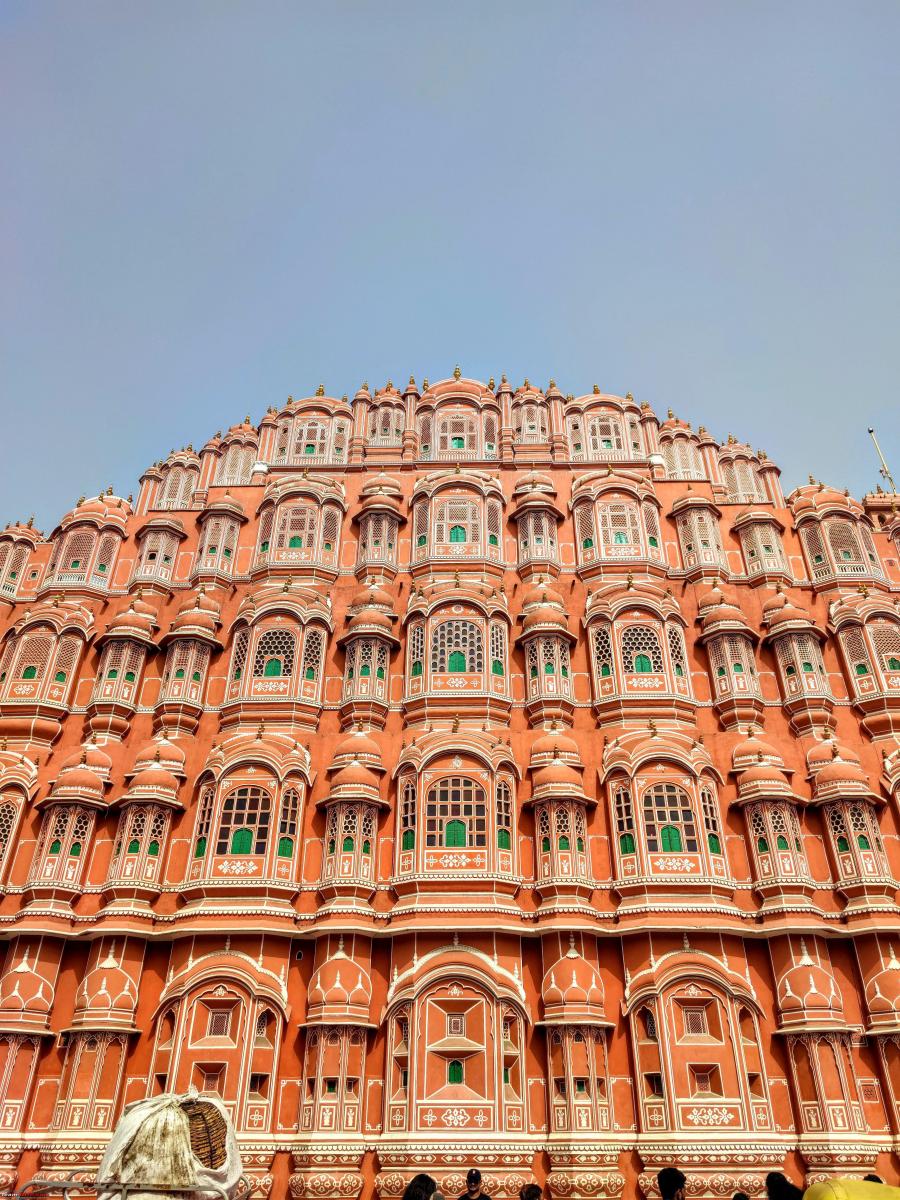 Delhi Jaipur highway (or whatever is left of it) is lined with quite a few options for a hearty meal and some highway shopping: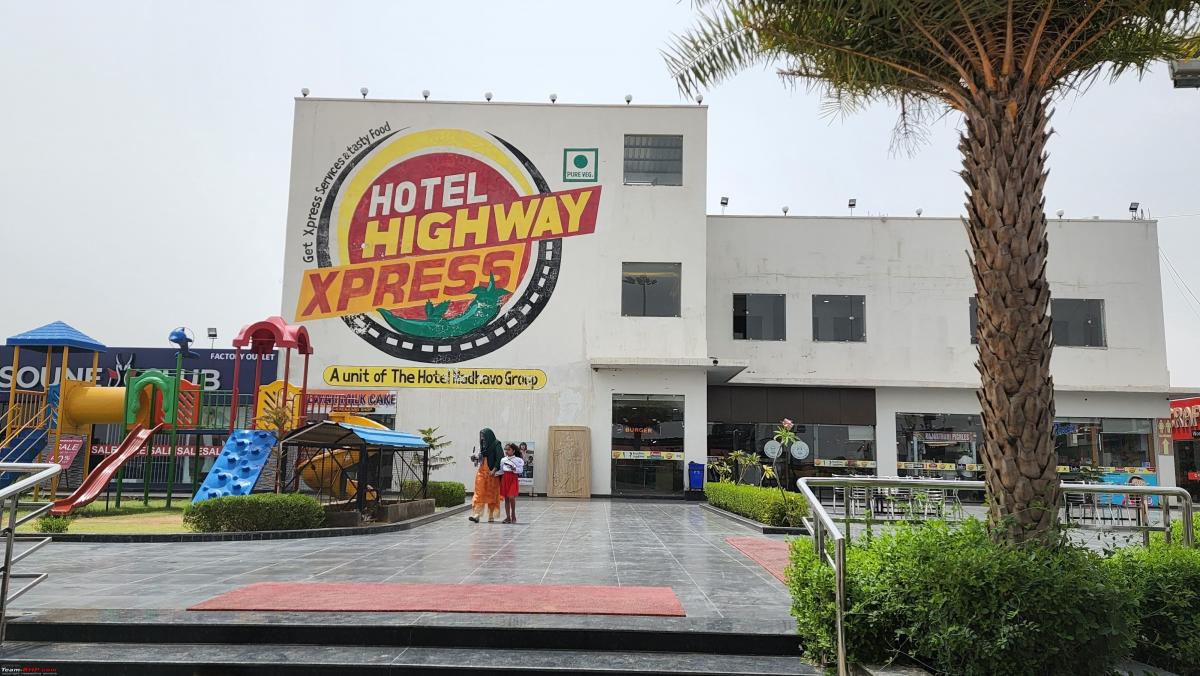 At the iconic Amrik Sukhdev:
As we reached closer to the hills, the sun came closer and looked majestic:
Final pitstop of the Mahindras before Chandigarh: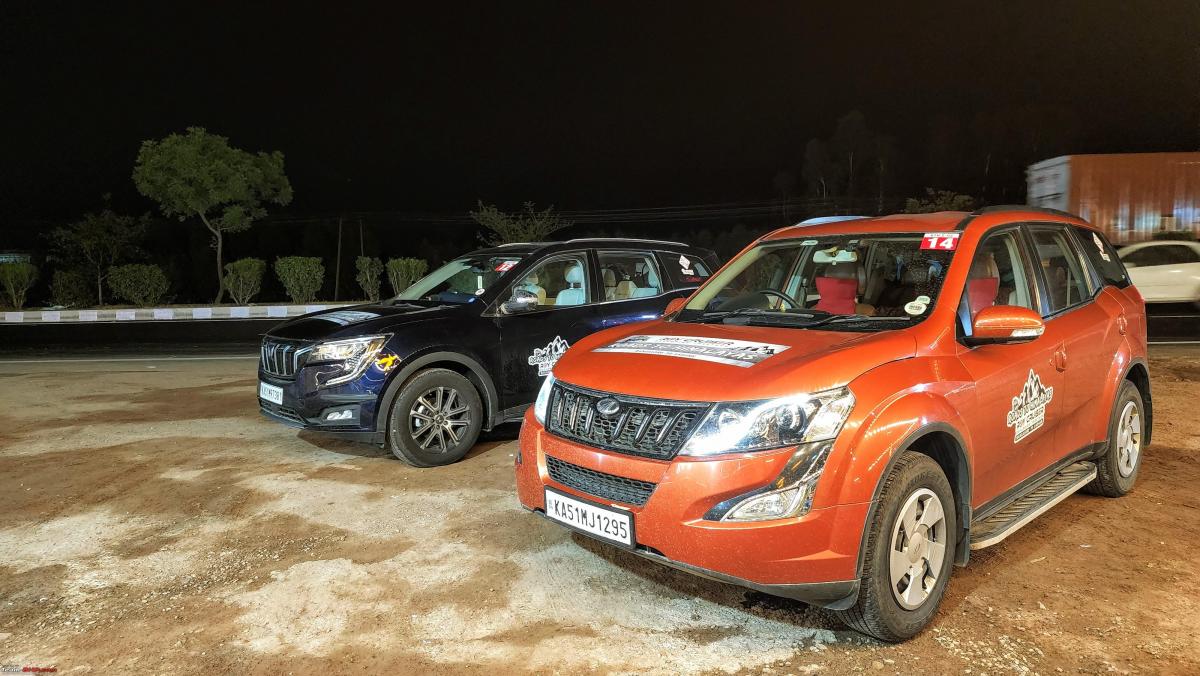 Ladakh:
For the newbies, please take it slow, the moment you reach Baralacha. Though it is no more the same dreaded stretch that it used to be, kudos to BRO for that, it will take a toll on your body and car. Take special care of your kids, though they cope better than us lazy adults.
Atal Tunnel to Jispa is a pristine world unknown to the dwellers down south. Then you kind of get used to the terrain and just keep marveling after every other turn. Lack of oxygen at Sarchu or the traffic prone Gata loops, Pang or More Plains, all you can do is just wonder on what all India has to offer for the travelers and tourists. Khardung La is a sight to behold and for that matter every single terrain that we crossed over the next 8 days were breathtaking, Literally too – Lack of oxygen at higher altitudes, remember. Next time, don't mock your teachers asking them what use was all that you studied in school eh !
We lost a Tata Nexon from our convoy right after Pang. The turbo had conked off due to extended spirited driving. The coolant and engine oil completely drained from the car, it was rendered immobile at one of teh most challenging passes. Here I would give a shout out to our organisers Roy Cruiser and their partners Himalayan Panthers. The Nexon was self towed by a Pajero for over 100 Kms climbing up and down Tanglang La, More plains and reaching Leh. The family of 4 in the Nexon were well taken care of and every possible help was provided in such challenging environment. Words cannot do justice to their efforts. It can only be heard from the family that got affected and the people who achieved this feat without ever boasting of it. HATS OFF TRULY. Then they made sure the car was ready form the next leg of the journey within 4 days despite the nearest authorised TATA service being 560 kms away.
Nubra is like transcending into a Star Wars set. Acres of flat brown land guarded by snow capped mountains. Diskit monastery is like a lost crayon packet in the middle of nowhere. The Maitreya Budhha is definitely not something you could give a miss.
One suggestion would be if you are going to Nubra, do visit Turtuk and Thang, Thang being the last village on Indian side.
Enough is written and known about Pangong Tso, so I give the Hebrew Script a pass here.
For the noobs, Kargil is much more that you think it is, It is a proper big town, but marred by 3 decades of extremism. Every individual has a different take and a different story to tell. It just says enough about how much this part of out motherland has endured. Nonetheless, the beauty of this region is unparalleled to many.
Here is a glimpse for you to assess the reality.
Just as we left for Manali:
The architectural marvel of India: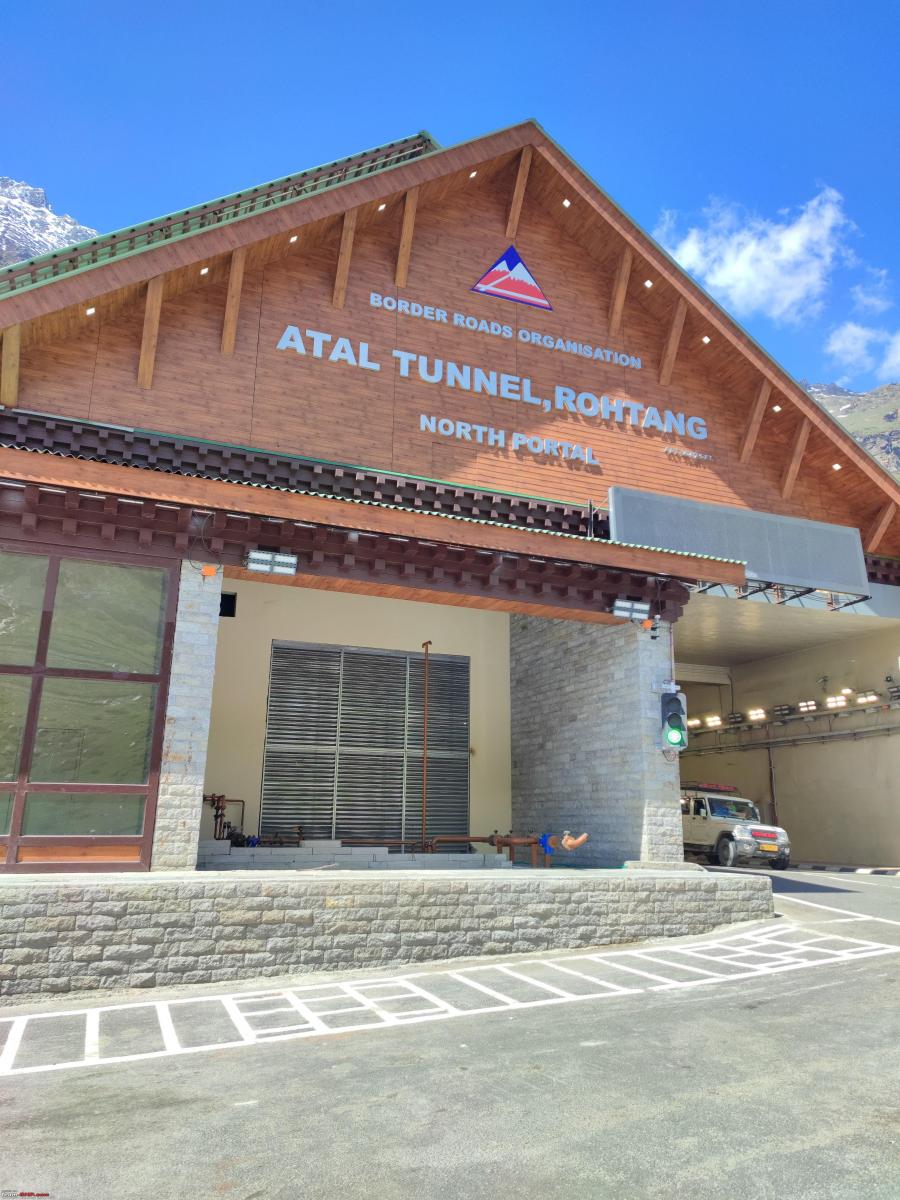 Take their suggestion quite literally:
Sarchu – where the entire gang tested their limits:
Baralacha is just up the hill:
The ghostly Gata loops – It took us around 6 hours to cover this 9 km stretch:
And found some delicious local food at Pang: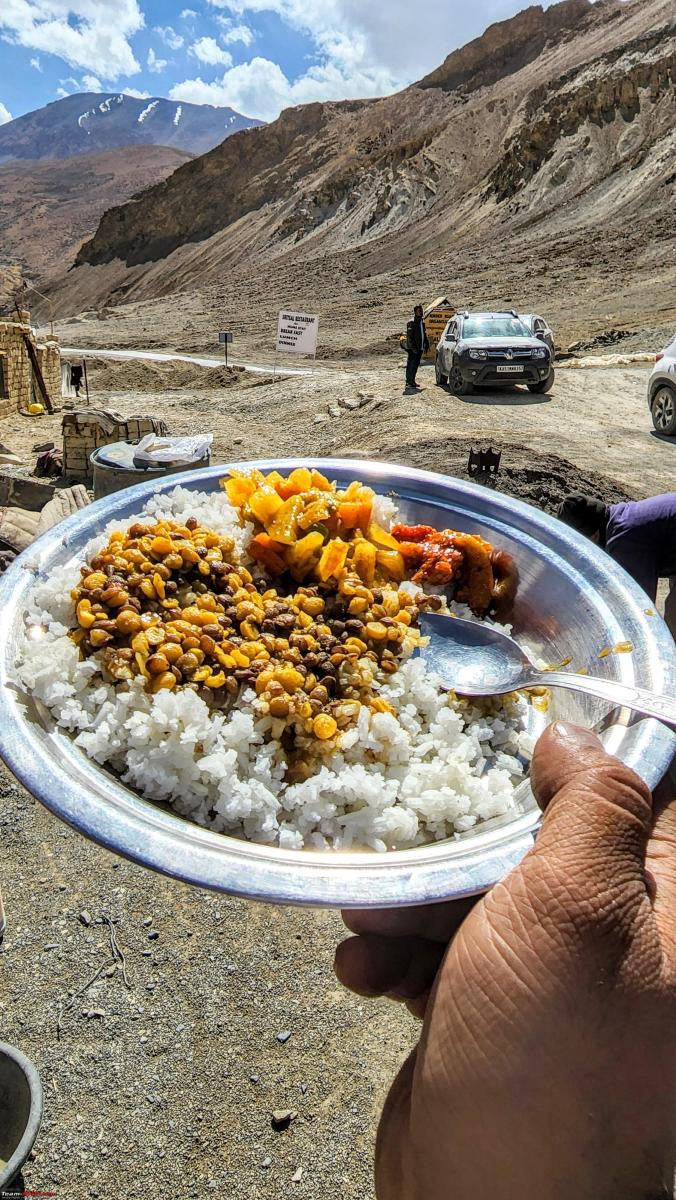 Seems the Nexon had too much to digest and broke down wile climbing Tanglang La. It was towed by the backup vehicle for above 100 kms to reach Leh beyond midnight:
Need to be careful of every turn and every pass that we give. One wrong move and you could turn turtle:
When you can't find roads, use the river: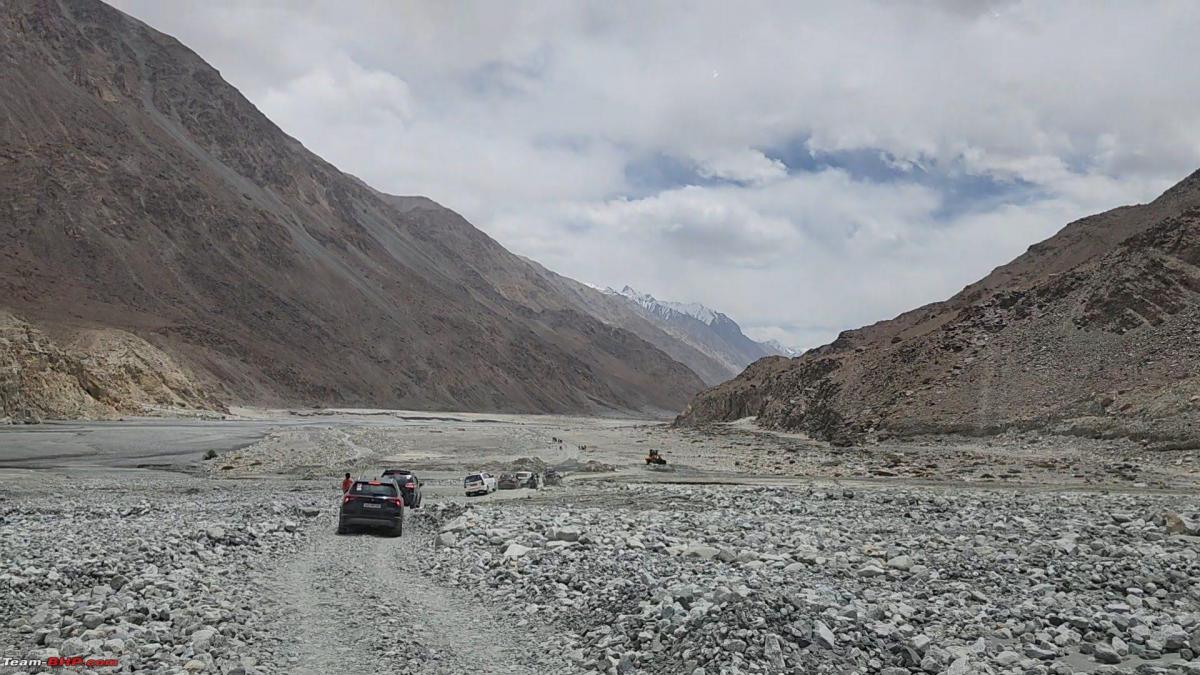 High altitude snow has its own charm at Khardung La. Little did we know that it has lost its crown to Umling La as being the highest motorable pass. Well Now we have a reason to return:
The duo of the Roy Cruiser. The bearded silent killer is Rohit and the smiling incessant speaker is Rajesh Roy. Kudos to their guidance and support all through the 22 days:
The absolute gems of people Jaideep (JD bhai ) on the left and Munish in the center. These two along with Rajesh and Rohit, achieved the unique feat of towing a dead Nexon through TanglangLa to Leh. Hats off buddies..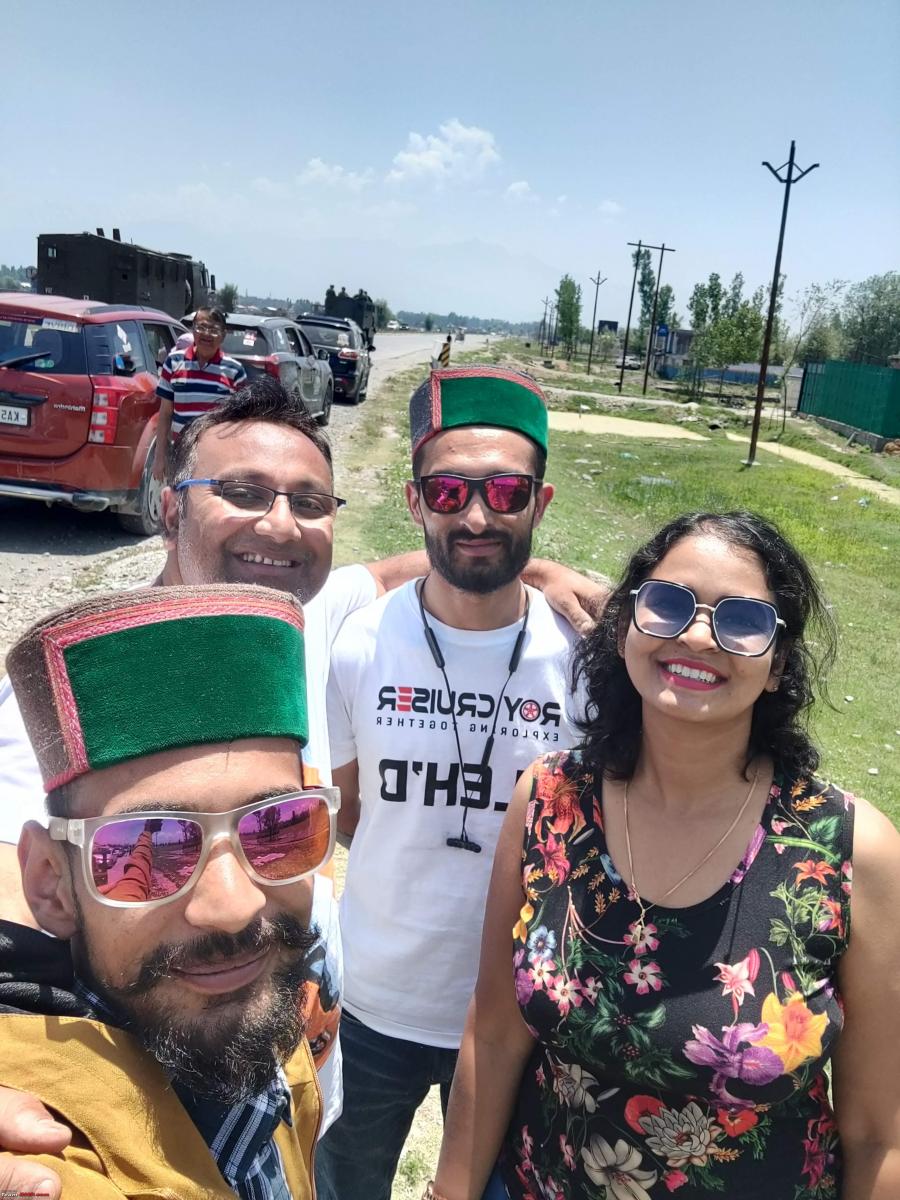 Continue reading on BHPian Travelator's road trip to the Himalayas for BHPian comments, insights and more information.
Source: Read Full Article