10000km up on my Honda City CVT: What I like & what could be better
Almost all practical features provided in the base variant itself.
BHPian cludflare recently shared this with other enthusiasts.
Critical review of my Honda City V-Cvt after 9 months and 10,000 kms of ownership:
Variant – 2022 V CVT
Accessories installed – Qubo front dash cam, OEM seat covers, cosmetic ones like bumper protectors, side garnish and sunblinds, ceramic coating including windshields, alloys painted dark grey
Using this post to be completely honest to myself while calling out the flaws and also nitpicking about my dear ride, daily companion and savior.
I have been driving the City in the sorry and now embarrassing Bangalore roads over the last 9 months. Enough has been said, written and recorded about the sorry state of affairs of Bangalore traffic, the digging and the potholes. Hence I will skip that, the lesser said the better. It's a pain one has chosen to live with over the matchbox houses of Mumbai and smoggy air of Delhi. A pill that can't be swallowed, has to be chewed each morning and evening.
Before going to the challenges I am experiencing; I want to appreciate the positives of the car:
Exceptional value for money of the erstwhile base variant, especially for the price I got it for. Bought a 2022 make car in Jan 2023 for 12 lakhs ex-showroom and additional discounts on accessories, roughly 14.8 lakhs on road in Bangalore. The other true automatics with decent features available at the price point earlier in the year were the Ciaz, Brezza, Sonet and Venue.
Almost all practical features provided in the base variant itself – cruise control, pedal shifters, front and rear armrest, touch screen with rear camera, alloy wheels, DRLs
The 4 cylinder 1.5NA and CVT setup makes the car a breeze to drive, even on bumper to bumper drive. I previously owned a Jazz and coming from that, I have always felt there is enough power on the tap for this motor.
Space management and airy cabins continue to remain a Honda highlight.
The steering response and accuracy – maybe because I am driving a proper C-segment sedan for the first time. The steering is very light and easy to maneuver for city drives and gets adequate weight for highways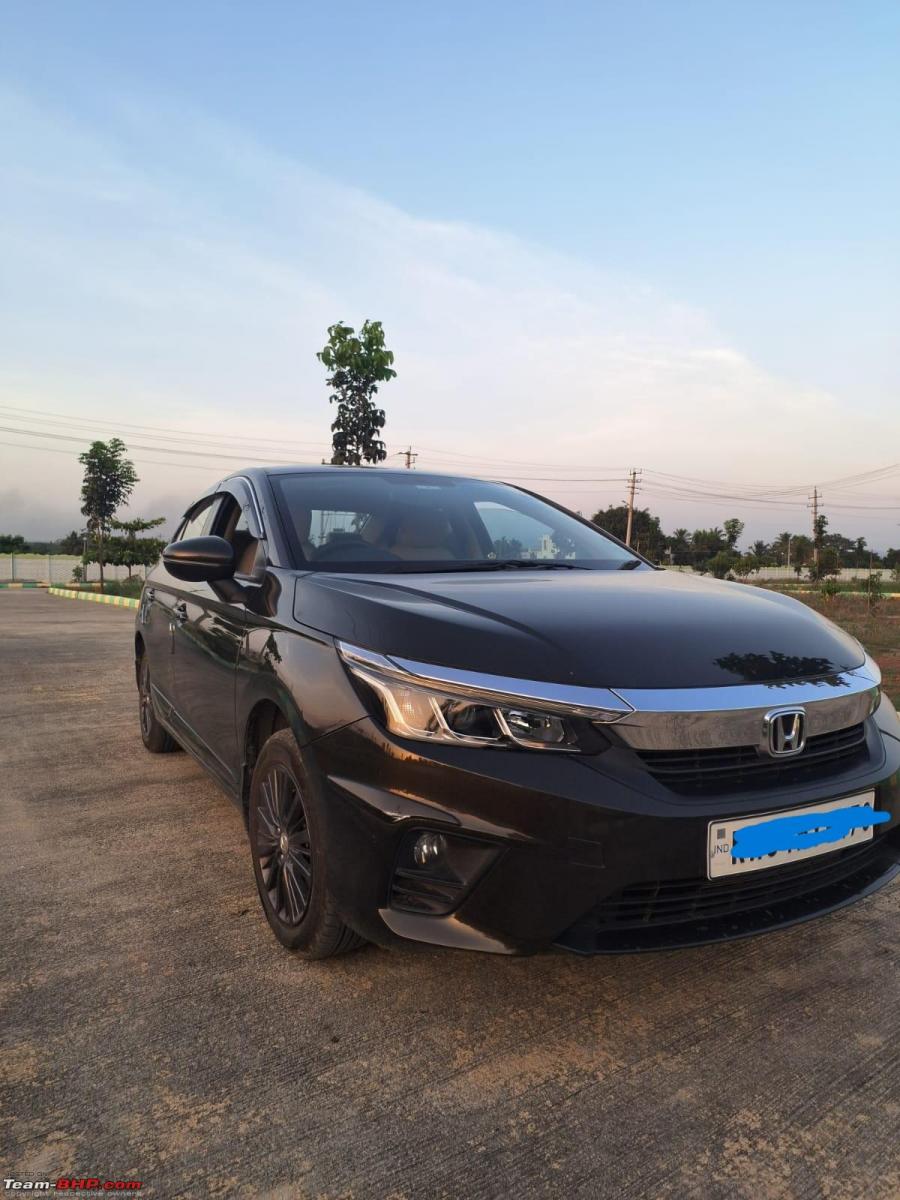 Listing some of the major concerns that I will certainly call out to potential buyers below:
Not spending much time talking about the competition, but if one is operating with a budget flexible up to 20 lakhs, City now falls behind the race with multiple better options available both in the mid size SUV and C segment sedan space.
The BOUNCINESS – this is my biggest problem with the car. The car is extremely bouncy even on flat roads. There is a lot of vertical as well as horizontal movement which makes the experience unpleasant. I like soft suspensions, especially when the roads are full with potholes, craters and what not. But the city suspension just doesn't feel right to me. Even on flat roads and highways, the car seems extremely bouncy and you can't feel confident putting the car on sports mode because of lack of stability.
Dated IC system – cars like Baleno and I20 are coming with much better infotainment system these days. The IC makes me feel cheated.
I find the interiors sorted and classy, but many will find it dated, old school and lagging modern features like HUD etc.
Brakes – they are not confidence inspiring
The tyre size. Base variant comes with 185/60 R15, too skinny for the car.
Audio – While I am no audiophile, there is a big need to upgrade the speaker set up.
Alloys – If the Amaze and 4th gen City VX specs priced lower could have machine cut alloys, why not provide them on this one.
A couple of items I am seeking a view on from current owners and fellow BHPians:
Sports Mode utility – When do you typically use the sports mode? I very frequently used the sports mode in my Jazz but in the City, the drive on sports mode is very rough. The rpm becomes extremely sensitive to the accelerator tap and has a high degree of fluctuation, not to my liking. I am yet to identify the use – there is almost enough power in D itself for practical requirements. The sports mode drive is not enjoyable even on the highways, there is no smoothness. Might be just me, will be good to hear your views on the same.
Engine sump guard – is it advisable to get one? If yes, can anyone suggest where I can get it from in Bangalore or source from elsewhere as well.
Tyres – What are the benefits of changing the stock tyres to a good set of say UC6 ? Will changing the entire alloy set to 16inch in the future make sense ?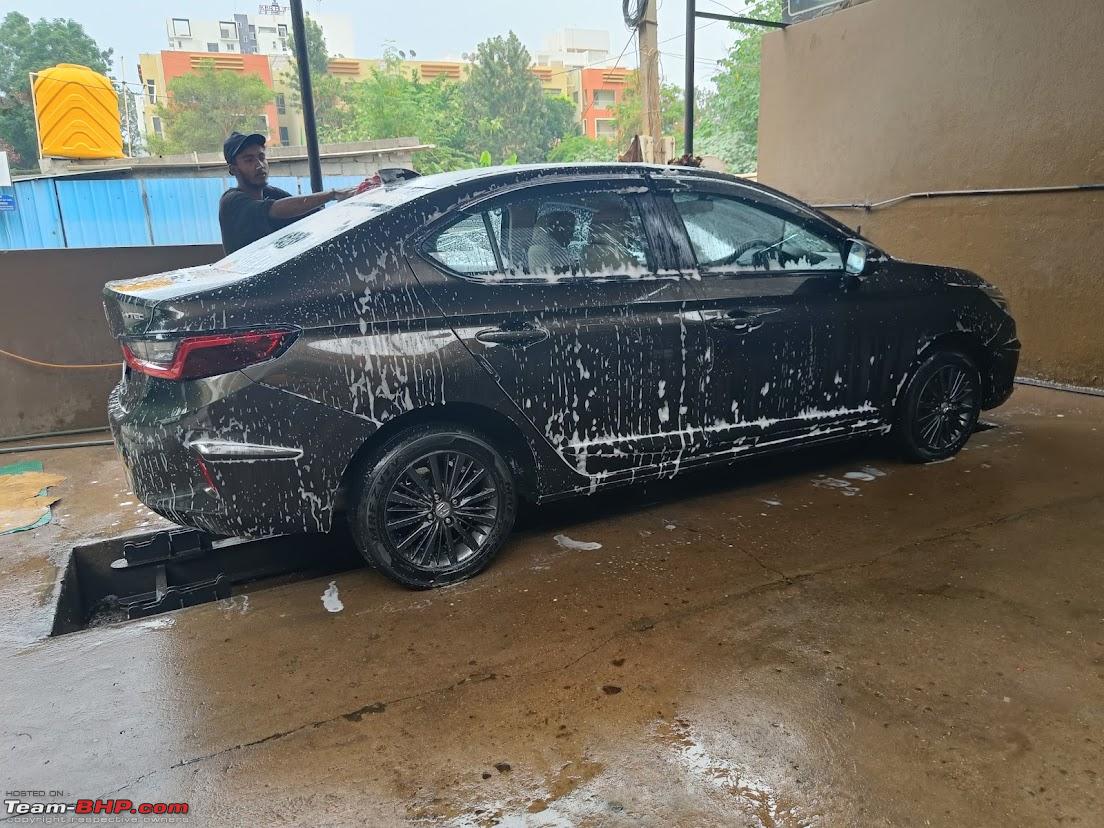 While I love the car, and the City brand, the Indian market has evolved both on the demand and the supply side. Running operations of a mammoth multinational organization is complex and who are we to comment that Honda should introduce this, this and this to revamp business without understanding the context. Honda must be doing things right. They have cut products that could not drive sales (I miss Jazz) and have posted significant profits. Elevate will certainly add to the sales and it looks like they are restructuring and building things bottom up. It's ok if they are not flying high in the Indian market, they are at least here to stay when it has been a game of survival for many foreign players.
To summarize, I am let down by my own expectations – I never thought that a car as aspirational as Honda City would leave you with wanting so much more.
Check out BHPian comments for more insights and information.
Source: Read Full Article