1000 kms with my Ola S1 Pro: Charging, range & accessories added
Before installing the charging point, I had to rely on Ola's hypercharger near my house, and after charging to any amount to charge, the charging gun wouldn't release from my scooter's socket.
BHPian Buzzaper recently shared this with other enthusiasts.
Hey everyone, Terzo(I'll explain) completed it's first 1000kms in the last week of April, and I'd like to share some more observations following my initial observations.
So What's Terzo? It's the Ola S1 Pro. I named it after Lithium, the 3rd element in the periodic table that powers it. 'Terzo' means 3rd in Italian. This was inspired after Lamborghini named their full carbon car Sesto Elemento.
Overall experience:
It has been a pleasant experience so far. Ride quality is excellent. Performance is phenomenal. Sport and Hyper modes still feel absurd for regular city driving. On the flip side, Normal and Eco modes feel slightly inadequate in stop-go and slow-moving dense traffic. Let me break it down:
Eco mode: Practically unusable, it's an emergency feature when you are low on charge. Everyone else would be overtaking you. Including cycles. It gets worse with a pillion aboard. You can't make it to the end of slight inclines, or out of a pothole/undulation.
Normal mode: I have used Terzo in Normal mode 99.5% of the time. It's enough grunt for city roads and traffic, even with a pillion. The only drawback, is not because of the ride mode, but because of the larger final drive, making a move from a standstill or during a U-turn is weird and difficult. You don't get a sense of increasing momentum to start balancing properly from start. You become stable only after 15-20km/h. The extreme lower end grunt is NIL. I don't know who's idea was it to make the scooter's driveability more suited to highways than city. It's a SCOOTER. Why did you focus on top speed more than city pickup, OLA? Ather is clearly better in this area, with it's shorter final drive, giving a great push from a standstill, but compromising on top speed. That's the right compromise for a scooter.
Sport mode: Actually, sport mode could be the Normal mode, but better. But I refrained to use it because of 2 reasons. One because we know how bad Ola's thermal management is. It's anyway gonna push me back to normal or eco mode depending on how hot it is. the second reason being the drawback said in Normal mode. It mitigates the initial grunt issue, but the other end becomes too aggressive. The middle band becomes too powerful and you reach 60+km/h in no time without realizing. I mostly drive on 2 lane city roads with moderate 2-wheeler and pedestrian traffic. As Jeremy Clarkson said, "Accidents happen not because of high speed, but because you come to a stop suddenly." As said in my initial review, the brakes are quite sharp, and lock up the rear wheel almost every time under sudden braking.
Hyper mode: This is definitely for the fun and adrenaline factor. I rarely found road conditions favorable to use hyper mode. It is definitely a hoot to ride and this mode speaks about the real performance of S1. You can easily smoke 150-200cc bikes until a certain speed I suppose. Typical EV character.
Accessories:
Ola's official Buddy step and center stand are STILL 'on their way', right from Jan 14th. I'm just gonna pretend I never ordered them and be happy once they arrive. I guess I'll be getting another chocolate box in the meantime.
I ordered a seat cover(pretty generic just to protect the original one) and a screen protector for the instrument cluster from Amazon. Seat cover came with a thread instead of elastic and it's a good thing. You don't have to deal with elastics giving up after some time and becoming loose.
Regarding the screen protector, I asked a person from a nearby smartphone accessories shop, and he was like "I install phone screen protectors everyday but I ain't touching something totally new that I haven't worked on". It's the exact same thing as a phone screen protector but I guess he didn't want to take liability. Asked a nearby Ola showroom and they turned me down too. Finally decided to take things into my hands, watched few youtube videos on how to install and started cracking on and surprisingly I did a great job. It was a bubble-free install.
Costs:
Seat cover: Rs.359
Screen protector: Rs.212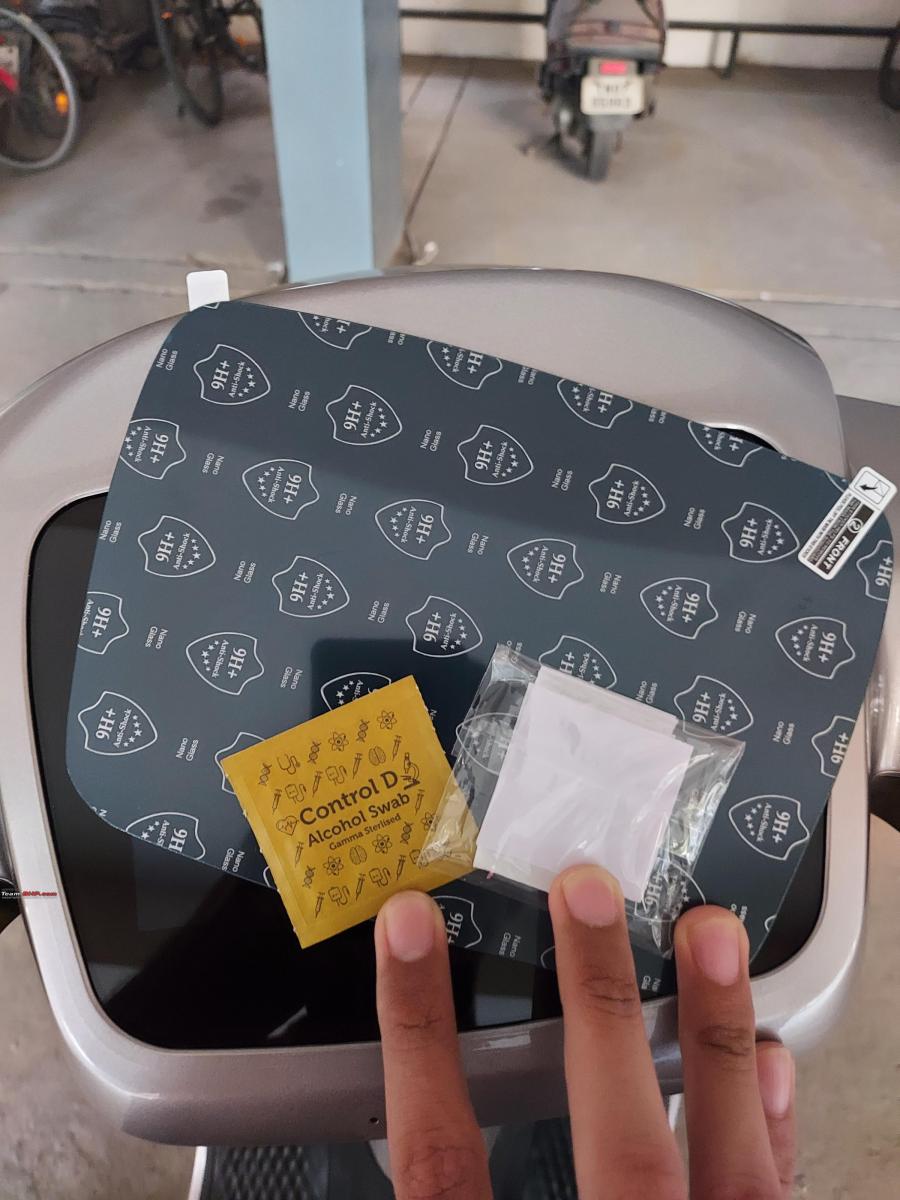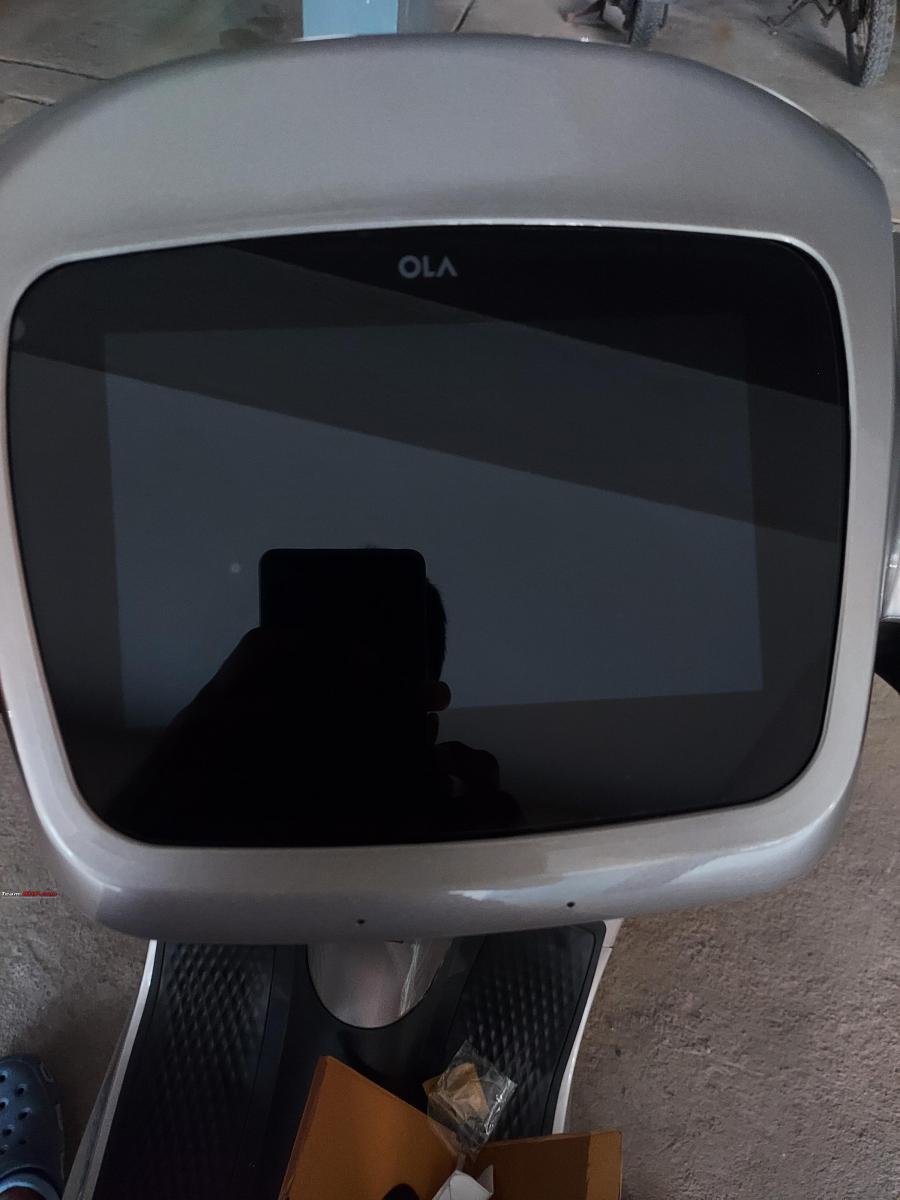 Charging:
Installed a 3 pin plug with an MCB and heavy-duty wires directly connected to my electricity meter box connection. Charging from 30%-100% takes roughly 4-4.5 hours. I restart the scooter after every 100% charge for cell balancing.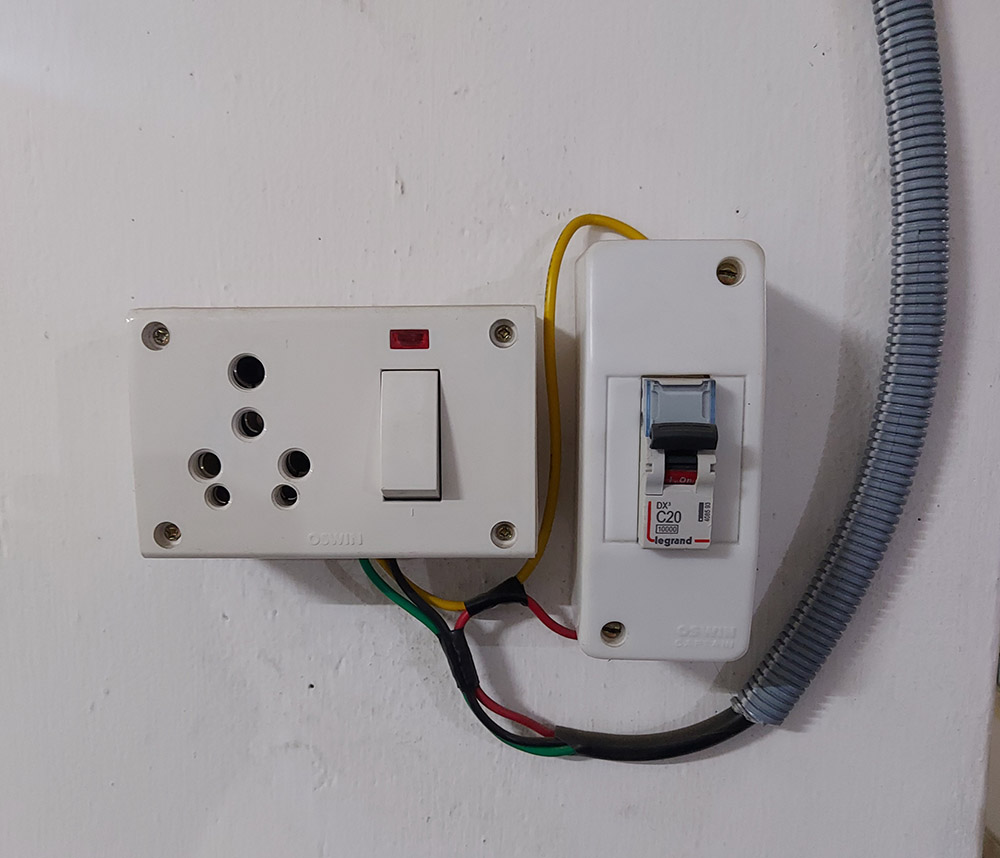 A Hyper charger incident: Before installing the charging point, I had to rely on Ola's hypercharger near my house, and after charging to any amount to charge, the charging gun wouldn't release from my scooter's socket. It has happened 2-3 times and during the 3rd time, no matter what the charging gun did not release. I had to stand over there for straight 2hrs from 7:30PM. Contacted a few Ola service personnel through phone and they directed the operator of the petrol bunk to fully restart the entire hypercharger system. It did not help after restarting it twice. Finally after contacting and dealing with Ola helpline, a RSA person arrived, and to my utter shock, all he did was vigorously shake the gun and it came out in TWO SECONDS. I had to wait there for 2 hours, and the guy finished things off in 2 seconds. He said that the charging port might be tight due to it being a new vehicle, and asked me to bring it to the service center(Ambattur) for an inspection. I went there a week later, and he was on leave. Another technician told that there are a lotta vehicles and mine can only be attended in first come basis and it'd take a day. I returned after a wasteful 1hr up and down commute. Couldn't find time after that to visit. Home charger works perfectly.
Range:
I decided to data log the mileage after a 100% charge with my real usage pattern. This isn't a 'range test' where I cruise around in eco mode in a random route to nowhere the whole day. I logged the data with my actual usage, over a period of 11days.
Riding mode: Normal
Riding Style: moderately spirited, with an average speed of 40-50km/h.
Operating conditions: Mostly flat chennai roads, and hot chennai summer(around 35 degrees at the time of testing on average)
It is as follows:
Date | Distance | Drop in charge
31/4 – 5kms – 100 – 96%
1/5 – 0kms – 96-94%
2/5 – 0kms – 94-93%
3/5 – 11kms – 93-83% (2 riders)
4/5 – 14kms – 83-72%
5/5 – 0kms – 72-70%
6/5 – 3kms – 70-67%
7/5 – 3kms – 67-64%
8/5 – 4kms – 64-60%
9/5 – 5kms – 59-55%
10/5 – 33kms – 55-29%
Total kms done: 78kms
Total Charge consumed: 71%
Average Efficiency: 1% per km
So, what does it say?
If we extrapolate the data for remaining 29% charge at the rate of 1% per km, I can cover another 14kms until the battery reaches 15% in Normal mode. Hence, the 'real' real world range in normal mode, with spirited driving in above conditions is 92kms. When I mean spirited driving, I mean regular driving under speed limits, without factoring the battery loss during rapid acceleration.
What does it mean?
When fully charged, the scooter shows 135kms of range in Normal mode. Now that's a difference of 43kms. Thats pretty huge. But considering the factors affecting an EV's performance, 92kms is still bad while having the largest battery in the segment but 135kms is clearly a false indication like the rest of the company. I would expect under all suitable conditions in normal mode a range of around 110-115kms. I did not have the need to drive sedately hence we need to factor out the losses due to rapid acceleration to catch up with traffic instead of crawling in the left shoulder of the road. I'll try to repeat this log once again when Chennai cools down probably towards the end of the year to see if ambient temperature has a significant impact.
Miscellaneous:
I received my RC card exactly 2 months after paying for the scooter. I mentioned about delay in RCs specifically with OLA in my initial impressions, hence this was a surprise.
Out of nowhere my left side mirror became loose, and required tightening which was done using the provided spanner from the toolkit.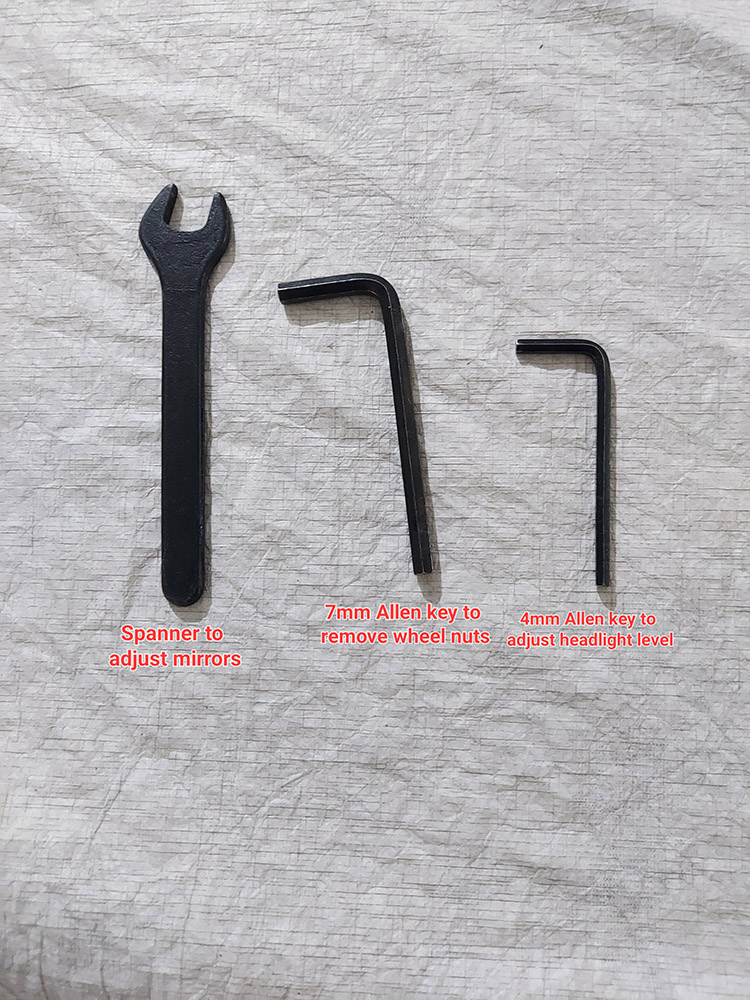 I mentioned that the low beam is excellent but blinding the oncoming traffic in my initial review, and adjusted its level using the provided 4mm Allen key. You need to loosen a 4mm nut beneath the headunit from the front side(picture attached) and then you just move the headlight assembly slightly up or down. This has improved the amount of light falling directly on the road, aswell as not blinding oncoming traffic, so that they'll stop flashing at me thinking it's my high beam.
@BMW_Fan asked about availability of Hill hold in my unit, and it is available now, previously it was showing as coming soon. It's still in Beta. In my testing, it works as intended. The only gripe is the method of operation. Holding the brake for 3secs doesn't seem convenient all the times. Sometimes you might have to stop and go in intervals less than 3secs on an incline, and in those cases hill hold is practically inexistent. I hope Ola will fix it by 2037, after some minor delays.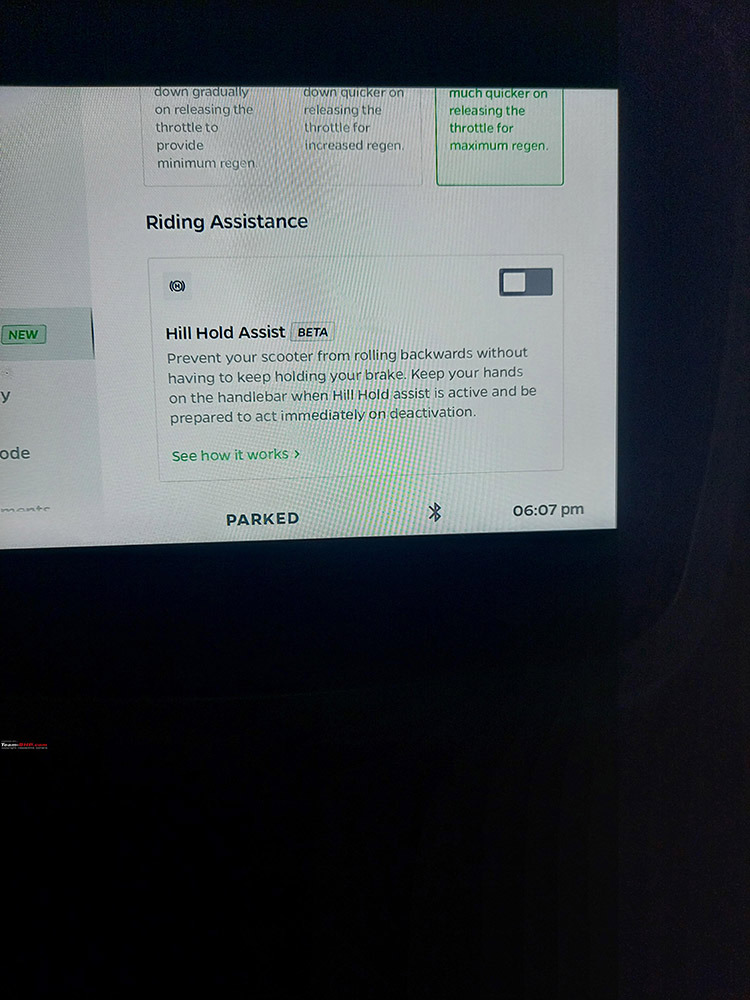 I'm constantly keeping an eye on my side stand nut, following many incidents of side stand breakage issues. I suggest everyone to keep an eye aswell.
Tyre Pressure: I fill Nitrogen to a pressure of 33PSI as recommended by Ola. The advantage of nitrogen is that it will drop at a slower rate compared to regular air. But, Both my tires dropped 5PSI within a span of 3-4 weeks. Is it normal? Should I check for any pressure leaks in my tires?
One interesting thing is that I get pulled over a lot now. Not by the cops, but by curious Activa and Jupiter riders. They ask about the feasibility of an EV2W. But strangely, many of them asked if driver's license is a requirement to ride an electric two wheeler. I guess they see every green plated 2 wheeler as a low powered low-speed electric cycle.
Check out BHPian comments for more insights and  information.
Source: Read Full Article