1 year with my Honda CBR 650R: Likes, dislikes & other updates
I love the way the power bands are distributed and how sane and composed this bike is, making you feel very confident and connected. Typical Japanese bike characteristics.
BHPian abhisheksircar recently shared this with other enthusiasts.
Year one saw continued Covid lock downs, the end of lock downs, things getting back to normal, offices resuming, floods in Bangalore making news and that one thing that kept me in the same relaxed temperament was this bike. Mission Accomplished !!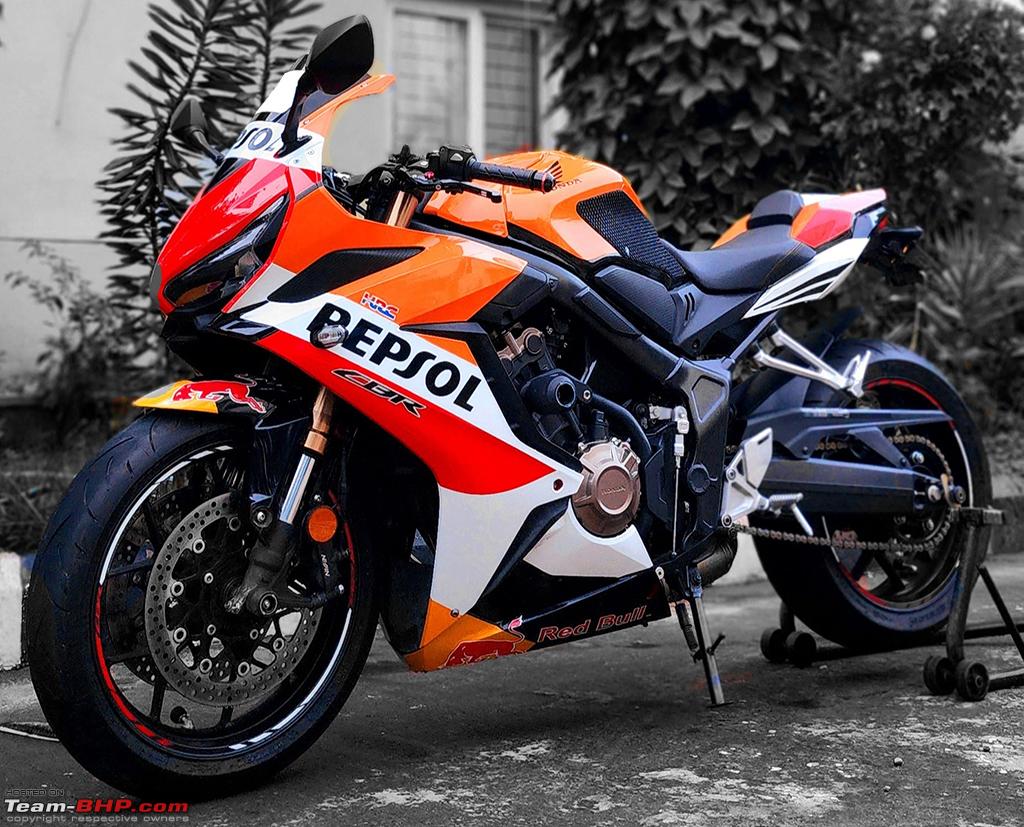 One year back when I got determined to get back to riding, I was thinking of various meditations online to stay calm and handle the changes one has to face in these recent years, every now and then. Nothing like being inside the helmet for hours listening to the sound of an in-line-4. 5200 kms and still enjoying every km on this.
The Honda CBR 650R is turning out to be a very good choice of bike as a middle weight even though it has a relatively steep price tag. I might have enjoyed the Ninja 1000 SX a well as the other choice. So what's it like after 1 year.
What do I like after a year:
The Engine and handling surely tops the list. Extremely smooth. The braking is another thing that I love in this bike. Precise. I also love the way the power bands are distributed and how sane and composed this bike is, making you feel very confident and connected. Typical Japanese bike characteristics. The rider sitting stance is quite decent. Not too committed, nor upright for sure. I have just gone for one short tour of around 1200+ kms, to and fro and it's been quite okay. It's nowhere close to a Goldwing comfort level but it can match up to any good sports tourer. CB vs CBR, if upright stance is not a necessity, I would always recommend the CBR over the CB. It helps quite a bit in higher speeds. This is vouched by a CB owner too who rode my bike. The headlights are good, if not great. Some CBR owners rely on Aux light setups for long tours. Mileage, although not a topic of discussion, has been a surprising 22 km/ltr. Perfect for a weekend ride with a 15 ltr tank. Pillion comfort is quite good in this one if one can handle the posture. The seat is quite wide and comfortable.
What do I not like after a year:
It's been a year and about 5200 kms and I am still not very used to the switch controls. I struggle when I do not want to. At this price point, I still wish it had some good riding modes. Quick shifter and an Akra should have been a stock setup. No other issues worth mentioning out there.
Accessories:
The ones I recommend:
Evotech Radiator Guard
Evotech Front Fork Crash Bobbins
Evotech Engine Guard
PUIG Shorty Levers (Much more easier to handle compared to the stock long ones)
PUIG Spools
PUIG Front mudguard extender
Honda Quick Shifter
Akra Exhaust (This is absolutely amazing. Let's you really hear the In-line-4)
Phone Mount
Extended USB Charger
The ones which did not make any or much of a difference:
PUIG rear mudguard extender
PUIG bar-end weights
Hepco Side Stand Extender (This came off and I do not have it now)
BMC Stock Air Filter (This could be in the recommend list for peace of mind of just washing one away if it gets dirty but that's more like it)
The "want" ones:
PPF on painted surface (This was not needed considering the wrap, but wrap was an after thought)
Ceramic coating on non painted surface
Wrap
Evotech Tail Tidy (This looks good but creates a MESS on rainy days)
Rear Seat Cowl
I always think, this is the last I am spending on the bike but I end up with something or the other. A good set of tyres is next on the line, when needed. I could go for some sticky ones as the mileage I clock in a year is not too much.
Now for the Services:
First Free Service : Rs. 3341/-
Second Free Service : Rs. 3010/- (Did not need chain lubing. Got it done at home)
Third Free Service : Rs. 3695/- (Engine Oil cost has gone up by few hundreds)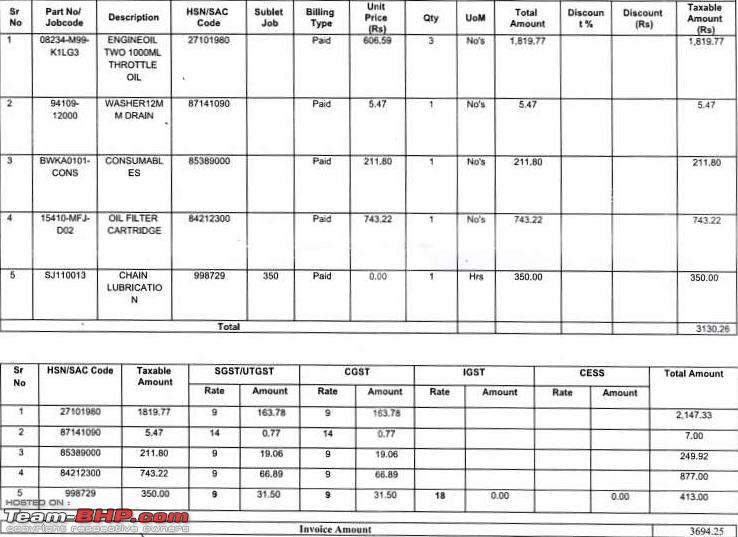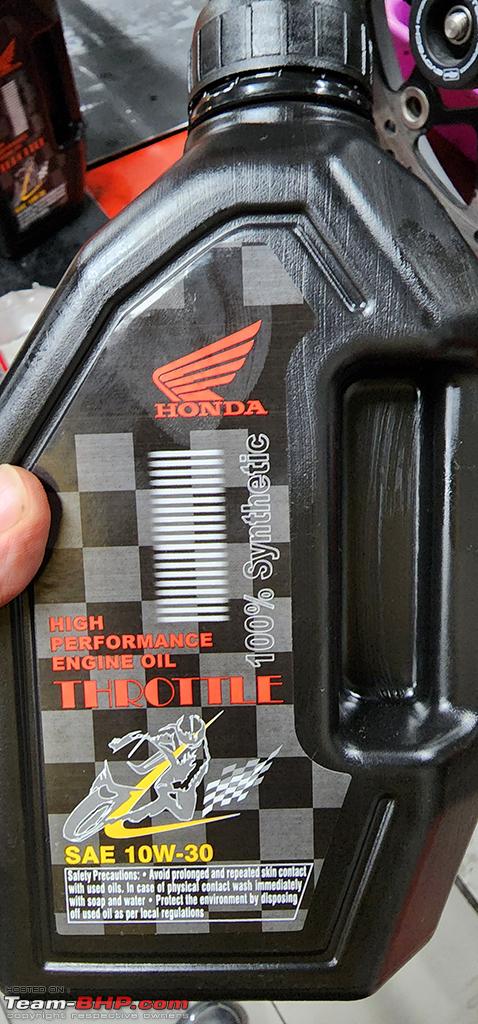 here is one service center in Bangalore that is authorized to service a 650R and that's about 52 kms away if I take the good roads around but nothing to complain here. I enjoy the ride to the location and I am happy that at least there is one service center in the city. Service experience has been quite seamless. The most complicated task has probably been cleaning the air filter in regular services and installing an Akra otherwise. The pricing has been quite reasonable. The cost of the Engine oil has gone up by few hundreds, else rest of it is more or less the same. I have completed the free services and it will be interesting to see how it goes from here on.
Before I end, a quick look at the BMC air filter after a year. Dirty and then washed off: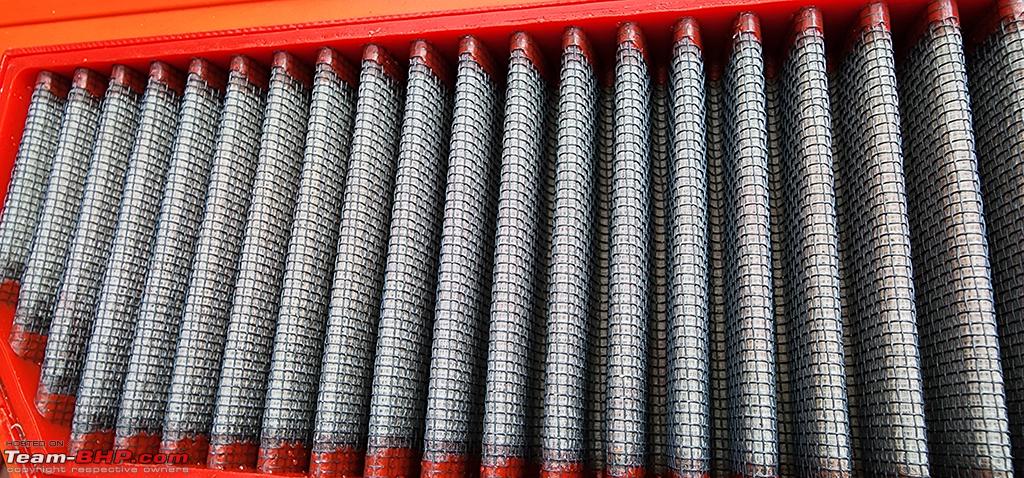 One year completion also calls for the renewal of Insurance and RSA (Road Side Handling)
When we buy this bike, the insurance available is 5 years Third Party and 1 year comprehensive. Hence, it's recommended to renew comprehensive every year. I had reached out to the Insurance agent linked to the dealer as their association helps but the agent was quite unavailable and what he quoted was an IDV which was a lakh lesser and priced at around 4k more than what ICICI Lombard personals from their call center provided. I still would have preferred the dealer associated one for ease of claims and all but he was just not available and my insurance expiry was fast approaching. So finally I ended up with an IDV of 8.47 Lakhs with a premium of 20,576 INR with ICICI Lombard employees directly. This includes Zero Dep, Return to Invoice and RSA.
Next is RSA from Honda. Road side assistance is another one of those things which you would wish you would not use, but it's good to have it. The revised RSA that includes something called Unlimited RSA is what I opted for which allows towing from anywhere in India, unlimited kms. This costed Rs. 7,999/-. Mentioned below is what you get for Unlimited RSA.
Unlimited RSA:
Minor Mechanical or electrical breakdowns – In case your vehicle suffers a mechanical or electrical breakdown causing sudden stoppage, suitable support shall be provided on the spot to mobilize the vehicle. This service covers minor adjustments and repairs which do not need change of any spare parts. In case vehicle needs replacement of spares cost of such spares has to be paid in cash by you, on the spot.
Major breakdown or accident – In the unfortunate event of a major breakdown or accident where the vehicle cannot be mobilized on the spot, we shall arrange to transfer or tow the vehicle to nearest authorized HMSI workshop. In case of the covered towing distance exceeds (300 Kms for motorcycles beyond the capacity of 250CC and 50 Kms for capacity less than or equal to 250CC) additional cost of Rs.30/km will be levied. While the aforesaid condition will not be applicable for the Unlimited KMS RSA Package. Note: Interstate charges and toll-charges as well as all other government taxes shall be borne by customer directly on the spot.
Puncture / Flat tyre – In case of a punctured or flat tyre the service shall enable you to get the puncture repaired at the nearest puncture repair shop. In such a case you shall have to directly bear the expenses of such repairs and we shall not be responsible for its workmanship.
Running out of fuel – In case the vehicle which is <= 250 CC runs out of fuel you shall be provided with 1L of fuel enabling you to reach the nearest petrol station. However, Fuel charges shall be applicable at actuals and has to be paid beforehand. For vehicles > 250 CC 5L shall be provided free of cost once in a year only. Note: This service is applicable within a radius of 50 km from nearest HMSI workshop, or any other city in India covered under this program.
Taxi Assistance – For premium motorcycles i.e., vehicles > 250 CC free taxi up to 50km shall be provided once in a year provided the vehicle is towed by us due to breakdown and if you wish to travel to the nearest HMSI dealership or place of your convenience. In case you wish to use taxi beyond 50Kms then the same can be done by paying directly to the service provider the prevailing charges.
Check out BHPian comments for more insights and information.
Source: Read Full Article