1 month with our new Hyundai i20 N8 DCT and we are loving it
Yes, it is expensive but it's the most practical, sporty and feature-packed hatchback that you can get today.
BHPian rAijin_ recently shared this with other enthusiasts.
Introduction
We recently brought home a Hyundai i20 N8 DCT and we are loving it.
My brother's Maruti Swift VDI (Diesel) 2015 model was nearing its 9th anniversary (due in Dec 2023) and we were worried due to the 10-year rule on Diesel vehicles in Delhi NCR. So, we started our hunt for the new car.
Requirements:
Budget – Around 10 Lac – 11 Lac.
Should be an Automatic.
Hatchback with better mileage.
Good ground clearance.
Should be comfortable for 4 (occasionally 5) people.
This car would be mainly driven by my brother who is a bachelor and doesn't need a bigger car at this point.
Options considered:
Maruti Fronx
We loved the exterior look of Fronx and had almost finalised it. The crossover looks from the front and the coupe-like rear had us sold. It is arguably the best-looking Maruti and its 1.2l NA Delta plus fell right into our budget. We were so sure about it that we almost booked it without any test drive.
But, then we wanted to test the AMT gearbox as we've driven CVT and DCT but not AMT. So we requested a test drive of the Delta Plus variant which was happily provided. They had Fronx Delta plus AMT readily available for a test drive.
As soon as we sat inside the Fronx Delta Plus variant, everything changed. The interior does not do justice to the rather attractive styled exterior. The dashboard plastic quality felt inferior even to our 8-year-old Swift. The dark brown and black dual-tone interior did not appeal to us at all. In fact Baleno's Black and Blue felt a lot better compared to it.
Then we took a test drive, and we realised why everyone hates AMT. The gear shift was clearly felt and the lag was frustrating. Me and my brother looked at each other and we knew Fronx was cancelled.
Thus began the search for the next car.
Maruti Baleno
We looked at the Baleno at the same Nexa dealership. Its interior quality felt similar to Fronx except for the black and blue theme which actually felt a lot better. Rejected it due to AMT.
Other compact SUVs
All compact SUVs were way above our budget. The base Automatic variant is around 14L – 15L on road in Gurugram. We didn't look at Nissan Magnite and Renault Kiger due to the low footprint of these brands.
Hyundai i20
We were not sure which car to try next. Just when we were driving back home, we saw a dark blue Hyundai i20 with red accents and twin exhausts crossing us. We really liked it. Quick Google results showed us the Hyundai i20 N line with starry nightshade.
So, the very next day, we called Hyundai showrooms for a test drive of the i20 N line. Surprisingly, only Himgiri Hyundai had the i20 N line available for test drive. So, the next day, we left for the test drive. We wanted to drive both the iMT and DCT. We were really curious about the iMT gear (A manual gear without a clutch!).
Dealer visit, test drive and booking experience
The salesperson at Himgiri Hyundai was very courteous and resolved our queries regarding the iMT. They had good knowledge about the working of the iMT gearbox. However, they didn't have any iMT i20 N line for a test drive. In their defence, they said that the sales of i20 iMT are very low and even Hyundai recommends moving to DCT rather than iMT. I'm not sure if that's a sales tactic to sell DCT ( higher priced ) or some issues with iMT that Hyundai is trying to mask. But iMT is removed even from the normal i20 line up.
We still insisted on an iMT driving experience and they arranged for an iMT Venue N line. We first took a test drive of iMT Venue N line. As soon as we got in, I immediately fell in love with the gear knob of iMT. iMT felt like a good combination of a manual gearbox without a clutch. I'm not sure why Hyundai is reluctant to sell it.
After Hyundai Venue iMT, we took a test drive of i20 N8 DCT. My brother loved the DCT performance. But we still insisted on i20 N8 iMT due to ~1L lower cost ( we were already 1.5L above our budget ).
The salesperson promised us that the car would be available in around a month and we were happy to book it.
Now, something interesting happened. We thought of getting our old Swift Diesel valued by the Hyundai exchange program and they evaluated it to be 3.3L + 10k exchange bonus. We were happy with the evaluation and wanted to close this deal. But we also didn't want to be without a car for almost a month. So, we discussed with the salesperson and he mentioned that there is an i20 N8 DCT available 3 days later. The person it was allocated to has some finance issues and hence his delivery may get delayed. There was also a 30k discount on the N8 DCT ( but no discount on the iMT variant ). So, the N8 DCT would cost us around 70k more.
After a lot of discussion, we decided to take the plunge and booked i20 N8 DCT. We also got the value of Swift marginally increased to 3.5L ( including 10k exchange bonus ).
Delivery experience
The car was available in just 2 days. We did a quick PDI on the spot and everything seemed right except for the driver door that didn't close properly. But I remembered from the forum that this was a problem with most i20s, so we ignored it.
As usual, the complete process took 4-5 hours. We received an extra 5k discount. The insurance quote was matched. We received carpets, mud flaps as complimentary accessories and bought rain visors and cushions separately. We took the 5-year warranty and 5-year SOT.
The i20 N line experience
It's been almost a month and we are really loving it. The i20 N line is the most practical, sporty and feature-packed hatchback that you can get today.
Yes, it is expensive. In fact the most expensive hatchback. But even the Maruti Swift ZXI AMT costs 10.5L in Gurugram! At approx 3 lac extra, we get rear disk brakes, better-tuned suspension, that twin exhaust, a ton of features, a sunroof, a lot better interior, 120 bhp power and 172 NM torque, better suspension and steering setting and the interior space of a Honda City ( almost ). Frankly, we believe it actually gives a lot of value for the money.
The DCT is rather reluctant below 30kmph – 40kmph. But above that speed, if you want a rush, just press the pedal and enjoy that grin.
Few pictures
The front and the rear view:
With the Honda City: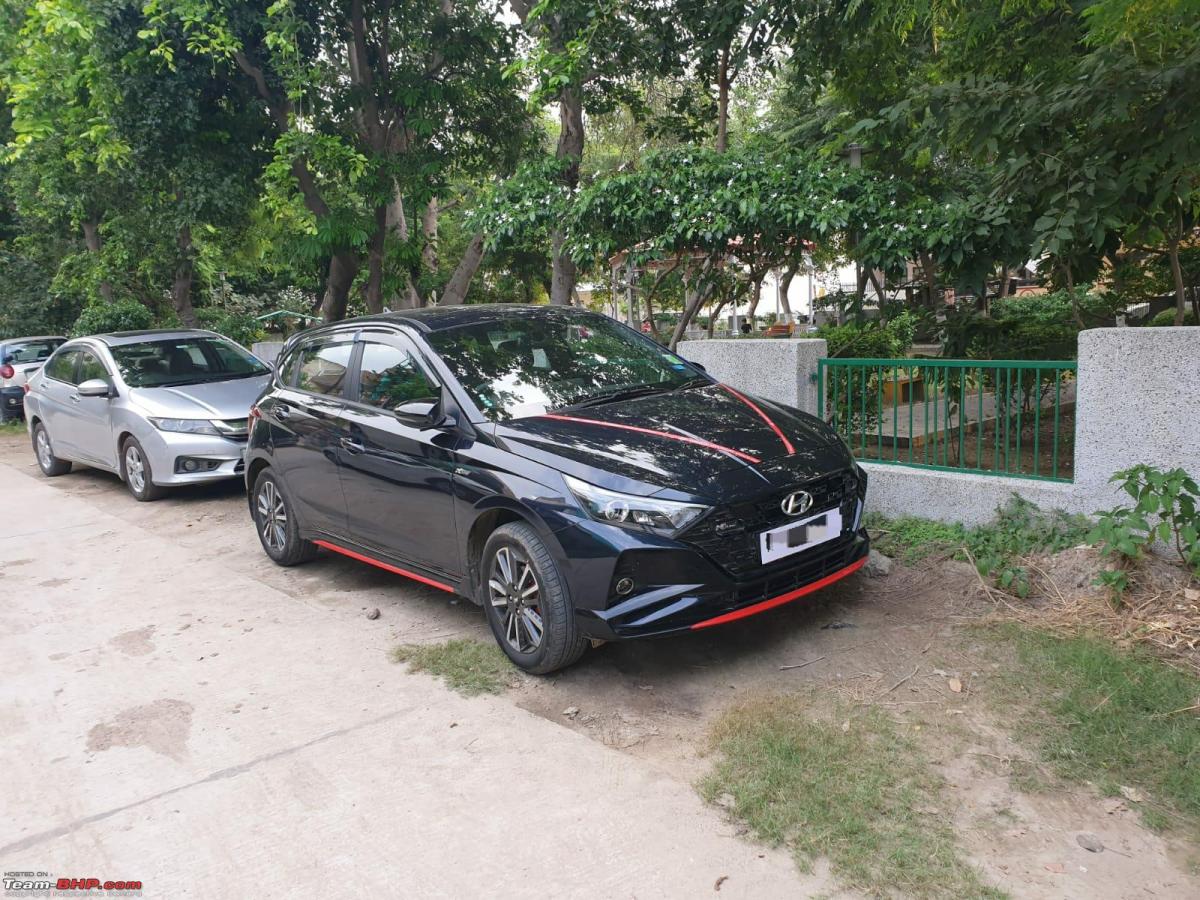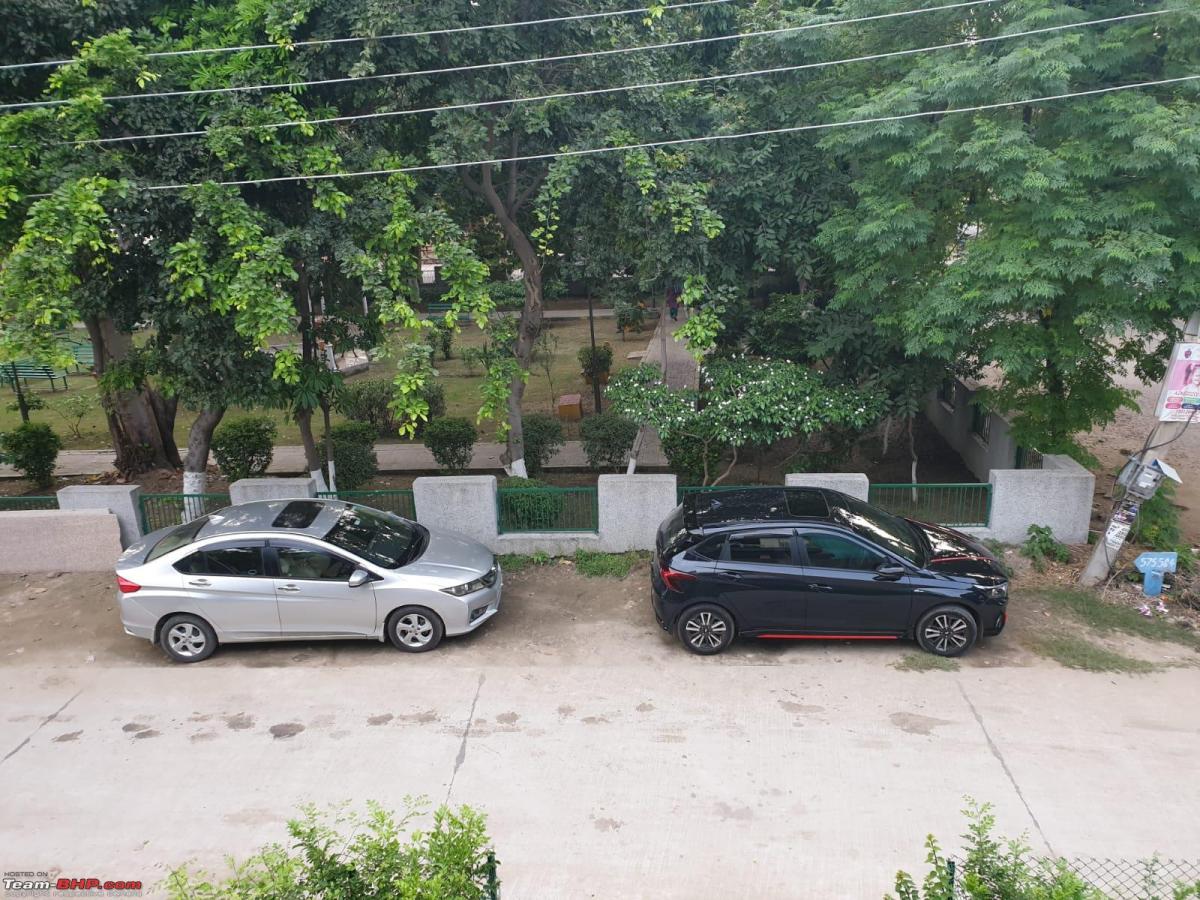 Check out BHPian comments for more insights and information.
Source: Read Full Article